AVIATION, TOURISM AND CONSERVATION NEWS from Eastern Africa and the Indian Ocean islands.
A weekly roundup of breaking news, reports, travel stories and opinions by Prof. Dr. Wolfgang H. Thome
You can get your daily breaking news updates instantly via Twitter by following @whthome, join me on www.facebook.com/WolfgangHThome where the articles also 'cross load' or read the daily postings on my blog via www.wolfganghthome.wordpress.com which you can also 'follow' to get immediate notification when a new article is posted.
Second edition January 2013
East Africa News
EAST AFRICAN COMMUNITY MAKES COMMON TOURIST VISA A PRIORITY – AGAIN

EAC Secretary General Dr. Richard Sezibera has named the introduction of a single tourist Visa to the region, and the revival of an East African Passport across the member states, as among the main priorities for the trade bloc in 2013 alongside the removal of non tariff barriers in the aviation and tourism sectors.
These issues have been causing major disappointments among the tourism industry, which has for long been struggling with the expensive image of East Africa when travelling to several countries, where Visa fees for a family of four can run into 1.000 US Dollars if visiting all 5 member states. Such added cost are seen as a hurdle to promoting cross region safari packages and while Kenya permits the re-entry after obtaining an initial Visa when visiting other countries like Uganda, Rwanda, Burundi or Tanzania, none of the other countries is offering the same option to tourists. Stakeholders have for long blamed bureaucrats of dragging their feet over technical issues like revenue sharing, which in view of the highly advanced immigration technology in place at immigration check points today is now seen as a mere excuse by some member states to slow down integration and prolong the existence of other NTB's in place. The idea for a common Visa was first floated from within the Ugandan delegation in 2001 at the East African Community Committee for Tourism and Wildlife, warmly welcomed and then buried under paperwork. Former Kenyan tourism minister Najib Balala did early last year mince no words when he blamed dark forces within the EAC of obstructing progress in such crucial areas, and for few was there any doubt in which direction his remarks were directed. Time will tell if during the remaining 11 ½ months of 2013 this long overdue task will be completed or dragged into yet another year. Watch this space.
HOUSTON MARKETING ANNOUNCES 2013 TRADE MEETINGS PROGRAMME
Derek Houston has just announced his pre and post ITB 'Spotlight on Africa and the Indian Ocean' programme which this year will cover the Netherlands, the Czech Republic, Hungary and Poland, aptly named the Pre and Post ITB Spotlight on Africa & Indian Ocean Island European Roadshow.
Derek said to this correspondent:
'In conjunction with Anneli Bronkhorst wwtourism in Holland we have organized Spotlight roadshows in Holland for the past 7 years.The Netherlands, as you know is a very important market for Africa and the Indian Ocean Islands. Spotlight Amsterdam has now become a must attend function for the Dutch Tour operators who sell Africa/Indian Ocean. The event will take place in Amsterdam Monday March 04th – Marriott Amsterdam.
This will be followed by Central Europe – Prague 12 March, Budapest 13 March and Warsaw 14 March
We encourage companies wishing to penetrate these markets to join our Spotlight on Africa & Indian Ocean Islands workshop in Central/Eastern Europe covering the Czech Republic, Hungary and Poland, three key emerging markets for Africa and with connections to African destinations by European legacy carriers and the leading Gulf airlines.
We at Houston Travel Marketing Services have teamed up with Paddington Tucker of Travel Advance based in Prague to jointly run these workshops. This is the third year that we have organised these workshops and we have had an outstanding reaction from these three markets. In March 2012 we had 74 attendees in Prague and 93 in Warsaw comprising Tour operators, Incentive travel operators and Travel agents. There was an amazing interest in incentive travel to Africa from Poland when 20 incentive travel specialists attended in Warsaw. 60 Hungarian tourism trade representatives attended our Spotlight session in Budapest in 2011.
For more details on the workshops and some interesting market information on Holland, Czech Republic, Hungary and Poland click here
BRUSSELS AIRLINES COMPLETE CABIN RETROFITTING

Brussels Airlines, serving Nairobi, Entebbe, Kigali and Bujumbura in the East African region, has announced that the retrofitting of their Airbus A330 aircraft with an entirely new cabin product for both Economy and Business Class has been completed on schedule.
The new facilities on board are now available on every flight to and from the region, after initially introduced on a brand new aircraft which joined the fleet last year when nonstop daily flights between Brussels and New York were introduced.
The new seats in Business Class now offer a massage function, a most welcome feature on the long flights when passengers from Africa connect in Brussels to the United States, but also has novel features like touch screens allowing access to a range of inflight entertainment with the latest films, series, news lasting up to 100 hours. The 2 metre long full flatbed comes in particularly handy on overnight flights with meetings soon after arrival, and the inflight catering too has been upped considerably to match the enhanced cabin facilities.
The Economy Class seats too are now state of the art, with larger individual screens and better ergonomics including adjustable headrests. Catering and the choice of beverages, in particular of available wines, have been improved too.
Happy Landings to Happy Passengers.

Uganda News
AIR UGANDA GETS IOSA CERTIFICATION

Information is now available on the IATA website that Air Uganda, the Pearl of Africa's quasi national airline, has been accorded the coveted 'IATA Operational Safety Audit' certification until 30th September 2013 when renewal audit is due to retain the status. Recipient is in fact Meridiana Africa Airlines (U) Limited which trades as Air Uganda since its inception in 2007. This certification, attained shortly after the airline turned 5 in November, will now permit U7 to enter into partnerships, wider commercial agreements and code share arrangements with more 'senior' airlines which in today's safety conscious aviation environment often make it a key requirement to even consider entering into discussing such formal arrangements. From records available this also makes Air Uganda the country's first ever commercial jet operation to received the IOSA certification.
In a related development it was also confirmed late yesterday that Air Uganda will be launching a Premium Economy fare for flights on their all economy CRJ200 aircraft. The slightly higher fare will give passengers lounge access in all airports the airline flies to except in Juba, give them a 35 kg baggage allowance and under normal circumstances will keep the seat next to the passenger empty for greater comfort in flight – the CRJ200 has a 2×2 cabin layout. In addition an enhanced catering will be served for Premium Economy passengers, reservation changes are free of cost and added bonus miles are awarded under U7's frequent flyer programme.
Way to go and continued Happy Landings in 2013.
QATAR AIRWAYS UPS WARSAW FREQUENCIES FROM FOUR TO DAILY

Poland's capital Warsaw will be coming closer to Qatar Airways' East African destinations Entebbe, Nairobi, Kilimanjaro and Dar es Salaam following an announcement by the airline that come February daily flights will be operated compared to the initial four per week, using an Airbus A320.
Launched only on December 05th as the airline's 12th new route of 2012 and 32nd European destination, the uptake of seats has been far better than expected and given QR's expressed goal to become a truly global operator with daily or multiple daily connections to key destinations around the globe it was only logical that three more flights per week were added to make it a daily destination.
Akbar Al Baker, the airline's CEO, was quoted as having underscored Qatar Airway's ambition to truly enter the global big league when he said: 'I have been pleasantly surprised how well the route has performed since adding the latest European gateway to our ever-expanding global network last month. When we enter new markets, we do so carefully with limited capacity and then develop routes with more capacity once we see evidence that additional flights are warranted. Today's development is welcome news for the people of Poland with more choice of flights and a great international network to choose from, specifically to Asia, Australia and the Middle East. Serving popular routes with multi-frequency flights is one of our key strategies. We were confident that the Doha – Warsaw service would become a highly popular route, but didn't expect this to happen so soon'.
Qatar Airways connects Entebbe, and Kigali in conjunction with Entebbe, daily with Doha using a state of the art Airbus A320 with 132 Economy Class and 12 Business Class seats and also flies to Kenya and Tanzania in the Eastern African region.
THE MYSTERY OF THE MOUNTAINS OF THE MOON

First mentioned by ancient Greek cartographer Ptolemaeus in around 150 AD, though never conclusively answered how he got the information in the first place, the Mountains of the Moon, today also called the Rwenzori or Ruwenzori Mountains, have held a mystery, inspired travelers and dreamers and treated those who dared to come closer to ice cold nights, boggy terrain, fog and rain to last a lifetime. Those fabled Mountains of the Moon rank alongside the ancient mysteries of the Queen of Shaba, where no one ever found out if she ruled in what today is called Ethiopia or if in fact the journey was considerably longer to the ancient ruins of a long gone civilization in what today is called Zimbabwe. Ancient Rome hence knew about these mountains and expeditions were sent up the Nile and across the great Northern African desserts but while they brought back slaves and wild animals, the Roman empires fell eventually without making these discoveries and East Rome and West Rome and the subsequent pretenders to rule the world as it was known then, never bothered again till the European explorers took heart to sail around the world and walk across Africa.
The existence of the mountain range, the only one along the equatorial belt in Africa featuring glaciers and icecaps – Kilimanjaro and Mt. Kenya are stand alone mountains – was only confirmed in modern days by British explorer Henry Morton Stanley in May 1888, when he finally spotted the peaks as the cloud cover lifted. He is credited by choosing a name inspired by local lore, Ruwenzori or else known as cloud master or rain maker. Many tourists today still suffer the fate of other explorers who had come to the area before Stanley, who might have been told by the locals they met that there was indeed a huge mountain range with snow and ice on top but never saw them, as often weeks can pass before, almost at the whim of the moment, the clouds disappear and reveal the majestic views of the tall peaks Mt. Stanley (5.109) aka Margherita, Mt. Speke (4.890), Mt. Baker (4.843), Mt. Emin (4.798) Mt. Gessi (4.715) and Mt. Luigi di Savoia (4.627). The latter peak was named after the Duke of Abruzzi, an Italian Royal, who led an expedition in 1906 to this part of Africa to explore and climb the mountains for the first time in modern history.
Uganda declared the Rwenzori Mountains, at least her share as the massif is shared with the Congo DR – the border runs across the mountain peaks – a national park in 1991, administered then by Uganda National Parks and now of course falling under the Uganda Wildlife Authority.
Covering nearly 1.000 square kilometers in size, the park includes the entire length of the mountain range, some 120 kilometres and the width to the international border, some 65 kilometres. Inside visitors can see at least some of the 70 mammal species recorded there and many of the nearly 220 bird species identified, including some of the endemics only found in the Albertine Graben.
When the mountains were gazetted as a park, global interest levels rose immediately, and inspite of the challenging logistics and the often decayed cabins and paths across the major bogs and swamps, an ever increasing number of alpinists from around the world came to Uganda, to finally tick off one their last personal frontiers, that ultimate mystery mountain range, the fabled Mountains of the Moon, as having conquered them along the peaks of the Andes, the Alps and the Himalayas.

(Picture courtesy of Uganda Wildlife Authority)
Uganda had found another winner, drawing adventure tourists, hikers and mountain climbers to the park, offering some of the most challenging alpine environment found on the planet, cold, wet, foggy and unforgiving for those ill equipped to stand those tests. A concession was given by UNP at the time to Rwenzori Mountain Services and a number of international partners came on board to assist in capacity building of guides and porters, improve the cabins and log walkways, rail guards and suspension bridges before armed conflict across the border in Congo led to a closure of the park when the impenetrable terrain was used by rebels to set up camps and attempt mischief on the Ugandan people. Hence, the park had to be closed for all tourism activities in July 1997 and it took the Ugandan security forces until well into 2001 before it was safe once again to let visitors come back.
From several thousand visitors in the period between July 1996 and the closure in July 1997, figures had dropped to zero and recovery was slow and painful, in 2012 reaching an estimated 3.000, still below what the park received in 1995/6. Facilities, due to lack of maintenance caused of course by lack of income, had fallen into disrepair, guiding services had literally vanished and for years the park struggled to re-invent itself. The Centenary Celebrations in 2006, commemorating the first conquest by the Duke of Abruzzi in 1906, brought fresh focus and a number of Italian and European expeditions came to Uganda at the time to not only climb the peaks but also help in restoring cabins and other urgently required infrastructure.

They, as all others climbing or hiking the mountains, were richly rewarded by the spectacular sights of high altitude vegetation, the rainforests, the meadows dotted with the giant lobelia, the ferns and mosses and of course the wild- and birdlife they encountered as they advanced through the five distinct vegetation zones from grasslands, to montane forest to the bamboo zone before reaching the heather and Afro-Alpine moorlands.
The participants of the 2006 expeditions, and those in subsequent years, also however made a stark and rather disconcerting discovery – the glaciers had receded by a wide margin.
Mount Stanley in 1906 – The highest peak in the Rwenzoris.
Photo taken by Vittorio Sella

Mount Stanley in 2006.
Photo taken from the Bujuku Lake
For the first time it dawned on Uganda, that climate change and global warming had come home to roost and the comparison between the two pictures, one taken in 1906 and the other 100 years later, both used courtesy of the Uganda Wildlife Authority, indeed had researchers and conservationists sit up and take notice.
Research projects were initiated, funding secured and weather data including regular temperature readings, wind speeds and direction are now being recorded from high altitude weather stations, transmitting data via mobile networks to the base stations.
This notwithstanding, visitor numbers only climbed slowly again, many visitors scared off by not just the challenges the mountains would throw at them but the time needed, between 6 and 14 days, and the lack of shorter one, two and three day hikes without having lug an entire alpine outfit along.
The arrival in Uganda some years ago of a USAID funded project focusing on the Albertine Rift, STAR – Sustainable Tourism in the Albertine Rift, offered a lifeline to the park as it was immediately identified as a major tourism resource, but also one in need of investments and facilities.
Last year, as the project came to an end, and for many the crowning achievement of of STAR, a new visitor centre was opened at the park entrance, offering a range of services to visitors, and more important, the new 'Muhoma Trail' had been opened up finally allowing for those long demanded shorter hiking trips of one to three days. This is the greatest gift USAID has arguably given to the park as hikes now permit to reach Lake Muhoma and then return along the long established 'Central Trail' back to base without having to back track the same route. An added bonus is that the 'regular trails' are under concession while the new 'Muhoma Trail' is open to all visitors to the park, though the use of guides, available through the lodge or from the visitors centre, is strongly recommended of course.
Right next door then did GeoLodges Africa open their latest lodge, Equator Snow Lodge, presently comprising four rock and wood cabins fitting perfectly into the location through the ingenious use of locally available materials. Sister lodge to the award winning RainForest Lodge in Mabira, the Nile Safari Lodge on the banks of the mighty River Nile just at the edge of Murchisons Falls National Park and of course the nearer by Jacana Safari Lodge, nestled under the rainforest surrounding Lake Nyamusingire in Queen Elizabeth National Park, the Equator Snow Lodge will at last give tourists and local visitors the opportunity to stay, explore and finally appreciate what can only be described as Uganda's last wilderness frontier. A fuller review of the lodge will follow soon after a planned visit to the lodge, but for now let it suffice to say that Zahid Alam and Emily Wissanji and their team have once again lived up to reputation and expectations vis a vis the setting, the facilities offered, the appearance blending like at Mabira right into the environment and last but not least the food and the service, no doubt soon to be much acclaimed.
For more information on the Rwenzori National Park visit http://www.ugandawildlife.org/explore-our-parks/parks-by-name-a-z/rwenzori-mountains-national-park or do one better, set out from Kampala and drive either via Mbarara and Bushenyi to Kasese or else use the route via Mubende and Fort Portal to Kasese, all on good tarmac and full of spectacular scenery, be it the Rift Valley at the escarpment over Katunguru, where on clear days the mountains can be seen, or skirting along the forests of Kibale to Fort Portal and then through the foothills of the mountains to Kasese. From the Kasese side it is about 10 kilometres toward Fort Portal, where a well marked turn off directs visitors to both visitor centre and the new lodge over 12 kilometres of a dirt road. Safari Njema.
Kenya News
HOSPITALITY INDUSTRY SPARED BY A WHISKER OF DRACONIAN ANTI BOOZE BILL

The well founded fears of a devastating fallout from an ill considered bill, attempting to prohibit and criminalize the consumption and sales of alcoholic drinks over the election period in March this year, have been put to rest as Kenya's Parliament failed to pass the proposals into law.
Busy on their last day of formal business with awarding themselves a multibillion Kenya Shilling send off package, which was to include State Funerals, staff, VIP benefits, security provisions and over 100.000 US Dollars worth of additional payouts, the MPigs as they are now commonly called by Kenyans in the end ran out of time. President Kibaki subsequently anyway rejected to assent to what was immediately called the Theft Bill earning himself praise from the Kenyan society and business community.
The anti drink bill would have made it a criminal offense for tourists to order and then consume alcoholic drinks while on vacation over the period between March 02 – 04 inclusive and hoteliers and restaurants too would have faces massive fines and jail time. MP's when putting the draft bill together had singularly failed to consult or take the immediate objections from the country's all important hospitality and tourism businesses into consideration, a sign how removed from reality the members of parliament in their final days of office were.
'Our trade association, the Kenya Association of Hotel Keepers and Caterers, estimated the loss of revenue to be in the 1.5 billion shilling margin. Personally I think it could have been twice as much, because of the potential loss of tourists coming here in the first place. This draconian measure would have been used by our competitors to decampaign us seriously. Already now we hear of whispers overseas that some destinations are ready to pick up traffic because of our election fears. But the anti booze law would have been the worst blow. Imagine police arresting tourists at the beach or the pool on those days for enjoying a cold beer or cocktails and what negative publicity it would have caused. And all because that fellow Mututho has issues with alcohol and his colleagues had deposited their brains at the door. At least that is now done and dusted, that period will be tough as it is all on its own for us' said a regular source from Nairobi.
While parliament could in theory still demand on more session via a petition to the speaker on Monday this is thought to be unlikely and the formal closure of parliament on Wednesday will ring in the campaign period for the next elections with a range of new offices like Senators and Governors up for grabs in what many think as the most hotly contested election ever in Kenya's history. Tourism sources, somewhat reluctant to discuss the issue in public privately concede their worries considering the fallout of the 2007 elections in early 2008, when for weeks political chaos translated into violence in the streets across Kenya. While no tourists did come to harm as a result of the private sector closely working together with security agencies, the fallout for the sector was devastating at the time and caused widespread business closures and layoffs of staff. 'I hope our politicians are more mature this time and will put country before themselves. And I think our police will be prepared much better this time, also our General Service Unit, to deploy in hot spots and prevent violence from breaking out if the results are not going the way some expect and hope for. So it is not all gloomy, there is confidence around too that things will be ok' added the same source when asked about an opinion, on assurance of not being named. Election time in Kenya and all relevant information will be right here, as usual. Watch this space.
'
OWNERS OF TRIBE HOTEL AND VILLAGE MARKET EYE BUDGET HOTEL SEGMENT

Information was received from hospitality sources in Nairobi, that the owners of the hugely successful 5 star Tribe Hotel and the adjoining Village Market in Gigiri, often referred to as Nairobi's 'Diplomatic Zone' for the vicinity to the sprawling UN complex nearby, have decided to build a budget hotel of 200 rooms on the property.
To be launched on completion as the Green Hill Hotel, the new venture according to one source, will aim to capture the more budget minded visitors to Nairobi and in particular those with business at the UN offices, widening the scope from the previously strictly 5 star philosophy – and the operations of the Village Market, one of Nairobi's premier retail malls – to include what will probably be a top of the range 3 star hotel.
Green Hills Investments, the owning and operating company for the Tribe Hotel and the Village Market, have reportedly sources some 1.2 billion Kenya Shillings for the construction of the new hotel, which will however require the demolition of a section of the Village Market to make space for the new venture and additional parking plus a link to the Tribe Hotel.
The news come hot on the heels of President Kibaki's opening of the Kenya Red Cross Society owned The Boma Hotel earlier this week, the recent launch of Kenya's first Best Western in the Hurlingham suburb of Nairobi and the announcement of the opening of the new Villa Rosa Kempinski Nairobi in May this year.
A number of additional new hotel ventures promoted by among others Radisson are due to open in 2013 and 2014, while global hotel giants like Marriot – opening their first East Africa property later this year in Kigali – and Hyatt – already operating a hotel in Dar es Salaam – are all said to be keenly eyeing Nairobi for further expansion on the African continent.
Welcome news for sure for Kenya's tourism industry and in particular the MICE segment, where additional meeting and conference venues need support through additional new beds covering all rated ranges from 5 star luxury to simple 1 star budget accommodation. Watch this space.
KENYA AIRWAYS REDUCES CAPACITY ON MUMBAI ROUTE

Kenya Airways has confirmed that effective immediately 3 out of the presently 10 flights between Nairobi and Mumbai will be operated on B737-700 aircraft, leaving the remaining frequencies to be flown on a B767-300ER.
This reflects according to a regular source close to the airline the present demand and allows for the larger B767 used until now to be redeployed on routes where greater capacity is required. The B737-700 is capable to fly nonstop between Nairobi and Mumbai.
The airline has also confirmed that from April onwards will the B767-300ER be substituted for a larger and more comfortable B777-200ER as the traditional travel season between the two countries of Kenya and India gathers pace again. Watch this space for breaking and regular news covering East Africa's vibrant aviation scene.
PRESIDENT KIBAKI OPENS THE NEW 5 STAR BOMA HOTEL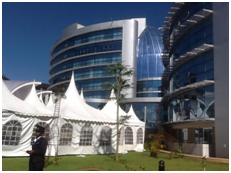 (Picture courtesy of The Boma Hotel / Kenya Red Cross Society)
President Mwai Kibaki yesterday formally opened The Boma Hotel in Nairobi, which over the past few months has firmly established itself as a crowd favourite and gained instant high acclaim among its clientele.
The president is the Patron of the Kenya Red Cross Society and had at an earlier visit to the Red Cross headquarters next door generously allocated the society a further plot of land for expansion, after learning of the plans to enter the hospitality business to sustain humanitarian, relief and emergency operations with income from hotels in Nairobi and key towns across the country.
The Boma Hotel, financed entirely through a direct arrangement with Equity Bank, is the Red Cross' first 5 star hotel, whereas the Red Court Hotel next door and the sister property already up and running in Nyeri are 4 and 3 star rated respectively. A new hotel is under construction in Eldoret already and more 'Boma Inn's' are planned in several more key towns in Kenya, all according to information at hand in the 3 star range.
President Kibaki hailed the Red Cross' operations in Kenya and was, after cutting the tape and a ceremonial cake shown around the hotel and its facilities by Board members of the Red Cross and Mr. Mugo Maringa, who is the CEO of the hotel group.
The president was afterwards also shown around the Red Cross Society's operations centre, from where staff and volunteers are directed to the scenes of accidents or to assist in general emergencies.
Congratulations to the Red Cross Society of Kenya, Mr. Mugo Maringa and his entire team on this auspicious occasion.
KENYA'S CONSERVATION FRATERNITY REELING FROM LATEST POACHING NEWS

News that 11 elephant were slaughtered for their ivory tusks have prompted wide outrage among Kenya's conservation fraternity, with immediate demands of a strong hand response to hunt down those responsible for this latest elephantcide. An entire elephant family of 11, young ones included, was wiped out by a hail of bullets before their tusks were hacked out of the carcasses, in a location at the Tsavo East National Park, prompting a wide spread manhunt by KWS and security services using dogs, foot and vehicle patrols and aerial surveillance.
The massacre is seen as a direct challenge to the new KWS CEO William Kiprono and his team, which have been on the receiving end of the war on poaching for too long, with only temporary successes followed by yet more reports on dead elephant or rhino emerging.
However, this latest incident will probably be counterproductive for poachers as the reaction inside the KWS head quarters in Langata was reportedly one of cold anger and focused determination to muster enough resources, including bringing in other government agencies and the private sector, to turn the tide in the new year. Demands for a shoot to kill policy have on legal grounds been rejected it is understood but after losing several rangers and wardens in shootouts with poachers, there will be little mercy shown when fire fights break out, ambushes are laid and the poachers are foolish enough to fight back.
The incident also brought members of parliament to the fore accusing the minister responsible for wildlife into their cross hairs for failing his job and not providing sufficient resources for KWS to bring a rising tide of rhino and elephant poaching under control, and recent seizures of blood ivory in Hong Kong, allegedly originating from Kenya, have only stirred emotions yet more.
A recent census on elephant and Gravy Zebra in the north of Kenya has shown a significant decline in numbers and a wave of rhino killings on private conservancies and in parks has resulted in a public private partnership in Laikipia where aircraft and helicopters are now made available by private airlines to take a rapid deployment unit on site as soon as reports of gunshots or suspicious vehicle movement are reported. A dark weekend it was though for Kenya's conservation and tourism fraternity and not a good start for the New Year at all. Watch this space.
NAIROBI KEMPINSKI NOW SET FOR MAY GRAND OPENING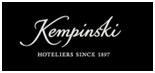 The Villa Rosa Kempinski in Nairobi will according to a reliable source now open in May this year, pushed from an initial tentative March opening date, to allow for the finishing of rooms and interior to the exacting standards, the hotel group demands new properties to meet before flying the Kempinksi flag from it.
The hotel's main meeting venue, sub dividable into 6 sections, has been named as Fedora (1 – 6) while the breakout rooms are named Opus (1 + 2)
Further information on the presidential suite was also coming to light, featuring a private rooftop terrace with a BBQ station and a full sized Jacuzzi, among many other amenities.
Meanwhile is the formal takeover of the Olare Mara Camp still set for 15th January, when it will turn into the Olara Mara Kempinski Masai Mara, a top of the range tented property on a private conservancy directly adjoining the main game reserve, which permits guest a range of additional options such as game walks and night game drives, otherwise prohibited in the main reserve area.
Watch this space of further update as and when available.
Tanzania News
TANAPA RAISES ENTRANCE FEES FOR PARKS COME JULY

Tanzania National Parks have announced a range of new increased tariffs which are due to come into effect in July this year for the period up to June 2015. The new tariffs cover not only park entrance fees for foreign nonresident visitors, resident visitors, East Africans and Tanzanians but a range of other services like professional filming fees and aircraft landing charges among many others. Notably have tariffs for Tanzanian citizens gone up sixfold, not exactly a recipe to encourage more domestic tourism to the national parks which in neighbouring countries has become a major income stream for the lodges and safari camps, encouraged by favourable fee structures for citizen visitors.
TANAPA, as do KWS, UWA and RDB periodically reviews entrance fees, tariffs for services and concession fees or royalties to cater for risen cost due to inflation or else help in paying for infrastructure improvements like airstrips, roads, bridges, signage and visitor centres.
Visit www.tanzaniaparks.com for more information about the national parks, game reserves and marine parks under the management of the Tanzania National Park Authority.
BAD LUCK HAUNTS AIR TANZANIA ON RETURN TO THE SKIES

Information is emerging from Dar es Salaam, that embattled Air Tanzania, upon taking to the skies once again last Friday, has suffered a setback on the maiden flight to Kigoma.
The 39 passengers boarding from there to fly to Dar es Salaam were perhaps already wary as this particular aircraft had a takeoff incident last year in Kigoma which grounded the plane for almost 9 months after hitting a pothole, then swerving off the runway and suffering landing gear collapse, hull and engine damages at the time. No passengers or crew suffered injuries at the time but some scary moments before being able to get off the stricken craft, pat themselves down and thank their luck to be intact.
Putting their faith once again in the nominally still national airline of Tanzania, they had a rude awakening however once more when soon after takeoff one of the cockpit windows developed a crack, compelling the crew to return to Kigoma to await a spare and replacement.
'Ok this is a bit of bad luck but nothing anyone could have foreseen' said a regular aviation source from Dar es Salaam before continuing 'I am sure the plane was very thoroughly checked and inspected by the TCAA before ATCL was given a certificate of airworthiness for this repaired Bombardier Q 300. TCAA would never yield to political pressure, so they would not do favours like this. And in addition, a window can crack any time for wear and tear. It happens but the lamination of aircraft windows is multiple layers of redundancy so there was never any danger for passengers. Some pilots may even have flown to Dar es Salaam but this crew decided it was best to return to Kigoma. Just a stroke of bad luck and bad PR because that will be reported and passenger may wonder if they should not book with other airlines'.
That said, while entirely true, will definitely impact on ATCL's return to the skies as the plane, due to fly multiple services since the incident, was still grounded at the time of filing this report, leading to cancellation of scheduled flights and denting ATCL's reputation yet another time. Watch this space for breaking and regular news from East Africa's vibrant aviation scene.
TANZANIA HOSTS TRIPARTITE MEETING WITH RAILWAY PARTNERS
The Tanzanian government hosted a tripartite meeting of the Transport Ministers with Rwanda and Burundi on Friday, discussing the final submission of the feasibility study for the establishment of a rail link from Isaka to Kigali and Bujumbura. The meeting then went ahead to appoint a joint technical committee of experts, tasked to drive the agenda forward and ensure that the ambitious time frame will be met, with construction starting as soon as the upcoming tenders will have been processed and a main contractor selected. Initially thought to be in 2014, the commencement of construction might come as early as later this year already.
The project, said to cost in the region of 5.2 billion US Dollars, will include a full upgrading of the current railway line from Dar es Salaam to Isaka to standard gauge while the new stretch of railway from Isaka to Kigali and on to Bujumbura will be done from the onset as a standard gauge line. Finances for the project will to a large extend come from the African Development Bank, and syndicate loan partners, the construction will take approximately 3 years to complete on all sections.
Up to now Rwanda and Burundi, and of course Congo too via the Gisenyi / Goma border point, depend on truck transportations of export and import goods, which makes the cost of commodities substantially higher as a result of the sharply risen cost of diesel and petrol. Increased competitiveness will be one major result of the new railway but also the link by rail to a major Indian Ocean seaport cutting the transportation time to a fraction of the current period which is often exceeding a month before cargos reach their final destination.
At least one tourism stakeholder regularly in touch from Dar es Salaam also sees the potential benefits of a new railway for passenger transport as he said: 'For now it is busses for the wananchi to reach across the region. Most cannot afford air transport but a railway could bring us affordable fares. From Dar to Kigali it could take less than a day by rail on a new line. Now that will encourage a lot more people to travel, perhaps increase trade too on a lower level. I think such trips can be even sold to overseas tourists who like rail trips'.
Exciting days for sure with a number of major infrastructure projects coming up this year, and this rail project being one of the least contested by conservationists and environmentalists as it is. Watch this space.
KIKWETE PLEDGES IMPROVEMENTS TO SINGIDA AIRSTRIP

During a just concluded visit to the Singido region in Central Tanzania has President Kikwete promised the local business community improvements to the local airfield, like a longer runway and a small passenger terminal, to accommodate larger turboprop aircraft like the ATR 72 commonly used by for instance Precision Air. Presently the murram and grass airstrip is able to have single engine and smaller twin engine light aircraft land, mostly on charter basis which is for most Tanzanians prohibitively expensive. Road connections to Singida are open year round on all weather murram or tarmac, facilitating trade and commerce, but few tourist grade hotels or restaurants are presently found in the town and surrounding centres.
The Tanzania Civil Aviation Authority had two years ago outlined plans to progressively rehabilitate and expand existing aviation infrastructure across the country but was until now preoccupied with the main and secondary airport, before embarking on work on the smaller airstrips.
Singida, located literally in the geographical centre of the country, has comparably few tourist attractions but is renowned for at least two significant pre-historic rock painting sites in Mjukhuda and Mtintimo. The municipality has two lakes in close vicinity, Lake Singida and Lake Kindai which have seasonal flamingo populations and feature large scenic rock outcrops. The nearest national park is Tarangire, outside the Singida district boundaries, where visitors pass by road from Arusha, which is some 350 km distant.
TANZANIA READY TO TAP INTO WINDPOWER WITH 100 MW PILOT PLANT

Tanzania will be tapping into green, renewable energy sources come 2014, when a proposed 100 MW wind power plant will come on line, now under construction in the Singida region of Central Tanzania.
Wind East Africa Limited, the joint venture between Tanzania's Six Telecom and UK based Aldwych International have joined hands with the World Bank's private sector lending arm International Finance Corporation in securing a 123 million US Dollars loan for the project with the balance of the funding being provided by the equity partners to pay for the overall 285 million US Dollar investment.
Tanzania has been suffering from more than the usual share of power cuts in the East African region, largely as a result of poor maintenance and lack of upgrading of existing power stations and the national grid, and although the discovery of natural gas has raised the prospect of increased thermal power production in due time, there was a notable lack of investments in green, sustainable energy sources until now.
In neighbouring Kenya a pilot plan on the Ngong Hills outside the capital Nairobi has led to two more such facilities being constructed in the Turkana region in the North of Kenya where prevailing winds are providing an ideal environment, far away from major human populations, to generate over 600 MW when both projects have come on line. Also in Kenya has geothermal power been tapped like nowhere else in the region, but the entry of Tanzania now into the sustainable energy market makes it only the second country in the region to see a major investment in green energy sources emerge.
Uganda in turn has lagged behind in generating investments into renewable energy sources despite significant potential for geothermal energy and wind power farms, focusing – and rather with significant delays already in the pipeline – on turning oil finds into electricity instead of promoting in parallel the introduction of green energy source on a wider scale.
The new project in Tanzania will add much needed electricity to the national grid when coming on line, bringing relief to manufacturers, the hotel sector and domestic users now regularly loadshedded or blacked out through technical faults in plants and along the ageing grid. Watch this space.
Mauritus News
MTPA'S INTELLECTUAL BANKRUPTCY MANIFESTS ITSELF IN MORE COPY / PASTE ACTIONS

A section of tourism stakeholders increasingly opposed to the current leadership at MTPA, has in a number of emails to this correspondent called them 'The undisputed masters of copy / paste' while openly questioning their ability to introduce even a single innovation or original thought not grabbed off other island destinations and then peddled as their own.
The angry outbursts are a result of MTPA hijacking yet another Seychelles idea – following a sharp escalation in thinly concealed efforts to foulmouth the Carnival International de Victoria in recent days by peddling misleading statements over alleged money demands for participating in the event – as one of their own creations.
MTPA's latest invention, coined 'The Carnival of the Sea' appears a perfect copycat of Seychelles' successful 'SUBIOUS – The Festival of the Sea' which has over nearly two and a half decades grown into a globally acclaimed celebration of marine life and underwater photography, besides another blatant attempt to grab some of the 'Carnival' glitter generated by the Seychelles marketing juggernaut.
In the past has MTPA unsuccessfully tried to copy cat the Seychellois 'Festival Kreol' which eventually earned Victoria the byname as the Creole capital of the world, but failed in a big way on Mauritius to achieve even distantly similar success. That was largely attributed by local Mauritius' observers for the glaring lack of empowering the local Creole population and having that community involved in a meaningful way in the preparation and design of the event.
But the worst case of idea grabbing until now took place last year, when after a series of slights and dismissive comments by MTPA top brass against their colleagues at STB and in particular the former STB CEO and now Minister of Tourism and Culture Alain St. Ange, the idea of a competing carnival festival was floated.
Stakeholders have unsuccessfully demanded until now full accountability of funds spent on this short-lived parody of a carnival, which at the last moment was turned into a Shopping Bonanza, ending reportedly in a huge disappointment in terms of sales, turnovers and profits but cost MTPA an arm and a leg of taxpayer's money.
'MTPA has lost its lustre. The embarrass themselves and us all with such stunts. We missed the million arrival mark and surrendered the top destination position to Maldives. They do not need to copy anyone there, Seychelles does not need copy anyone, only us here are told that promoting other people's ideas is ok for us. This way we cannot succeed over the future. MTPA is too limited in their thinking, almost too sectarian. It must change or we will next year end third behind Maldives and Sri Lanka. There is too much investment at stake here in Mauritius. We cannot let MTPA wreck if for all of us. MTPA should get new leadership on all levels from a broad spectrum of private sector marketers and product branding experts' wrote a regular source from Port Louis a few hours ago, suggesting further that Mauritius tourism is not likely to benefit from the idea but instead may suffer a back lash of sorts when the truth comes out.
Official sources in the Seychelles were also not ready to comment on these latest shenanigans of their colleagues in Mauritius, perhaps preferring to have the international market reaction show the difference between the original and a poor run off. One source did however say, off the record: 'We in Seychelles have a unique situation where private and public sector work hand in hand. Our annual marketing strategy reviews listens to all opinions and take on board all good suggestions. Now we are busy implementing what we discussed a few weeks ago and none of us has time to worry and bother about what other destinations do about our success stories. If they think they need to copy from us it shows we are doing it absolutely right'.
Time will tell to what extend this latest copy / paste creation will succeed, or else fail but it is clear that the success of the Seychelles and in particular the relentless global media attention and their marketing juggernaut around the world has made for jealous and envious rivals in the region. Watch this space.
Seychelles News
INTER ISLAND FERRIES RAISE TICKET COST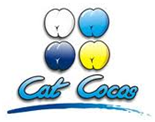 The Inter Island Ferries, which operate the famous Cat Cocos high speed ferry between Mahe and Praslin, has announced a new set of tariffs effective immediately.
Tourists will now pay 835 SR (Seychelles Rupees) on the main deck and 1.080 SR in business class while Seychelles citizens pay SR 210 and 325 respectively.
Senior citizens and children under 12 continue to get a 33 percent rebate on all fares.
The rise in fares was explained to be a result of risen fuel and general cost since the last increase two years ago.
At the same time have the fares between Praslin and La Digue also risen by 5 Rupees to now 70 SR for a one way trip.
Alternative ocean transport is available through the hire of private licensed yachts or else by flying on the Air Seychelles' constant scheduled services from the international airport to Praslin or using Zil Air's helicopters to reach the La Digue helipad by air.
MISCHIEF ALLEGED OVER MAURITIUS' CLAIMS OF COST TO ATTEND VICTORIA CARNIVAL
The local daily 'Today' in the Seychelles rocked the proverbial boat when it played, wittingly or unwittingly, willing party to claims peddled by well known individuals within the Mauritius' tourism public sector, which attempted to defend the island's continued official absence from the Carnival International de Victoria inspite of underwriting the event under the Vanilla Island Cooperation.
Mauritius Tourism Promotion Authority has had invitations from Seychelles Tourism since the inauguration of the event in 2011 but has chosen to remain absent for reasons best known to themselves. Last year in fact did embattled Karl Mootosamy's band of merry men try to copy / paste the Seychelles Carnival in what turned out to be not only a major flop but landed egg all over their faces, when the Mauritius tourism minister had to offer explanations and literally apologies to the Seychelles to prevent damaging the otherwise cordial relations between the two island nations. Mootosamy, repeatedly reported here for alleged comments made vis a vis a hugely successful marketing juggernaut by STB – comments overheard and quoted by otherwise reliable sources from Port Louis – is thought to be behind the lack of formal participation of Mauritius in the Seychelles carnival with a float and has resisted any overtures to become a co-organizer of the event. La Reunion, already on board last year, is once again a joint organizer of the Carnaval de Carnivals, but for 2013 has also Zimbabwe come on board, leaving Mauritius once more out in the self appointed cold.
The report of the Today newspaper quoted a source in Mauritius blaming their absence on Seychellois demands for a payment of 100.000 Euros, to which Minister of Tourism and Culture Mr. Alain St. Ange responded factually as follows: 'It is important to set the record straight to avoid any misunderstanding resulting from the article published or republished by the Today Newspaper on Tuesday 8th January 2013.
The article entitled "Mauritius undecided on participation at Seychelles Carnival" made reference to a sum of Euro 100,000 requested by Seychelles for their participation, and that this remains their concern and was so far stopping them to participate. This article has resulted with local Seychelles media and International correspondents seeking clarifications on the "100,000 Euros sponsorship fee'' that the Mauritius Tourism Promotion Authority (MTPA) said it is "being requested" by the Seychelles Tourism Board for their participation into the third edition of the carnival. To participate in the annual Carnaval International de Victoria is free. There is no fee whatsoever to send a delegation to parade alongside the best and most known carnivals of the world and together with cultural troupes from the Community of Nations. This was made clear to Mauritius and to every other country sending delegations to Seychelles for the carnival. I need to clarify that it is only country's offered to co-host the Carnival International de Victoria with Seychelles who are requested to make a financial contribution. This fee ensures that they have their logo on every marketing campaign and that their name appears on all carnival documentation. The countries who co-host the carnival also participate in the Press Conference and have the opportunity to sell their respective country to the gathered press attending the carnival. All the other participating countries, and there are many who make the trip annually, only have to pay board and lodging whilst in Seychelles and their own air travel costs.
The Mauritian Authorities had requested that Seychelles consider granting them board and lodging under the bilateral cooperation between the two countries, however this carnival is not covered under this bilateral cooperation. It is important to note that the carnival organizing committee does not make provision under its budget to cover the cost for participating countries. Each country's delegation come to this Carnaval de Carnivals in Seychelles to showcase their culture, their people and the unique selling points of their respective country. For tourism destinations, it is a way to be seen, it is a way to be more visible in front of press who do not know the destination and who would not just write about the destination otherwise. Seychelles promises maximum coverage to all participating countries. The co-hosts of the 2013 carnival are working together to ensure that the press delegations covering their carnival is more impressive year on year, and that the expected coverage will ensure visibility of participating countries'.
Minister St.Ange said to the question posed to him if Seychelles really wanted to have Mauritius present at the event: 'Yes, of course we do. This is why we have for three years consecutively been inviting them to be with us. They have always had the option to either only be a participant or be a co-host with Seychelles. We are saddened by this latest confusion arising about whether Mauritius will participate or not. The choice is theirs and theirs alone, but we should keep to facts and avoid printing untrue statements on the matter. We have always had the one story and proposal on the matter and this the Mauritius Authorities know well'.
Karl Mootosamy, CEO of MTPA, has increasingly come under pressure and attacks from the island's tourism stakeholders for the lackluster campaigns, lack of vision and lack of inclusiveness, leading to the Maldives to overtake Mauritius in 2012 for the first time ever in number of tourism arrivals, with third placed Sri Lanka now breathing down the neck of Mauritius and ready to snatch the runners up spot in 2013, relegating Mauritius further down to the third rank.
'I know you are not a friend of Karl and I cannot blame you. Lack of response to enquiries is a hallmark of his administration and many of us suffer the same highhanded fate. MTPA has run out of ideas and ran out of steam and his whispers to bring down whomever with him if he gets sacked should be called. Mauritius to ever lose the top spot to Maldives was unthinkable till it happened. And it happened in a year when they had a lot of political problems which affected tourism. Like Seychelles in 2008 we are also now at a watershed. Back then STB was radically overhauled when the private sector lost confidence in them. Look at them now. Little Seychelles, compared to our population and GDP, is known around the world and we have lost visibility. They are no threat to us in terms of numbers, they only have just over 200.000 arrivals and we have five times as much, but they got there by being creative. They court the media. They create events and our people then try to copy them like last year. First they tried to steal the carnival idea, then turned it into a shopping festival when it embarrassed the whole country and the financial results were a disaster. Things must change and I for one know that this latest spat is all Karl's doing. He is envious and jealous of St. Ange [Seychelles Minister for Tourism and Culture] and his successes but does not see how St. Ange is constantly trying to reach out to Mauritius. Vanilla Islands is an example. There never was a better time for Karl to leave and we can then reform MTPA into a modern marketing machine like STB has become' said a regular source yesterday, when discussing on email the report in the Today newspaper.
Last year a large press contingent had travelled to the Carnival Festival from Mauritius in the absence of an official delegation and it remains to be seen how or even if Mauritius will be represented this year by anyone else but the media again in a month time when the festival enters its last day. Expect live reports from Victoria and feedback on talks with media representatives from Mauritius attending, as to how they see the rocky relations their own MTPA has with other Vanilla Island partners. Watch this space.
LE MERIDIEN FISHERMANS COVE SUFFERS MINOR FIRE DAMAGE

One of the finest hotels along the Beau Vallon bay, the Le Meridien Fisherman's Cove, has over the weekend suffered fire damage to the thatch roof over the main restaurant. The accidental fire, no guests or staff came to any harm at the time, was however swiftly contained as the fire brigade arrived within 10 minutes of receiving the call.
Information received from a source on Mahe said the damage is minor and repairs will go underway once the insurance assessors have completed their report, as no foul play was suspected as cause of the brief blaze. Initial suspicion points to an electrical fault but this still requires confirmation.
The resorts in the Seychelles are regularly holding fire drills in conjunction with the local fire brigade, an investment which clearly paid off here as both evacuation of guests and staff as well as immediate firefighting efforts now attest to.
The Fisherman's Cove is the 'senior' one of two hotels this global Starwood brand is managing in the Seychelles, the sister resort being the Le Meridien Barbarons on the other side of Mahe, and the Fisherman's Cove is reputed for its high standards of cuisine, the luxuriously appointed rooms and the beautiful setting at the end of the world famous Beau Vallon Bay beach.
Tourism and Culture Minister Alain St. Ange reportedly visited the location in the company of staff from the Seychelles Tourist Board, which offices are only a stone throw away at Bel Ombre, to inspect the damage and get briefed on the circumstances of the incident and the expected time frame of repairs. Also at hand was the Chairman of STB Mr. Barry Faure, who is also the Secretary of State in the Office of the President, a sign how keenly concerned the administration is about such incidents and their potential impact on tourism to the archipelago.
NEW VISITOR RECORD SETS TONE FOR 2013
The jury's verdict is in and the number was exactly 208.034 – being the combined arrivals of visitors by air and sea in the Seychelles for the year 2012.
The increase of well over 8 percent compared with 2011 was largely supported by the tourist board's strategy of market diversification, as across the past year new and emerging markets more than made up for the loss of share in the formerly traditional core markets like France. There in particular has the lack of nonstop flights, among other reasons, led to a decline by 18 percent in visitors to the archipelago. Other markets, which equally lost nonstop flights when Air Seychelles, now under the management of Etihad which prefers traffic to route via their Abu Dhabi hub, pulled out from Europe are the UK with a decline of 15 percent and Italy with a decline of 8 percent. This according to senior tourism sources in the Seychelles shows that there is clearly a link between the convenience of nonstop travel and market performance, reiterating calls to restore nonstop services to Paris as soon as possible.
The biggest market gains though came from China, which responded to a relentless marketing blitz with a 111 percent increase in visitor numbers, aided by close cooperation with Gulf airlines led by Emirates, now flying 12 times a week to Mahe, and Qatar Airways, flying daily. The introduction of flights in a few weeks time by Air Seychelles to Hong Kong, though via Abu Dhabi to make the new route financially viable until traffic volumes will permit a switch to nonstop flights, will further add to this trend.
The United Arab Emirates recorded a 52 percent rise of visitors to the Seychelles, again supported by repeated marketing and sales missions to Dubai and Abu Dhabi, and an overall 28 frequencies between the UAE and Mahe by Emirates, Qatar Airways, Etihad and Air Seychelles, the latter two flying under code share agreements.
Russia showed a 35 percent rise in passengers, South Africa 18 percent, the Americas 18 percent and the Pacific region by still a remarkable 12 percent, proving STB's marketing strategies for these market to be spot on and affirming their partnership with in particular leading Gulf airlines to promote the Seychelles in these regions.
With the start of the new year the annual calendar of events in the Seychelles is now going underway again, led by their Carnaval de Carnivals, when the world of carnival will come to the Carnival International de Victoria between the 08th and 10th of February. That top rated festival now being just a month away, groups from Brazil, the UK's Nottingham Carnival, from the heartland of Germany's carnival in Duesseldorf and only confirmed overnight from Namur in Belgium will join hands to thrill the crowds lining the streets of Victoria with others from Africa and the beyond. Expect live reports from the archipelago, capturing the moments when carnival takes over life in Victoria for that weekend and a lot more. Seychelles, truly Another World.
AND in closing the regular dose of news from further down south, courtesy of Gill Staden's THE LIVINGSTONE WEEKLY
This the road from the Waterfront entrance to Sichango Road (The Royal Mile). This road is a potholed nightmare and with the rains and a broken water pipe, it won't be long before it is impassable. The road is raised onto a causeway because either side is a bit boggy, so it is not an easy road to maintain. It would appear, though, that no-one wants to take responsibility for the road maintenance. Does it belong to Roads Department, Livingstone City Council or to Zambia Wildlife Authority? No-one will say.
For many, many years Safari Par Excellence, the owners of The Waterfront, have been doing their best by dumping laterite on the road to fill in holes; no authority has taken any interest. Even when Sichango Road was being repaired the pleas to have this stretch of 130 metres repaired were not listened to.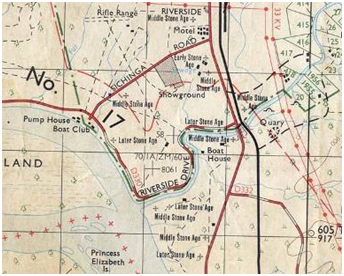 The map (1974 version) shows the original location of Riverside Drive which ran all along the river from the top of the Game Park, past the Pump House (Water Intake) and the Boat Club and then continued along the river to the Maramba mouth and then wound its way along the Maramba River to the Falls Road. The Waterfront is not marked, of course, but is 100 metres from the Boat Club; the David Livingstone Safari Lodge is next to the Waterfront. The road from the Waterfront along the Zambezi and the Maramba was a lovely drive but now has fallen into disuse because it has not been maintained. Surely this is a road which should be repaired for the UNWTO and for tourism in general in Livingstone.
Fencing the Mosi-oa-Tunya Park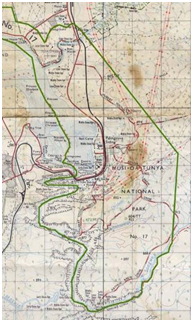 I was told that ZAWA has been given the funding to fence the whole of the Mosi-oa-Tunya Park. I wrote a couple of weeks ago that I had seen some fencing going up by the airport. It is a much better constructed fence than the previous one, but it will still have an elephant problem. Now, I am told, the fence is being extended to cage in the whole of the park.
We reported before that ZAWA had cleared some land on Sichango Road on which to construct a new gate just south of Chrismar Hotel. Beyond this gate, apart from the 'National Park' are properties which have title deeds issued to them by Lands Department – The David Livingstone Safari Lodge, The Waterfront, African Queen, The Zambezi Boat Club, the Pump Station and some homes. One assumes that ZAWA cannot restrict access to these properties or charge park fees for entrance. The land, as far as I understand it must belong to the property owners and not ZAWA. And yet, the gate, one assumes will have to be manned 24 hours a day.
Let's move further round. Here is my old map again with some splodges – been well-used. I have drawn the boundary in green as shown on the map. Assuming that the park boundaries remain the same, the following roads will have to pass through the fence:
Falls Road, Maramba Farms road (also to Baobab Ridge), Hubert Young Drive, Mukuni Road, Arthur Brew Drive (twice). Each will require its own gate – manned 24 hours a day? At what cost?
I think it is important that we know why we are fencing the park. Is it to keep the animals in or the people out? In this southern section there are few animals and those that use it most are the elephants.
Some years ago two elephants were collared and monitored. Below is a map of their wanderings. Their routes cross and re-cross the fence line.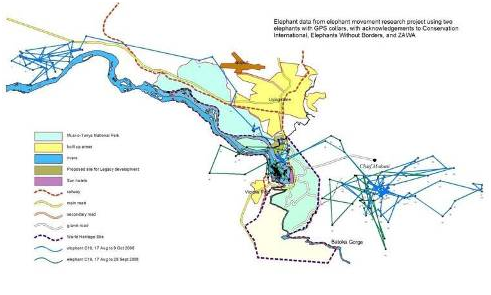 Rain and more rain …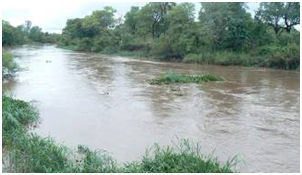 As I write this it is raining. It has been raining every day, mostly in the afternoon. Yesterday, though, it rained most of the day – a continuous dripping rain. When it stopped later I decided to go to have a look at the Maramba River. The Maramba did have water in it earlier this week but not too much. But when we arrived at Maramba River Lodge, the muddy water was belting down the river carrying with it lots of flotsam and jetsam from further upstream. There were branches, water hyacinth, plastic bottles and bags and the odd flipflop …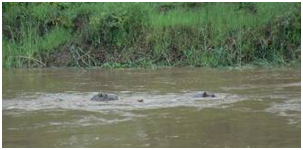 Then, for an added treat a pair of hippos plunged into the water a bit downstream and then swam/paddled upstream in front of the lodge against the current.
In 2010 the Maramba River flooded. It reached the bottom of the bridge on the Falls Road and was a great spectacle. It wasn't much fun for Maramba River Lodge, though, as the river swept through the grounds and made a complete mess. This can only happen, of course, if the tributaries fill and add to the local rains. The catchment for the Maramba starts near Senkobo which is 30 km north of Livingstone.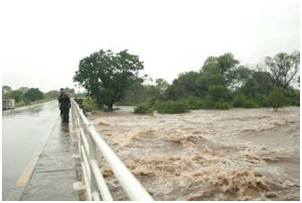 Maramba River in 2010