AVIATION, TOURISM AND CONSERVATION NEWS from Eastern Africa and the Indian Ocean islands.
A weekly roundup of breaking news, reports, travel stories and opinions by Prof. Dr. Wolfgang H. Thome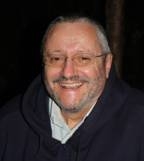 You can get your daily breaking news updates instantly via Twitter by following @whthome, join me on www.facebook.com/WolfgangHThome where the articles also cross load or read the daily postings on my blog via www.wolfganghthome.wordpress.com which you can also follow to get immediate notification when a new article is posted.
Third edition May 2012
ICCA RATINGS FOR 2011 SEE NO AFRICAN COUNTRY / CITY IN THE TOP 20
The International Conference and Convention Associations recent publication of the top 20 destinations for MICE business has reaffirmed the old world order, that not one African city or country made it into the top 20 worldwide.
In fact the top 6 countries appear to be cast in iron, led by the United States and followed by Germany and Spain although in the city ranking Vienna retained top position but with a change in runners up now being Paris and Barcelona.
African destination countries have been trying to market MICE events more aggressively in recent years but are often limited by the available conference facilities and more important bed capacity in capital and key commercial cities. While South Africa has been persistently topping the African rankings and has invested heavily in facilities ahead of the 2010 FIFA World Cup, other countries have been playing catch up with Kenya significantly for the East African region attracting ever more MICE business and hoping for yet more, as the planning for a brand new international class conference centre is advancing, to be set at the Bamburi area of the Indian Ocean port and leisure city of Mombasa. Another country keen on increasing their MICE footprint is Rwanda, where new hotels and conference facilities are due to be commissioned, amongst them a new Marriott Hotel and Conference Centre.
Globally though Africa, as is generally the case with tourism arrivals and global ranking therein, remains in the distant pack chasing a however fast growing market segment for such profitable and visibility creating events.
The new top 20 country rankings, according to the number of confirmed major meetings held, are:
USA 759 meetings
Germany 577
Spain 463
UK 434
France 428
Italy 363
Brazil 304
China 302
Netherlands 291
Austria 267
Canada 255
Switzerland 240
Japan 233
Portugal 228
Republic of Korea 207
Australia 204
Sweden 195
Argentina 186
Belgium 179
Mexico 175
The top 20 city rankings, again going by the number of meetings hosted in 2011, are:
Vienna 181 meetings
Paris 174
Barcelona 150
Berlin 147
Singapore 142
Madrid 130
London 115
Amsterdam 114
Istanbul 113
Beijing 111
Budapest 108
Lisbon 107
Seoul 99
Copenhagen 98
Prague 98
Buenos Aires 94
Brussels 93
Stockholm 93
Rome 92
Taipei 83
ETS COMES UNDER MORE PRESSURE
While some countries appear to have been quietly threatening the EU to block any agreements in upcoming climate talks to show their active disagreement to EU negotiators, should Brussels not refer their hugely controversial emission trading scheme to ICAO for moderation and to reach a globally acceptable solution ICAO and IATA have been working for over a decade to progress this topic while manufacturers have very significantly reduced emissions of new aircraft the recent threats by the EU commissioner in charge of climate has fallen on deaf ears at best and met a steely resolve to let it come to a showdown with Chinese airlines. Connie Hedegaard was quoted a few days ago having words with Indian and Chinese airlines refusing, which have the backing of their governments it should be pointed out, to comply with the EUs controversial rules. Hedegaard gave the airlines in question, 8 Chinese and 2 Indian, up to mid June to comply or else start the process of sanctions, which could include fines of 100 Euros per ton of carbon not reported, but could in the worst case scenario include withdrawal of traffic rights or impounding of aircraft, a recipe for an immediate trade war when, as is predicted, in particular the Chinese government wades in and bans EU carriers from their own skies.
A broad coalition is forming worldwide, led by presently 20 hugely important countries including China, India, Russia and the US, but also including Brazil and others, which met last month in Moscow to strategize and coordinate a united response, when as expected the EU bureaucrats are pushed into a corner and start hitting out wildly with fines and bans. Here in Africa has AFRAA taken the lead as African governments seem to shy away from making their position clear vis a vis ETS, something at least one government source in Eastern Africa described as: welcome, let the aviation industry formulate their concerns and the AU can then take it up instead of us small countries fighting with the EU. When there is enough opposition, we will know where tpo give our support to because our airlines are important to us. Indias aviation minister Ajit Singh was quoted to have said: You cannot enforce laws outside your sovereign area, a clear signal that this may head to the international court over sovereignty issues besides prompting tit for tat exchanges on economic levels which could stifle growth and extinguish the already low flames of global recovery.
Chinas Air Transport Associations Director General Zhenzhong too was quoted in media reports that he blasted the EUs ETS scheme as unilateral action [which] lacks any basis to enforcement action and punishment before like most of the 20 and their new followers from the Gulf and Africa also pointing to ICAO and IATA to formulate a globally acceptable solution. It was not lost on this correspondent that Hedegaards assurance, the EU would like to see nothing better than such an ICAO inspired solution, was at best a thinly concealed misleading statement for the global aviation industry, as the EU persistently failed to constructively engage with ICAO and IATA over this issue for the past 10 years, clearly preferring their own bureaucrats own ideas and dictates to global consensus.
All eyes are now focusing on the mid June date the EU has set when it threw the gauntlet to the Chinese airlines, and by definition the Chinese government, as senior officials in Beijing have already in February declared that their airlines will be prohibited from compliance, mapping out a path for a major collision by the fast emerging new world power China with the old continent of Europe.
One outcome though is certain, no matter what Bureaucrazy EU civil servants do in June and thereafter, that Europe has singlehandedly managed to unite the US with Russia, China, India and others they often do not see eye to eye to, in their joint opposition to ETS, a fight with very likely one outcome which will see Europe at the losing end, having to climb down from the untenable position it took and subject itself to the ruling by ICAO, when the global aviation regulatory body hands it a universally supported draft for implementation. Watch this space.
GULF AIRS FUTURE HANGS IN BALANCE



Sources from Bahrain have overnight confirmed that the Kingdoms lower house of parliament has yesterday rejected a proposed bailout plan presented by the airline, worth some US Dollars 1.75 billion and referred the matter to the upper house of parliament for moderation and mediation. The Kingdoms government has committed itself to see the airline survive but under what scenario that will happen, with several options on the table, there is no sure way of telling the outcome, now that the funding is being decided by the two houses of parliament and largely out of governments hands.
According to one source sparks must have been flying when the lower house deliberated on the airlines performance, which earlier in the year, after less than three months of operations to Entebbe, pulled out of Uganda as part of a major cost cutting programme aimed to concentrate on routes making profit, as seen to neighbouring Kenya where the carrier now flies daily. According to the reports, members of the parliamentary committee discussing Gulf Airs bailout threw a range of accusations against the airlines top management for allegedly squandering money, with some going as far as demanding stronger measures to be used to establish if any questionable transactions have taken place while demanding changes at the helm of the airline. Gulf Air over the past two years, has not only suffered from the industry challenges of the upheavals of the global economy but was particularly hard hit through what has often been described as externally sponsored unrest, aimed to overthrow the monarchy with the equally often suggested motive to replace it with a theocracy instead. Passenger numbers subsequently shrank for both flights to Bahrain as well as for transit traffic, leading to the implementation of an austerity package and wide ranging cost cutting exercise earlier in the year.
Only days ago did Gulf and equally challenged Royal Jordanian announce a major code share deal for up to 11 flights between Bahrain and Amman but almost instantly drew criticism from aviation analysts over the supposed benefits of this deal for both airlines, unless seen as a precursor to a potentially far greater partnership, under which significant synergy effects could contribute to improved bottom line performances of the two airlines something both governments would warmly welcome in order to reduce subsidies. Interesting here is that prior to his move to Gulf Air in 2009 did CEO Samer Majali serve as CEO at Royal Jordanian and their current CEO Hussain Dabbas is set to also leave for a top position with IATA next month, leaving the implementation of the deal to his successor.
Aviation watchers are now at edge to see the next round of talks in parliament in Bahrain to find out what fate awaits Gulf Air, which from its erstwhile position as THE pan Gulf carrier has over the past two decades reduced in function to be the national airline of the Kingdom of Bahrain, after all other partner states progressively pulled out to establish their own national airlines. Watch this space for future updates, keenly anticipated as the fate of one of the Gulf aviations former greats now hangs in the balance.
East Africa News
SWAHILI FASHION WEEK IS COMING TO A PLACE NEAR YOU IN EAST AFRICA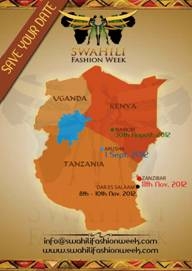 The fifth edition of the Swahili Fashion Week will go underway in Kenyas capital Nairobi with the first of overall four events, when the Nairobi Showcase takes place on the 30th August this year.
This will be followed by the Arusha Showcase on the 01st of September, thereafter giving sufficient time to evaluate the submissions of designs and creations before the finals go underway in Dar es Salaam between the 08th and 10th of November this year with a Fashion Week and Awards.
The Grand Finale is set for the Spice Island of Zanzibar, fast becoming a magnet for culture, art and performance presentations as seen with the annual Sauti Za Busara festival, where on the night of the 11th November the who is who of East African fashion will gather to celebrate the winners of the Swahili Fashion Week 2012 before having an after party under the full moon.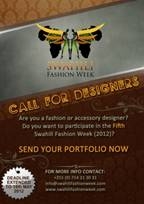 Design submissions have been extended until TOMORROW, 18th of May only, so rush if you have fashion ideas ready to be shown to the critical eye of the judges and the public. Watch this space as another East African festival is coming your way. Visit www.swahilifashionweek.com for more information and details.
Uganda News
NASAIR MAKES MAIDEN FLIGHT TO ENTEBBE



Eritreas official airline Nasair Eritrea, which last year merged with Eritrean Airlines to form a stronger and financially more viable national airline, has now commenced flights to Entebbe Uganda from Asmara, offering the first direct flight between the two countries instead of having to travel via Nairobi.
While the fact of the inaugural flight could be established through an aviation source at the airport, it was inspite of this correspondents best efforts not possible to get details on the airlines frequency or schedule, nor if any waypoints would be served Nasair has been flying to the South Sudan capital Juba since last year already at the time of going to press.
Ugandas relations with Eritrea have been rocky since Ugandan troops were deployed as a key part of the UNs and AUs AMISOM peace keeping force in Somalia, following constant allegation over Eritrean support for the radical Islamist Al Shabab militias, themselves part of the global Al Qaida network. In particular Kenya has warned off Eritrea from flying supplies into the Somali war zone when at the early stages of the Kenyan forward defense against terrorists in Somalia several planes were reported to have offloaded ammunition and weapons before the Kenyan airforce established air superiority. Eritrea also faced pressure from fellow IGAD members over further allegations of harbouring terror groups inside their territory, something the Eritrean government has repeatedly denied though the allegations have never gone away.
That all said, in the best aviation tradition Happy Landings to crews and passengers from here on.

EMIRATES ADDS VIETNAM



East African travelers will soon be able to say themselves the famous phrase spoken by Robin Williams, starring as the cantankerous, authority defying armed forces network DJ: Goooooood Mooooooorning Vietnaaaaaaam when travelling with Dubais award winning carrier Emirates, even though the daily flight will actually arrive at 19.20 hrs local time in the evening. An announcement made yesterday by the airlines Uganda country manager Khalid Al Zarouni confirmed that on 04th June will Ho Chi Minh City, the former Saigon, join the Emirates network as the 124th global destination, giving Ugandans, and other East Africans flying out of Nairobi and Dar es Salaam a daily one stop connection via Dubai.
The airline will initially use an A330-200 aircraft in a two class configuration of 27 business class and 251 economy class seats, before moving up the a three class B777-300ER from 28th October, it was stated to this correspondent in a media release.
Vietnam has in recent years become one of South Asias emerging economic powers and structural reforms have made the country an important upcoming investment and trade destination. The country also offers an astonishing number of tourist attractions including a UNESCO World Heritage Site on Hoi An island at Halong Bay and world class beach resorts along miles upon miles of white sandy beaches, making it a truly exotic place to visit.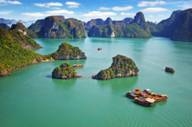 (Picture provided by HK Strategies, courtesy of Emirates)
Ho Chi Minh City is Emirates 8th new route already launched this year, following, as reported here before, Rio de Janeiro, Buenos Aires, Dublin, Lusaka, Harare, Dallas and Seattle, with more new destinations to follow as the airline receives additional new aircraft from both Airbus and Boeing. Added a regular source at the Emirates office in Kampala: We expand our network to offer our travelers the widest choices when they fly on our daily flight from Entebbe and connect in Dubai. We offer stop over options both ways which give passengers the opportunity to see Dubai for a day or two and explore one of the fastest growing cities in the world. Since we moved to a nonstop flight between Entebbe and Dubai our popularity has grown and we connect Ugandans with one stop to the world, clearly buoyed by the news of having yet another destination feather in their cap. Visit www.emirates.com for more information.
UGANDA WILDLIFE AUTHORITY LAUNCHES NEW WEBSITE



Virtual access to Ugandas ten national parks was just made easier for anyone wishing to visit the Pearl of Africa during the countrys 50th anniversary year of Independence from Britain, after the Uganda Wildlife Authority and their partners launched the latest state of the art website version.
Supported by USAIDs STAR project this development is considered a cornerstone for future e-marketing and combined use of the social media through links to Facebook, Twitter, YouTube and even TripAdvisor, allowing site visitors to instantly share their most liked feature with their social network friends. Find UWA on Facebook via www.facebook.com/UgandaWildlifeAuthority or follow them on Twitter via @ugwildlife.
Uganda in 2012 is also the Lonely Planets top global destination, which gave a significant boost to interest in the country from around the world and more airline connections than ever before to Entebbe, Ugandas international airport, are making visits easier and more affordable than ever before.
Special sections on the site for a special visitors guide, for the media, the travel trade, researchers and even potential investors wishing to obtain a concession for a tented safari camp, a lodge or other tourism activities can now get to relevant content at the click of just one button, instead of having to navigate through a maze of information as was the case before the new site was launched. A regular contributor of story lines and information, who attended the launch yesterday, had this to say: The launch of the new website is also marking the turn of a page at UWA. They had some rough two years with all the enquiries and allegations and uncertainties. It is a positive development that partners like USAID stayed put with them and continued to assist to make UWA and our national parks more visible on the net. This is a big step forward and with the troubles left behind surely UWA can now look at a brighter future again and play their part in promoting Ugandas rich wildlife heritage.
True enough, this one event of the launch of the new website is also perceived by many in Ugandas tourism industry as the break of a new dawn for Uganda Wildlife Authority. Well done and in particular many thanks to USAIDs STAR project team for their support.

Kenya News
KENYA GOVERNMENT TAKEN TO COURT OVER HIGHWAY ROUTING THROUGH PARK
Reaction to last weeks cabinet decision, to apparently ignore the licence terms granted by NEMA in connection with the Southern Bypass now going under construction and sanction a route inside the boundaries of the Nairobi National Park, has brought the almost inevitable reaction from the conservation fraternity. Within two days of the cabinet decision becoming public knowledge has the African Network for Animal Welfare, in short ANEW joined hands with the influential East African Wildlife Society and at least one individual conservationist, award winning Dr. Paula Kahumbu, to take government to court and begin the long legal battle ahead to safe the national park from being encroached and thus setting a significant precedent for future land grabs, as the Kenyan capital is bursting at the seams.
The cabinet decision which is now on record, is the first significant piece of evidence that the various terms granted by NEMA in connection with the licence to build a Southern Bypass, is being ignored. Now that can be taken to court where first an injunction is sought before then moving to the stage of having a full hearing to determine the case of saving the park. You have last year written yourself about the scenario, where after the first section of land is heaved off for whatever purpose, will eventually be cited as a reason to encroach more and more. Land grabbing would be the most lucrative business as every acre taken off the park would be worth its size in gold. Over the years the migration routes in and out of the park have been progressively shut off by farming, manufacturing and housing in that corridor and Nairobi National Park is rapidly becoming an island in the midst of a sea of humanity. ANEW has successfully made a case against the Tanzanian government at the East African Court of Justice over the plans for the Serengeti highway they were planning. They defeated the defense that EACJ is not a competent court to hear such cases but court had different opinions. After the decision was appealed the appellate division confirmed jurisdiction and even the Kenyan case could head there in the end.
For now, legal action is going underway. We expect the plaintiffs, all conservationists with a pedigree of honest background in conservation, to be pressurized and harassed even but that case will now go ahead. That highway cannot be built until the court cases, if necessary to the highest instance, will be concluded said a regular Nairobi based conservation source to this correspondent after his arrival in Kenya over the weekend.
As written her previously, the new highway, if government has its way, will excise a significant portion just inside the park boundary from near the Ole Sereni Hotel along Mombasa road to near the Langata park gate, but by having to bypass Wilson Airport, where a buffer zone behind one of the runways is required, the incision will be far deeper than initially let on by the planners as they financiers have ruled out paying for a tunnel under that particular area for purely financial reasons. Added the source: It is here that we feel misled by government and if they can do that today what will they invent next time they can see a big payday to heave off a few hundred acres here and a few hundred more elsewhere for say housing estates. Can we ever trust them again to be the principal protector of our national heritage.
Notably did a second such case come into the public domain last year when the Kenya Road Authority, hand in hand with the Nakuru council, proposed a routing of a bypass highway around Nakuru also passing through park land, raising immediate protests at the time. The cabinet decision last week to sanction the highway routing of the Nairobi Southern Bypass to go into the park, as the very highest level of government, has revived fears that for Nakuru too a similar decision could be taken, irreparably altering the fabric of that relatively small park which is one of the largest rhino sanctuaries in the country and regularly home to millions of flamingos. With the gauntlet now thrown to the conservation fraternity, and a multi billion Kenya Shilling offer for the Kenya Wildlife Service being dangled as the proverbial carrot, to allow them buy alternative land elsewhere, the combined assault on the environment by East Africas governments has been move a notch up and it is now up to the respective national judiciary or even the East African Court of Justice as a last resort, to protect East Africas wildlife heritage from present and future attacks of this kind.
Watch this space as the learned friends will now prepare for a battle of wits and facts before the High Court in Kenya.

RAINS MESS UP SAFARIS TO THE MASAI MARA
A number of accounts were received overnight from Kenya that torrential rains had led to the closure of the Mai Mahiu Narok road, a crucial throughfare enroute to the world renowned game reserve, forcing safari busses and 4x4s to turn back with clients unable to reach their camps and lodges.
Repairs to the presently flooded road it was learned could take several days and no information was forthcoming about when the road would reopen for traffic, forcing tourists and their safari companies to make expensive alternate arrangements to fly them out of the game reserve to Nairobi so that travelers scheduled to leave the country would not miss their flights, while others had to fly into the Mara as their road safari was unable to proceed.
The road between Narok and the Sekenani gate, notorious in the past as a car killer and spine wrecker, as well as other entry points to the reserve, were all receiving massive amounts of rainfall, making it even for the sturdiest of 4x4s almost impossible to progress.
Game drives, according to one source, at least in some sections of the Mara, were staying on the main tracks for fear of getting stuck in axle deep mud , making this rainy season one of the heaviest in many years.
Safari operator sources however were prompt to assure this correspondent and their clients that with the flying alternative available no safari tourist had to leave the country without seeing the big five in the Mara, albeit for some added payments needed for airtickets. Watch this space.

VIRGIN ANNOUNCES END TO KENYA FLIGHTS


A shock announcement was dropped on Kenya yesterday by the management of Virgin, presently operating daily flights between London Heathrow and Nairobis Jomo Kenyatta International Airport, that they will discontinue flights effective 24th September this year.
A senior airline executives statement was quoted to this correspondent by an aviation source from Nairobi overnight that the economic climate in Europe was a major factor for the carriers decision to halt flights to Kenya, though no mention was given to the sharp level of competition on the route which has Kenya Airways as the predominant airline to the UKs capital with British Airways only recently announcing they would start using their B747-400s again on the route to increase capacity, besides more flights.
The Nairobi source added: Their staff in Nairobi had been speculating for a while if this might happen and Sir Richard has left no opportunity to blame aviation woes on the UK government. Fees and taxes there just rocketed and the pretence on a green tax was exposed as just another cash cow for the Exchequer. The EU ETS has also added more cost to flying. But personally I feel that if Virgin had a good revenue and load on the route, they might have stayed. I remember when Lufthansa pulled out from Nairobi they had high loads but claimed their revenues were below acceptable average. Maybe the choice of aircraft Virgin uses is also an issue but I seen the main reason in the stiff competition. Kenya Airways and British Airways will be laughing all the way to the bank when Virgin ends flights in September because they will absorb that nonstop traffic and the big Gulf airlines and other European carries will also try to carve out market share from what Virgin is leaving behind.
Virgin notably was supporting wildlife conservation initiatives and had plans to invest in their own venture in Kenya but this is now also in doubt, and it can be expected that when supported projects mature there will be no further financial assistance forthcoming, unless as a private initiative by Sir Richard Branson.
A source close to Kenya Airways also just answered, allowing to complete this report: The UK is one of Kenya Airways biggest markets and very important for passengers and cargo. Kenya Airways has been increasing capacity on the London route and the problem until now was to get more slots at Heathrow. For sure the withdrawal of Virgin as a rival airline from the route will benefit KQ considerably but it is also a negative bit of news for Kenya as a country. They are not saying but maybe they were worried about the elections coming up and that might have influenced them also in this decision. Our economy is strong here in Kenya, and while tourism is struggling to match last years record results, our boys and girls at KTB are working the globe to find new markets and bring tourists from say China or India. For sure Virgin will be missed by many here in Kenya because the airline promoted the destination strongly and that will be our all loss when that stops.
For friends of Virgin, the time to sample them is clearly now running out as in 4 months time they will no longer be seen in the skies above Kenya, as the last inbound flight leaves London on September 23rd and then returns with a last load of passengers to the heartbroken waves of their staff and friends on September 24th.
Watch this space for breaking and regular aviation news from East Africa.

MOMBASA NIGHTSPOT HIT BY ALLEGED TERRORISTS
Since the incident it has been established that it was apparently a single gunman, confused by onlookers as the struggle at the entrance ensued for several involved, and that no explosives were used. The final toll was one person dead and 5 injured during the attack.
The Moi Avenue based Bella Vista Night Club and Restaurant in Mombasa was hit last evening by what has been described as both gunfire and an explosion. While details remain sketchy at this stage, information has been trickling in since 10 pm last evening that at least one person, probably one of the security guards outside the venue, may have died of his injuries while several others were rushed by emergency services, foremost the St. Johns Ambulance Services and the Kenya Red Cross, to various hospitals for treatment.
Added information sent in speaks of two or three men, driving up to the Bella Vista parking, were seen arguing with the guard at the security checkpoint where they apparently tried to sneak through, but when stopped for the now mandatory checks in place at literally all public places and venues, a struggle ensued before shots were fired and an explosion heard.
Said a regular coast tourism source: If it is true the guard died while trying to stop them from getting inside he is a hero in my book before continuing This is of course bad for coast tourism but I also must say that the security measures which were put in place are working, although there is not much one can do in a situation like this but to keep those with bad intentions as far away from the intended venue as possible.
Other sources have sent in details that at least one fire arm was recovered by security personnel which arrived at the scene as soon as the alarm was raised, but in view of the ongoing situation and considering that only 4 hours have passed since the incident, no further information has been forthcoming from any other regular and reliable sources in Mombasa.
The incident comes on the same day as the coast tourism industry has expressed their concerns over forward bookings to government, blaming a softening market on the continued uncertainty over the elections dates, which is for anyones guess at present, either late this year or as late as March 2013, going by previous announcements made in Nairobi by leading politicians. We urge government to end this uncertainty over the polling dates and make a final announcement, so that at least until then business can continue without tour operators starting to pull back from the earliest possible date in August to December to March next year. It is not a responsible way of doing things and besides, government ows it to us citizens to set an election date and then we can get on with things the same source who provided the initial tip off on the evenings event said.
This correspondent is set to visit the coast from next week onwards on a long planned fact finding mission, which will go ahead nevertheless, to both express support to tourism businesses in Mombasa and also for not ever letting terror get in the way of life as it should be. Watch this space.

57 AND COUNTING AS KENYA AIRWAYS ADDS DEHLI



Delhi will today become Kenya Airways 57th destination, when the B767-300 takes off from Nairobi later in the day to start scheduled flights to Indias capita city. After Mumbai, served daily, this will be KQs second destination in India, to be followed in coming years by at least 4 more destinations, all to be served by nonstop flights out of Nairobi.
The new service will operate every Tuesday, Thursday, Saturday and Sunday, leaving Jomo Kenyatta International Airport at 13.50 hrs before returning home the next day at 05.30 in the morning.
Trade and tourism links between India and Kenya have been developing since before Kenyas independence and have been growing from strength to strength in more recent times, and Indian company investments and expatriate labour has done much to keep the two countries closely aligned to each other.
The airline is planning to double its destinations from the present 57 to 115 by 2021 under the current 10 year strategic plan, with a tripled fleet which by then, including dedicated freight aircraft, should stand at 119 overall, permitting an increase in frequencies as well as flying to new destinations as previously reported here.
According to a regular source close to the airline more inaugural flights are planned in coming months, so be sure to watch this space. Meanwhile though, Happy Landings to the inaugural flight and the crew and passengers on board.

Tanzania News
UNESCO DECISION ON SELOUS MINING DUE NEXT MONTH
A periodic source close to UNESCO in Paris has confirmed that the Tanzanian government was undertaking a last minute goodwill initiative to lobby UNESCO ahead of the expected decision over the application to permit Uranium mining in the Selous Game Reserve, which is a UNESCO World Heritage Site.
It was not lost on UNESCO decision makers that the former tourism minister made very negative, derogatory remarks about the organization, when he last year called them an inconsequential entity. It was also not lost on them that he wrote a letter assuring them about no highway would be built across the Serengeti and within days publicly declared the project would go ahead anyway. Many politicians in Tanzania have voiced that same determination, so was UNESCO misled with the letter to gain time? Only this week did a senior administration official for the Arusha region declare the soda ash project would also still go ahead and the planned road across the Serengeti is also for that project. Feeding officials of UNESCO and decision makers with lunches and private dinners is one thing and the Tanzanian officials are trying hard but their credibility is really shaky. For that country there are too many things happening to or around UNESCO WHS locations. Serengeti, Selous where in fact they have not even applied about the planned power plant, the Stone Town in Zanzibar where UNESCO is following efforts to have the building or zoning code changed. They are making a brave effort but this will not influence the decision makers because they look at facts, at evidence they collect themselves, at the impact of mining in a reserve and the pollution which will extend into the water sources. A decision is due next month and we will be in touch to discuss the outcome then did the source communicate overnight following several days of mail exchanges on the subject.
Plans for Uranium mining, within Tanzania belittled and the risks made seen insignificant by officials, met with stiff resistance by the global conservation community and hasty plans to then change the boundaries of the Selous Game Reserve were floated, to carve out the mining areas, said to be about 1 percent in size of the entire reserve, to circumnavigate the need for approvals. Experts however say that this will not solve the principle problem of pollution and once poisonous substances have entered the water table, and more important the streams flowing through the Selous towards the Indian Ocean, downstream pollution will sooner or later have a significant impact on the flora and fauna of the reserve.
What is really under the spotlight when the UNESCO officials meet next month is Tanzania as a country, our commitment to conservation and the many lies officials have told until now. They will look at us if we are reliable partners in conservation and will uphold commitments or otherwise break those when it suits a few individuals who stand to gain massively. They are misleading Tanzanians that the country will benefit but the financial returns from the mining for instance are really minimal in the bigger picture. Tourism can generate sustainable income for generations upon generations. Mining will extract a resource, finish it and then leave a poisonous hole in the ground. We will be judged, and other related issues, like the countrys stubborn insistence to apply again to CITES to sell ivory on the open market will in the back of their minds also feature. The conservation lobby feels aggrieved by Tanzania. People around the world rally to raise funds, pay for conservation and research projects and then they are told they are a fifth column, they are enemies of progress and development and enemies of the Tanzanian people. You cannot have it both ways. Conservationists abroad speak out because they can while our own internal dissent is being stifled and we all know what government is capable of to deal with internal opposition an Arusha based conservation source added to the topic.
Tanzanias deputy minister for natural resources and tourism, only appointed to this office two weeks ago, is reportedly in Paris to lead the lobbying efforts when he hosted a number of Ambassadors for a formal luncheon a few days ago before continuing one on one efforts according to reports.
However, these efforts were not helped at all when in a related development the Arusha Regional Commissioner was widely quoted to have called the conservation and green lobby names over their opposition to the planned soda ash factory at Lake Natron, where the only habitat for breeding of the millions of flamingos of East Africa exists. He all but accused them to be allies of Kenya, where soda ash mining at Lake Magadi has been ongoing since before independence, suggesting that they were merely stooges to protect Kenyas ability to produce and sell soda ash while keeping Tanzanians rooted in poverty. However, there are no flamingo breeding grounds in or near Magadi, a fact conveniently forgotten or deliberately concealed by Mr. Mulongo in his outburst.
It could also be established that a further and more detailed environmental and social impact study has never been submitted to NEMC, making any progress in the project unlikely, as even TATA, the initial project promoters, puled away from it some years ago when it became clear that this would cause huge controversy and likely impact on their global standing, should they become a willing party to trample on environmental protection on such a scale.
Other government officials, like the Director of Environment Dr. Julius Ningu, were however quoted in a more sober approach, acknowledging the crucial importance of the Lake Natron lake flats for flamingo breeding, vowing to protect such resources at all cost, Government at loggerhead within and with the outside world it seems, as the controversies over the sustainable use of natural resources and the protection of Tanzanias wildlife heritage rages on. Watch this space.

AIR TANZANIA RESUMES FLIGHTS WITH LOWEST FARES IN THE MARKET


Air Tanzania yesterday resumed flights on the route between Dar es Salaam and Mwanza, via Kilimanjaro, now operating twice a day on a morning and evening service between the commercial capital, the countrys safari capital Arusha and the lake side city of Mwanza.
From reliable sources it was learned that a return ticket presently sells at 199.000 Tanzania Shillings, at least 16.000 TShs cheaper than the next lowest fares and a staggering 51.000 TShs cheaper than leading carrier Precision Air.
A one way ticket still undercuts rivals with a fare of 136.000 TShs, making sure that passengers are lured away from other airlines initially over the price, before punctuality, ground and inflight service come into play again.
Precision presently flies 4 times a day between Dar and Mwanza and 7 times a day between Dar and Kilimanjaro, leaving all others trailing in their wake when it comes to frequencies.
A source close to Air Tanzania did however say: The airline is trying to source another jet and the Bombardier Q300 aircraft which had the mishap in Kigoma some weeks ago is under repair. ATCL needs more than one plane, as back up and to fly to other destinations too and this will happen sooner than later. The market now is watching how punctual Air Tanzania is but they got a very good plane and should have no technical hitches.
In turn has a source close to Precision Air dismissed the market start as no threat to Precision Air as: in the end it is the punctuality, check in, handling and in flight service which matter more than a bit of price difference in fares. Of course everyone knew that is the only way ATCL can get back into the market not wishing to comment though on an unwritten directive that government officials must use ATCL and give their business to the national airline, to help it back on its feet, or rather to keep it in the air.
Watch this space as the fight for market shares and passengers on Tanzanias domestic routes has just taken a turn to the wild side.

MWANZA THE (ALMOST) UNDISCOVERED CITY ON LAKE VICTORIA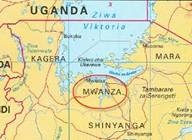 (Mwanza, Tanzanias Lake Victoria lake side city / source: ExoticExpeditionsTanzania.com)
Even for East Africans, Mwanza has an exotic ring to its name and more often than not, geography classes at school notwithstanding, some would place Tanzanias lake side city somewhere else, on Lake Tanganyika perhaps or not even inside Tanzania. Thankfully, the pilots of the airlines flying there know their bearings and they safely deliver their passengers to the Tanzanian shores of Lake Victoria and to a city which is now a growing springboard for tourists too, intent to explore the lake islands and even the famous Serengeti, only two hours drive away.
But first things first. Mwanza was founded in 1892 and this year celebrates its 120th anniversary, no mean achievement for a city in East Africa, when Nairobi was only founded in 1899, i.e. 7 years later. With a total population, again unbeknown to many, of over 2 million inhabitants, this makes it Tanzanias second city after Dar es Salaam, not the political capital Dodoma, or the East African safari capital Arusha, but Mwanza claiming that honour.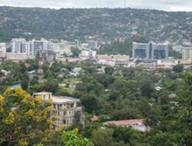 (Mwanzas city centre and suburbs)
Main economic activities are, no surprise here, the fishing and processing industry Eastern and Central Africas largest fish market, Kirumba is found in the city and of course the mainstay of it all due to the good soils and favourable climate agriculture, but mining has become an important factor in the wider region around Mwanza, where with the airport a key link to the outside world exists. Mwanza is also a major transport transit point for the railway, connecting the Indian Ocean port of Dar es Salaam via Mwanza by rail ferry to Port Bell outside Kampala, which brings employment and money into the community. And finally tourism, at last, seems to be catching up too after the lake zone complained about not getting a fair share of attention by the countrys tourism marketers, inspite of some world class attractions within hours of landing in Mwanza.
It is the latter we shall focus on, leaving descriptions and explanations of the other economic mainstream activities to the business journals while letting our imagination roam across the lake to the various islands and as far as the Serengeti National Park, less than two hours drive from the city.
A sight closely associated with Mwanza if not a feature of the city, off shore in the lake are found the so called Bismarck Rocks, named after the most famous German Chancellor in the days prior to the World Wars, who served his Kaiser at a time when the notorious Berlin Conference, which divided Africa and Africans into colonial possessions, created boundaries over which modern African countries today still are in dispute. And there goes some pre-independence history. 100 years ago Tanganyika, as the mainland then was called, indeed was colony of Imperial Germany, only ceded to the British after the German navy was decisively engaged and destroyed at both the Rufiji River delta with the Koenigsberg and on Lake Tanganyika with the Graf von Goetzen, history lessons sure to re-emerge again in future articles about Tanzania and neighbouring Kenya.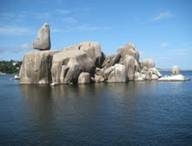 (Bismarck rocks, a major feature off the Mwanza shoreline)
But these rock formations are not just found off shore but also scattered around on land, huge boulders of rocks, a sight incidentally also found in the Serengeti where these rock outcrops, which look as if they have just escaped the earth, are called Kopjes. Much myth and much history are attributed to some of those rocks by the African tribes which lived on the lake shores for time immemorial, since this part of Eastern Africa was long proven to be the cradle of mankind from which modern man evolved.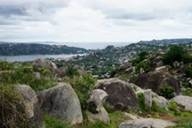 (A view across Mwanza municipality from the surrounding hills)
Some of them seem precariously shaky, as if put together by children of giants playing as with pebbles, and are much photographed of course as evidence that truly one has been to Mwanza. Local guides will be happy to take visitors to such locations, proud to show them around, as Richard Komanya did amidst a constant flow of information and details, about the city, her people and the great many things he feels every visitor should do when coming to Mwanza and the places there are to visit, no, MUST be visited.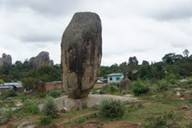 (Do not come near me during a storm)
He works at LakeZoneDesire, a tourist company with an office on airport road just a few minutes from the terminal, where not only bookings can be made for excursions, tours, for self drive and chauffer drive car hire and hotels but where visitors find a free WiFi environment in their newly constructed tourist information centre where a quick roam on the net will reveal a wide variety of things to do and place to go to, after choosing Mwanza as a destination.
Fishing for tilapia or the giant Nile Perch on the lake tick. A visit to Saanane Island National Park, half an hour from Mwanza by boat into the lake tick. A trip to the Ukerere Island to see the Dancing Rocks, where only men are allowed to visit tick. The Bukora Sukuma Museum where dancers often perform with pythons writhing in their hands and which shows what life was in long gone days tick. Or the big one, a trip into the Grumeti sector of the Serengeti, just two hours drive from Mwanza, one of the worlds most renowned names in wildlife conservation, that too Richard Komanya and LakeZoneDesires will arrange at short notice, either as a classic camping safari or staying in one of the top of the pops lodges and tented camps, Grumeti Singita has established in that part of the Serengeti tick.
Hotels of various standards are now found aplenty in and around Mwanza, from simple, affordable guest houses to the more fancied four star hotels or beach resorts. The 4 star New Mwanza Hotel, or the Ryans Bay Hotel, also rated as a four star or the Tilapia Hotel which has sister properties in the park are ready to welcome guests but then so are a number of other places details of which can be found at the LakeZoneDesire offices, suiting anyones budget and fancies. While in Mwanza, I personally would recommend a place directly at the lake of course, after all the main geographical feature of the city and there is magic in the sunsets across the water, which extends from horizon to horizon. Restaurants have sprung up all over the city now, admittedly not as ethnically varied as say in Nairobi, but worth eating out nevertheless. Pizzas at the Pizzeria Restaurant, Indian curries and dishes at the New Mwanza Hotel, Zainabus Caf for those classic African dishes along Postal Road or vegetarian fare at Bint Maringo, and of course guests in hotels and the lake resorts have a choice of snacks, a la carte dishes and buffets, popular for lunch and on weekends for dinner.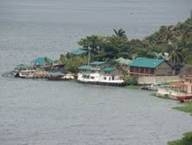 (The Tilapia Hotel right at the lake shores)
And there are more history lessons in store, as the remnant of the Hangmans Tree are now a treasured site, but in the colonial days the scene where the rulers hanged condemned prisoners and criminals, as we know today often for the minutest of crimes. But it is part of history nevertheless of course and a monument for visitors to see and stand in contemplation. A number of other sites too are still found in Mwanza of those long gone days a hundred and more years ago, like Dr. Kochs residence which allows for sweeping views across the city of Mwanza from the hills, and all these landmarks are at Richards fingertips when asked about them.
And there is the memorial to see and pay respect to of the victims of the MV Bukoba sinking a few years ago, when hundreds drowned as the vessel went down, also now part of the Mwanza history as the marine disaster took place within sight of the city of Mwanza..
(Treasured remnant of the Hangmans Tree site of executions during the German colonial days)
Mwanza for sure does not have the magnetic pull of a Mombasa or a Dar es Salaam, but it goes to show that there are hidden treasures found in Eastern Africa. Any city with more than 2 million inhabitants in our region is BIG and that means business opportunities wait to be explored, investments to be made. As Tanzania is a member of the East African Community travel by East Africans is easy and for expatriates simple, though requiring a 50 US Dollar Visa fee on entry, even if they are residents in a neighbouring country or, as the case with me, enjoy Residency for Life. The business community in Mwanza, the hotels, resorts and the tour operators are keen to see regional visitors come over and connect with Tanzania and they hope that plenty of visitors will make the trip in the future, for both business and leisure. In fact, the option still exists to use the lake ferries and cross from Port Bell to Mwanza port by lake, while air connections route via Nairobi or soon it was learned via Kigali from within the region. Said Mr. Asif Jawad, the owner of www.lakezonedesires.com, who was extremely helpful in the research for this article and who is passionate about opening the Mwanza area up for more tourists: Mwanza is ready to welcome visitors coming to explore our part of Tanzania which has so much to offer and still receives so few visitors. There is so much to do, so many opportunities in our city for business and for leisure, let people come and see for themselves.
What else now is left, oh yes, go visit your nearest travel agent or book your flight to Mwanza online with the airline of our choice and contact LakeZoneDesires before arrival to be sure of a meet and greet service, transfer to a hotel of your choice and plenty of excursions and safaris to chose from.

(Picture courtesy of Rivertrees)
Rivertrees, a country Inn set right at the Usa River halfway between Arusha and the Kilimanjaro International Airport, a long time favourite of this correspondent when visiting East Africas Safari Capital will emerge from its annual self prescribed hibernation and reopen its doors to guests today, 14th May.
The Inn closes every year during the low season to undergo refurbishment, spring cleaning, modernization and major back of house maintenance, but from experience the six weeks are always well spent and the annual new look of Rivertrees is a reward to the guests, when they can finally return to their favourite hangout.
The location along the river, in particular for those guests opting for the River Cottage cannot be more relaxing, nor get one closer to the surrounding forest, and the extensive gardens of the property invite for strolls, bird watching or simply hanging by the pool side reading a book. Weddings in particular have in recent years taken to Rivertrees like fish to water, making the Inn one of Arushas most sought after venues for those tying the knot.
A favourite for the residents of the area too Rivertrees is hugely popular with the local neighbours once a week, when they gather at the Inn for drinks and dinner, or just to meet friends not seen since the last outing.
Visit https://www.facebook.com/Rivertrees for their pictorials or see their website www.rivertrees.com for more details information and bookings.

DAR ES SALAAM VENUE FOR 3RD EAST AND CENTRAL AFRICAN ROAD AND RAIL SUMMIT
Tanzanias commercial capital of Dar es Salaam was chosen to once again host the third East and Central Africa Road and Rail Infrastructure Summit, bringing together private and public sector, investors and operators from a number of African countries including non EAC members Zambia and Ethiopia.
The wider Eastern African region has in recent years been subject to a multitude of proposed new rail projects, with the arguably most advanced being the link from Dar es Salaam, via Isaka to Kigali / Rwanda. LAPPSET too has made advances with a proposed new deep sea harbour in Lamu linking the landlocked countries of South Sudan and Ethiopia by a new standard gauge railway and a highway, having a branch off in Northern Kenya to Juba and Addis Ababa, which would give both countries a reliable link for imports and exports away from hostile neighbours. Not much progress though has been made in past plans to link Juba with Uganda before joining the RVR network linking to Mombasa, and other plans to create a new railway line between Tanga and Musoma at Lake Victoria too have inspite of political declarations of intent been on the slow burner, as financiers are looking at them all to root out duplicity and promote only the most viable links in terms of passenger and cargo traffic expected to shift from road to rail.
As to the road sector, bottlenecks continue to exist along the major traffic arteries from the coastal ports of Dar es Salaam and Mombasa to the hinterland countries, especially considering the constantly congested Kenyan capital Nairobi and the same in Kampala, with border crossing facilities and infrastructure too lagging decades behind. Here the East African countries are expected to discuss both rehabilitation, expansion as well as new bypasses around the worst congested stretches of highway to ensure that a future road network supports the growth ambitions of the East African Community and provides links to South Sudan, Eastern Congo and Ethiopia. The meeting will take place between 21st and 22nd June.

AIR TANZANIA TO RESUME FLIGHTS NEXT WEEKEND



Following the delayed arrival of their leased B737-500 over the weekend has a regular aviation source in Dar es Salaam confirmed that ATCL is intent to resume operations within a week, now putting final touches on schedules, crew planning and a last ditch sales and marketing effort, to have their single plane fly with passengers and not just as an empty exhibit.
There is speculation in the market now which domestic routes will be launched first, thought to be Kilimanjaro, Mwanza and perhaps Zanzibar plus the countrys capital Dodoma, as whispers are going along government corridors to start booking tickets for civil servants and government officials on ATCL again, moving them away from Precision Air which has faithfully served all Tanzanians at times when Air Tanzania had not a single operating plane available and was a shell of an airline. They cannot put it in writing of course but there are rumours which claim that government business must be booked with ATCL, even though they will remain unreliable with only one aircraft and no schedule has been published until now. That shows that their marketing efforts are lagging behind. If they want to start operations next weekend, and there is still no schedule, how can potential passengers even know where the fly and when they fly commented a regular aviation source from Dar es Salaam.
ATCLs management in the meantime was talking big on arrival of the aircraft, proposing to fly to Dubai within three months, causing incredulous looks according to another source present at the arrival of the aircraft, when in his words they should talk first about Nairobi, Entebbe, Kigali perhaps before they talk of that one jet flying to Dubai. Going to Dubai each way takes over 5 hours, plus time on the ground of say 2 more hours, so how then can they maintain a domestic schedule on days they go to the UAE? They are excited to have a plane again but really, they are getting ahead of themselves once more. Let them prove to us they can operate a sustainable schedule within Tanzania before looking at the region instead of day dreaming about Dubai.
It is hoped that ATCL will release details soon on their recently launched website on schedules and destinations via www.airtanzania.co.tz and embark on a sales and marketing blitz, as otherwise it will be hard for them to fill the 12 business and 96 economy class seats in their leased B737-500. Wherever they go though, Happy Landings.

Rwanda News
RWANDA FORMALLY LAUNCHES AUTOMATED IMMIGRATION CONTROL FOR NATIONALS
The test phase successfully concluded saw the automated passenger arrival system for Rwandese nationals now formally launched at Kigalis Kanombe International Airport. Four years of developments and a significant investment in technology, and a trial phase reported her a few months ago, have now yielded the wanted results and the process of returning home can now be accomplished by Rwandans with simply swiping their passport through the reader, provide a thumbprint and the gate and within 17 seconds the process is completed without stamps or having to fill immigration cards.
The groundbreaking new technology is the first of its kind across the East African Community and in fact thought to be a first for Africa too, once again putting Rwanda on top of the leaderboard.
Present at the launch was the Minister in the Presidents office and notably RwandAir CEO John Mirenge, who reportedly took the opportunity to say: This new technology will enable passengers move swiftly through immigration procedures and it is important that all the other services within the airport follow suit in quickening their services a reminder to constantly improve the quality of handling and customer service at all levels. It is understood from a regular aviation source in Kigali that RwandAir, which is also the only handling company at the airport, is working hand in hand with other partners to improve the service delivery at the airport, also making heavy investments while at the same time waiting for the decision to award the contract for the construction of the new, state of the art, Bugesera International Airport, to which operations will shift when complete some time in 2016.
Watch this space.

RWANDAIR APPOINTS NEW GENERAL MANAGER COMMERCIAL



Breaking news just in from a regular source in Kigali tells the story of a management reshuffle with the appointment of Mr. Bert van der Stege, who earlier in the month joined the company as General Manager Commercial, elsewhere known as Commercial Director or Chief Commercial Officer.
Bert can look back at a significant career with Lufthansa since 1999, before joining West Africas Arik Air in 2010 as Vice President responsible for Commercial, an airline now operating some 24 aircraft used on domestic, regional and international routes including New York and London.
Meanwhile will all aspects of sales be handled by Ms. Alice Katiti, previously holding this position while a new position for Manager Corporate and Strategic Planning will be taken on by Ms. Lilian Kyatengwa, who was formerly in charge of sales.
The information now obtained indicates that RwandAir is fast becoming a major regional aviation force and is clearly intent to not just cement their position in the region as the fourth largest airline after ET, KQ and PW but is planning to become a major African player as the airline moves progressively towards the delivery of more aircraft ahead of the arrival of two B787 Dreamliners in 2015/16, at which stage RwandAir will go intercontinental.
Congratulations to Bert on his appointment and all the best to each and every one of the WB team in their respective positions.

TURKISH MAKES KIGALI THEIR 20TH AFRICAN DESTINATION



The arrival in Kigali of Turkish Airlines makes it three new connections this year which Rwanda has established with the rest of the world over the past few months. Turkish, a Star Alliance member, joins alliance partners Brussels Airlines, Ethiopian Airlines and South African Airways in Kigali, adding another feather in Stars cap of being the global alliance with the most connections within and into Africa.
THY will initially fly three times a week between Istanbul and Kigali, using a B737-800 in a two class cabin configuration, also offering a non palleted cargo uplift capacity of up to 7 tons. The airline has last year also signed an extensive MoU with RwandAir, under which technical cooperation and schedule alignment, amongst other areas has been agreed, and though no code share is in place at present, this has not been ruled out by a usually well informed source for the future who said: Turkish now flies to 150 destinations internationally besides their big domestic network. So it is of interest for RwandAir to see what advantages can be gained by a potential code share arrangement, which could open up more destinations in America, Europe and the Far East before they get their own wide bodied planes in 2015 or 2016. When done with the right partners it can prepare certain markets for direct flights from Kigali in the future.
On the inaugural flight was Turkishs CEO Dr. Temel Kotil accompanied by senior airline executives and a sizeable business delegation from Turkey, which has established a close political and economic working relationship with Rwanda over the past years.
A regular tourism source was swift to say: The arrival of Turkish will add more seats to the market and allow travelers to bypass other regional hubs and come directly to Rwanda. The airline will now very actively promote this new destination and we from the private sector will join then together with RDB to tap into their overseas markets and bring visitors in. When they promote we gain, when they sell seats we gain. It is a win win situation for us when a new airlines starts and it will help Rwanda to affirm to the world that we are able to host conferences and meetings just as much as we can host individuals and tour groups who come to see our gorillas or visit the other two parks or hike the birding trails or the Congo Nile Trail. And new airlines are not at the expense of our own national airline RwandAir, because passengers can even connect with RwandAir to the region if they want to see some other countries while in Africa.
From me it is Happy Landings to the crews and passengers of Turkish Airlines and welcome at last to Rwanda.
RWANDAIR ADDS MWANZA AS NEXT DESTINATION


A regular source in Kigali has confirmed that RwandAir will be adding Mwanza, Tanzanias main Lake Victoria township, to their growing list of destinations as the airline continues to expand. The flights are due to commence in June, just weeks from now, and preparations are in high gear to add another Tanzanian gateway to RwandAirs regional flight network. The airline is already serving both Dar es Salaam and Kilimanjaro International outside Arusha with flights on Tuesdays, Thursdays, Fridays and Sundays.
This information comes only days after the airline announced that starting June 10th they will go daily to Johannesburg, serving notice to their immediate rivals that they are an airline on the prowl, set to expand their reach in their task to connect the Land of a Thousand Hills across the region and the continent at large.
RwandAir, with the full backing of the government in Kigali, has been progressively implementing their strategic and business plans, acquired two brand new B737-800 last year and has two brand new Bombardier CRJ900 on order, due for delivery in October this year. Only on Monday this week Bombardiers also showed off their latest Q400 NextGen aircraft in Kigali, as RwandAir ponders the acquisition of larger turboprop aircraft to be deployed on their domestic services to Kamembe, where demand for flights in particular from Congolese travelers across the common border has been showing impressive growth rates.
Watch this space for breaking and regular news from Eastern Africas exciting aviation sector.

Congo News
FRESH FIGHTING CAUSES COLLATERAL DAMAGE TO VIRUNGA RANGER POSTS
Gorilla conservation in the Congo DR has just become even more difficult as reports emerged via Rwanda that a fresh outbreak of fighting has seen the vitally important ranger post in Bikenge, at the edge of the park, extensively damaged through shelling, almost making it appear as if it was deliberately targeted by one of the opposing forces to clear the way for more sinister things to happen.
Conflict in Eastern Congo has been continuing for decades but even before the first Congo war the area was often described as the Wild East of what was previously Zaire before returning to its original name Congo after Mobutu Ssese Seko was overthrown..
The neighbouring ranger post at the Virunga boundary in Bukima was also reportedly evacuated as the safety of the staff there could no longer be guaranteed, after the shelling of Bikenge.
It was at the same time also learned that a ranger patrol was a few days earlier ambushed by suspected militias with a reported three park staff killed in the process.
Attacks on rangers and park outposts in the past often were the precursor to poaching incidents, when gorillas, other primates and game were killed for bush meat and trophies, and although there are no reports at present of any poaching going on. However, the absence of patrols in the face of immediate danger to the park staffs lives does not permit right now to establish what exactly has been transpiring inside the park nor was it possible to ascertain that the habituated gorilla groups are safe.
Travel advisories have been coming down thick and fast to avoid travelling to Eastern Congo and the fighting at if not inside the park will once again dramatically reduce the income from visits to the gorillas, while leaving the park administration and management in further tatters and again spoiling the reputation of the park, something conservation NGOs and park management have been working hard to mitigate in the past.
Transboundary gorilla conservation has been at the heart of the cooperation between Rwanda, Uganda and the Congo DR wildlife management bodies but the periodic fighting across the border inside and outside the Virunga National Park has been making joint patrols, joint anti poaching operations and joint tourism activities very difficult at best and as is the case right now again next to impossible. The loss of park staff who lost their lives in the pursuit of conservation is deeply regretted and condolences are once again expressed to their families and friends. Watch this space.

Ethiopia News
ETIHAD TARGETS ETHIOPIA



An Addis Ababa based source confirmed that Etihad, the national airline of Abu Dhabi, is set to commence flights between the UAEs capital city and Ethiopia later this year. The information obtained claims that Etihad will from November this year begin with five flights per week, reportedly using an A320 aircraft on the route, providing an additional airlink between Ethiopia and the UAE, which until now have been connected through Ethiopian Airlines, Emirates and Fly Dubai. The same source also mentioned that plans to go daily would be implemented some time in 2013, depending on the uptake of the new flights.
Etihad, like the two other major Gulf based airlines, besides low cost carriers Air Arabia and Fly Dubai, have in recent years rolled out an extensive Africa network to connect traffic from and to Africa via their hubs in the Gulf and pending aircraft orders will in coming months and years undoubtedly see increased competition on the continent between the Gulf giants and the leading African airlines such as Ethiopian, Kenya Airways and South African Airways.
Etihad has over the past year also acquired strategic stakes in Air Berlin, just under 30 percent, in Air Seychelles where the airline holds 40 percent and only recently a nearly 3 percent starting stake in Air Lingus, seemingly keen to find strategic partners to further roll out a global network to the benefit of their passengers. Watch this space.

South Sudan News
INVESTMENT CENTRE OPENS IN JUBA AS FIRST HIGHRISE BUILDING PLANS REVEALED
The government in Juba has opened their first dedicated investment one stop centre last weekend it was learned from a regular source in South Sudans capital.
Potential investors, often taken aback by the bureaucracy involved to open shop in South Sudan, have greeted the decision with relief, as it will make visits to a myriad of different offices in different locations unnecessary, once the centre is fully operating. The source from Juba also added that the new facility would aim at halving the time needed to start a business in South Sudan from over two weeks to just one week, progress of sorts but compared with Rwanda, where RDB now guarantees a business start up within 6 hours, still way to go to make investors feel they are truly being facilitated as they expect, especially now that a number of enabling investment related laws have been passed by the parliament in Juba..
Larger scale investments are being targeted by the South Sudan government but have been hard to come by in recent months, as tensions between the South and the erstwhile slave masters in Khartoum reached new levels with regular skirmishes along the common, yet largely not demarcated border, besides the huge controversy of legitimate Southern claims to expand the territory of the new state to the 1956 borders, something the regime in Khartoum has already rejected and threatened to go to war if they could not keep the clearly illegally annexed parts of pre-independence Southern land.
At the same time it was also learned that the International Finance Corporation, the World Banks private sector lending arm, will inject some 5 million US Dollars into a property development which is set to construct Jubas first ever high rise building, dubbed the Equatoria Tower in the heart of the city. Promoted by UAP Insurance together with the Central Equatoria Investment Company, the tower will be the first modern building meeting standards already applied in the wider East African region and surely is a harbinger of things to come, once the South Sudan finds peace and the chance to develop and make economic progress. Watch this space.

NEW OFFICIAL MAP OF SOUTH SUDAN EXTENDS TO 1956 BOUNDARIES
The government of South Sudan last week launched their first official map for the country which attained independence from their former slave masters in Khartoum only in July last year. The Council of Ministers meeting a week ago, otherwise known as cabinet, approved the new map which has already prompted outbursts of anger and hate from the regime in Khartoum, which itself is intent to annex part of the traditional South, which can be traced back to the 1956 boundaries between north and south.
A total of 6 disputed areas are shown as part of the South, including those mentioned under the CPA of 2005, which were due to decide also on their future, a plan however thwarted by Khartoum which is presently engaged in a war of attrition against the Southern people and is using ethnic cleansing through murder, rape, looting and burning by their loyalist militias and army units.
These include oil rich Abyei, as well as South Kordofan, Blue Nile and the Nuba mountains, but notably also the Heglig area over which a brief border war broke out a month ago, and where most of Khartoums present oil riches come from. Juba credible lays claims to the 1956 maps on record and insists Khartoum annexed Heglig while stuffing the other areas with loyalists after forcefully displacing tens of thousands of people who would be eligible to vote in a referendum or participate in consultations as agreed under the Comprehensive Peace Agreement of 2005, which ended the decades long civil war between northern aggressors and the southern liberation movement.
Further information received from Juba also speaks of a lack of progress of border demarcation, a process too set out under the CPA but only, according to a reliable source, completed to less than 40 percent, with others putting the threshold even lower, leaving large parts of the frontier unmarked, in particular those claimed by both parties.
Pointers to the border war between Ethiopia and Eritrea were swiftly made, and while there arbitration did set out a recommended border line, many of the exact locations continue to be under occupation by the respective sides.
For South Sudan too calls have been made to go to arbitration over the exact border line, a process supported by the Juba government but hitherto rejected by the regime in Khartoum, which sees itself as the pariah they truly are when it comes to the international arena, therefore afraid of not getting what they are seeking now by force.
Said a Juba based journalist in a communication to this correspondent overnight: The Juba government is also now suspicious of the world community over their hands off attitude towards Khartoum, allowing them to raid and bomb with impunity, commit genocide and ethnic cleansing in South Kordofan, Blue Nile and the Nuba Mountains, occupying Abyei illegally and siphoning away their oil. Ban Ki Moon in fact has been described as the new Chamberlain, who tried to appease Hitler instead of standing up to him, and the UN Secretary General is fast losing the respect of the South over his rhetoric against them and hardly saying much about the atrocities Khartoum is committing. If arbitration is to come maybe it can be impartially dealt with at The Hague but under UN auspices directly it seems a non starter for lack of confidence in their impartiality.
Be that as it may, and no presuming any outcome, visitors to the South Sudan will soon be able to buy the new map and can then see for themselves what territory the Republic of South Sudan is claiming to be their own. Watch this space.

Seychelles News
VISITOR NUMBERS UP AS SEYCHELLES HEAD TO FRANCE



The month of April ended in a new visitor arrival record for the Seychelles, when 20.049 visitors arrived through the international airport, a figure never reached before. This constitutes a 5 percent increase over April 2011, which too at the time had set a new record, while the accumulative figures for 2012 year to date show an increase of arrivals of 5 percent, ahead of forecasts.
This comes amid reports that the French market is experiencing a drop of nearly 20 percent, enough cause for concern to have a high powered delegation led by ministers Alain St. Ange, Tourism and Culture and Joel Morgan, Internal Affairs and Transport head for Paris next week to engage with the tourism trade.
The end of nonstop flights by Air Seychelles in January this year led to a drop in visitor from France and plans by Air Austral of La Reunion, to fly a service from Paris to Mahe were also shelved, leaving the Etihad connection from France, now code shared with Air Seychelles, offering 8 flights a week via Abu Dhabi to the archipelago.
Said a source from Victoria: The tourist board is fighting back to recapture the French market. Other new markets have made up for the loss of arrivals from France and continue good growth but France has always been our biggest foreign market. We will not leave it to others but need to promote the use of flights via Abu Dhabi, or via Doha or Dubai. The airlines are helping and when the delegation leaves on Monday they will meet the key trade partners from France and discuss with them how Seychelles can help to sell better, how the airlines can help to sell better. We now have 28 flights a week through the Gulf and there is enough seat capacity to make this work. It is not nonstop any longer but one stop but we think the appeal of Seychelles as the best Indian Ocean destination will override the issues of the halt of Air Seychelles flights in January if only we explain it well enough.
The Seychelles Minister for Tourism and Culture, Alain St. Ange, was quoted in a media release sent to this correspondent overnight as having said: Our presence [in France] will help reinforce the work being done by our Paris Office in the market and it is our hope that the tourism trade meeting we are holding in Paris will help to regain back our market share.
While in France the meetings with tour operators and travel agents will be complemented by meeting airline officials from France or working in France and, almost needless to mention, meeting the media as the Seychellois tourism marketing juggernaut relentlessly marches on.

SEYCHELLES CHOSEN AS ICTP LAUNCH VENUE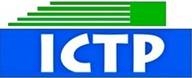 The International Council of Tourism Partners will be formally launched, with now nearly 180 members from over 40 countries, at the tropical island paradise of the Seychelles on July 07th.
The formation announcement was made at last years World Tourism Market when the Seychelles were a founder member alongside Rwanda. La Reunion, Oman, Grenada, North Shore / Hawaii and Richmond / Virginia and Johannesburg Tourism.
The phenomenal growth of ICTP, under President Professor Geoffrey Lipman and Chairman Thomas Juergen Steinmetz of the eTN Group, is evidence that ICTP was and is needed as a now formal alliance of tourism destinations committed to green practice and sustainability.
The ICTP General meeting will be flanked by the RETOSA Board of Directors meeting on one side of the calendar and he much awaited Routes Africa meeting due for July 08th to 10th, for which record registrations have been pouring in, all drawn no doubt by the appeal of the Seychelles as THE destination in the Indian Ocean.
Said Thomas Steinmetz in a press release just received here: I am pleased to announce that with the support of our executive members and the Minister of Tourism & Culture of the Seychelles, our inaugural launch meeting will take place along with a combined Executive and Academy Board meeting in the Seychelles on July 7. We're inviting all government and private industry stakeholders to join us in the Seychelles on July 7 for this important event, when we will be setting the future role of our fast-evolving organization. ICTP will be announcing hotel, media, and airline sponsors for these two events shortly.
When that announcement becomes available, be sure to read all about it here, including the draft agenda for the meeting, and prepare to travel to Seychelles, Another World.
ICTP is a new grassroot travel and tourism coalition of global destinations committed to quality service and green growth. The ICTP logo represents the strength in collaboration (the block) of many small communities (the lines) committed to sustainable oceans (blue) and land (green).
ICTP engages communities and their stakeholders to share quality and green opportunities including tools and resources, access to funding, education, and marketing support. ICTP advocates sustainable aviation growth, streamlined travel formalities, and fair coherent taxation.
ICTP supports the UN Millennium Development Goals, the UN World Tourism Organization's Global Code of Ethics for Tourism, and a range of programs that underpin them. The ICTP alliance is represented in Haleiwa, Hawaii, USA; Brussels, Belgium; Bali, Indonesia; and Victoria, Seychelles. ICTP membership is available to qualified destinations free of charge. Academy membership features a prestigious and selected group of destinations.
Members of destinations currently include Anguilla; Aruba; China, Croatia; Grenada; Maharashtra, India; Flores & Manggarai Baratkab County, Indonesia; Iran; La Reunion (French Indian Ocean); Malaysia; Malawi; Nicaragua; Northern Mariana Islands, US Pacific Island Territory; Pakistan; Palestine; Rwanda; Seychelles; Sierra Leone; Johannesburg, Kruger Park & Sandton, South Africa; Sri Lanka; Oman; Tajikistan; Tanzania; Yemen; Zimbabwe; and from the US: California; Georgia; North Shore, Oahu Hawaii; Bangor, Maine; St. Louis, Missouri; San Juan County & Moab, Utah; Richmond & Fairfax, Virginia.
Partner associations include: African Bureau of Conventions; African Chamber of Commerce Dallas/Fort Worth; Africa Travel Association; Alliance for training and research in the field of social and solidarity tourism (ISTO/OITS); Cultural and Environment Conservation Society; DC-Cam (Cambodia); Hawaii Tourism Association; International Institute for Peace Through Tourism (IIPT); International Organization of Electronic Tourism Industry (IOETI); Livingstone International University of Tourism Excellence, Zambia; Shanghai Institute of Foreign Trade, China, Society for Accessible Travel & Hospitality (SATH); Sustainable Travel International (STI); The Region Initiative, Pakistan; University of Florida: Eric Friedheim Tourism Institute; University of Hawaii and vzw Reis-en Opleidingscentrum, Gent, Belgium.
Visit www.tourismpartners.org for more information on the goals and objectives of ICTP, how to join, how to support and how to promote them.

AIR SEYCHELLES SET TO GET 2 A330-200 AND AT LEAST 1 A320



A regular source from Victoria has confirmed that the Seychelles national airline will between mid and end of June receive their first A330-200 aircraft, painted in Air Seychelles livery. Crews are already training for type conversion from their old licenses for the B767 to the new Airbus, and those who have already graduated are presently flying alongside their colleagues on Etihad routes where the A330 is deployed.
The same source also confirmed that by the end of 2012 or latest in early 2013 a second A330-200 will join the Air Seychelles fleet, besides which an A320 is expected to serve the routes to Mauritius and still to be revealed additional destinations on the African mainland.
Presently are flights between Mahe to Johannesburg and Abu Dhabi operated on a wet leased A330-200 aircraft from Etihad before the exchange will take place in a few weeks time.
Once the second A330 joins Air Seychelles flights to Beijing should commence soon thereafter in early 2013 to offer the first nonstop flight connection between China and the Seychelles. Air Seychelles presently flies twice a week to Johannesburg and four times a week to Abu Dhabi, alongside 4 flights by Etihad under a full code share arrangement, which has already seen Etihads initial 4 flight per week rise to a total of 8, connecting the island like never before with the entire Etihad destination network. Watch this space for regular news from the Indian Ocean islands aviation industry.

SEYCHELLES RESORTS AND RESTAURANTS UP IN ARMS OVER ROCKETING GAS PRICE
A number of Seychelles based hoteliers and owners of restaurants in regular contact with this correspondent have expressed their dismay, if not outright anger, over the sharp rise of the price for liquefied gas to now nearly Seychelles Rupees per litre.
It was learned that the government has removed the 10 Rupees per litre subsidy with immediate effect, forcing the hand of the Seychelles Petroleum Company to raise the price for commercial deliveries, while according to one source the subsidy for households continues to remain in place: The government maintains subsidies for domestic users but has told us the subsidies for commercial users like resorts and restaurants will be scrapped. This will be a significant cost rise for us and we cannot cushion that even with the best of good will. When gas prices almost double it means the consumer prices for meals in restaurants and hotels will have to go up. There is no way, with current pressure on cost already, to absorb such increases.
Another source also raised issues with the definition of domestic users and businesses or commercial users by pointing out: As a restaurant owner I am now bound to pay a lot more for my gas and my menu prices have to go up. But if I would cook take away meals from my house and sell them to my customers, I still get my gas at the same subsidized rate as before. I know government wants to protect Seychellois from rising global fuel prices, which have already jolted the cost of transport because petrol costs so much more now, but from a business view point I have to raise my concern. If take away meals will be so much cheaper, when our menu prices must go up, then we might lose business and that is also not right.
Another regular source commented that government was entirely right to keep the subsidies in place for domestic consumers, because other fuel price related increases were not resulting in raised salaries. Our government feels it has a responsibility to the people. Salary increases lag behind cost rises in daily life. Bus fares are kept low to let people live within their budgets and gas is a similar thing. I see of course that business struggle now to adjust their sales prices but at least for ordinary Seychellois government is on their side.
Since the start of the year were petrol and diesel prices raised, electricity cost have gone up and now with the risen gas prices resorts and restaurants are struggling to make ends meet. It is understood that the Seychelles Hospitality and Tourism Association will be seeking audience with government to urgently discuss the escalating costs for their members and seek ways and means to soften the blow, which could have a serious impact on tourism revenues and visitor arrivals, should rising costs of doing business further drive up accommodation tariffs and the cost of extras while in country. Watch this space.
SEYCHELLES FOR I PHONE YES YOU CAN


Tourists intending to visit the Creole Island Paradise of the Seychelles, for real or through a virtual visit will now be able to download a dedicated Seychelles application to their iPhone or iPad, also available for Android smart phones. Seychelles Connect has recently launched their novel way of making access to information about the Seychelles easier for those already on the islands, those intending to travel there soon and also those who simply wish to dream about a holiday of a lifetime.
Described as the best Seychelles application available the download, needless to mention, is free and gives instant access to a range of resorts, from the very top of the pops to simple but adequate Seychellois owned Bed and Breakfast establishments, self catering villas and guest houses, catering for all budgets. Deals have a special section where often phantastic last minute offers are shown besides a news section where up to date information and news from the archipelago can be accessed. Places to see, places to eat out, weather information, what to do while on Mahe, Praslin, La Digue or any or the other islands including details of the annual calendar of major events, all is now at the tip of the fingers for users of smart phones. Need to know something about doing business in the Seychelles, that too is covered and all this can be reached via www.seychellesconnect.com/application/
Mobile accessibility while on the islands can be via roaming service check with your own telecoms operator prior to visiting the islands but it is recommended to purchase a SIM card on arrival from either Cable and Wireless Seychelles or from Airtel Seychelles, buy sufficient credit for a data package and hey presto, access to all this information is possible at very affordable tariffs indeed. Seychelles, truly Another World.
ROUTES AFRICA LESS THAN TWO MONTHS AWAY

The Kempinski Seychelles Resort at Baie Lazare was chosen as the befitting venue for the Routes Africa 2012 Conference, due to take place on the Seychelles main island of Mahe from July 08th 10th.
The annual series of Routes conferences will continue in a few days in Tallinn / Estonia where over 80 airlines will brainstorm together with civil aviation authorizes, airports and tourist boards, amongst other participants, a record number by the way for the European regional event and when Routes Africa goes underway there too key airlines and stakeholders will join their hosts, the Seychelles Civil Aviation Authority, the Seychelles Tourism Board and Air Seychelles, the official carrier for the event, to discuss how to better link Africa to the rest of the world and more important, how to link Africa and the Indian Ocean islands better amongst themselves. Notably have all three of the Gulfs mega carriers Emirates, Etihad and Qatar Airways indicated their participation, joined by a host of African airlines including South African Airways.
Media partners eTurboNews are joined by ATW, Airline Weekly, Air Transport News, TTG and Logistics Update Africa and Routes TV will via mark.gray and importantly is the Twitter handle @routesonline providing updates through the hash tag #RoutesAfrica. Routes is also found on Facebook and LinkedIn to further use key social networks to promote the events and inform participants and other interested parties of the results and resolutions of the respective regional conferences, before the annual global Routes Conference then wraps up 2012.
Routes Africa is supported by AFRAA, the African Airline Association, the Airports Council International and the Airline Association of Southern Africa, all key partners in the aviation industry on the continent.
The Seychelles Tourism Board has been using their presence this week at INDABA in Durban to actively promote event participation, and the RETOSA Board of Directors meeting, which brings together the tourism ministers from the SADC region, will take place in Victoria immediately prior to the Routes Africa Conference, offering yet more opportunities to network and explore future cooperation through increased airlinks with and within the continent of Africa. Watch this space.

AND in closing as most of the times some worthwhile material taken from The Livingstone Weekly produced week in week out by Gill Staden my special thanks to her for being able to select from her newsbroadcast:
Angola Authorities Thwart David Lemons Walk of the Zambezi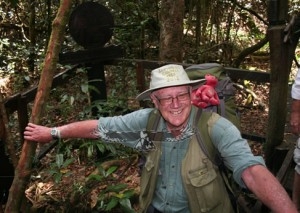 David Lemon who had arrived in Zambia in April to walk the whole length of the Zambezi River has been denied entry into Angola. After walking the 63 km from Kaleni Hill to Jimbe on the border with Angola he was faced with border officials who refused to give him a visa.
Prior to his departure from UK he had done the necessary research in England by going to the Angola Embassy there to request a visa and had been assured that he would be given one at the port of entry. This, however, was not to be the case. At Jimbe border he waited as the border officials contacted Head Office. Zambias Ministry of Tourism got involved and contacted their Angolan counterparts. Prosmidor, makers of Cowbell milk and the main sponsor, sent someone to the Angola Embassy to find out the problem. All has come to nothing.
A very disappointed David has given up after a 10-day wait at the Angola border and has returned to Mwinilunga and will go to Chavuma where the Zambezi River re-enters Zambia and continue his walk.
What on earth is wrong with Angola? So much for their development of tourism if they cannot let one man enter the country to promote their natural environment.

From Africa Wildlife Foundation

Summit Calls to End Rhino Slaughter
Africas rhinos are nearing extinction, with over 1,000 poached in the past three years. This year has already seen 210 poached in South Africa alone (as of last week). Rhino horn is coveted by some Asian countries as a miracle cure for various diseases, a myth that has led to devastating losses in Africas rhino population. Recently, AWF and Kenya Wildlife Service convened a Rhino Summit to develop hard-hitting solutions for the rhino. It was the first gathering of stakeholders from Africas key rhino range states, and the first involving wildlife authorities, private reserves, and nongovernmental organizations. Stay tuned for more on what we will do to save the rhino.
Fool's Day Surprise on Poachers
Wildlife poaching incidents rarely come with good news, but AWF recently enjoyed an anti-poaching success story in our Kazungula Heartland. Throughout March, the community scouts trained and supported by AWF in the Sekute Conservation Area had been monitoring the movement of suspected elephant poachers in the Sekute Chiefdom. They gathered enough information to inform Zambia Wildlife Authority of the poachers' location, leading to the April 1 arrest of several poachers. The ivory of more than 20 elephants from Botswana and Zimbabwe was also recovered during the sting, showing just how vital community participation is in species conservation.

International Crane Foundation (ICF)
May 8, 2012

ICF President Dr. Rich Beilfuss recently returned from a three-week field visit to advance ICFs Africa Program in three important crane countries ­ Uganda, Rwanda, and Zambia. Following is part three of Richs field notes, highlighting river basin management in Zambia.

Zambia is the third leg of my travels in Africa and a perfect final destination for a crane and wetland tour. Zambia is truly a wetland paradise, with eight Wetlands of International Importance under the Ramsar Convention covering a surface area of nearly 40,000 square kilometers. These include some of the most important wetlands in Africa for cranes and other biodiversity. More than 90% of the global population of Wattled Cranes depends on six large floodplains, for example, and four of those are found in Zambia Kafue Flats, Bangweulu Swamps, Liuwa Plain, and Busanga Swamps. Another Ramsar site, the Luangwa plains, is the stronghold for Grey Crowned Cranes in Zambia. Each of these sites is formally protected but faces substantial conservation challenges­present and future.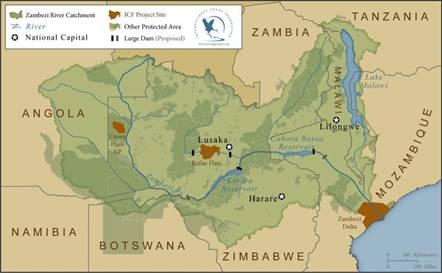 The Zambezi River basin in southern Africa
The first part of my trip to Zambia focused on the future of the Kafue Flats. The flats, a rich mosaic of grasslands, blue lagoons, and palm savannas, are home to the Kafue lechwe, a semi-aquatic antelope found nowhere else on earth, as well as Africa buffalo, zebra, wildebeest, hippo, and more than 400 bird species. Kafue Flats once supported the largest concentration of Wattled Cranes ever recorded (more than 3000 individuals), and although their numbers have declined by 60-70% over the past two decades, the flats remains the most important site for the species. The flats are well-protected on paper two national parks and a large game management area cover much of this landscape but are seriously degraded by upstream water regulation, illegal hunting, fires, and (most pressingly) the invasion of the thorny shrub Mimosa pigra, which now covers thousands of hectares of prime feeding grounds for Wattled Cranes and Kafue lechwe.
Kafue lechwe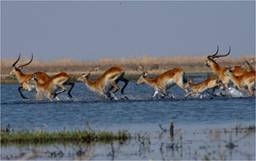 In partnership with the WWF-Zambia Country Office and the Zambian Wildlife Authority, our plan is to aggressively attack mimosa over the next few years, until we reduce it down to a level where park scouts can keep it at bay. We will hire about 80 local community members to aid in the effort. I was eager to share an exciting break-through with my Zambia colleagues. ICFs Southeast Asia Program Manager, Tran Triet, and his colleagues have just discovered that a concentrated salt water solution is effective at killing Mimosa pigra at Tram Chim National Park in Vietnam, where it also has invaded large areas. This would be a much lower-cost and less toxic alternative to spraying herbicide on the mimosa clones here, and we make an immediate plan to begin testing salt spray on the flats.
Water release from the Cahora Bassa Dam, Mozambique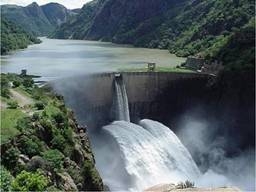 During the final week of my stay in Zambia, we held our twice-yearly stakeholders meeting for our Joint Zambezi River Basin Environmental Flows Programme. This is an exciting, ambitious initiative of WWF, ICF, and other partners. The program is the largest scale effort in the world to implement basin-wide environmental flows (or eflows) that specify the quantity, timing, and quality of water flows required to sustain freshwater and estuarine ecosystems and the human livelihoods and well-being that depend on these ecosystems. We are joined at this meeting by representatives from all the major dams in the Zambezi River basin, as well as those responsible for water allocation, management, and flood forecasting. We have long focused on water releases from large dams in Zambia, Zimbabwe, and Mozambique, which affect the Kafue Flats, Zambezi Delta, and other vital wetlands for people and wildlife, and with this meeting we also expand our focus to include the vital Zambezi headwaters regions of Angola, Zambia, and Malawi.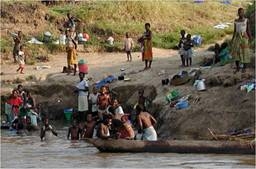 Dr. Jackie King, one of the founders of the science of environmental flows, and I gave a half-day presentation on global progress with eflows and the history of and prospects for sustainable water management in the Zambezi basin. This included considerable focus on the efforts ICF has led to release waters from Cahora Bassa Dam for the Lower Zambezi River and Delta in Mozambique. Later in the workshop, our attention focused on two key actions setting a plan and timetable for a series of stakeholder workshops over the next two years that will be used to specifically define the water needs and management alternatives for the Zambezi basin, and launching a basin-wide monitoring and adaptive management plan. I was responsible for the latter preparing and presenting the monitoring and adaptive management plan to stakeholders- and I spent much of my time sharing a vision for basin monitoring that will clearly demonstrate the ecological and socio-economic benefits of environmental flows for decision-makers and all who use or care about Zambezi waters. We reached broad agreement on the plan as a three-way partnership between the water authorities and dam operators (monitoring hydrology), government agencies (monitoring social and economic indicators), and conservation NGOs such as ICF and WWF (monitoring key ecological variables and species of concern). Wattled Cranes, a key flagship species for Zambezi eflows, figure prominently in our monitoring system.
Next year I will lead a trip back to Zambia to visit some of the extraordinary places we are working to save, including the Kafue Flats, Busanga Plains, and South Luangwa National Park. I hope you will join me on this next adventure to the wetland capital of Africa.
The International Crane Foundation (ICF), together with World Wide Fund for Nature (WWF) and the Museum of Natural History and other key partners in Mozambique, congratulate the Government of Mozambique for their wise decision to not allow the dredging of the lower Zambezi River and Delta for coal barging.
ICFs President and CEO, Dr. Richard Beilfuss, was deeply involved in preparing the Environmental Impact Assessment and subsequent communications with the Mozambique Ministry of Environment concerning the need for a holistic, ecosystems approach to Zambezi River basin development.