TOURISM, AVIATION AND CONSERVATION NEWS from the Eastern African and Indian Ocean region
A weekly roundup of reports, travel stories and opinions by Prof. Dr. Wolfgang H. Thome
Get daily breaking news updates instantly via Twitter by following @whthome or read the daily postings on my blog via: www.wolfganghthome.wordpress.com Many of these articles then also appear on the Africa Travel Association web magazine and of course via global industry leaders eTN on www.eturbonews.com/africa
Fourth edition September 2011

East Africa News
REGIONAL TOURISM MEETING IN MOMBASA DISCUSSES EAC TOURISM PROTOCOL
A regional meeting is taking place in Mombasa under the auspices of the East African Community to discuss the advancing of articles 115 and 116 of the EAC Treaty, concerning greater integration and cooperation of the tourism and wildlife sectors. The stakeholders are set to prepare a relevant outlook for the eventual launch of a regional tourism and wildlife coordination agency which is due to carry out projects and programmes as directed by the memberstates, such as a single tourist Visa covering the entire region.
Private sector stakeholders though were critical of the establishment of another EAC agency, citing the ongoing duplication of work and licensing requirements in the aviation sector, where the launch of CASSOA has not led to the national regulators yielding any significant powers to the new agency and instead retained much of their functions, causing the costly duplication of processes as fights for fiefdoms continue to dominate the agenda there. What is this agency supposed to achieve. Joint marketing was for long agreed, like a common stand at big tradefairs for East Africa, like under one roof, but this has not happened. It could have resulted in savings for participants, greater exposure to world markets for our region, but individual countries protectionism and fears have swept that aside. As long as our aircraft cannot carry tourists into the national parks of our neighbours, as long as our vehicles are treated as foreign and often prohibited entrance to the parks with our own clients, what has changed? As long as Bologonja between Serengeti and Masai Mara is closed for safari tourists, what has changed? I fear this is just another scheme to create jobs for bureaucrats which will cost our money and really not be productive. My colleagues from aviation just told me that CASSOA is now set to add more fees to already expensive ticket prices in the region. This is not what we expect from EAC, to bring another layer of administration into play which duplicates things and costs a lot of more money we could spend in a better way a regular source from the safari operator fraternity in Mombasa said to this correspondent overnight when tossing ideas about on email.
It is expected therefore that little progress will be made on issues the private sectors from member states are keen to discuss, like cross border operations, a firm date for the launch of the single tourist Visa and subsequent free movement of duly registered expatriates from one member state to another, transboundary management of protected areas especially in view of a crucial piece of intended legislation being referred to the next EAC Summit over the controversial Serengeti Highway project by Tanzania and a range of other issues like freedom of movement by tour guides from one country to another with their own tourists instead of being forced to use local guides who often fail to live up to standards and subsequently diminish the safari experience by clients spending a lot of money on their trips.
Admittedly though, the EAC has at least spurred discussions on crucial matters like harmonizing tourism and wildlife policies and legislation, introducing a common set of standards for the classification of hospitality businesses but is yet to make the big impact on the sectors free flow across the region like in the old days of the first East African Community when safari itineraries regularly covered all the attractions of the region and when flights by then East African Airways would connect tourists from Murchisons Falls to the Serengeti. Will those days return under the new EAC? Time will tell so keep watching this space.
Uganda News
UWA COMMISSION OF ENQUIRY IN DISARRAY
The term of the commission has expired by end of August, the Minister has told the chairman to immediately wind up and submit his report and anything other than that is completely out of order now commented a ministry source on condition of strict anonymity when contacted over the weekend in regard of commission chair and retired Supreme Court Justice George Kanyeihambas latest public outbursts, when he demanded the interdiction of the Acting Executive Director of UWA.
The spat has also brought division inside the commission to the forefront, as three commissioners are today quoted in the local media as having disowned their own habitually controversial chairman and one of his confidantes on the commission, saying they could not support any calls to suspend or sack or otherwise discipline UWAs current Acting ED Dr. Andrew Seguya.
This latest public disagreement is only one in a long series of at times unprecedented outbursts by Kanyeihamba towards witnesses, their alleged intimidation by him and what was perceived as publicly pre-judging witnesses statements and their alleged involvement over the use of PAMSU funds by the retired justice, often giving the impression of a personal vendetta and agenda rather than fulfilling the function of a commission chair.
The minister, Prof. Ephraim Kamuntu, was in Mombasa last week to attend a session of the East Africa Communitys ministerial council meeting on tourism and wildlife and will find yet more controversy on his desk upon his return to office this Monday. This has turned out to be a complete mess now said a regular tourism source when discussing the issue before adding considering it all came out of the former ministers bad decisions and from his injured pride, this is the prize to pay for keeping such characters in government and giving them responsibility. It destroyed the UWA which we knew and which worked quite well and left the organization in tatters. It ruined reputations beyond repair of people Kanyeihamba targeted during witness testimonies. Where is the report? He was given three month and could not finish, then he was given another three months and still has not finished? He complained of lack of funds, then that his offices were broken into, then wanted to go on safari to the parks, what is wrong with him and in between he went away for a couple of weeks? Let this report be submitted and then it can be challenged in a proper court where rules exist and are not made up like it seemed here. This commission has by the look of it done a very shoddy job. Watch this space as the final twists and turns of this long running saga now play out.
NAZA GROUP OF MALAYSIA ACQUIRES KAMPALA PROPERTY
The 5 year long attempt by the notorious AYA brothers to build and complete a Hilton Hotel in Kampala has come to an end this weekend as news are breaking of Malaysias NAZA Group having acquired the incomplete property lock stock and barrel for a staggering 230 million US Dollar, according to a well informed source in Kampala.
The conglomerate, better known for its automotive business and car franchises in Malaysia including such noble brands as Maserati and Ferrari as well as ordinary brands like Peugeot and KIA, also has a hotel and property development division, owning hotels in Malaysia and in California already.
It could not be established over the weekend if NAZA will upon completion of the hotel, thought to still take a considerable period of time, manage it themselves or, like with their US properties, take a franchise of a globally leading hospitality group or even have it managed by one of the many contenders now surely swamping their offices with offers as the AYAs are finally out of the way.
The AYA brothers, named after one of their milling enterprises in Uganda but otherwise known as Hamid, got the prime land for free from the government of Uganda in 2006, displacing the Uganda Broadcasting Corporation from their Nakasero Hill location on the double, after promising to build a Hilton Hotel in time for the 2007 November Commonwealth Summit, but singularly failed to meet a single deadline inspite of constant full mouthed statements and threats against the media, including this correspondent for allegedly hostile reporting. If indeed the hotel was sold at the price mentioned, and considering that the land was given to them for free and that they have spent according to analysts not more than 100 million US Dollars until now, they will have made the proverbial killing and it is only hoped that the Uganda Revenue Authority demands and receives their share in line with recent taxation demands in the oil sector when share interests were sold. Be that however as it may, the hotel site will surely now get fresh momentum and see the building and in particular the interior completed sooner rather than later, adding on opening another 300 rooms and suites to an increasingly more competitive hospitality market in Kampala.
Watch this space for breaking news from Ugandas and the wider regions hospitality sector.
INTERCONTINENTAL KAMPALA BECOMING REALITY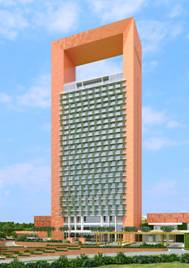 (An artists impression of the new InterContinental Kampala)
The Intercontinental Hotel Group and owners Kingdom Kampala no relation to the Gulf based Kingdom Hotels Group it should be pointed out are imminently releasing a formal statement on their new property, which is being developed from the ground up at the Shimoni site, a 17+ acres open space at the edge of Kampalas business district and will become the InterContinental Kampala.
The new luxury hotel will have 303 rooms and 34 suites, 6 restaurants and bars, a fully fledged Spa and Health Club, retail outlets and notably nearly 4.000 square metres of meeting and function rooms, making it the largest 5 star branded hotel in the city.
There are presently 171 InterContinental Hotels located in commercial and political capitals around the world and another 60 in the development pipeline, including the new hotel in Kampala. The nearest InterConti has so far been in Nairobi where the brand has generated a faithful following since the 1970s. IHG also operates a number of other brands like Crowne Plaza, Holiday Inn, Holiday Inn Express, Staybridge Suites and Candlewood Suites, making it one of the worlds largest hospitality management company with over 4.400 hotels and over 650.000 guest rooms in over 100 countries. Another 1.100 hotels are in the development pipeline around the world, expected to create another 160.000 jobs in coming years. The InterContinental Hotels Group is particularly keen to expand on the Africa continent while volume wise the Far East and in particular China are carrying the largest share of the forthcoming expansion drive spread over several of IHGs brands.
John Bamsey, chief operating officer, IHG Middle East and Africa, said on the occasion of breaking the news: InterContinental hotels and resorts are committed to providing authentic luxury guest experiences, which are considerate and comfortable. We are looking to key international gateway cities to expand this brand, and with the rapid growth of commerce and the business community in Uganda, the InterContinental Kampala and adjoining conference centre are perfectly placed to offer unrivalled facilities and service from an internationally recognised brand, such as InterContinental. We are therefore very confident that this will be a very successful hotel and partnership with Kingdom Kampala.
From the owners side it was Mr. Sawan Ravani of Kingdom Kampala who added: The conference and NGO communities have the highest demand for business facilities in Uganda and we therefore believe that InterContinental Kampala, offering the countrys largest convention centre, is the perfect fit in meeting those demands and expectations. We are very happy to be partnering with IHG and look forward to introducing the InterContinental brand, and its exceptional global reputation for service, to Ugandas growing business community.
This correspondent broke the news several months back when reliable information has been ascertained that it was indeed the InterContinental Hotel Group which was going to manage the new hotel, after the construction contracts had been signed and ground was broken, although the formal announcement is only now going out. Watch this space for the most up to date news from East Africas hospitality sector.
UWA COMMISSION CHAIR JUST CANT SHUT UP
In typical style, combative and controversial as ever, has retired Supreme Court Justice George Kanyeihamba, only days after it became known that he received directives from the Minister of Tourism to immediately wind up his commissions work and submit a final report, now taken aim at the UWA Acting Executive Director Dr. Andrew Seguya. Accusing him of having given misleading information to the commission Kanyeihamba demanded that Seguya be interdicted for allegedly giving false information which at the time led to demands by the commission to suspend at least four staff. With the Minister out of country on official duty at the time of Kanyeihambas latest outburst no one at the ministry would want to go on record but one regular source on condition of anonymity had this to say: The chairmans style of aggressive actions and controversial decisions and utterances is coming home to roost. First he storms Seguyas offices and demands the suspension of staff and now he reverses himself. The chairman should put all his evidence or whatever he claims to have found in his report, hand it over and go away and rest in his village. What purpose does it serve to publicly demand this and that all the time. We all know he is a former insider who turned disgruntled and bitter and has his own agenda. When he was part of the induction seminars for new members of parliament a few months ago he was laughed at by NRM cadres but this is essentially all the fault of the former minister for appointing him. That one also had his own vendettas and agenda and thought Kanyeihamba would be a willing tool. Then he was summoned himself and confronted with drawing money from UWA for facilitation.
Other conservation sources claim this latest twist in the long saga of UWA has again undercurrents, maybe paving the way for the Minister to finally appoint a new board and let that board then decide on engaging a new Executive Director while others suspect that this development would only weaken UWA even more, calling the organization a shadow of its former self and crippled to take hard decisions.
Past chairs of UWA too have taken issue with Kanyeihambas style and motives as reported here before but unperturbed by all this, the retired Supreme Court Justice, clearly used to gaveling down objections from his former bench, just does not seem to know when the time has come to shut up himself. Watch this space.
OXFAM TAKES AIM AT NEW FORESTS COMPANY BUT FOR WHAT REASONS
There is intense speculation over the real reasons why British charity organization turned political activist OXFAM let fly against the New Forests Company in a report published recently. It is alleged in the report that the New Forests Company was morally and ethically guilty over evictions carried out on some 20.000 hectares of land concessioned to them for re-forestation and the establishment of commercial timber plantations by the National Forest Authority. The report cites eye witness testimonies of violent evictions of what can only be described as squatters by the NFA and other government agencies following the signing of respective contracts in 2005. It is understood from a source close to the New Forests Company in Uganda that the report contradicts what NFS own staff and observers saw at the time and decried OXFAMs ambush tactics of publishing a report without having the courtesy of giving NFS the chance to comment on such serious allegations. Another source within Ugandas conservation fraternity acquainted with the re-forestation programmes across the country also praised the way the New Forest Company works in Uganda and speculated there might be other reasons for OXFAM to publish such a report. They have known issues with the Ugandan government and might be using a British company to raise profile back home in the UK. They might also have been used themselves by Uganda opposition who are known to spread a lot of unsubstantiated rumours and many foreign NGOs have fallen for such tricks. If so they have failed to uphold investigative standards and only have themselves to blame when the truth eventually comes out.
The New Forests Company only recently signed a far reaching agreement with the Rwandan government to take over responsibility for the Nyungwe Forest National Parks buffer zone in a deal which received wide publicity and is expected to substantially shore up forest cover in areas immediately outside the park in a mixed approach of planting both commercial timber for harvesting but also indigenous hard wood trees enhancing the biodiversity in areas thought to be critical for the forest inside the park. Watch this space.
MORE HYDRO POWER ON THE WAY
Reports from the Bujagali Falls hydro electric plant are encouraging as completion of the project appears to be on time and the installation of the first of 5 turbines is underway. By November this year an initial 50 MW of cheaper hydro generated electricity will become available, to be progressively increased to the full 250 MW capacity by sometime in 2012.
Meanwhile will another 9 MW come on line from the Hoima district based Hydromax power plant by November, creating added capacity to feed an increasingly power hungry nation.
Only yesterday was it confirmed that in order to reduced the massive electricity shortages presently experienced across Uganda, that the generating company at the dam in Jinja was given expanded permission to use more water from Lake Victoria to reduce the daily shortfall, which was largely prompted by government running out of money to pay the contractually agreed subsidies to independent power producers and then banning diesel propelled plants due to the sharply risen cost of fuel. This prompted some thermal plants to go offline following the expiry of an ultimatum to pay up or else, making industries and businesses suffer from production interruptions and have half of the nation sit in darkness every other night.
No update could be received at this time over the planned Karuma Falls hydro project, as to how far planning and financing for the 600 MW project has reached and when construction, previously thought to start in 2012, would really commence. Uganda, as much of the region, has been suffering of regular power disruptions due to lack of sufficient rains filling up the reservoirs of hydro electric plants in Tanzania and Kenya too, and fallen water levels of Lake Victoria have also restricted the Owen Falls and Kiira power plants in Jinja to an output way below possible capacity.
UWA COMMISSION OF ENQUIRY TOLD TO WIND UP AND DELIVER REPORT
In a stunning turnabout was the Commission of Enquiry, chaired by controversial former Supreme Court Justice George Kanyeihamba asked to wind up immediately and file their long overdue report.
News broke overnight that the tourism Minister Prof. Ephraim Kamuntu has instructed the Secretary of the Commission to wind up their work, prompting a lamenting outcry by Kanyeihamba that he would only do so if told by the President.
Often termed Otafires kangaroo court, as it was the former equally controversial tourism minister Kahinda Otafire who instituted the commission, the work was initially hampered by lack of funds and office spaces. Supposed to run for three months the work dragged on inexplicably and the term of the commission was then extended before the current minister concluded that enough is enough.
Otafires choice of board and in particular chairman for UWA last year was widely critizised as an act of nepotism, as the chair happened to be Otafires personal physician and patently unqualified to hold such a position, and when clashes erupted over demands by the chairman and board to raise their allowances and benefits substantially, opposed by top management of UWA at the time, matters came to a head when the Executive Director at the time was first suspended with several other senior colleagues and then sacked. Assuming the role of Executive Chairman, something however not provided for in the Wildlife Act, then prompted a court case following which the chairman and members of the board were dismissed for not meeting the criteria of selection, a slap in the face of the appointing authority, i.e. Otafire.
Never known to go down without a fight though Otafire retaliated by constituting the Commission of Enquiry, eventually ending up himself as a witness before the commission, which excelled in selective memory lapses over his own alleged drawing of funds from UWA to finance his travels and other duties.
A former chairman of UWA, John Nagenda, has also come out strongly against the shenanigans perpetrated by the former minister and in particular by the chairman of the commission, and another former chairman of UWA, respected city lawyer Andrew Kasirye publicly critizised Kanyeihamba for allegedly prejudging and the way he treated witnesses and called them names in public. In a rather unprecedented step did Kasirye some weeks ago reportedly write to the minister with an official complaint.
All said and done though, UWAs present situation is a shadow of its former self, with senior staff avoiding taking decisions and referring matters upstairs, where an Acting Executive Director, Dr. Andrew Seguya, is still awaiting to learn about his own fate and whether his appointment will be confirmed or a new search for an ED be undertaken by a new board, as and when it is appointed by Prof. Kamuntu. This is thought to be imminent now as the tourism minister has in past weeks intensely consulted with stakeholders. Watch this space for the final stage of this seemingly never-ending saga.
KAJJANSI FUEL TANKS FINALLY A REALITY
Information was received from the Kajjansi airfield and the Kampala Aero Club that they have finally been able to install their own AVGAS bowser and JetA1 fuel tanks near their hangar facility, allowing them to store sufficient fuel to cushion against the regular Shell induced shortages experienced over the past years.
Notably it the facility managed by a former Shell executive Francis Olul, leaving it is hell to deal with Shell according to a regular and outspoken aviation source wondering what happened through private initiative. Shell had for years promised to install fuel tanks in Kajjansi to support the increasing number of flights with light single and twin engined aircraft from that field, but not only failed to make good of the promise but repeatedly went backwards when reminded about it to the point of denying commitments altogether though made in front of witnesses, including this correspondent when mediating meetings between the protagonists.
AVGAS has been in notoriously short supply and regularly ran out in both Kajjansi and Entebbe, and with prices often half a dollar higher in Uganda than for instance in Kenya or Tanzania, again with feeble explanations by Shell, the sole importer of the commodity, they only ever made vague promises to look into it something which never happened.
No wonder that the sale of Shells African retail businesses were broadly welcomed but little if anything has changed since then, as even some of the key executives were retained who continue to mislead and agonize the aviation fraternity in Kajjansi. Well done KAFTC and barbs galore for Shell once more.
Kenya News
SIX MONTHS TO GO FOR COMPLETION OF NEW THIKA HIGHWAY
Information emerged from Nairobi overnight that Kenyas national highway authority has now set a completion date for the new highway from Nairobi to Thika as March 2012. The project is one of Kenyas major infrastructural investments in linking the capital to the countryside and decongest the city and reduce rush hour commuting time. Sections of the road are already being used and key components, like the inner city Globe roundabout and flyover will be opened by the end of this year.
Nairobis residential areas have pushed further and further into the surrounding countryside and in particular the route to the industrial municipality of Thika has seen more and more traffic in recent years. From the current 4 lane highway the new construction will eventually offer a total of 8 lanes for motorists. The roads out of the city, including the start of the Mombasa highway from Nairobi to the Athi River turnoff, and the planned construction of a new bypass to have heavy traffic destined for the Western part of the country and the African hinterland countries of Uganda, Rwanda, Eastern Congo and Southern Sudan avoid the city centre, will bring long hoped for relief for commuters and city residents, but also facilitate the swift exit into the country by tourists when starting their safari tours after spending a night or two in Nairobi on arrival. Cant wait to drive on these new roads when they are ready says this correspondent in closing.
SKAL INTERNATIONAL HONOURS PORINI / GAMEWATCHERS WITH ECO AWARD
Following recognition for their superb conservation efforts in Kenya, East Africa and the Africa continent at large has Porini Camps / Gamewatcher Safaris now been globally rewarded for their boundless commitment to keep their camps pollution footprint small and to mitigate their environmental impact actively through a range of measures.
The ongoing SKAL International Congress, held this year in Turku / Finland, in its opening ceremony announced the honours and Skal Nairobi President Lucy Makumbi-Macridis received the award from the Skal International President Tony Boyle. Over 400 submissions from 18 countries around the world had been received by the selection committee of Skal and Porinis category win for Best Tour Operator is again a glowing endorsement, not just for Porini but for Kenya as a whole.



(Skal Nairobi President Lucy receiving the award in Finland from Skal International President Tony)
It was the 10th such award ceremony since Skal started recognizing the efforts of members companies around the world towards sustainable ecofriendly operations.
Well done again to Jake, Mohanjeet and their team in Nairobi and in the Porini Camps outside Amboseli, on their Mara conservancies and on Ol Pejeta. Visit www.porini.com for more details on locations, for rates and reservations.
KEEKOROK BAGS WORLD LUXURY HOTEL AWARD
Kenyas oldest lodge in the Masai Mara, the grand old dame of the countrys safari lodges, was just awarded Luxury Lodge in the annual World Luxury Hotels Award ceremony in Croatia where winners of the 30 available categories were announced last week for 2010/11.
Rahul Sood, Group Managing Director of the Sun Africa Hotel Group was at hand to receive the award certificate and trophy which was determined through guest ratings, feedback by travel agents and tour operators and on site visits by independent hospitality consultants. It is understood that Keekorok was amongst the properties chosen for an award from over 1.000 nominations received for consideration from around the world.
Keekorok Lodge, which over the years regularly hosted visiting state guests and VIPs from the entertainment industry and the world of sports, is also a base for balloon safaris which take off from nearby the lodge and was in fact the site of the first commercial balloon operation in Kenya back in the 1970s. Formerly owned and managed by Block Hotels the lodge is now under the ownership and management of Sun Africa Hotels, which also got the Lake Naivasha Country Club and the Lake Baringo Club in its stable and only recently opened the Sovereign Suites in the green hills of Limuru outside the city of Nairobi.
Visit www.sunafricahotels.com for more information on the properties, for rates and bookings.
CONSERVATIONISTS DEMAND A HALT TO LAND USE CHANGE APPLICATION
As the assaults against the environment multiply across the region continue, like the Mabira saga in Uganda, the corridor of destruction Serengeti-Lake Natron-Selous-Tanga Marine Park in Tanzania, in Kenya too the stage is set now for an epic battle between the conservation fraternity and developers, as a scheme became public to cut off Amboseli National Park from the migratory routes to the Chyulu Hills, Tsavo West and across the Athi Plains towards as far as the Nairobi National Park.
An application by the owners of the sprawling ranch to get approval to turn part of the ranch into an industrial estate has been received by the Kajiado County Council according to a renowned conservation source in Nairobi, who is now mobilizing public opinion against the plans.
Take Nairobi National Park as an example. In the old days game migrated from as far as Amboseli, even across the now border with Tanzania, and from Tsavo into NNP. Today, the land is fragmented and the park is largely fenced off. Ranchers and farmers, real estate developers and industrial zones at Athi River and the Kitengela plains have fenced off and otherwise blocked the migration routes. We are now struggling to keep at least some of the old corridors open but it is becoming ever more difficult.
In the Central and Northern part of Kenya it is the same, migration between the Aberdares and Mt. Kenya, between as far as Marsabit via Samburu to Lewa and the Laikipia plains, it is ever more difficult for elephant and other game to move as they are imprinted to do.
If we permit this ranch land to be fenced off at crucial sections, we are guilty of a massive interference in game migration patterns and the results cannot even be described right now. Wildlife versus human settlement conflict will get much worse and yet we have it in our hands to prevent it by standing up and objecting loudly, to lobby government because this could have a very negative influence on tourism to this part of the country when game no longer can migrate, escape droughts and find pastures in various places had one source to say when contacted over these revelations and promptly asking for this scheme to be widely exposed, through eTurboNews and other media outlets. You know that when this appears in a leading e-publication like eTurboNews it makes our job easier, more people know it, global conservation groups find out about it and they can join, help us lobby through international bodies and organizations. You need to get the word out about this ludicrous scheme where a few would get rich beyond measure and our wildlife and environment would suffer for generations, maybe never to recover from it.
The conservation and environmental lobby in Kenya has received the powerful support from the Kenya Wildlife Service, which has thrown its institutional weight behind the objections and demanded too that any such change of use of land be halted, citing the impact on the Greater Amboseli Ecosystem while recalling government efforts to strip Amboseli a few years ago of national park status, which would have made the conversion of land use surrounding the park easier in the absence of the strictest protection measures.
With tourism likely to return to the top of the economic achievers list, reclaiming the number one spot from the tea sector and expected to produce record arrivals in 2011 combined with record earnings of nearly a billion US Dollars, it will be difficult for government to allow the application for land use change and put the long term sectoral performance of wildlife based tourism at risk, yet logic has not always been the Kenyan governments strong point and the decision is awaited with great anticipation. Added the same source: Our legal volunteers, who include some of our top lawyers, are ready to take this through the Kenyan and East African court systems if necessary. We have taken hope from the East African Court in Arusha even throwing out the Tanzanian government objection over jurisdiction in connection with the Serengeti Highway project and we here too can make a case we believe in court to speak up on behalf of our wildlife and our environment.
Spoken with passion and resolved says this correspondent so watch this space as another battle ground for the environment is opened up in the region.
KENYA AIRWAYS SHARE RIGHTS ISSUE SET FOR NOVEMBER
With the airlines annual general meeting set for 14th of October, when shareholders are expected to vote in favour of plans by management already given the thumbs up by the board, the timeline is now mapped out for Kenya Airways planned share rights issue to go ahead from as early as November, subject of course still to the approval by financial regulators CMA.
Once going underway this transaction will be the biggest single share sale, estimated to bring over 22 billion Kenya Shillings into the war chest of the airline, allowing it to continue with their aggressive expansion plans in coming years which are set to catapult KQ to the top of the aviation industry in Africa.
Banking sources in Nairobi were overnight reported to have publicly speculated over the launch date and while in the absence of shareholder and CMA approval no exact dates can be given, November seems the most likely month to have the share sale go underway before the pre-Christmas season then traditionally slows down the financial markets and business activities, especially considering that the first quarter results announcement is due on the 04th of November and expected to portray a sterling performance.
However, in the unlikely event of failing to use the November window of opportunity the second most likely time frame would then be towards the middle of the Q1 of 2012 and you will be able to follow this emerging story right here, so watch this space.
Tanzania News
NO NEW FERRY FOR ZANZIBAR PEMBA ROUTE ANYTIME SOON
Information has come to light that the Zanzibar government is reluctant to purchase a new, state of the art ferry to allow islanders travelling between Unguja and Pemba islands a safe means to reach their destinations. The MV Spice Islander sunk a few weeks ago as a result of badly placed cargo and massive overloading with goods and passengers, leaving over 200 travelers dead in the water and according to reports from Zanzibar many others still missing, thought to be trapped inside the sunken ship. Local media quoted a source from the islands to have put that figure to 265, which if found true would more than double the casualty numbers and catapult the disaster into another dimension. The wreck though is in deep waters and specialized deep sea divers initially brought in from South Africa to ascertain the number of people still trapped were unable to reach the sunken ferry due to lack of suitable equipment and very bad weather.
Zanzibars president Ali Mohamed Shein has reportedly put the price tag for a new ferry at 40 billion Tanzania Shillings, money the island government apparently either does not have or is not willing to spend, considering pressing demands for other services which must be funded. A formal investigation into the accident is now underway by maritime authorities and through a commission of enquiry expected to last several weeks, during which company records will be examined and eye witness statements heard in open sessions. A regular source from Dar es Salaam added his thoughts: If government in Zanzibar cannot pay for a new ferry, which is the only means of safe transport between the islands and to the mainland, maybe they could consider a joint venture by bringing private investors to team up with them? They could advertise a concession to operated inter island transport on their behalf but for sure fares would be much higher. Anyone running a ferry service financed from open capital markets will need to generate income to pay loans and here government could come in with cheap financing options. But telling the wananchi to wait is very bad form for the Zanzibar president. Business has to continue, people need to cross the ocean for trade, family affairs, tourists want to cross to Pemba, so telling people to be patient is not a good thing. They should be able to cater for such emergencies and not give the impression it will take years to sort this out.
PRECISION AIRS IPO CLEARS FINAL HURDLE
A regular source in Dar es Salaam confirmed overnight that the long awaited and often delayed and in fact obstructed IPO by Precision Air, Tanzanias leading airline company, will now finally go underway on October 07th and run for an overall period of three weeks. Tanzanias financial regulators gave the green light yesterday and the Dar es Salaam Stock Exchange is now looking forward to the final preparations before opening its doors on the 07th to one of Tanzanias most exciting share offerings during which the wider public can at last buy shares in Precision Air and give it broader institutional and individual shareholdings beyond the current owners.
The share prices has been set at Tanzanian Shillings 475 per share and nearly 59 million shares are on sale, expected to raise in the region of 27 billion TShs. Current owners Mr. Michael Shirima with 51 percent and Kenya Airways with 49 percent will be reducing their present shareholding considerably to allow for the raising of funds required to finance Precision Airs current expansion programme.
Precisions IPO, as mentioned earlier, has often been delayed and cast doubts on the Tanzanian governments true commitment to privatization and the liberalization of the air transport industry. While making all the right noises in public speeches, the oversight by the Tanzanian airports authority to create a timely taxi way link to Precision Airs new hangar facility was by many seen as a deliberate affront, and halting the IPOs previous launch attempt over a frivolous and precisely timed winding up petition over an alleged outstanding of about 100.000 US Dollars gave more credence that the Tanzanian government, behind the scenes, did all they could to delay and obstruct Precision while they were pondering how to revive the basically bankrupt Air Tanzania. Only recently did news become public that the already strained treasury was made to cough up nearly 20 billion Tanzania Shillings to bail out Air Tanzania once again, pay for the overdue maintenance bills of a Bombardier Q 300 turboprop and have the airline resume operations with a single plane just around the same time Precisions IPO was finally going ahead.
Knowing how stuck in the command economy days many of Tanzanias political leaders are and how they hate anything to do with Kenya the entry of Kenya Airways into Precision some years ago was the start of the success story for the airline but also a constant source of envy and malcontent by many isolationists in Tanzania this timing cannot be just pure coincidence but is a loud announcement where the official mindset in Tanzania is still rooted. Watch this space as the IPO goes underway next month and how it progresses and concludes.
Rwanda News
WORLD TOURISM DAY QUIZZ WINNERS TOUR NYUNGWE FOREST
The Rwanda Development Board is hosting 24 winners of a radio quiz on Radio Rwanda and Contact FM, undertaken ahead of the World Tourism Day celebrations, to a guided all inclusive field trip to Nyungwe National Park, where they will have an opportunity to appreciate the conservation efforts undertaken and see the tourism potential of the canopy walk and the various hikes starting off from the visitor centre. This was confirmed by Ms. Rica Rwigamba, Head of Tourism and Conservation at RDB yesterday.
The 2011 WTD events in Rwanda will focus on domestic tourism, bringing the countrys attractions home to the people of Rwanda to learn more about the natural attractions found across the Land of a Thousand Hills through the local theme Tourism Begins With You besides the global theme Tourism Linking Cultures.
Data available from Rwanda speak of a visitor increase for the first half of 2010 by 27 percent and a revenue growth, generated by tourism expenditures of 28 percent and preliminary figures for the ongoing third quarter of the year apparently confirm this trend, giving hope that by the end of the year a new arrival and revenue record will have been set.
The growth in tourism arrivals for Rwanda has been aided by the introduction of 5 weekly flights by KLM between Amsterdam and Kigali but was also driven by RwandAirs ongoing expansion which has substantially increased connectivity within the East African region, from Southern and Western Africa, bringing large numbers of additional visitors to Rwanda for both business and tourism purposes.
Rwanda Incorporated, as this correspondent fondly coined the holistic effort of government and private sector working hand in hand, is surely on the roll and news and events are featured here on an almost daily basis. Good news from Africa to the world do come from Rwanda.
SENATE ELECTIONS IN RWANDA YET LIFE CONTINUES AS NORMAL
Today will see the scheduled elections across Rwanda take place for the Senate, the upper chamber of the countrys parliamentary system of governance.
The campaign for senatorial seats was generally calm and apart from meeting members of the electoral college and canvassing their votes hardly noticed by visitors to the country, who came as tourists or to exploit business opportunities in trade or investments.
Yes we have Senate elections on Monday said a regular source in Kigali before continuing and life goes on as normal here. You see, here in Rwanda our people, our politicians are disciplined, there is no problem like you would expect in other African countries when elections are due. Like you wrote about Seychelles elections being so calm and orderly, here in Rwanda that same thing happens. We have over 50 candidates for the 12 seats up for grab on Monday and they have all conducted themselves very well. This is why our tourist flow continues without disruption, why we host conferences and groups of investors at the same time; even during general elections we saw the same trend. Rwanda is a peaceful and disciplined country now and our visitors need not worry about us having an election here. In fact they dont worry as our arrival statistics clearly show, there has been no hesitation by anyone wanting to come to Rwanda for a visit.
It is understood that the Senate members will not be elected in the form of a general elections but by councilors already representing their districts and other special interest groups and only 55 polling stations have been set up to cater for the casting of votes and counting the ballots to establish results. And why, you might ask, is this being reported here? Because it goes to show that Africa can be different, elections can be peaceful and orderly and the few bad apples on the continent should not spoil the image of the whole of Africa in world opinion.
MORE FLIGHTS PLANNED BETWEEN KIGALI AND NAIROBI
With the arrival of a second brand new B737-800 by the end of next month RwandAirs fleet will have grown to 7 aircraft comprising a Bombardier Dash 8, two CRJ200s, two B737-500s and their latest acquisitions being two B737-800s.
The new birds will be used to operated the presently 4 weekly frequencies between Kigali and Johannesburg and three flights between Kigali and Dubai, which route with full traffic rights via the Kenyan port city of Mombasa. RwandAir only recent upped their flights between Kigali and Johannesburg from three to four, before it was announced elsewhere that South African Airways was planning to return to the route with three flights of their own, which would offer daily connections between South Africa and Rwanda.
At the same time did RwandAir add a third flight between Kigali and Nairobi, and there is now talk of adding more frequencies in the future, a sound choice considering that traffic volumes have been growing in leaps and bounds and that the airline now has the right sized aircraft available to operate peak period flights with the larger Boeings while off peak departures can use the CRJ200, which offers 50 seats.
A second flights between Kigali and Entebbe is also subject to speculation amongst travel agents. RwandAir used to operate two daily departures before signing a code share agreement with Air Uganda, under which the latter was to operate early morning departures while RwandAir would continue with their evening flights. However, presently Air Ugandas departure time has moved into the mid day and beyond time frame, making the intended day trips to Kigali difficult to achieve for business travelers, and the grapevine is talking of RwandAir possibly considering restoring their own second flight to offer this opportunity. However, as a second flight would likely start off with a smaller turboprop, instead of the larger CRJ200 used on the route by both RwandAir and U7, this will pose an operational challenge as the single turboprop, a Bombardier Dash 8, is now serving the rapidly increasing domestic flight schedule as well as flying to Bujumbura and operating on off peak days to Entebbe. It is here where the added component of fleet expansion comes into play. The Dash 8 offers 37 seats and as traffic grows on domestic routes, partly fed by cross border travelers from Eastern Congo, there is very likely a need to add more turboprops but for sure larger turboprops to the fleet of RwandAir. Obvious choices here would be Bombardiers larger Q 400 or the even larger ATR 72s, several of which are already successfully flying in the region.
Whichever way the airline will eventually go, time will tell but one thing is certain, that the vision of RwandAir to connect landlocked Rwanda with her neighbours and to more distant destinations will continue to unfold, in the process making RwandAir after Ethiopian, Kenya Airways and Precision Air the fourth largest airline in the wider Eastern African region, and what an achievement that would be, considering the state of RwandAir only a few years ago. Watch this space.
RWANDAIR SHOWS OFF NEW B737-800 ACROSS THE REGION
Entebbe, Nairobi, Kilimanjaro and Dar es Salaam and Brazzaville / Libreville all had a glimpse of RwandAirs latest acquisition when the aircraft was deployed on the regional routes in a one off showing the flag exercise, allowing passengers normally travelling on the airlines CRJ or B737-500 jets to sample the superior cabin layout and enjoy inflight entertainment which is standard in the new bird.
The new aircraft, soon to be joined by a second B737-800NG, is normally deployed on the routes from Kigali to Johannesburg, 4 times a week, and to Dubai via Mombasa, 3 times a week, and has already drawn very positive feedback from passengers over the improved service levels and comfort on board.
No final date has been given yet by WB on the expected delivery of the second new aircraft, so watch this space for news updates as and when available.
RWANDA GOES DUTCH
Rwandas recent investment seminar and promotion in the Netherlands was used as a launchpad for the inaugural edition of Discover Rwanda and its Dutch version Ontdek Rwanda. Aimed to show Dutch travelers the tourism attractions the Land of a Thousand Hills holds for visitors it is equally aimed at attracting more investments from the Netherlands to Rwanda, encourages increased trade and closer technical cooperation between the two countries.
KLM Royal Dutch Airlines is now connecting Amsterdam five times a week with Kigali, making travel by the Dutch to Kigali easy with a nonstop connection and offers substantial cargo space for both imports to Rwanda and exports to the Netherlands of produce.
The seminar and magazine launch was attended by a wide cross section of the Netherlands business community, including tourism operators and in attendance were officials from the Embassy, the Rwanda Development Board and Rwandas Private Sector Federation. Clearly, not resting on their laurels Rwanda just keeps going flat out to promote, promote and then promote some more.
UN GIVES RWANDA FUTURE POLICY AWARD RECOGNITION
Rwandas determined efforts, supported and spearheaded by none other then President Paul Kagame, has just won the country global recognition when the countrys national forest policy was chosen over all other 20 nominated contenders as the best in the world by the World Future Council, according to an announcement made yesterday at the UN head quarters in New York.
The forest policy, previously discussed here, was updated in 2010 and has a declared goal to restore 30 percent of Rwandas land to forest cover by 2020, amongst other areas of intervention linking the Gishwati and Nyungwe forests and expand the ecosystem to Lake Kivu. Recognized as a crucial water tower and benefactor of the countrys micro climate, forests play a crucial role in maintaining bio diversity and at the same time earn mega money through carbon trading agreements and tourism, something other countries in the region are yet to fully appreciate, as the sagas of the Mau Forest in Kenya, the Eastern Arc Mountains in Tanzania and the Mabira Forest in Uganda go to show.
Nyungwe Forest National Park has made an almost instant impact on the tourism itineraries for visitors to Rwanda and the establishment of a canopy walk in that park has acted as a magnet to attract tourists for walks and hikes, to see primates 13 species are found within the park orchids, butterflies and rare medicinal plants and trees amongst other attractions like waterfalls.
Prof. Wangari Maathai, Kenyas Nobel Peace Prize Winner and remembered for her determined campaign to save the Karura Forest in Nairobi inspite of brutal police reactions caused by the government then in power, has hailed the award for Rwanda and heaped praise on the countrys policy and leadership in conservation. Sources within Rwanda too expressed their joy and pride over this huge recognition as one regular source from Kigali put it, for what we are doing and have already achieved.
Notably has President Paul Kagame also highlighted individual responsibility by other world leaders over achieving sustainable development when addressing the United Nations General Assembly earlier in the week. A heartfelt congrats and bouquets galore to Rwanda and barbs and wires to those responsible in the region for NOT doing what they can to emulate such examples and rather continue to wreak havoc on their forests and broader environment with shortsighted talk about progress and development which relies on an intact environment adds this correspondent in closing.
South Sudan News
KHARTOUMS DIRTY TRICK CAMPAIGN EXPOSED
The rise of commodity prices in South Sudan, while partly influenced by the economic situation around the world and more immediately in the wider region, has to an extent been worsened by reported economic strangulation by the regime in Khartoum, the Souths former slave masters.
They have been making the shipment of goods from the North to the South difficult claimed a regular source in Juba. We dont understand the rationale behind it. We here have always bought goods from Khartoum and it keeps people there in work when they produce and ship to us. If they continue like this we just have to buy more from Uganda and Kenya. And this is apart from the other issues we have with the North. By independence we were supposed to have all aspects of our separation covered. Oil fields, waters of the Nile, national debt of the then united Sudan, Abyei, South Kordofan, Blue Nile and so on. Khartoum is now waging a war again, they occupied Abyei and are trying to start ethnic cleansing again, the same in South Kordofan and Blue Nile. Our brothers and sisters are being bombed from the air, shelled from the ground, women are raped, homesteads and villages razed and people driven off their ancestral lands by force. It is the same tactics again like they used against us during the civil war, what they were doing in Darfur. How can we peacefully coexist with a belligerent neighbour with no respect for human rights and ready to commit more crimes against humanity. If they do not reform we will use the UN where we are now a member, we will use the EAC we intend to join, we shall use Nile Basin Commission we intend to join, we shall use IGAD we intend to join to show our friends in the region what exactly Bashirs regime is doing and have them disciplined like it happened to other errant members in IGAD. We will also protect our border region better and we have to really control access from the North. These sentiments were echoed in other exchanges with sources in the South Sudan who accused Khartoum of economic sabotage and military aggression against those left behind in the North who want to join us in freedom.
Meanwhile has South Sudans president Gen. Salva Kiir Mayardit given his first address to the UN General Assembly in New York last week, again highlighting cooperation and peaceful coexistence with the North as a goal of his government while also reminding the world of the many outstanding issues to conclude the separation agreements as well as the plight of the people inside the North still yearning for freedom and kept in continued slavery by the regime. Watch this space.
Mauritius News
NEW TOURISM ACADEMY PLANNED FOR MAURITIUS
The government in Mauritius appears set to launch an international tourism and hospitality academy, according to the Minister for Tertiary Education who made the announcement earlier in the week when officiating at the start of a tourism sustainability conference.
The meeting drew participants from 20 countries in the wider region and the theme was: Embracing Social and Economic Change The Influence and Role of Tourism. Notably in attendance were representatives from Bedfordshire University from where technical support and assistance is expected for the new institution, ensuring relevant high quality courses and globally recognized diplomas and degrees.
It was not immediately known if the new academy will be a standalone institution or be part of the network of the universities of Mauritius. Aimed at attracting students from the wider geographical region, beyond offering new courses to students from within the country too of course, the move appears to be eying a lucrative market from the African continent where universities are often plagued by budget shortfalls and closures, impacting on the length and quality of studies and making students and parents seek alternative places abroad.
Tourism is one of Mauritius leading economic sectors and been on the upswing again following the global economic and financial crisis of 2007/8 and recent announcements by Emirates, that the airline will move from 9 to 11 flights per week by the end of the year has created an excited buzz amongst tourism stakeholders showing optimism for the immediate future inspite of fresh economic concerns in Mauritius main tourism markets.
EMIRATES ANNOUNCES ADDITIONAL FLIGHTS TO MAURITIUS
Dubais award winning airline Emirates has just announced that they will increase their present number of flights between Dubai and Port Louis from 9 to 11 by December this year.
Mauritiuss tourism industry has been knocking on their governments door for a while now, literally begging to have the protective policy towards national airline Air Mauritius changed and allow for more seats to the island, matching the increased bed capacity offered by resorts and hotels. Clearly stung by the overwhelming success of neighbouring Seychelles, where by the end of this year 25 weekly frequencies from Gulf airlines will come to Mahe double daily by Emirates, daily by Qatar Airways and an initial 4 flights a week by Etihad have tourism stakeholders moved from asking to demanding from government that a similar approach be adopted to add more arrivals. However, there have also according to a source from Mauritius been words of caution, pointing to Air Seychelles, which had to drop their flights to Frankfurt as they were unable to compete with Gulf airlines in terms of pricing and frequencies offered. Air Mauritius supporters from the private and public sector will therefore closely watch what will happen to their load factors when the additional flights commence and judgment has been reserved until we have sufficient data on how the added Emirates flights will affect loads on Air Mauritius as the same source put it to this correspondent.
A 10th flight will commence from early November while a month later, by early December, an 11th flight will begin, in time for the high season of Christmas and New Year. Happy Landings.
Seychelles News
CONSTANCE LEMURIA / PRASLIN ISLAND BAGS THREE WORLD TRAVEL AWARDS
In a remarkable show of sustained quality was the Constance Lemuria Resort on Praslin Island / Seychelles, once again voted the Best Indian Ocean Golf Resort for the fourth consecutive year. Not ending there however the Lemuria also won for the second year running the Seychelles Best Spa Resort award, a hotly contested honour this year in view of increased competition and pulling up of socks by other contenders during the past 12 months. The Lemuria then bagged a third award when they captured the Seychelles Leading Resort, leaving others more than slightly disappointed for trailing in their wake. The World Travel Awards are often called the tourism industrys Oscars and the award ceremony this year was held at the Red Sea resort city of Sharm el Sheikh, giving Egypts somewhat ailing tourism industry a shot in the arm.
The Constance Lemuria, the archipelagos only golfing resort, has in recent years established itself as a favourite, not just in golfing circles but also the more regular holiday crowds and comments on TripAdvisor are entirely self explanatory and by the look of it also entirely true.
Constance Hotels last year opened a second property in the Seychelles, on the island of Mahe known as the Constance Ephelia Resort, and it is understood that there is growing internal competition between the two resorts when it comes to capturing global recognition through travel awards. Congrats to the Lemurias management and staff and better luck next year to all the others across the archipelago.
Constance Hotels operates properties from Mauritius to the Maledives, from Seychelles to Madagascar and more details can be found via www.lemuriaresort.com or the groups main website www.constancehotels.com
AIR SEYCHELLES TO RETIRE TWO B767-200
Information has come to light that the arrival of the airlines new CEO Bram Steller in Mahe Bram is due to take up his new assignment by 01st of October will also be marked by the retirement of the two oldest Boeing 767-200 aircraft. According to a source in Mahe this decision was taken by the board of the airline which intends to return the two lease aircraft to ILFC in due course. This decision may have been prompted by Air Seychelles decision a few weeks ago to end the charter flight for the British Ministry of Defence between the UKs Brize Norton air force base and the Falklands, which rendered the B767 used for the operation, and the required back up aircraft surplus considering the other routes flown according to the present published schedule.
This will leave HM with three B 767-300, which were recently refurbished, to operate their scheduled services to Paris, London, Milan, Rome but also to Mauritius, Johannesburg and Singapore.
There is also intense speculation now over future plans to upgrade the B767 fleet to the B787 Dreamliner, which until not very long ago was firmly on the drawing board, although the extraordinary delays by Boeing to get this aircraft into commercial service have not helped much. Only this weekend has ANA finally taken delivery of the first B787 but other airlines, as frequently reported here, are still looking at long delays in getting their Dreamliners delivered.
With the arrival of the new CEO in Mahe it seems an open game once again which direction Air Seychelles may go for the planned, and necessary if not overdue fleet renewal, and Airbus will be knocking on the doors once again attempting to persuade HM to consider a switch to the more readily available A330 models which offer superior economics compared to the ageing B767. Whichever way Air Seychelles will eventually go, in terms of new routes and in terms of new aircraft, be sure you read it right here.
AFFORDABLE SEYCHELLES MYTH OR REALITY
Readers of my articles often challenge me to substantiate the Affordable Seychelles tag line I keep bringing up when reporting about the archipelagos tourism events and developments. Introduced at the height of the 2007/8 global financial and economic crisis, the invention by the Seychelles Tourist Board had two main objectives: To empower Seychellois creating their own businesses and help them to succeed in the niche markets for bed and breakfasts, holiday villas, apartments and guest houses, all owned and managed by citizens of course, and secondly by attracting more visitors, especially those travelling on a budget and unable or unwilling to afford the archipelagos better known luxury five star resorts.
The African mainland, now connected by Kenya Airways from Nairobi three times a week with convenient connections from the entire region in both directions, and by Air Seychelles to Johannesburg, are the main beneficiaries of the resolute push to attract visitors to the islands as Affordable Seychelles packages are now on offer from East to South Africa. Flights, airport transfers from and to Mahe International Airport often free of charge though in some cases charged at a nominal fee for guests and accommodation now make the Seychelles a destination within financial reach for the increasing number of African visitors, and the NO VISA requirement adds a huge benefit for travelers. As long as one has a return ticket, a confirmed hotel reservation and sufficient funds to sustain a stay, and in case of coming from Africa a Yellow Fever Inoculation Certificate, admission it literally guaranteed.
I stayed last year at the Bord Mer Residence for a night, a well equipped and most friendly bed and breakfast at the Beau Vallon Bay just across the main road from the beach. During my strolls into the wider neighbourhood, entirely safe I should point out, I found a range of additional guest houses and B&Bs nearby, some higher up in the hills, some nearer to the main road, some with swimming pools but all of them near the little shops and a range of restaurants offering international or the tasty Creole local cuisine. Not far from the Bord Mer I found the seemingly very popular Hanneman Holiday Residences, where plenty of European tourists stay according to the TripAdvisor comments I then found and the holiday guides, printed and on the web, show plenty of choices for this type of budget accommodation.
Yet, some of these properties are also found right at the beach like the Chalets d Anse Forbans, freely translated as Pirates Cove, located in the South of the main island of Mahe. For guest booked there it offers a starter pack in the well equipped kitchen consisting of bread, milk, butter, bottled water, sugar, coffee and tea and all else can be found in local shops not more than half a kilometre away, providing some exercise in the process of shopping. Too lazy to cook in this professed self catering establishment? No problem, the owners are happy to arrange for a cook, best of course already pre-requested when making the booking, which can be made through the web pages via www.forbans.com
Such budget accommodation does not lack the amenities found in the more expensive resorts and airconditioning in bedrooms is available in most, as is internet access, at times at a cost, phone and fax services and depending on the rating pools and lots more. Many such places are linked to the rest of Mahe by excellent public transport government only last year nearly doubled the fleet of public service busses or else by the use of a rented car, though this correspondents old favourite the beach buggy on a Morris Mini base is now hardly found any longer and Japanese cars have replaced the open top buggies.
TripAdvisor is an excellent source of information from users for those planning a holiday in the Seychelles, besides all the details which can be found via www.seychelles.travel the official site of the Tourism Board which has dedicated space for Affordable Seychelles participating properties, not just in Mahe but also on Praslin and La Digue.
In conclusion, the alleged myth of Affordable Seychelles is in fact a reality on the ground and as the world seems to be once again at the edge of another potentially crippling financial crisis, with a repeat of the 2007/8 scenario, Affordable Seychelles will surely retain its valued place in the overall promotion strategy for what is otherwise known as Seychelles Another World. Luxury or simplicity, a personal butler at ones beck and call or a short trek to the reception of a Seychellois owned and managed small B&B, guest house or holiday villa, the warm spirit of the people of the archipelago will surely make for a dream holiday come true on the Creole Island Paradise of the Seychelles. Go visit!
ETIHAD STARTS SEYCHELLES PROMOTION
With the formal launch of initially 4 flights a week between Abu Dhabi and Mahe just weeks away, the destination campaign by Etihad across its global network is rapidly getting into gear now.
Ahead of Top Resa in Paris have news started to emerge of a major push by Etihad, supported by the Seychelles Tourism Board and the archipelagos private sector, to market the Seychelles as a dream holiday destination. Following in the footsteps of senior cousin Emirates and also Qatar Airways, the former moving towards double daily flights and Qatar having gone daily earlier in the year, the campaign will find both challenges to overcome but also be able to take advantage of the high visibility the Seychelles have established across the world by previous campaigns from airlines. STBs deliberate policy of courting the media, in particular the travel media and leading magazines, will also support Etihads roll out of their latest destination, when the inaugural flight goes underway.
The Seychelles, one of the most wanted honeymoon destinations across the globe, has with its dual approach to marketing itself made massive gains, not only as a top end holiday destination in eternal summer in some of the most luxurious resorts one can find, but also with their Affordable Seychelles campaign supporting their home grown hospitality industry comprising holiday villas, guest houses and B&Bs, often located on very scenic spots, overlooking the pristine waters of the Indian Ocean from the hills or near the beaches.
The myth that the Seychelles is only for the rich and famous has been put permanently to rest as both market segments can happily live out their dream holiday, some in the luxurious surroundings of resorts like The MAIA, the Constance Lemuria, North Island or further out Desroches Island Resort, while those travelling on a tighter budget still enjoy the beaches of Mahe, Praslin and La Digue while staying in Seychellois owned and operated guest houses where the best tradition of Creole hospitality are often found.
Etihads launch fares for the inaugural flight from for instance their European network via Abu Dhabi to Mahe are thought to be starting with a below 500 UK from the UK and in the region of 400 Euros return from the European mainland for the immediate launch period before rising by about 100 currency units respectively as the high season of Christmas and New Year is drawing nearer.
The Seychelles arrival record of last year is already in sight of being broken and the added four flights a week with an A 320 in a two class configuration will be the proverbial shot in the arm of the Seychelles tourism industry to reach new record arrival and revenue figures from the tourism sector.
Suggests this correspondent in closing: Watch your local dailies and magazines for the launch campaign adverts by Etihad to take advantage of some incredible offers being lined up and be ready to travel to Seychelles Another World just as much as to Affordable Seychelles and experience the unique hospitality of the Creole Island Paradise.
AND in closing today once again some interesting reads taken from The Livingstone Weekly, produced week in and week out by Gill Staden who covers down south like few others asante sana Gill:

ZIMBABWE
Kariba Snare Sweep and Tsetse Island Visit


Conservationists around Kariba are assisting the National Parks in protecting the wildlife areas. They are removing snares and helping around Kariba and on the islands in the lake.
Snare sweeps are clearing the area of many snares; the first one finding 19 snares and the second 7 snares.
They also found a poached elephant floating in the lake which had been shot and run into the lake where it had died. The carcass was brought back to the mainland and its tusks removed and taken to the Parks Office.
On Tsetse Island they found the carcasses of waterbuck which had died from starvation. The lake has been high again this year covering the islands vegetation, leaving little for the animals to eat. We know that on Starvation Island and other islands further west, lodge owners constantly watch the animals marooned on islands to make sure that they have enough to eat when the water level remains high.
Also on Tsetse Island people were found. A pair of them ran off into the bush and evaded capture but the team which included Parks officials found their boat and towed it away. Another two men were found having a snooze in between fishing they were also taken away along with their boat and fishing nets.
No buffalo were found on the island although there had been reports that they were there. It was assumed that they had swum back to the mainland.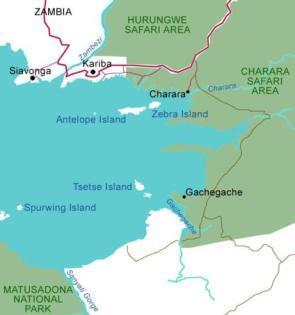 As the lake recedes more grazing is exposed for the island animals to eat. The main problem is the number of hippos which come onto the island they are depleting the grass, leaving little for the other residents of impala and waterbuck. A pod of 50 hippos was found relaxing on the shore and it was thought that there were more on the other side of the island.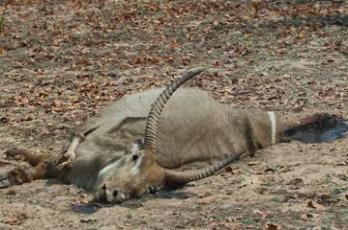 Painted Dog Foundation
Project Update July / Aug 2011:
The Ukusutha take another big step.

Jealous and I watched the Ukusutha pack feeding on an impala, rather like proud parents watching their children achieve something special. This was the third kill the Ukusutha had made. Greg had enjoyed watching the first two kills and now this third kill provided evidence that they had, indeed, taken another huge step from being dependant on humans for their food. A fourth kill the following afternoon really sealed the deal!
On the roller coaster of life of Painted Dog Conservation this was a high, a great moment to hold onto. We had made the decision two years ago to bring the dogs into our Rehab Facility, and with that decision came a lot of responsibility. Raising them was never going to be the issue, as our resident dogs, Angela and Zenga, took up the role of foster parents. However, getting them back into the wild was always going to be challenging and witnessing them take such a huge step in that direction was tremendous. They are far from in the clear though. Life in the wild is never an easy ride and they still have much to learn. Their encounters with lions and hyenas on the reserve have so far gone well. Pack strength is working in their favour, allowing them to defend their kills from hyena and they have been seen chasing two lions away. We know there will be many more challenges for them though.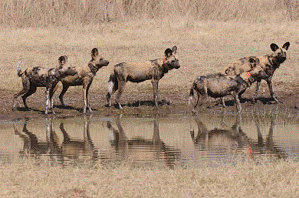 As if to underline the struggle for life, my phone rang and brought me back to earth. Three dogs had been spotted and photographed by clients staying at The Hide Safari Camp. Closer examination of the photos revealed that one was carrying a snare around her neck. When we received the photos that afternoon we needed only a second to identify the dogs as the Kutanga females. Juliette had been snared and to make matters worse, Bullseye was missing. We needed to find the dogs and find them fast. I left Jealous in Vic Falls with Edward to watch over the Ukusutha and drove back to Hwange. Foggie, PDCs Assistant Manager is excellent in a crisis. During my two-hour drive from Vic Falls to PDC she had already organised a plane for the next day.
I didnt sleep well that night and got up early. After making coffee, I got into my Land Rover and drove into the bush. The signal from Juliettes collar soon reached my ears— the familiar beep, beep beep, confirming
she was close by. I frantically checked for the other collars. Alpha female Ester was there, as was the third female, named Shoulder Patch. However, Alpha male Bullseye was still missing. I followed the three females and managed to look at Juliette through my binoculars. I could see that the snare had not cut into her neck. She was lucky. She had a wound on the side of her mouth and another behind her left front leg. Neither looked too serious and my tension eased a little, but Bullseye was still missing and so the priority.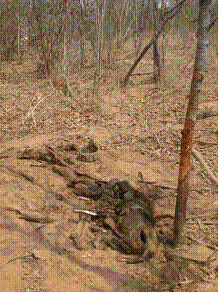 The plane arrived and after thirty minutes we had fixed the tracking equipment to the wing struts and were ready. A 20-minute flight was all it took to locate Bullseye, approximately 10 kilometres northeast of Ganda Lodge. The collars we fit onto the dogs have three signals: a moving, a resting and a mortality signal. The signal I was receiving from Bullseyes collar suggested he was moving. We landed and quickly drove to the nearest point, picking up some anti- poaching scouts on the way.
I was listening to the signal as we walked into the bush and it changed to a resting pulse. We hurried along and came across the brutal scenes of his death.
The remains of Bullseyes body were still caught by the cruel snare. Vultures had been feeding on his carcass, creating the movement that had given rise to the false hope. I was devastated and dropped to my knees by his side. The snare, made from copper telephone wire, encircled his waist. Witnessing these scenes does not get any easier no matter how many times you see it. The agony of his death is hard to imagine. My despair turned to anger as I surveyed the scene. We recovered 15 snares that had accounted for an elephant and an impala, as well as Bullseye.
Juliette was now the priority and two days of searching by Greg and me were frustratingly fruitless. Greg headed back out into the depths of Hwange NP, as we knew these females could and would cover 20 or more kilometres in a day. I concentrated on the local search.
MK phoned me in the evening to report that the Kutanga females were at the rehab. I was more relaxed now, though determined as ever to help Juliette. I drove out at 5:00 am the next morning. The dogs were still at the rehab but not in a position that would allow me to get close enough to dart Juliette. Happily they soon moved off and I followed, as they chased a small herd of sable with misplaced optimism rather than actual intent. They soon came to a rest in the thick teak woodland and I had my chance to get close enough. I darted Juliette and she soon fell into a drug-induced sleep. With MK and Maria helping me, we soon cleaned up Juliettes wounds, fitted her with a new GPS collar and returned her to her pack. A roller coaster ride one shared by all of you.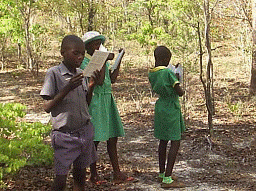 On another note, our extremely successful Childrens Bush Camp has now hosted 5,000 children and continues to inspire the kids that are the hope for the future. The extension of this work into the communities via our Conservation Clubs continues to be ever- popular and in July we ran another Nature Corner competition with Lupote School, again claiming first place. It was great to see Hankano, one of the smaller schools, claim second place and the judges overall comments being tremendously encouraging.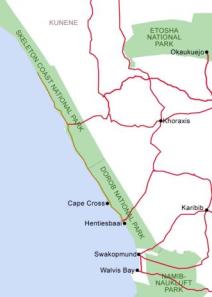 NAMIBIA
New Industrial Park causes concern
Gecko Namibia hopes to develop three chemical acid plants, a harbour, salt mine and desalination plant in the Erongo Region, around Swakopmund.
During a public talk last week, Gecko Namibia vowed to undertake the most comprehensive environmental impact assessment.
The development is causing concern by the public because of its nearness to the newly proclaimed Dorob National Park, an area renowned for its unique biodiversity. It is felt by some that a major chemical plant in the vicinity may harm the environment from toxic by-products.
The development, according to Gecko would ideally be suited to a site of 4,000 ha north of Swakopmund and not, as some proposed at Walvis Bay which is already an industrial hub.
Gecko also maintain that the Environmental Impact Assessment will be thorough and if it is found that the negative impacts of the development cannot be mitigated, the project will not go ahead.
Peter Tarr, Executive Director at the Southern African Institute for Environmental Assessment:
Vision Park is linking itself to the uranium rush as a service provider and value adder.
Gecko has stated that the development will create massive employment. Philip Ellis, Geckos managing director for Namibia: if Namibia needs anything, it is jobs. According to Gecko, 2,500 permanent jobs will be created, 95% of which will be for Namibians. (Have we heard this before???)

Seal Culling in the news again

The Ombudsman in Namibia, John Walters, has met with activists and government representatives to learn the facts behind the Seal Culling exercise which is undertaken by government once a year at Cape Cross Seal Colony. Activists maintain that the practice is outdated and cruel and that more money could be earned in tourism-related activities. Government representatives say that the seals are depleting fish stocks along the coast and have to be culled to protect that industry.
From accounts, it seems that the discussions were heated with government officials saying that it was foreigners who were bringing the issue to the forefront and that the foreigners were deliberately obscuring the facts of the case. They felt that it was a matter for Namibians to discuss.
John Walters, keeping his cool, stated that he needed to find out the facts of the case and therefore needed to hear all sides. Only when his office had gathered all the facts and information would he be able to deliberate and then make a recommendation on the matter. He maintained that the office of Ombudsman is independent of government and of activists.
Sea Shepherd, one of the organisations opposed to the seal cull, pledged to give financial assistance towards job creation if the cull is ended. Sea Shepherd states that the seal cull generates about US$450,000 for the Namibia economy each year while tourism-related activities could generate about US$1.8million.
The government representatives did not agree with these figures, but did admit that the method of culling (by clubbing young seals) was possibly not the most humane way.
The Turkish entrepreneur, Hatem Yavuz, who harvests and processes the seals in the cull and did not appear at the meeting, commented privately that the meeting was a "waste of time and noise pollution".

SOUTH AFRICA
On Wednesday it was World Rhino Day and World Elephant Day so many people commented on the serious problem of poaching of the rhinos and elephants in the region. Last year we know that a total of 333 rhino were poached in South Africa for their horns; this year the number is 311 already.
The World Wildlife Fund and other organisations are stepping up measures to help protect the rhino but know that the root cause is demand and, until the demand is ended, rhinos will always be at risk. Locking up one poacher is not the solution as there are at least another 150 waiting to fill those shoes.
Rhino horn, which is now worth more than gold in the Asian market, is distributed by mafia-like gangs who continue to spread the myth that rhino horn can cure cancer and many other ailments. With more and more money available in the Asian economies, the demand is increasing.
Rhino horn is made up of keratin, the same as in finger nails. Jacques Flamand, leader of the WWF and Ezemvelo KZN Wildlife Black Rhino Range Expansion Project, said education was needed to prove rhino horn had no medicinal value. "Consumers need to know that the hydrochloric acid and pepsin [a digestive enzyme] in the stomach breaks any animal product down."

Groenwald Case

Dawie Groenwald, owner of Out of Africa Adventurous Safaris, who is facing the courts along with 12 others for slaughtering rhinos for sale in South Africa for the Asian market, will be formally charged on 30 September. 20 rhino carcasses were found on his property with their horns removed.
"The Groenewald Gang has challenged the conventional wisdom of what a poacher is," says Matt Lewis, who heads WWF's African species program. "This is not a desperate and impoverished villager taking up a gun and going off to shoot someone elses animal in order to get a few dollars to feed his family. This group orchestrated a plan to profit from the exploitation of rhinos in a systematic way, while appearing to be involved in the conservation of that species. Very devious, very crass and driven purely by greed."

Semi-Automatic Rifles

In order to give more protection to the rhino populations in South Africa, the South African police are assisting owners of wildlife farms in giving out licences for semi-automatic rifles. Up until now, private owners have only been allowed to own a handgun, standard rifle or shotgun. Poachers are often armed with AK-47s, giving them a huge advantage in a fight-out.
According to the law, any person can, for self-defence, possess a semi-automatic rifle deemed a restricted weapon provided he or she can provide proof that an ordinary firearm may not provide sufficient protection.

Rhino Hunting Quotas

The South African government allows the hunting of rhinos but was caught out recently when a Thai businessman violated the law by allowing Thai sex workers to pose as hunters. It is thought that the women never fired a weapon, merely posing for photos, and were used to evade the law which states that one hunter may only hunt one rhino in a year. Chumlong Lemtongthai is said to have paid almost US$10,000 per kilo for rhino horn and then sold them on the black market for US$55,000.

Ian Player joins the debate again

Ian Player, a renowned conservationist, who lives in South Africa, told an audience in KwaZulu Natal that the legal sale of rhino horn should be debated. There is a stockpile of rhino horns which has been gathered from animals which had died of natural causes it was worth around R1billion. He feels that the horn should be auctioned off, thereby reducing the value of rhino horn on the black market, and the money used for conservation.
This debate is also raging over elephant tusks. As we have reported, Tanzania wants to sell its ivory so that it can earn revenue. There is a lot to say for this argument.
Unfortunately for us in Zambia we seem to have bred a lot of poachers on our land. If the sale of rhino horn or ivory is allowed, we have bands of poachers ready to get into the bush to kill every elephant and rhino in sight sorry, Zambia, but we have this reputation. When previous sales of ivory were allowed Zambias elephant population was almost wiped out.
In an ideal world the Southern Africa region would be awash with wildlife which we can use for trade. Elephant which have to be culled from time to time to save the environment could provide the countries with an income from the sale of their tusks. Rhino horn from dead rhinos could be sold. Meat from buffalo, warthog, impala, can be used for food instead of, or as well as, cattle, sheep and goat.
The problem is, of course, that we dont live in an ideal world …


Project Rhino has recently been formed as an umbrella organisation which will share information and resources, thus bringing together all the conservation groups in KwaZulu Natal working on projects which involve the saving of the rhino population.
The founding members of Project Rhino include:
Ezemvelo KZN Wildlife, Wildlands Conservation Trust (WCT), Wildlife ACT, Wilderness Foundation, Thanda Private Game Reserve, African Conservation Trust (ACT), Phinda Private Game Reserve (& Beyond), Zululand Rhino Reserve, Zululand Wildlife Security Initiative, Game Rangers Association of Africa (GRAA)
WWF Black Rhino Range Expansion Project, Wildlife & Environment Society of SA (WESSA), Space for Elephants Foundation (SEF), Magqubu Ntombela Foundation, Thanda Foundation
The organisation was formed because of the increasing threat to the extinction of the black and white rhinos which are facing an onslaught by poachers for their horns which are worth pound-for-pound more than gold.