AVIATION, TOURISM AND CONSERVATION NEWS from Eastern Africa and the Indian Ocean islands.
A weekly roundup of breaking news, reports, travel stories and opinions by Prof. Dr. Wolfgang H. Thome
You can get your daily breaking news updates instantly via Twitter by following @whthome, join me on www.facebook.com/WolfgangHThome where the articles also 'cross load' or read the daily postings on my blog via www.wolfganghthome.wordpress.com which you can also 'follow' to get immediate notification when a new article is posted.
Fourth edition January 2013
East Africa News
TURKISH TO INCREASE EUROPEAN CONNECTIVITY COME SUMMER SCHEDULE

Turkish Airlines, covering East Africa with flights to Entebbe, Kigali, Nairobi, Mombasa, Dar es Salaam and Kilimanjaro – and as such being the foreign airline with the most East African destination airports – has just announced the expansion of the European network services, once the summer schedule comes into effect.
Effective on 31st of March key destinations across Europe will move to as many as four flights a day, giving passengers from East Africa multiple choices to reach a final destination and perhaps taking advantage of the airline's stop over options for a quick visit into Istanbul, a city which history reaches back into pre-Roman days.
Unlike other airlines, as previously reported here, THY seems intent to offer greater choices as it expands further into Africa, where it intends to serve 40 destinations by the end of this year. 'Like you said this airline has almost come by stealth and few people still know that they are dealing with a global airline which reaches more destinations from Istanbul than any other single airline. They now cover every important airport in East Africa apart from Bujumbura and Zanzibar, and that makes them a prime airline for East Africans. No more travelling to Nairobi or Dar to connect, but really from your own doorstep. Turkish has become a real factor now in aviation and even if the Emirates and Qatars are bigger in PR and promotions maybe, Turkish has become their big rival. And they are also in Star, so that is an added advantage' said a regular travel agency contact from Kampala in the evening, when trying to get some feedback on the news of the new summer schedule announcements for Europe.
A new airport under construction will be the home hub for Turkish when ready around 2016 and further aid the airline in their aim to eventually operate a fleet of up to 400 aircraft. Founded some 78 years ago Turkish also flies to some 40 destinations across Turkey itself and over 160 destinations worldwide, over 30 of which are in Africa.
Watch this space for regular and breaking aviation news with relevance to Eastern Africa and the Indian Ocean islands.
ETHIOPIAN SET TO REDUCE EUROPE CAPACITY IN SUMMER

Scheduling information now becoming available suggests that Italy, France and Belgium will from the 20th of June onwards seen capacity reductions in their links to Addis Ababa with Ethiopian Airlines.
From what can be seen, Brussels flights will be reduced from currently 6 to 5 only, three of which will be operated by B757 single aisle aircraft via Rome, instead of Paris.
Milan Mapensa will see flights reduce from daily to 4 a week only, to be served via Rome, also using a single aisle B757.
Paris flights will from 20th June onwards reduce from 6 to 5 per week, using the B767-300.
In view of the routing changes, Rome will see the number of flights northbound rise from 8 to 11 while the southbound flights will rise from 7 to 10, mostly using B757 single aisle aircraft.
The use of the ageing B757 single aisle aircraft will undoubtedly be a challenge for the airline as passengers in this day and age come to expect flying on a modern wide body aircraft, similar to resistance found in the market over the use of the Bombardier Q400 to East African destinations instead of a B737-800 jet. The aircraft choice is therefore giving rise to speculation that the airline either does not have sufficient wide body aircraft available or else demand has dropped so substantially on the mentioned routes that the use of a smaller aircraft became necessary, besides the lesser frequencies. Watch this space though on market reaction and how that schedule will change come the winter schedule for 2013.
QATAR TO OPEN NEW HAMAD INTERNATIONAL AIRPORT IN DOHA ON APRIL 01

A regular source from Qatar Airways has confirmed that the new mega airport, due to be named on opening as Hamad International Airport Doha, will open its doors on Easter Monday, 01st April this year.
The planned soft opening was announced this afternoon during a press conference in Doha, and as many as 12 airlines flying presently to Qatar will be part of the initial move alongside national airline Qatar Airways, which will also manage the airport overall. Initially both the existing and the new airport will operate in parallel until later in 2013, when all operations will have moved to the new facility and the 'old' airport will be closed.
Construction for the new airport started in 2005 but the initially expected opening in mid 2012 had to be postponed several times, with a major legal battle now unfolding over contractors allegedly delaying completion through slow work pace.
The new airport has been custom designed to serve as Qatar Airway's new home hub, able to cater for a number of Airbus A380 which the world's only 5 star airline will receive in due course and new state of the art facilities for passengers will undoubtedly soon be ranked amongst the world's best.
Qatar Airways CEO Akbar Al Baker had this to say today: '2013 is an historic year for the State of Qatar, Qatar Airways and the country's young aviation industry. Qatar Airways, as the operator of the new Hamad International Airport and main user of the facility, looks forward to welcoming airlines and passengers to the airport in just a few weeks' time opening up a new era for our country. This will be a world class facility that promises to propel our nation further on the international stage. Of course the story doesn't end here. Later this year, Qatar Airways will move its entire operations to Hamad International Airport, as all airport lounges are expected to be ready and fully operational by then ensuring that all our passengers have a truly world class experience that they fully deserve. These are exciting times for our aviation industry and the people of Qatar, so let us relish the moment'.
Hamad International Airport will accommodate 28 million passengers annually when it opens this year, increasing to 50 million beyond 2015.
One of the world's fastest growing airlines, Qatar Airways has seen rapid growth in just 16 years of operations, currently flying a modern fleet of 118 aircraft to 123 key business and leisure destinations across Europe, Middle East, Africa, Asia Pacific and The Americas with the aggressive expansion continuing well into 2013.
Over the next few weeks and months, Qatar Airways will launch services to a diverse portfolio of new routes, including Najaf, Iraq (January 23); Phnom Penh, Cambodia (February 20); Chengdu, China (March 19); Chicago, USA (April 10); and Salalah, Oman (May 22) with many more new start-ups planned.
Watch this space for breaking and regular news updates from East Africa, the Indian Ocean islands and events beyond with a special bearing on the East African aviation market.
Uganda News
BRUSSELS AIRLINES LAUNCHES NEW CABIN PRODUCT IN KAMPALA

The Kampala Serena Conference Centre's main auditorium was the place to be last night, as Brussels Airlines presented the Ugandan travel trade, business community and regular travelers with their latest cabin product, showcasing their new seats in both economy and business class.
The new flat bed, pneumatically loaded business class seats attracted the most attention, as they permit a passenger adjusting the 'mattress' which the 2 metre long seat, when fully extended, becomes.
Guest of Honour was Uganda's Minister for Tourism, Wildlife and Heritage, Hon. Maria Mutagamba, who is pictured here being acquainted with the new, single 'King Seat', or in her case of course a 'Queen Seat' by Brussels Airlines Country Manager Benjamin Puissant.
The retrofitting of the entire Airbus A330 fleet is now completed and besides new seats was a new individual touchscreen entertainment system introduced, which allows each passenger to select her or his programme component as from an iPad. And then there was the Savoir Vivre revived with an award winning selection of wines on offer in Business Class and a menu selection second to none, with superb Belgian chocolates and pralines the icing on the cake at the end of a meal.
Minister Mutagamba in her address applauded Brussels Airlines, the successor of erstwhile SABENA, to have faithfully stuck to Uganda through the decades and having played an important role in promoting tourism to Uganda by offering special deals for instance for Kayakers, offering rebates for tourists holding a confirmed gorilla tracking permit or availing special fares for Uganda's tourism stakeholders attending the key European trade shows like WTM and ITB. And talking about ITB, Brussels Airlines will uplift for free a group of Ugandan performers to enhance the country's Pearl of Africa appearance at the forthcoming ITB in Berlin with regular performances which are sure to be crowdpullers, as the country enjoys having been named by National Geographic as a Country to Visit in 2013 destination. Flying into the heart of Europe nonstop, airborne pampering included, now that is a way to go.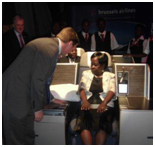 Uganda's Minister of Tourism, Wildlife and Heritage Mrs. Maria Mutagamba with Mr. Benjamin Puissant of Brussels Airlines (Picture courtesy of Mr. Mamerito Ssenfuma / Guide2Uganda)
Kenya News
DEADLY ACCIDENT CLAIMS 11 AS LORRY RAMS INTO LIKONI FERRY

News are just breaking from a source in Mombasa that a lorry, losing the breaks and subsequently control over the vehicle, rammed into passengers at the Likoni side ferry ramp, killing at least 11 instantly while scores of others suffered serious injuries and had to be evactuated by the Kenya Red Cross and other emergency services to the hospitals in Mombasa.
Rescue efforts are underway as more victims are thought to be trapped below the huge trailer truck, which was carrying a loaded container.
From initial reports it would appear that no tourists were involved in the accident, as they, like all other bus passengers, have to leave their vehicles before boarding the ferry and can only re-enter their bus when back on terra firma. While this piece of news was welcomed by the source, a senior stakeholder in the tourism industry, he nevertheless decried the loss of lives and the injuries inflicted on scores of ferry users this Saturday morning when he said: 'No one is blaming the Ferry company for this. There have been incidents before, but not one so serious. The ramps are steep and any vehicle using the ferry should be mechanically sound and safe, brakes working, engine working so that they don't get stuck or crush cars and pedestrians when brakes fail. This is a dark day for Mombasa because we lost so many people in one accident and my colleagues and I pray for those in hospital that they can completely recover and not remain crippled for the rest of their lives'.
This correspondent too extends deepest condolences to those who lost relatives and friends in the accident and sends best wishes to those now in hospital.
OL PEJETA NOW OFFERS 'SAFARI BY BIKE'



Often described as one of Kenya's most complete safari experiences, a visit to the Ol Pejeta conservancy always holds high expectations for a rewarding safari experience and many regular visitors are sure to find innovations and new facilities every time they come to the sprawling estate.
Be it Living with Wildlife on the new residential estate at the periphery of the conservancy, which has opened up a safari experience at the doorstep of the home owners, or the recently opened a fully fledged restaurant at the estate headquarters casual day visitors now find, which is serving anything from breakfast at sunrise to an early supper before closing with the sunset. Accommodation at the fancied Pelican House has drawn in the market segment of those seeking to cater for their own meals without having to pitch tent at one of several designated camp sites, enjoying the comfort of a fixed roof over their head and doors to shut behind themselves when going to sleep instead of zipping up the canvas.
Only days ago was it confirmed that Ol Pejeta will be the first in Eastern Africa to use UAV's – aka Drones to ensure 24/7 surveillance of the 90.000+ acres property to guard their 100+ rhinos against poachers, after already pioneering, hand in hand with KWS and Tropic Air, the establishment of a rapid airborne deployment unit, ready at a moment's notice to swing into action against poachers.
News of a new tourism product, Safari by Bike therefore come as no surprise, when the information was passed yesterday as Ol Pejeta is always good for surprises and new things to be tried out.
Partnering with Serena Hotels (www.serenahotels.com) and their Sweetwaters Safari Camp and adventure operator Rift Valley Adventures (www.riftvalleyadventures.com) a package is now available which includes a 2 – 3 hour mountain bike trip into the conservancy, accompanied by experienced guides to ensure the safety and security of the cyclists. Called the Ol Pejeta Maxi Adventure Experience full board accommodation at Sweetwaters is as much part of the deal as is the guaranteed entrance to the endangered species enclosure where the rarest of the rare, the Northern White Rhinos are kept. Visitors staying a third night will also get an escorted morning bush walk, again bringing them close up and personal to wildlife from ground level, from where in particular the bird life can be seen in its full splendour.
As an optional extra does Rift Valley Adventures also offer canyoning, where they take adrenaline junkies and adventure aficionados for an added activity which includes kayaking the Ewaso Nyiro River and a series of jumps into the rock pools found there.
And all of this, where else, on Ol Pejeta. Visit them via www.olpejetaconservancy.org for details on their rhino breeding programme, their community relations and support projects, information on the Living With Wildlife estate as well as for bookings.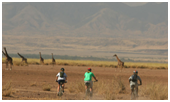 (Picture courtesy of Ol Pejeta Conservancy)
MORE LUXURY HOTELS FOR NAIROBI AS HEMINGWAYS GOES TO FINAL COUNTDOWN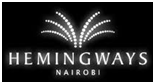 Confidence in Kenya's economic future and political stability must be at the roots of the current rush to open a string of new hotels in the top segment in Nairobi and recent announcements by leading global hotel groups about coming to Kenya's capital either this year or next year only underscores this trend. Not all though opted for the city centre or the suburbs closest to the Central Business District, as for instance the opening a year ago of the Sovereign Suites in Limuru showed.
One of the much awaited opening dates, perhaps now only a few weeks away, is that of the Hemingways Nairobi, a 45 all suite development in Karen and by the look of it a very posh hotel, appealing to both the business travelers as well as for tourists. This applies especially to those already booked to sample the Hemingways Collection's other properties in Watamu, often referred to as the original Hemingways or their superb tented lodge on the exclusive Naboisho Conservancy bordering the main Masai Mara Game Reserve.
Beach – Bush – Boutique is the current theme of the Hemingways Collection and the latter will in a few weeks open its doors to the public, offering a range of facilities to guests sure to bring out the 'awesome' calls from excited safari tourists and the more discreet nods from business travelers, especially those booked into one of the two Presidential Penthouse suites. A personal butler will be available at guests beck and call, ensuring that his charges lack nothing and at any time, day or night, get a meal of their choice, the drink they fancy, a suit pressed and a shirt ironed, as may be required.
All aspects of superior hospitality will be woven together at the new Hemingways Nairobi, fine dining, service, 80 square metre suites – larger than the bedsitters many people live in across Europe or America and range of added facilities second to none, all aimed to immediately claim one of Nairobi's top rating spots among a hotly contested market. Be it the dining, the bar, the suites, the state of the art meeting rooms or the Spa, the outdoor gardens or the indoor lounges, quality and attention to detail oozes from wherever one sets his or her eyes upon. Much to look forward to for sure and worth to watch this space for that first personal impression when staying there immediately prior or on opening. Watch this space.
OL PEJETA BUYS UAV TO LAUNCH AIRBORNE SURVEILLANCE IN ANTI POACHING FIGHT

High tech is now entering the fight against poaching in Kenya as the Ol Pejeta Conservancy has announced they raised the funds needed to buy an UAV, aka Drone, to have eyes in the skies over the sprawling 90.000 hectares estate, which serves as a combined cattle ranch and a wildlife conservancy.
The conservancy, home to over 100 rhinos including four prized Northern White Rhinos given to them for breeding by a Czech zoo three years ago, just recorded the wettest year since they started keeping weather records and the lush vegetation attracted a lot more game to the estate. The published game count for 2012 stood at over 13.000 animals, including over 300 elephant, over 200 giraffes, more than 4.400 zebras – and interesting here THREE species, Burchell's Zebra, the Gravy Zebra and hybrids only found here where the two species' ranges overlap – besides plenty of plains game. Predator concentration is among the highest recorded anywhere in Kenya, including a pack of wild dogs, aka hunting or painted dogs, lions, leopards, cheetah, hyenas and smaller predator cats and foxes.
Awarded the 'Conservancy of the Year 2012' accolade, Ol Pejeta truly constitutes THE complete safari experience in one place, in the opinion of this correspondent perhaps only rivaled by the greater Meru Conservation Area, and yet not overrun by tourists, though a well known 'secret' among Kenya's expatriate community.
The new of the first drone now being introduced by Ol Pejeta underscores the conservation commitment the managers of the conservancy have displayed for years, and it is hoped that combined with a rapid deployment unit of rangers, security officers and volunteers, supported by Nanyuki based Tropic Air's helicopters, this will prevent the poaching now seen escalating in other parts of Kenya. Although the drone is not armed, in the eyes of some conservationists a serious omission – though this poses both legal as well as other questions – the nonstop surveillance will be able to direct ground and airborne teams to any given location, where suspicious movement of cars and people is being spotted. A control room at the conservancy headquarters will direct the flight path, surveillance zones and closer attention to suspect sightings on a 24/7 basis. At the cost of almost 4 million Kenya Shillings the investment is seen as justified and other conservancies in Kenya are already said to consider taking the same steps to prevent South Africa's rhino poaching wave reaching this part of East Africa too.
Visit www.olpejetaconservancy.org for more information on the work done on Ol Pejeta, the accommodation available, like the Pelican House, the camps and lodges found, where to eat as a casual day visitor and much more.
PORINI MARA CAMP JOINS THE ELITE RANKS OF ECOTOURISM KENYA'S GOLD LABELS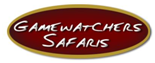 News just broke from Nairobi that the Porini Mara Camp, located on the Ol Kinyei Conservancy adjoining the Masai Mara Game Reserve, has attained the highest marks possible in the annual eco ratings published by EcoTourism Kenya, when it gained, alongside sister camp Porini Amboseli, the coveted Gold Rating, up to the highest possible status from the previously held silver level.
Only eight such gold ratings have ever been issued by EcoTourism Kenya and two are now in the stable of one of Kenya's foremost safari and camp operations, Gamewatchers Safaris and Porini Safari Camps, managed by one of Kenya's outstanding tourism gurus, Jake Grieves Cook and his colleague Dr. Mohanjeet Brar.
The Porini Lion Camp, located nearby in the Olare Orok Conservancy, holds the Silver Rating, affirming the company's longstanding commitment to environmentally best practice, sustainable operating methods and a deeply entrenched 'green culture' rarely seen elsewhere in this day and age. Congratulations to Jake, Mohanjeet and the entire team at Gamewatchers and in particular at the Porini Mara Camp.
Visit www.porini.com for more information on locations, reservations and other important information.
KENYA AIRWAYS TURNS 36

Following the collapse of East African Airways and the progressive breakdown of the then original East African Community, was Kenya Airways formed as a state corporation on the 22nd of January 1977.
Starting up with two Fokker 27 Friendship aircraft, a DC 9, and eventually as many as three B707 and one B720, the new airline commenced flights to domestic destinations like Mombasa, Malindi and Kisumu on the 04th February 1977 from its home airport of Embakasi in Nairobi, then into the region and after that of course to London, Frankfurt and Rome, key markets in those days for Kenya before adding more destinations like Bombay, as Mumbai was called back then.
Being a state corporation in those early days, the abbreviation of KQ was often translated as 'Keep Quiet' in reference to passengers complaining about frequent delays, cancellations of flights and at regular intervals government pulling an aircraft for official flights, leaving the flight schedule in tatters.
Management support in the early days by Air Lingus did help to some extent but it was clear that following global trends, in days when other legacy carriers faced problems galore, the airline needed to be privatized or else be condemned to the history bin of aviation. One Managing Director stills stands out from those days, being Lord Eniskillen, then known as Lord Andrew Cole, at which time a relationship was built with the airline which stood the test of time and extended to the CEO of today, Dr. Titus Naikuni and many of their staff.
Privatisation was the option the government in Nairobi decided for and BA's consulting wing 'Speedbird' was brought on board following a principal government decision in 1986 to set the ball rolling, but it was to be another almost 10 years until and IPO was floated and KLM, the selected partner, took 26 percent of the shares, the Kenya government retained a 'Golden Share' of 23 percent while 51 percent were sold at the Nairobi stock exchange.
With this the birth of successor airline Kenya Airways Limited was accomplished and there has been no looking back since. In 2005 the new tag line 'The Pride of Africa' was introduced as the airline increased fleet size and destinations with today 39 state of the art aircraft comprising B737-300, B737-700/800, B767-300, B777-200/300ER besides a dozen Embraer E170 and E190 jets, flying to 56 destinations in Africa, Europe, the Gulf, India and the Far East.
Last year did the airline publish their 10 year strategic plan, aka Plan Mawingo, a Kiswahili word for clouds, in which further growth plans are outlined. This was followed by a share rights offering in April 2012, which saw the Kenyan government increase its share to 29.8 percent while KLM's share of 26 percent slightly increased to 26.7 percent in the realignment following the take up of share rights on offer.
The airline, inspite of a currently challenging financial and business environment, is seen as a rising star of Africa's aviation industry, and plans to operate 119 aircraft by 2021/22, including a fleet of 12 dedicated cargo aircraft, then flying to 115 destinations on all continents.
Kenya Airways is the only African member of SkyTeam, the world's number two airline alliance after Star Alliance but ahead of OneWorld and is part of KLM's Flying Blue frequent flyer programme.
Today, to my friends at Kenya Airways, it is Happy Birthday and Happy Landings in equal terms. Visit www.kenya-airways.com for more information about schedules, destinations, bookings, FFP details and more.
KENYA AIRWAYS TAKES DELIVERY OF ANOTHER E 190

With the delivery of another Embraer E190 has Kenya Airways boosted its fleet over the weekend, affirming it as Africa's largest operator of this aircraft type.
Registered as 5Y-FFF the single aisle regional jet offers 12 business class seats with a 2 x 1 layout and 84 economy class seats in a 2 x 2 configuration, making it ideal sized for short domestic, regional and continental routes where much of Kenya Airways' hub traffic is coming from.
This is the 6th of a 10 aircraft order currently being delivered by the Brazilian manufacturer with the remaining four of them due for delivery over the coming months.
Dr. Titus Naikuni, CEO of Kenya Airways, was quoted to have said on occasion of taking delivery of this latest addition to the fleet: 'Acquisition of the E-190 aircrafts is a step towards growing the airline network by route and frequency growth, and the E190 is ideal especially for new routes development, while increasing frequencies on existing routes'.
Kenya Airways now operates 39 aircraft from its hub at Jomo Kenyatta International Airport from where it connects to 40 African destinations, Europe, the Gulf, India and the Far East. The airline was in 2012 voted as the Best Business Airline in Africa. Visit www.kenya-airways.com for more information on destinations and schedules.
KENYA AIRWAYS PARTS COMPANY WITH MOHAN CHANDRA AS KIBATI TAKES OVER


Mr. Jim Kibati was made Acting Commercial Director on Friday as the contract of Mohan Chandra, until the 18th of January the Commercial Director of Kenya Airways, left the Pride of Africa after his contract expired and was not renewed.
Mohan served with Kenya Airways since August 2009 and was well known to this correspondent for his forthcoming responses and open interaction.

(Mohan Chandra)
Jim Kibati, who at one time served as Kenya Airways' Country Manager in Uganda and who has since then risen through the ranks, was in more recent times serving in the key position as head of strategic network planning and was by consensus the obvious in-house choice to become Acting Commercial Director. It remains to be seen if he will now put his hat in the ring for a permanent tenure in this top echelon position with Kenya's national airline or if the airline would chose to recruit from outside instead of promoting from within, which seems for a number of reasons the more obvious choice at this junction.
Times are tough at KQ in financial terms with a major half year loss announced late last year and cost cutting measures held up by confused rulings of Kenya's Industrial Court which had the entire business community shouting foul, terming it a major assault on doing business in the country.
European core markets for KQ have been soft, and while there was a windfall in traffic from the UK after the late September withdrawal of Virgin from the Kenyan market, this has not completely made up for the weaker than expected performance overall which some estimate may be down by as much as 15 percent. Upcoming elections too have cast clouds over the immediate future load factors on the airline's international routes and the upsurge in African destinations covered by the Gulf airlines and new big time players like Turkish Airlines has progressively eaten into the potentially rich markets of West and South Africa.
Kenya Airways however enjoys a growing demand for travel to India and the Far East, where direct flights and codeshared operations with among others Korean Air and Vietnam Airlines have enhanced KQ's footprint in the markets. All the best to Mohan, wherever his ways will take him and congrats and all the best to Jimmy Kibati on his challenging new assignment. Watch this space for regular and breaking aviation news from Eastern Africa.
GARISSA HOTEL SCENE OF ANOTHER AL SHABAB ATTACK

While there is no indication at present if the indiscriminate shooting the evening before yesterday at the Dunes Hotel in Garissa was related to the just concluded party nominations for political elective offices – a major rally was planned for later the following day by one of the leading parties contending for the presidency and a majority in parliament – the facts remain the same, that at least 5 people were killed and several more seriously injured when alleged Al Shabab terrorists opened fire on guests. The attackers, reportedly conversing in a local dialect, first approached the restaurant of the hotel, reportedly ordering tea but then drew their weapons, separated local patrons from upcountry guests before starting to shoot their victims, some in the back as they tried to escape, according to local Kenyan news media reports.
Since the start of the Kenyan offensive inside Somalia against criminals and terrorists attacking in cross border raids in September 2011 have a series of random grenade attacks and shootings taken place in Garissa and neighbouring towns and villages but also in Nairobi. This kept the entire country on a heightened state of alert, which saw hotels, restaurants, shopping malls, banks and government buildings receive added layers of protection to make entry into such plum targets very difficult if not impossible, thus avoiding any major terrorist indicents.
A twin attack on two church services in Garissa last year then saw these measures extended to religious services and locations too.
While Al Shabab has been on the back foot in Somalia after losing control of their key stronghold of Kismayu to Kenyan forces late last year, remnants have melted away into the general population in both Somalia and Kenya and continue to pose a serious threat, in particular seen in parallel with the upcoming elections, where Islamic terrorists and militants could use an already heightened state of tension to further aggravate potential disagreements over results. Condolences are expressed to the families and friends of those who perished.
Tanzania News
WINGS OVER KILIMANJARO ATTEMPTS RECORD BREAKING CLIMB
Wings over Kilimanjaro has obtained a special dispensation from the Tanzanian government to allow for the globally supported event to go ahead, which will include some 100 approved participants overall, all of whom will also attempt to climb the peaks of Africa's highest mountain in a record breaking adventure, starting this coming Sunday, 27th January.
The group will, after reaching Uhuru Peak, paraglide from the top of the mountain in a never seen before spectacle, which however has charitable reasons besides the adrenalin boost for the participants.
Event organizers have confirmed that they are intend to raise about 2 billion Tanzania Shillings for local charities, a figure which brought President Kikwete on board, giving the mission his personal seal of approval.
TANAPA contacts confirmed that the ban on the use of gliders and parachutes from the mountain has been specifically lifted for the event. Some 750 support staff, mainly porters and guides, will be accompanying the group up the mountain from where they will attempt to jump off Uhuru Peak's 19.340 feet elevation, then gliding to the bottom of the mountain and a designated landing site.
To be sure that everybody can reach the summit the climb will take 7 days to allow for sufficient acclimitation instead of the standard 5 day climb, which then also includes the return by foot, in this case however done by 'Wings' with the equipment carried up to the peak, assembled and then 'boarded' for the flight down.
The Tanzania Tourist Board, TANAPA and other stakeholder organizations will be having all eyes on the event, which has been in the making for over 2 years by the Australian organizers, with global media and TV stations expected to cover the record breaking attempt, besides the social media being tuned into the adventure too. Hash tagging is expected to make the climb and flights 'trend' helping to promote tourism to Tanzania and raising awareness to the needs of the people of Tanzania.
It is understood that every participant will be bringing some 5.000 US Dollars in donations for the cause. Congratulations to the participants and organizers and good luck to every one of them to accomplish their goal.
PRECISION AIR MAKES IT INTO THE TOP 20 OF TANZANIA'S SUPERBRANDS

The London based Centre for Brand Analysis has just published its findings for Tanzania for the year 2012/13, covering all segments of the country's economy. To no surprise did such global names as Coca Cola, Fanta and Vodacom make it into the top 20, but also local brands like Kilimanjaro Water, Panadol, Chair Bora as well as local media brands ITV and Cloud FM. Notably though has Precision Air made an appearance in the top 20 for the first time ever, testament to the growing recognition the airline has gained in Tanzania as a result of the IPO 1 ½ years ago. Precision has stayed in the media focus also as a result of the introduction of a state of the art fleet of ATR turboprop aircraft, now covering the country to a never before seen extent and being obviously now recognized as THE airline of choice in Tanzania, not just serving the big cities in an effort to scoop the cream off air transport but to serve the entire country as a whole with scheduled flights at affordable ticket prices.
Well done to Precision Air and congrats to all other brands for making it into Tanzania's top 20.
TANZANIA'S SHADOW TOURISM MINISTER MAKES BLISTERING POACHING ALLEGATIONS

The member of parliament for the Iringa constituency Mr. Peter Msigwa, has yesterday made blistering allegations against unnamed top politicians and called for a fresh parliamentary enquiry into the true extent of poaching in Tanzania, when he claimed that over a quarter of all blood ivory now comes from Tanzania. He also put the figure quoted in a parliamentary report in the middle of last year of 10.000 poached elephant per year into doubt when he quoted a figure of over 23.000 of these animals having been slaughtered last year, which would raise the daily count to 67, up from the acknowledge 30 a day under the last such report.
Last week reports came from Arusha of senior police officials being nabbed red handed in a poaching ring, inflicting some serious damage to the credibility of government assurances that all in their power was being done to end the devastating assault on the country's wildlife, unprecedented in history as one source from Arusha put it.
Without tabling any solid evidence the MP made a wide range of claims against unnamed senior government officials and politicians to be involved in the racket and promised to raise the matter in parliament to launch a full scale enquiry into poaching, the financiers, and middlemen.
The fresh allegations come only weeks after Tanzania withdrew the application to CITES to be permitted to sell what they call legal ivory stocks, when it became apparent that the list of stringent requirements for such an application to be accepted by the CITES Secretariat in Lusaka could not be met, besides growing global opposition to the country's stand on wildlife conservation. Watch this space as the latest round of spats and public arguments over the scale of poaching in Tanzania now unfolds.
EMIRATES REACTS FAST TO BA WITHDRAWAL NEWS

While many in Tanzania are still struggling to come to terms with the announced withdrawal of British Airways from the skies over Dar es Salaam – the airline last week confirmed their withdrawal from the end of March – Gulf giant Emirates was swiftest to react and make a bold statement aimed to capture the suddenly additional available market share.
The currently used aircraft, an Airbus A340-500, will be replaced by February 01st with a significantly larger and substantially more comfortable B777-300ER. This will constitute a 40 percent rise in seat capacity for the daily flights between Dubai and Dar es Salaam, or 1.400 extra seats per week, leaving many of Emirates' competitors trailing in their wake again as they ponder what to do with this sudden opportunity to fill their planes to capacity.
Market reaction among travelers is still showing disbelief and confusion over BA's decision for which NO RESPONSE to enquiries has been received by the time of filing this report. The news of Emirates bringing in a larger and more modern plane however were widely welcomed by travel agents and regular travelers.
Exporters and importers too praised the change to a larger aircraft as this type can uplift substantially more cargo, aiding in particular the export of fresh produce and seafood to the rich markets in the Gulf and beyond.
Watch this space for regular and breaking news from East Africa's vibrant aviation scene.
Rwanda News
RWANDAIR CEO CONFIRMS MID YEAR SWITCH FROM THE B737-500 TO THE B737-700
(Mr. John Mirenge, CEO of RwandAir seen at the Kigali Airport's Pearl Lounge during the media briefing on Friday last week)
RwandAir's Ceo John Mirenge, while meeting a group of journalists from leading East African media houses yesterday, confirmed that the leases for two B737-500 aircraft with GECAS are due to expire by mid of this year and will not be renewed. It was clear from his comments, that the two aircraft served their purpose well over the past nearly 3 years but the airline now needs a slightly larger and more fuel efficient replacements to cater for the ongoing growth RwandAir is experiencing from across all their markets. With passenger numbers in 2012 reaching a record 338.589, he said he expects the trend to continue and that the airline was looking at substantially more passengers for 2013 again. The record number represents a 204% increase between 2010 and 2012 and a 67% increase from 2011 to 2012. The rise from 2011 over 2010 is being attributed to the acquisition of two new Boeing 737-800 and a subsequent increase in available capacity while the 67 % increase in 2012 over 2011 is seen as growth from stimulated demand as well as making the airline's schedules and connectivity more user friendly.
'By re-designing schedules, focusing on connectivity, improvements in sales & marketing and by offering additional points to sell via the hub Kigali, RwandAir has now become a serious player in the region', added Bert van der Stege, RwandAir's Commercial Director, who was also present at the meeting with the media group.
John Mirenge then in response to a question posed by this correspondent said: 'We will be leasing two Boeing B737-700NG aircraft from ILFC which will help us to more efficiently serve our network. They will not be brand new but new enough with just a few years of service'. He also all but confirmed that in 2014 at least two additional aircraft will be joining the fleet, very likely the options for two more CRJ900NG being converted into firm orders. This would bring the number of aircraft owned or leased to 9 overall by then, being both a blessing as well as an added challenge for Rwandair at their present home hub at Kanombe International Airport.
While major expansion work is ongoing to enlarge the departure lounge, add more gates and even increase the check-in areas, it is clear that these can only be stop gap measures until the new Bugesera International Airport is finally coming on line, probably by 2016 at the very earliest but more likely in 2017. Ground breaking is expected later this year, according to several sources spoken to in Kigali and when ready the new airport, while further away from the city than Kanombe, will provide state of the art facilities and enough space for growth, allowing RwandAir to reach their strategic goal of up to 18 aircraft by 2021.
Watch this space for regular and breaking news stories from East Africa's vibrant aviation industry.
SHERATON SET FOR KIGALI ENTRY

Information from Kigali indicates that a Chinese owned company, Century Park Hotels and Residences Ltd. has acquired part of a 75 hectares large piece of land, adjoining Lake Nyagahene, in order to commence the construction later this year of a new luxury hotel which will be managed by Starwood's Sheraton brand.
After the 7.5 hectares piece has been developed the company intends to purchase the balance of the land from the Rwanda Development Bank to develop both leisure and residential facilities.
A source at the Rwanda Development Board has confirmed the report in principle but could not go on record for not being the official spokesperson of RDB. 'The city council of Kigali has as far as we are concerned sanctioned the transaction. What the developer is doing is to start the project on one section of the land while the rest is surveyed and wetland areas marked. Those cannot be developed and must remain intact. The EIA will deal with all that but the hotel project is going ahead already and the rest will follow'.
Going by conventional wisdom the hotel will take between 1 ½ to 2 years to build when construction kicks off which would see a full market entry by Sheraton some time in 2015. Starwood is the latest from among a number of international hospitality giants eyeing Rwanda, with Marriott set to open their Kigali hotel later this year, then competing with regional market leader Serena Hotels. Watch this space as more global names will soon be making similar announcements.
RWANDAIR'S LOOKS TO REPLACE THEIR B737-500'S WITH TWO B737-700NG'S

A source close to RwandAir has given indication that the airline is continuing in 2013 where they ended last year, eyes firmly focused on expansion. Two leased B737-500 aircraft, introduced in 2010, will see their contracts come to an end later this year, making way for the introduction of more modern and larger aircraft as replacements, likely to be the B737-700, smaller than the two B737-800NG's which were purchased in 2011 from Boeing.
GECAS, the leasing company, has sufficient such aircraft on order, allowing for a 'switch' when the ageing older Boeings are returned, to seamlessly permit RwandAir expand their seat capacity with the same number of aircraft.
The B737-500 in fact has in recent weeks been blamed on a number of situations when due to load restrictions baggage had to be left behind, making the airline a victim of its own success in marketing and selling their concept of becoming a hub airline, connecting East, West and South Africa, and the Gulf, via their Kigali hub.
RwandAir also still has two options to purchase an additional two Bombardier CRJ900NG aircraft, which however are smaller and will probably not immediately serve as replacements when the older Boeings are phased out.
Rwanda's national airline also has two B787 Dreamliners on order for delivery in the 2015/16 financial year which will permit the carrier to commence long haul flights to destinations in Europe and Asia.
Meanwhile will RwandAir in conjunction with Brussels Airlines and Serena Hotels host a media group from Kenya this coming Friday, when SN will showcase their new cabin product and state of the art seats in business and economy class on their 4 weekly flights from Kigali to Brussels. These flights are fully code-shared between the two partner airlines with RwandAir able to sell tickets on their own 'stationary', giving them access to the European capital city and beyond with a wide choice of destinations across the EU and beyond.
The group will be flying on RwandAir from Nairobi to Kigali, be received and hosted by RwandAir and the Kigali Serena Hotel and then, with special permission from the two Civil Aviation Authorities, board a Brussels Airlines flight between Kigali and Nairobi to experience the new in flight feeling SN is offering to all their faithful passengers. Savoir Vivre is back. Watch this space.
Mauritius News
EMIRATES TO FLY THE A380 TO MAURITIUS IN MARCH

Information has been confirmed by a regular aviation source from the Gulf that Emirates, the award winning national airline of Dubai, will in a one off flight present the giant of the airways, the Airbus A380, to the Mauritius market on the 12th of March this year. Flight EK 701/702 will make use of the 512 seat, double-decker, three class configured aircraft with the most luxurious First Class suites in the sky and one of the most elegant Business Class sections of all their fleet aircraft, besides a big sized economy class with the latest in-flight entertainment and seat comfort. The regular aircraft used on this route is a smaller B777-300, making way on this one time only occasion for the airline's flagship aircraft.
Emirates presently operates twice a day from Dubai to the Sir Seewoosagur Ramgoolam International Airport and has helped the island destination to be reached from any point in Emirates' network with one stop only from anywhere in the world the airline flies to.
Tourism sources on the island were caught unaware by the announcement but expressed immediate delight with the move, which will undoubtedly help showcase Mauritius in its main markets, as the news spread and the opportunity comes up to fly the world's largest passenger aircraft to the island when coming for a pre Easter holiday for instance. Watch this space for breaking and regular aviation news from the Indian Ocean islands.
Seychelles News
KLM TO CODESHARE WITH ETIHAD FOR SEYCHELLES FLIGHTS



Etihad, Abu Dhabi's national airline and 40 percent owner of Air Seychelles, has announced daily flights effective May 15th between Abu Dhabi and Amsterdam as part of an extensive new code share agreement with Dutch national airline KLM. The daily A330-200 service between the two cities will be code shared with KLM, while the Dutch carrier will increase their own flights also to daily connections. The code share agreement includes the onward destination of Seychelles as travelers from the Netherlands can then connect to the archipelago via Abu Dhabi, from where they will have as many as 10 connections to choose from, operated by both Etihad and Air Seychelles under their code share arrangements.
KLM increase to daily flights between Amsterdam and Abu Dhabi will also offer Dutch travelers and those connecting in Amsterdam from the KLM network, two daily frequencies between the Netherland's main international airport and the UAE capital city.
Besides offering the Seychelles then as a code share destination, Etihad has also confirmed that a further 12 destinations from the Etihad network will be added to the KLM code shared destination list while in turn Etihad will gain access to another 14 European destinations served by KLM.
Most tourism stakeholders in the Seychelles had not learned of this latest development by the time of publishing this article but at least one regular source came back with this comment overnight: 'This is good news for Seychelles. Even as a code shared flight, passengers from Holland or from the rest of the KLM network, will now be able to fly to Mahe with one ticket and the bags checked through. The two daily flights from Holland to Abu Dhabi can then connect to any of the 10 flights Air Seychelles and Etihad have between Mahe and Abu Dhabi by May, which gives tourists plenty of opportunity to visit us. The upcoming tourism shows in Europe will for sure focus on this latest development and will be promoted by the airlines and the Seychelles delegation no doubt'.
Etihad's involvement in Air Seychelles since early 2012 has been broadly seen as beneficial to Air Seychelles even though strong sentiments remain that for instance Paris should be served again by nonstop flights rather than having to connect via Abu Dhabi to reverse the trend of significantly reduced visitor numbers to the Seychelles from France. Watch this space for regular and breaking aviation news from Eastern Africa and the Indian Ocean islands.
SEYCHELLES AND AUSTRALIA SIGN NEW ENHANCED BILATERAL AIR SERVICE AGREEMENT
The Seychellois Minister for Home Affairs and Transport Joel Morgan and the Australian Minister for Pacific Affairs Richard Marles on Friday signed a new and greatly enhances BASA, aka Bilateral Air Services Agreement, to facilitate improvements in air transport between the two countries and allow for the designation of carriers from each country, as well as permit code share arrangements.
Minister Morgan, also chairman of Air Seychelles, promoted the idea of using Abu Dhabi as a hub for travelers from Australia to connect to the Seychelles, as Etihad, Abu Dhabi's national airline holds a 40 percent share in Air Seychelles and using code shared operations to bring more visitors from 'Down Under' to the Seychelles. Etihad also holds a share in Virgin Australia, making a future cooperation more likely, as Qantas, Australia's national airline, is now in a close partnership with Emirates from Dubai.
When Air Seychelles commences flights to Hong Kong, due within weeks now, there will be a total of 10 weekly code shared flights between Mahe and Abu Dhabi, up from 7 at present and operated jointly by Etihad and Air Seychelles, giving plenty of opportunity to connect to the archipelago.
The signing ceremony was witnessed by the Australian High Commissioner and senior staff from the Seychelles Civil Aviation Authority and Air Seychelles.
AND as promised last week, here is some extra reading material taken from 'The Livingstone Weekly' published by Gill Staden, who also has a message for my readers:
'My website is now live. Please have a look on www.beyondthevictoriafalls.com
It has been a mission to do because although I started off with a bit of help I had to do most of it alone. I am not a computer geek and found it hard on my tired brain. However, it is just about done now but needs some tweaking.
The idea behind the website is as an add-on to my book, Beyond the Victoria Falls. The website will give updates as and when they happen. The information on the website is fairly basic as I would like people to buy the book! (The book is now available on Amazon and can be downloaded as an eBook. I also have more copies if anyone needs one locally.)
The website links to my three blogs –
The Livingstone Weekly, which you all know – www.thelivingstoneweekly.wordpress.com
The Contact Directory which lists contact details for most of the tourism companies in our region – www.contactbeyondthevictoriafalls.wordpress.com If you know of companies which are not listed, please give me a shout and I can add them in.
Stories and Updates which is a place for my travel stories and any updates which have occurred and continue to occur in the region – www.storiesbeyondthevictoriafalls.wordpress.com
I would appreciate comments and criticisms. The aim of the website is to give visitors to our region a holistic view of the region around the Victoria Falls, whether in Zambia, Zimbabwe, Botswana or Namibia. As a region we have so much to offer and, if we work together, we can bring many more people to our countries.
There was no Weekly last week because I was away. I had hoped to get some photos on the blog but time and internet was not with me. Sorry for that! My header is the stunning clouds from Ngoma Lodge, Botswana. We had two days there for the start of our trip into Namibia.
Here is a map of the trip: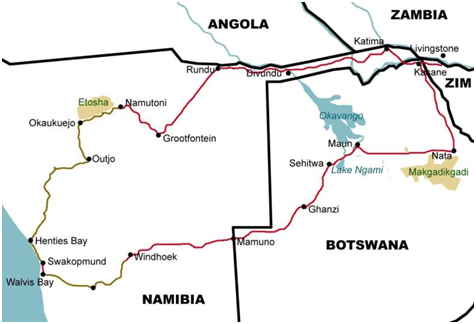 We went from Livingstone to Ngoma Lodge (Bots); from Ngoma to Nunda Lodge near Divundu; on to Namutoni in Etosha. From Namuntoni we drove along Etosha Pan to Okaukuejo and south to Outjo. Near Outjo we found a place to stay, Sophienhof, from where we travelled to the Skeleton Coast. We drove from Henties Bay to Walvis Bay and then inland across the desert towards Windhoek, stopping off at Valley of a Thousand Hills. The road then took us on the Trans-Kalahari Highway through Mamuno then northeast to Ghanzi, Lake Ngami and Maun. The journey home was via Nata, Elephant Sands Lodge, Kasane and Victoria Falls. We were away for 10 days and travelled over 3,000 km. But we did it on a shoestring, camping most of the time. Thanks to Ngoma Lodge for two nights in their luxury accommodation and some great game viewing; thanks too to Elephant Sands for the accommodation and the usual excellent company.
I don't have time to put together stories and photos for this Weekly, but will do so during the week so that you can read about it all
Hunting Banned in Zambia during 2013
During a stakeholders meeting held on 10 January at Radisson Blu Hotel, Lusaka, it was decided to ban hunting during this coming year. There will be a permanent ban on the hunting of leopard and lion. Government has decided that it needs to take stock of its wildlife areas by proper counts of species before it can issue licences for hunting. Hunting on private wildlife farms can continue under certain conditions.
During the year a study of animal numbers will be conducted. Also a proper framework for the administration of hunting areas will be formalised. Once the wildlife numbers have been established, it is hoped that depleted areas will be restocked.
Government realises that this ban will mean a loss of income to the Community Resource Boards (CRBs) which rely on the income from hunting in their areas so has decided to ensure that payments are made to CRBs.
From the Statement after the meeting:
A baseline study and census shall be conducted on entire game area estate to establish current stock levels of the wildlife state by the Government;
To review policies and institutional framework of the structures responsible for wildlife management with a view to engendering transparency and accountability in the overall management and direction of this tourism subsector.
Zambia has 36 Game Management Areas (GMAs) of which 19 are still used for hunting (the others have been hunted to such an extent that there is little left). Some have suffered from encroachment and poaching. There are some, of course, with ethical hunters who have ensured the proper management of the wildlife and helped neighbouring communities, but this, it would seem, is the exception rather than the norm. The hope is that, drawing from best practice, all GMAs can become properly managed, of benefit to the communities, be accountable and be economically viable for government.
Earlier in the year the hunting licences were issued by the Zambia Wildlife Authority (ZAWA) but were met with a swift response from Sylvia Masebo, the Minister of Tourism, who cancelled them and fired various members of ZAWA. There was a backlash in some of the press which stated that she had banned the hunting because her favoured hunters had not been handed licences. Now it would seem that the Minister's intention was not to gain the licences for her friends but to get normality back into the sector.
The decision by Government has been met by people in the tourism industry with huge relief as it has been known for years that there was too large an off-take of wildlife in some of the GMAs and that of accountability there was little.
Tree Planting
A National Tree Planting Programme was launched by the President, Michael Sata, some weeks ago. The President also stated that the programme will create over 200,000 jobs. The statement in the press did not make it clear if these jobs would be paid for out of the public purse or if NGOs and the like were expected to come in and foot the bill.
Government will provide K12million (rebased) and will raise 25 million tree seedlings countrywide during the coming two years. Sadly, it would seem that the trees will be exotic.
Shoebills in Bangweulu
From the Beeb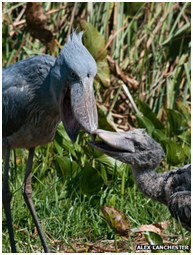 Aggressive bullying between bizarre-looking shoebill chicks has been filmed for the first time. The encounter was captured at Bangweulu wetlands near Kasanka, in northern Zambia, Africa.
Wildlife filmmakers were surprised to witness an older chick attacking its younger sibling while their mother was foraging away from the nest. The birds are rare subjects for study because their swamp breeding grounds are very difficult to access. The BBC/Discovery team's aim was to shed light on the species by documenting intimate behaviour of shoebill parents and young at the nest. Siblicide, the phenomenon of offspring killing their siblings, is common among many larger birds. …
The documentary is on the BBC but I expect it will take a million years for it to reach us on DSTV.
UNWTO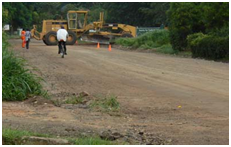 On both the Zambian and Zimbabwean side of the Victoria Falls the people are counting down the days to the UNWTO. In Livingstone the radio stations tell us daily how many days left; in Victoria Falls Town a brightly-lit digital screen on the entrance to the town counts the seconds. But what are the governments doing in terms of preparations?
In Livingstone Inyatsi is busy on the roads. Several roads are being worked on; I noticed Obote Avenue and Natwange Road. At the border the lights are being fixed on the Zambian side and the road on the Zim side of the border is almost complete.
So, little things are happening on the ground, but the media in Zimbabwe is noting concerns in several articles.
From NewsDay:
Yesterday, an inter-ministerial team assessing the resort town's state of preparedness held a meeting in Victoria Falls where it discussed with stakeholders preparations for the event. Sources who attended the meeting said they were concerned that little progress had been made so far in upgrading infrastructure.
They said among issues which came under spotlight was the Victoria Falls Hospital that was said to be at a standstill and the little progress on the construction of the Victoria Falls Airport.
It appears that the inspection went well because two days later NewsDay reported:
The United Nations World Tourism Organisation (UNWTO) inspectorate team yesterday expressed satisfaction with the preparations made by the country ahead of its general assembly to be held in the premier resort town later this year. (Whew!)
From Fox News:
Germany says it is considering whether to take part in the world's largest United Nations tourism convention in Zimbabwe or stay away to protest seizures of tourism investments owned by Germans.
German ambassador Hans Gnodtke said Wednesday Zimbabwe has violated bilateral treaties on foreign investments by allowing seizures of German-owned wildlife conservancies in southeastern Zimbabwe by President Robert Mugabe's loyalists since 2011.
Gnodtke said if the European Union decided to boycott the convention, it would decrease Zimbabwe's chances of holding a successful event.
He told reporters Germany felt let down after Mugabe promised investors their interests would be safe.
Canada withdrew its participation of the UNWTO Congress at the Falls in June this year because of Robert Mugabe's 'recognition' as a tourism leader. John Baird, Canadian Foreign Minister: 'They were legitimising him by enlisting Mugabe to promote tourism'.
And then there are the up and coming elections in Zimbabwe. There is no news of a date which was expected to be in March but now appears to be anything from June to next year. According to a report in The Standard:
… Despite Zanu PF's public posturing that elections should be held as soon as possible, sources said most senior officials holding positions in government and MPs, were against the holding of elections this year.
But Zanu PF secretary for administration, Didymus Mutasa yesterday dismissed reports that the party was not ready for elections saying those were views of a few individual members.
A politburo member said all was not well, as most party officials were of the view that Zanu PF was not yet prepared for elections and wanted them postponed even to next year. The Zanu PF official said some of the party gurus were afraid that if elections were held soon and in the event that President Robert Mugabe won, they would not be accommodated in the future government.
"Some of the officials against elections are cabinet ministers. They want the current GNU (Government of National Unity) set up to be extended, so that they can continue looting. Some have been implicated in corrupt deals," said the politburo member.
"Others know elections will spell the end of their political careers and they will do anything to have them postponed."
It would seem that politicians have a lot on their minds at the moment – elections, the constitution and all the jostling for position. We can only hope that they put a bit of time into plans for the UNWTO and also that, if elections are held this year, they do not impact on the congress.