AVIATION, TOURISM AND CONSERVATION NEWS from Eastern Africa and the Indian Ocean islands.
A weekly roundup of breaking news, reports, travel stories and opinions by Prof. Dr. Wolfgang H. Thome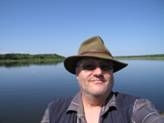 Get daily breaking news updates instantly via Twitter by following @whthome, join me on Facebook where the articles also cross load or read the daily postings on my blog via: www.wolfganghthome.wordpress.com which you can also follow to get immediate notification when a new article is posted.
Second edition April 2012
East Africa News
EMIRATES BIDS GOOD BYE TO KEEP DISCOVERING RELOADS TO HELLO TOMORROW



Whether the hugely successful Emirates advertising campaign Keep Discovering had truly run its course and intended lifespan of if competitive shakeups of markets and market shares prompted the powers that be in Dubai to get cracking on a new theme, is now rather immaterial but for post event analysis. Fact is that Emirates, the award winning national airline of Dubai has changed tack and the destinations served will soon see the new campaign unfold. Here in Eastern Africa this will be seen in Uganda, Kenya and Tanzania where Emirates is now facing new competitors from their own back yard, following the start of daily flights on April 01 by Etihad to Nairobi and the rollout of Qatar Airways new East Africa network, which will over the next few months add Kilimanjaro, Mombasa and Zanzibar to their already as far as Gulf airlines go greatest selection of destinations after recently adding Kigali (once a day) to Entebbe (once a day) , Nairobi (twice a day) and Dar es Salaam (twice a day rising to thrice a day). Of course Emirates has now phased out the stop enroute to Entebbe in Addis Ababa, by the explanation of one of my regular sources due to operational reasons but for all industry analysts know as a result of market pressure since the arrival of Qatar Airways in early November, which turned passenger lamentations into a torrent of demands to cut out the added stop and go NONSTOP on the route.
The huge billboards across the cities of East Africa and at airports, but also the newspapers, weeklies and leading magazines are now bracing for a wave of orders to feature Emirates new Hello Tomorrow campaign ads, which company executives describe as moving from a globally known travel brand to a new lifestyle brand and which according to a statement availed by a source at the airlines Kampala office says will inspire people to greet tomorrows unlimited potential now.
The good news for travelers will be that the intensified battle to fill the added seats flying to and from East Africa will benefit them with special deals and extraordinary offers, inspite of the current high of global aviation fuel prices, allowing many more to fulfill a lifetime dream of traveling the world by connecting via Dubai, or via Abu Dhabi and Qatar for that matter as neither Etihad nor Qatar Airways are expected to take this latest marketing offensive lying down. The established European carriers too will be eyeing this latest marketing and advertising offensive by Emirates with concern, and at least one airline executive in Kampala has already indicated; I have not heard about that but if Emirates starts a major campaign, just like with mobile companies here in Uganda, I dont think any of the other airlines will just sit still. They will all have to react one way or another. We have a lot of capacity now in Uganda which needs filling and I gather in Nairobi the pressure is even greater. I cannot right now say how our head office will respond but be sure that there will be a response before requesting not to name either his airline or his name to avoid controversy.
Meanwhile will all eyes be watching the spaces in their dailies or on the billboards along the way to work, to see what Emirates and their advertising gurus have schemed up. Watch this space as I say Hello Tomorrow to you too.
Uganda News
PROTEA HOTEL ENTEBBE NOW OPEN NEAR INTERNATIONAL AIRPORT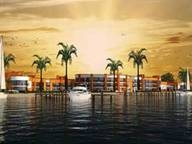 (Artists impression of new Protea Entebbe Hotel from the Protea website)
The new Protea Entebbe Hotel has this week opened its doors to the public with 75 rooms and suites. Located right near the perimeter to the Entebbe International Airport the new property is the closest of all the major Entebbe hotels to the terminal and is expected as a result to capture a good number of bookings. Set at a sandy beach the new Protea will feature extensively in the companys imminent marketing plans and is likely to follow in the footsteps of the Protea Kampala Hotel, equally popular with locals and visitors from abroad. The hotel presently features one restaurants, The Tides, where meals are served throughout the day from breakfast over lunch to dinner.
The arrival of a another branded hotel, Protea is a continental hotel group with roots in South Africa, has been widely hailed by the local tourism fraternity as it widens choices for travelers and brings international expertise to the hotel sector in Uganda, which is still largely dominated by homegrown properties and groups, apart from the Sheraton Kampala Hotel and the Kampala Serena Hotel and its sister property the Lake Victoria Serena. A warm welcome to Entebbe undoubtedly is in order. Visit www.proteahotels.com for more information and bookings.

BRUSSELS AIRLINES REACT TO COMPETITION BY ADDING FOURTH FLIGHT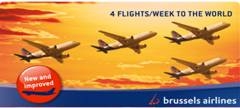 The arrival in Uganda of more recent competition in form of Qatar Airways, now also flying to Kigali / Rwanda, i.e. into two destinations where SN has been having a strong client base, has undoubtedly spurred a review of operations and commitment to these important markets for Brussels Airlines and resulted in a fourth flight being re-introduced on the route. Effective immediately SN is now serving Kigali and Entebbe in a triangular operation every Tuesday, Thursday, Friday and Saturday. A senior staff in Kampala said: with an additional frequency we also hope for more travellers underscoring SNs ambition to fight back, as incidentally other main European carriers have indicated they intend to do like KLM and BA, the latter also only last week announcing more flights to Entebbe.
SN has also cranked up their efforts to promote their upcoming daily flights from Brussels to JFK in New York from June this year onwards, which will run alongside their codeshared services with Star Alliance partners, offering travelers from Uganda and Rwanda a one stop solution with the shortest possible access route via Europe.
Further increases in frequencies have for the time being though been ruled out according to a source in Brussels until more long haul A330 aircraft have come to join the fleet of Brussels Airlines, something many friends of the Savoir Vivre are looking forward to. Watch this space.
Kenya News
AVIATION UNION ACCUSED OF COMPROMISING SAFETY AND SECURITY OVER PAY DEMANDS
A periodic source, wishing to remain anonymous, has made allegations against the Kenya Aviation and Allied Workers Union, suggesting the union was deliberately targeting areas of aviation safety and security in an ongoing pay dispute with the Kenya Airports Authority. Several flights, according to sources at JKIA, were diverted to other airports before relief for striking fire department workers could be brought in on the double.
KAA was compelled at the start of the busy Easter weekend to draft in additional police units and volunteers for screening of passengers in Nairobi while in Mombasa the municipal fire brigade was deployed at the Moi International Airport to ensure the mandatory presence of fire fighters manning the emergency stations. Also in Mombasa were attempts reported to vandalize if not outright breach the airport perimeter and while no immediate links could be established between the Union and this criminal if not well near terrorist attempt, investigations are focusing on the masterminds behind these efforts, who may have commissioned the crime or encouraged, aided and abetted it, but with a clear focus it is understood on links with militant union agitators. Subsequently were additional administration police units deployed at MIAM to secure the perimeter and repel any further attempts to further vandalize or breach the fences and walls. The union has been demanding a pay rise of 30 percent and according to another regular source in Nairobi was unwilling to even consider returning to the negotiating table unless a 25 percent pay rise was pre-agreed by KAA.
It is understood that legal maneuvers are underway to have the strike declared illegal, not however that past experience with this particular union would suggest their bosses would respect this, after last years cases, where the Industrial Court had declared strike action by the same union against Kenya Airways illegal only saw AAWU breach court relevant directives. The same appears to be the case now again, as sources close to KAA claim they had obtained an injunction from the Industrial court on April 04, prohibiting any strike action.
Said the Nairobi based source: This union is notorious for strike threats left right and centre. Their bosses need to maintain a lifestyle so they are constantly harassing employers in the aviation industry over wages, terms and conditions of service. They do not understand the economics of aviation, what they understand is to score cheap points with their members and feed their own ambitions, plain and simple. You wait, when the KQ share issue is completed they will be quick to threaten a strike again and then claim the airline is swimming in money which has to be shared with them and their members. Some of our unions in Kenya are straight from the communist text book and the aviation union is amongst the most notorious. Other sources spoke of anonymous threats being made to airline employees at the airport that their flights in and out of Nairobi were not safe. This according to another regular source from JKIA was very ominous. When you tell someone in an airline a flight is not safe, it can have many reasons. But truly, this is just a step away from a bomb warning and the union agitators are responsible for such transgressions, the use of such language and the intimidation which goes along with it. They are ready to use terrorizing methods to get their pay deal and that should become a matter of a police investigation.
Very harsh words indeed, sure to trigger some controversy yet, by the looks of past union action and activities, not entirely out of the blue. Known sources at KAA refused to comment, citing the sensitivity of the matter and trying not to compromise ongoing back stage talks aimed to have staff return to duty while resolving the standoff through talks. Easter eggs with some nasty surprises inside it would seem. Watch this space.

SOVEREIGN SUITES, FIT FOR ROYALTY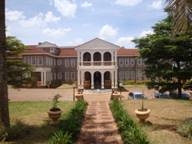 (A view of the main entrance of Sovereign Suites, a mansion extraordinaire in Limuru, outside Nairobi)
A recent trip to Kenya permitted me to make use of an extended weekend and gave me the opportunity to visit the now in soft opening stage Sovereign Suites, owned and operated by Sun Africa Hotels. Set in a property of about 6 hectares, right off the Limuru Road at Red Hill, once through the double gate a mansion of impressive size and appearance awaits. When entering the building, polished wood panels give a warm impression and the massive chandelier from the ceiling provides a soft glow of light supporting the impression one has entered into a typical Gentlemens Club in the city of London, rather than a 14 suites property in the hills of Limuru high above the city of Nairobi. Cold scented towels and a delicious chilled juice await the visitor who comes to stay, and as long as the booking particulars reflect all the required registration details, a signature suffices and one if officially a guest.
When walking beyond the entrance hall a sizeable lounge opens up, including a fire place where in days now sadly gone one could have sat down after dinner, or after lunch, to indulge in a Cuban cigar and some fine brandy or a well aged single malt in the splendid silence of a great hall. Smoking indoors is now prohibited in Kenya in public places and even Gentlemens Clubs are not exempted from this rule but the premium liqueurs and spirits at least are still available, the smell of the wood fire trying to make up for the mellow smell of good cigars.
The ambience is increased by the display, and use in the evenings, of an antique grand piano and a number of collectors items on display in the cabinets as well as in the lounges.
Though drinks are served in the lounges and around the fire place, adjoining is a contemporary bar with a large fountain while outside a terrace spreads across the length of the building, for a casual lunch, some tea or drinks outdoors where smoking is still permitted.
The dining room, next to the bar, is used for breakfast, lunch and dinner, more formal of course in the evening when jackets are expected to be worn by the gentlemen, befitting the setting, the service and the menus on offer. There is a separate dining room available for small groups of guests numbering up to 12, which can be booked in advance and the chef and his team are more than happy to discuss menu choices, tailored to the taste as well as the wallets of guests. They may still, considering it is soft opening stage now, have a bit to go to make that perfect Egg Benedict or Egg Florentine but then I grant them that I am a demanding customer. They have taken note though and upon my next return I am convinced that my critique will match those given in the past for these culinary delights and creations of other top rated kitchens in Nairobi and around the world.
(Lobster tail for lunch on arrival day to set the mood for the stay)
As much as I tried to eat my way through the menu, two and a half days is not nearly enough for that, yet, what I did taste was good enough to require the tailor to come calling if I had stayed another week. I fancied a lot more of the Lamb Broth I had on the first day at lunch, thought the world of the cold Lobster Tails as well as of the Lobster Thermidor for dinner one evening and the next night failed to eat my vegetables served with the Trio of Lake Fish, Fillet of Beef and Supreme of Chicken as the choice I had to make, leave some of the perfectly tasting meat / fish or the veggies, was not difficult.
The true diet killers though were the desserts, so try to suspend any diet you might be on when visiting there, and resume it afterwards, with a few weeks extra to go no doubt to make up for the sinful indulgences.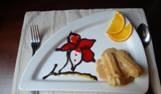 (Culinary sins no absolution asked for though)
Enough of the food, the thought about which alone is sufficient to put on a pound or two, and on to the rooms.
This was my third visit to the property, having popped in twice during the remodeling and refurbishment stages, and I was given a suite extending over much of the second floor of the building, comprising an ante room, a sitting room actually jointly owned with the opposing suite, a mega sized bedroom cum sitting room, a walk in wardrobe, a tea kitchen, a separate study and a bathroom with a personal Jacuzzi, and all for this sworn solo traveler who nevertheless thought here, as at a few places previously, that such luxury should really be enjoyed in pairs and not alone. Fit for royalty came to mind when I set out to explore me weekend home and I still found new nooks and crannies by the time I left, so large this particular suite is and so full of features.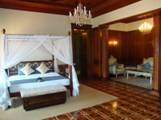 (A proper four poster bed, soft pillows and warm duvets now remind me, something was missing here )
Add to this an outdoor balcony which runs across the length of the building, with sun umbrellas, sun chairs and even tables for a quick al fresco lunch, if one does not want to dress up but stay wrapped in the soft bathrobes and wearing the slippers provided, with a view across the hills of Limuru, what more can one ask for.
I never touched any of the state of the art flat screen TVs but instead enjoyed some fine classical music from my collection on a memory stick inserted into my netbook, and I truly felt like royalty all of a sudden, as if set up in an Italian opera and all just for me.
Yes, an I-Pod dock would come in handy but I understand that additional equipment, including a personal DVD player in each suite, is already on the way and due to be installed, with another few added features, before the formal opening will take place, tape cutting and all, some time towards the middle of the year.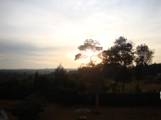 (Early morning impression from the balcony of the Presidential Suite at Sovereign)
Limuru, set high above the city of Nairobi, is a rural community with many English country side mansions and homes and has a fine safari golf club, which guests from Sovereign can access under a guest membership arrangements. Not far from the property is the escarpment from where sweeping views across Mt. Longonot and the Rift Valley, as far as Lake Naivasha, are possible. Hence, a day trip to the Rift Valley lakes of Elementaita, Naivasha or even Nakuru is easy to arrange, for game drives or just a change of scenery. So is incidentally a days hike up Mt. Longonot, an extinct volcano which is now part of a national park, to walk off some of the pounds one almost inevitably adds while being fed and pampered around the clock. In particular the Lake Naivasha Country Club, also in the stable of Sun Africa Hotels, will be delighted to arrange for a lunch, a boat trip or a spot of fishing for guests coming down from the Sovereign for the day. Alternatively, perhaps a trip further into the Rift Valley to the Lake Baringo Club for a relaxed few days, where the background music of nature is provided by hundreds of birds or else a safari to the Keekorok Safari Lodge in the heart of the world famous Masai Mara Game Reserve Sovereign is an ideal base to discover Kenya from and yet stay near the city, though not in the city.
(A view into the hills of Limuru while nearer downstairs the pool, gym and Spa await resident guests)
When my time was up, far too soon it turned out in the end, I left the skies to cry on my behalf, leaving rain behind which in Africa is a blessing bestowed by visitors to their hosts and a sure way to come back in time for the next harvest and another feast, made at Sovereign
Sovereign Suites has all the ingredients to make a fine 5 star boutique luxury hotel, and when the inevitable teething problems encountered behind the scenes during soft opening are ironed out, it has the potential to become a choice place for visitors demanding exclusivity, luxury and attention to detail and all but 20 minutes to Gigiri where the UNs UNEP Headquarters and their other offices are located. And for further reference, unless I have business in the city outright, Sovereign is one place where I am likely to be found when next on my trails across Kenya. Visit their website via info or mgr.ss to make enquiries.
KENYA AIRWAYS RESTORES ROME FLIGHTS



Information from Nairobi confirmed during the week that Kenya Airways has now resumed flights to the Italian capital Rome after a brief suspension of services in March. While it could not be conclusively confirmed, the cause of the suspension was subject to some speculation amongst aviation observers, with opinions ranging from low load factors to the more credible suggestion that owing to maintenance of B767-300 aircraft the airline simply did not have the required number of birds to fly a full schedule and opted out of Rome for the duration.
Kenya Airways, like many other carriers, was initially expecting to have at least 2 if not more B787 Dreamliners operating by now but due to a number of production delays the first delivery is now only expected at the end of Q1 of 2014, leaving the airline thinly spread on long haul routes when unscheduled maintenance occurs.
Earlier in the week the airline also reaffirmed that they would, once new long haul aircraft have joined the growing fleet in 2014, expand their reach into China to cover as many as 6 destinations, the same incidentally also envisaged for India, to tap into the fastest growing markets for travel and trade in coming years.
In a related development it was also learned from financial market sources that the uptake of Kenya Airways share rights issue after the first week has neared 80 percent, with 3 more weeks to go. Watch this space.

RHINO SUMMIT IN NAIROBI DEVELOPS ACTION PLAN
The Nairobi based conservation centre of the African Wildlife Foundation, in short AWF hosted a continental meeting during the week, aimed to discuss strategies on protecting the rhinos, now under assault like never before. Prices for a kilogram of rhino horn have risen to an all time level of as much as 50.000 US Dollars, pricier than even gold, and with nearly 450 rhinos killed last year in South Africa alone, now a hotbed for organizied commercial scale poaching, NGOs and conservationists from around the world came to Nairobi to seek solutions.
Helen Gichohi, President of AWF, said in her statement: Wildlife authorities, private land rhino reserve owners, conservation organizations, and others have made valiant efforts to halt the rhino poaching crisis, but these disparate actions have sadly been no match for this epidemic that is plaguing Africa. KWS Chief Executive Dr. Julius Kipngetich also appealed to the meeting participants to urgently find ways and means to stop the menace, disclosing that in 2011 Kenya lost 24 of the endangered species, while reaffirming Kenyas position to continue opposing any form of trade, which according to some participants has led to the increase in poaching in the first place, a thinly concealed reference to what many now see as a failed policy by the CITES Secretariat, caving in to powerful economic pressures from some Southern African states.
Kipngetich also voiced his doubts over the effectiveness of dehorning as a sole measure to protect the species, as he mentioned rhinos killed even when dehorned, probably out of frustration by the poachers over being defied.
It was also revealed that arrests led to the discovery of ever more sophisticated equipment being used by poachers, like night vision goggles, infrared sensors, state of the art communications equipment using encoded frequencies similar to military issues and the use of high powered rifles including silencers, pointing to a well organized network of buyers ready to facilitate such methods.
The meeting, according to one source from Nairobi, agreed to tackle the problem along several areas, namely extending and expanding support for surveillance and anti poaching activities by the national wildlife management bodies, demands for the strengthening of law enforcement including lobbying national parliaments to pass amendments to existing laws increasing financial penalties and prison terms and to engage with governments in the main consumer markets of rhino horn and ivory for that matter to play their part in stemming the tide.
Kenya has stood out by a sharp increase in seizures of ivory and rhino horn and in the recent past killed several poaches in shootouts but sadly also lost at least 6 rangers in the line of duty. Visit www.awf.org and www.kws.or.ke for more details but also look in at www.ugandawildlife.org to see what is happening in Uganda where of late several consignments of blood ivory have been confiscated by officials and suspects been taken to court for prosecution. Watch this space.
SAROVA HOTELS SCOOP KAMS ENERGY MANAGEMENT AWARDS 2012



Last Friday saw the Kenya Association of Manufacturers hold their 08th Energy Management Award dinner, a day ahead of the annual WWF sponsored Earth Hour event which took place globally on Saturday night and in which the entire Sarova Group participated by putting all but the essential and security lights out for an hour.
Sarova Hotels again scooped several top honours at the award ceremony, incidentally for the third year running, and a beaming J.S. Vohra, Sarovas CEO, received the five top prices with two of their units making it to runners up spot too.
The fuel savings energy award went to Sarova Shaba Game Lodge, incidentally location for one of the early Survivor series, the electrical savings energy award went to the Sarova Taita Hills Lodge, the Sarova Whitesands Resort and Spa captured the service sector award with Sarova Lion Hill GameLodge receiving the runners up position, the sustained high performance award too went to the Sarova Whitesands Resort and Spa and the coveted new entrant price for SMEs went to Sarova Lion Hill Game Lodge with the runners up position to sister property Sarova Mara Game Camp.
Congratulations to the winners for a year of unwavering commitment to conserving energy and reducing the companys carbon foot print in an effort to keep Kenya green.
In a related development it was also ascertained that the hotel group has planted nearly 50.000 trees in their Taita Hills Game Reserve, aimed to restore tree cover in areas which were impacted on by drought or damaged by rampaging elephant in search of fodder, further living up to their reputation as an environmentally conscious hotel, resort and safari lodge group with serious corporate responsibilities. Well done!

AFRICAN AVIATION TRAINING ORGANIZATION LAUNCHED IN NAIROBI
Following a 5 days of meetings in Kampala last week did ICAO move on to Kenyas capital Nairobi, where another series of seminars, workshops and interaction with regulators and the private sector is underway.
On Monday was one long awaited piece of the puzzle, how to improve aviation safety on the continent of Africa, launched when in the presence of ICAO Secretary General Mr. Raymond Benjamin the new Africa wide training organization association was formally baptized.
Said a senior staff of KCAA met during last weeks launch of the Kenya Airways share rights issue, when asked directly, though on condition of not being named for not being an official spokesperson: All over Africa we have a serious problem with getting more pilots. It is a bigger problem even in countries where aviation is growing at a fast rate, like here in Kenya, in East Africa. We do not have enough capacity yet to produce more ATPL license holders. When we launch the new association on Monday it is meant to inject quality criteria, set standards and promote the creation of government owned and private owned aviation academies. You in Uganda have the Soroti school but even there it is underfacilitation which constraints the output of pilots and engineers. Those are two critical areas. Kenya Airways now has their Pride Academy and simulators which helps in training but for most they send pilot student trainees abroad until they are ready. I think here we need to see the long term savings and job creation for East Africans when we say we must have more such aviation schools here in our part of Africa. Aviation grows almost faster than many other sectors and we can produce highly skilled individuals who can work anywhere in the world. And when you look at it, skilled manpower in engineering, which these schools also teach, attracts international manufacturers to consider putting up some significant MROs (maintenance and repair organizations) here in East Africa but so far they go to South Africa or North Africa for lack of enough homegrown and qualified personnel..
At the same function it was also mentioned by the Chairman of Kenya Airways Evanson Mwaniki that the airline has sought permission from the authorities to recruit captains from abroad to have enough crews for their growing fleet, until young Kenyans have acquired the skills and experience needed to step up and get their four stripes. Watch this space for regular updates and breaking news from East Africas exciting aviation scene.

BRITISH TROOPS TAKE COMBAT TRAINING IN KENYA TO ANOTHER LEVEL
They should fight their enemies and not each other, and not in public. They wrecked the Sportsmens Arms Hotel in Nanyuki over the weekend while drunk. The English were fighting the Scots were fighting the North Irish and it was free for all. They spend a lot of money here drinking when they come back from the bush where they train for weeks, they buy a lot of souvenirs and even take safaris, but really, do they have to start such bar fights? said a source from Nanyuki where the incident took place. It gives a bad image to them and there is already resentment by residents with allegations of trying to procure women and then sometime later they have nusu nusu (Swahili expression for mixed race origin) kids so there must be some truth in it.
Efforts by the hotel management, the local police and the British Army detach in Nanyuki to keep the brawl under wraps and out of the media failed when locals tweeted and used other social media to publicize the situation, which is bound to aggravate already touchy relations between the Brits and the locals over allegations of chasing local women when frequenting local bars. According to the same source the British Army administration was also swift to settle the damages at the hotel, i.e. broken chairs, tables, glasses and other items in cash to keep the hotel owners happy who subsequently tried to even deny there was a major brawl. One thing for sure, the good soldiers wasted no time to practice their combat training they received, dishing it out amongst themselves in the absence of some real enemies at hand. This development comes only days after volunteers from the British forces had helped to put out fires in the Mt. Kenya and Aberdare National Parks, which had been widely hailed as an outstanding example of community relations, only to be overshadowed now by such hooligan behaviour. Watch this space.

SAFARI BRIEFS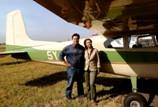 Cheli & Peacocks owners Liz and Stefano have announced that they will pitch camp at Lewa for the forthcoming season and be at hand for guests, running Lewa Safari Camp directly and hands on between June and September this year. Visitors will be able to see the remarkable pair in action who have created over the past 25 years one of the finest collections of safari camps and tailor made or bespoke safari operations in Kenya, winning repeatedly top honours from the most reputable organizations awarding excellence in hospitality. Visit www.chelipeacock.com for added information on C&Ps portfolio and see some of the outstanding locations and camps they operate.
Meanwhile did Gamewatcher Safaris earn another award when Outside Magazine handed them their rating as Best Safari Deal recently for 2012, giving the company which also operates Porini Safari Camps, a priceless boost in publicity and visibility for their budget tented safaris. It is the first time Outside Magazine is doing such ratings combined with travel awards and it is understood that this will now be an annual event to give their readership top tips on where to go and whom to go there with. Gamewatchers Safaris is honored to receive this award from Outside Magazine said Dr. Mohanjeet Brar, the Commercial Director at Gamewatchers. This Adventure Camping Safari was designed to offer travelers a high-quality safari experience in big game areas of Kenya at an incredible value. We do believe that it is one of the best safari deals for an active traveler available for 2012!
Well done to both companies, always ensuring that Kenya remains a top choice as a safari destination for the discerning travelers from around the world. Visit www.gamewatchers.co.ke for more details.

A NARRATIVE OF FIRE ON THE MOUNTAIN BY: NATUREZONE
As reported this morning, the fires on Mt. Kenya and in the Aberdare mountains are now finally out. It took an extraordinary effort by volunteers and those tasked to fight fires by the nature of their job to accomplish that. Here is the serialized narrative taken from a blog by Naturezone of how this effort unfolded in front of her eyes and what dangers the fire fighting team was exposed to. I take my hat off to her, and everyone who rushed to offer aid and assistance, and honour them by reproducing the story:


There is Fire on the Mountain (part1)
by Naturezone
Mount Kenya is a wonderful place to visit, very green, peaceful and it keeps you intrigued every second. The trees share so much life and show so much abundance, the air so pure and clear it makes you forget the hustle and bustle if you are from a city like Nairobi, and you want to be nowhere else but there.
Every chilly morning, the birds chirp away at the top of the trees as though to welcome the sun, and very elusive birds might I add. You always hear them, but don't easily see them.The day warms up from about 9am, the best time to bask a little if you like. By the afternoon, it can get pretty warm but its always a good idea to have your jacket/sweater with you. The nights on the other hand come alive with a variety of very interesting sounds: the screams of Tree Hyrax which come out at night to announce their presence and their territory, and woven inbetween the shrill creaking of crickets and other insects or animals which definitely make you wonder and want to find out what they are! What better way to enjoy this than sitting by a camp fire and staring up at the clear night sky to observe the stars and hope to see a 'shooting star'. It is a beautiful experience indeed.
However, it was not all this that brought me to Mount Kenya, it was the raging fires that were burning our forests on the mountain, and I was there along with 5 other individual volunteers that were brought together via a Facebook group Kenyans For Wildlife. We were there for a whole week and I will put down as best as I can here.
We came together as a team to help to fight the fires, or assist in any way possible. The Kenya Wildlife Service were doing all they possibly could to contain the situation. I was not fully aware of how bad the situation was at the time, but I knew it was bad! The British army were called in to help, the Mount Kenya trust team amongst many others. There were two Choppers as well: Lady Lori and Tropic Air.
After our briefing by the senior Warden at the main gate on Monday Afternoon- the day we arrived, we had a cup of tea and later, we were directed to the campsite where we would pitch camp for the night and await the morning for further instructions on where and how we could assist. At camp as we made our dinner, there we first met The Mount Kenya trust team and they seemed very nice and welcomed us with a few stories.
The next morning we were up bright and early after an interesting night, had our breakfast but ended up waiting for hours until we were able to get any information on where to go and what to do next. It was understandable as the situation was very hectic you can imagine.Infront of the offices, was a table with a Map of the Mount Kenya region with markings on the areas that were burning, and beside it printed papers each stating the region on fire, the importance/priority, the ease of access/terrain and the equipment required to put out the fires respectively.YES, it was not ONE big fire, but MANY all over the place. Chogoria was priority 1 meaning it was the worst- The fire was burning down forests that serve as a water catchement for the area.
We were later addressed and given a choice of what to do, as there were several areas that volunteers were needed. We decided that we wanted to go and assist in Chogoria, where the fires were the worst at the time. Our only option was to break camp and head out to Chogoria which was about 3hours away. It was at that time that we were teamed up with the Mount Kenya Trust(MKT) group and we followed them to the next campsite at Chogoria where we pitched camp that afternoon and then decided to drive up in their Landrover to just survey the area that was burnt.
The drive up was thrilling, more thrilling than one of those rides at an amusement park. The seats in the landrover were back to back on either side and you would sit facing outwards, so it was wise to hang on tight and have one foot up on the side to prevent you from falling out as the car tackled every inch of that uneven road! The thrill for me, was the feeling of almost falling out of the car knowing that I as somewhat secure enough. The sightseeing however was pleasant when you managed to get used to the bumpy ride and enjoy what seemed like an untouched beautiful forest, and what an amazing tree I saw, with its trunk growing sideways and flat like a plank of wood.
About an hour after driving, we were higher up and we could now see the Bamboo forest, and at that time, I knew we would be close, we could smell ashes after a while, and soon enough, we started seeing them. First it was visible only on the Left hand side, and then I saw it on my side too. We kept driving on, and we then came upon a clearing. The clearing was all burnt bamboo, ashes, lots and lots of ashes and a few trees that were still standing and also a scattered lots of bamboo barely upright. We asked the driver to stop so that we could take pictures. It was a harsh strike of reality. This vast land that not so long ago was a thick cover of bamboo, was burnt to ashes. We got out to have a look, I took some photos and I noticed the MKT guys had spotted something in the distance. It was thick white smoke that was somewhere on the hills. I took a few more snaps and then walked up the road. Stems of the bamboo had also fallen across the road, it was sad and heart-wrenching, it looked like what you see in the moves- a place after suffering a tragic war and later, its all silent, its all dead. At that point there was no sign of life anywhere around, no birds, no animals in sight. I could only imagine the troubles they faced with their home burning to the ground forcing them to abandon their nests and pathways, their only defence being to run away and save themselves from this terror caused by the hand of man. As I continued walking, I wondered if the people who started these fires knew what damage they had done and if they were the least bit remorseful. I then heard the Land Rover in the distance coming up towards me and it broke my deep chain of thought. I jumped in and we went on up to the Chogoria gate.
The rest of the drive up, we continued to look on observing some smouldering logs of which there would be not much point in attempting to put it out for there was nothing left to burn. However there were areas that we saw as we closed in to our destination- whereby the fire got through the bamboo thicket and burnt just the surface. You could tell by the black patches that stood out- these were all the leaves on the ground and the grasses that were burnt and then the forest was normal again after that and no signs of fire.
Just as we reached the Chogoria gate I felt welcomed by this wonderful Hagenia abyssinica (Rosewood) tree which stood on a small elevated piece of land.It was huge and just beautiful, it made me feel like that was a little piece of heaven with all the couloured leaves that littered the ground around it and the Spanish moss that hung from its branches. Upon arriving, we got out and looked around and one of the first things that we saw, were clouds of white smoke coming from over the ridges of the mountain. We were there briefly and headed back to camp before it got dark.


Fire on The Mountain (Part 2)
by Naturezone


A view of the burnt forest and the remnants
The next morning, everyone was up by 6am and getting prepared for the day ahead. Before we left, we were given a briefing along with the administrative Police team from Meru and Embu, who had joined us at camp the night before. We all stood in a circle, held hands and we prayed together. That day, we knew that our mission to put out the fires was on.
Still not sure what to expect, we all packed bottles of drinking water, ready with our boots and caps on, packed all the tools that we would need to put out the fires and headed up to the Chogoria gate in the Mount KenyaTrust Landrover with the team. We were still getting to know each other, but we all knew that we had a common interest, and that was to save the burning forests and the wildlife. When we got up to the gate, we noticed the smoke we had seen the day before was not any better, the fire seemed to have spread higher up the mountain. That however, was not our target for the day. The warden instructed us to go into the bamboo forest where smoke was seen when an aerial survey was done. Our job was to track down the fires or any smouldering pieces of wood that would cause a possible re-ignition of fire, and completely extinguish them. We got back into the Land Rover which would drop us off at a suitable point from which we would start walking.
We were dropped off where the bamboo forest was burnt all along the road. Dust masks were handed out to everyone in our team, as we had heard that some people were suffering from severe respiration problems from inhaling the smoke. Everyone picked up a tool: there were fire beaters which were basically a thick rubber flap attached to the end of a pole, pangas and jembes and we were off. We walked down a dusty road led by the MKT and we also had a brilliant tracker from the Kenya Army. We walked continuously on into the dead-land that was all completely burnt, ashes rising from every footstep, fallen trees and burnt bamboo stems still standing. We climbed up a hill that was a bit steep and as we got up to more flatter ground, it seemed to get more tricky to pass over and under and in between the stems of the fallen bamboo shoots. It was wise to follow in the same footsteps of those who were ahead as some places, the surface would be deceiving and if you took a wrong step, your foot would sink in a little bit more than you would have predicted. Sometimes it was difficult to get the fire beaters through such places, but we confidently and strongly went on. Along the way, we came across a fallen tree, still smouldering. It was put off and we went on.
After several slight ascents and descents, we were now coming to the part of the bamboo forest which had survived the burning or rather, the fires died out. It was much cooler in the thicket and we were all relieved from the sun. We soon came across an area where all the ground cover seemed to be burnt. It didn't seem as bad as out where we came from. There was another fallen tree still burning a little and the team went ahead and put it out.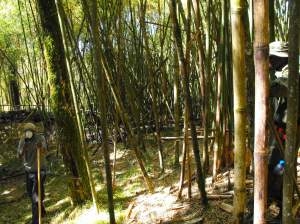 Patches of the forest were burnt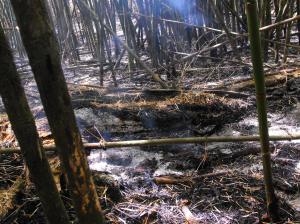 A fallen tree still smouldering
We didn't find it to be much of a difficult task and it was a job well done by the team. As little a task as it seemed, it was a big help as it prevented any more fires starting up from that log. Our walk continued in the search for more signals of fire. Sure enough, we came across one. We saw lots of smoke and one of the MKT guys went ahead with a panga and started chopping away to clear the way to get to where the smoke was coming from. It wasn't too far as I was following right behind him. At the time I did not have any tools in my hand. The rest of the team was behind and from where I was, I could see the fire at the bottom in between all the bamboo. Another of the team members came and passed in front of me! I could hear the one in front urgently yelling out for the fire beaters to be passed to him and for people with the fire beaters to go there! It was a tight spot I was in to turn around and go back, so I yelled out to them to pass the fire-beaters down. They were quickly passed through the entangled plants and I quickly passed them on through to the scout in front of me. I yelled out again to the team behind me who seemed to have some difficulty in getting to where I was and I told them that help was needed, and they were also trying to put out another fire which was burning from a log.
I could see the red flames at the base of the bamboo shoots, the scout was trying his best to get the fire beater in-between and put the fire out, but with not much luck. I was trying to go in further, but there were too many plants entangled and so I turned back around to see one of the other volunteers behind me, my words to him at that moment were 'this is scary! really scary!' No sooner had I said that, than I saw smoke rising beside me and the next thing we just hear this HUUUGGGEEE Gust of wind blowing and then followed by yelling, 'GET OUT OF THERE!!' 'RUN'! RUN!'
My heart was racing! I knew that I had to get out of there, because I could now hear the fire loudly CRACKLING and the bamboo shoots EXPLODING! The wind had blown the fires towards us and it had raised the flames! There was more yelling 'KIMBIENII!! I was trying to get through but I was caught in the tangled vines, but somehow I managed to get out! One of the other volunteers ahead of me, was struggling as well to get out and she stumbled and fell. The smoke was getting more, I stepped on a loose rock and slipped, but eventually, we all managed to get out and to a safe distance away from the fire.
We were all shaken and I was not even sure what happened to the other scouts who were in front of me, but a few minutes later we saw them jumping out of the thicket and into the more open place where we assembled for a short moment and a safe distance away. At that time, my heart was still racing and I couldn't believe or even imagine what the fire was like behind me when I had turned around. Barely 5 minutes later, the team went back in to put the fire out before it got any worse. The air in the distance was filled with smoke. I started thinking all kinds of things while my other fellow volunteers were immediately talking about what each saw and heard. I was telling them how I was just there!! and how I could see those flames burning away!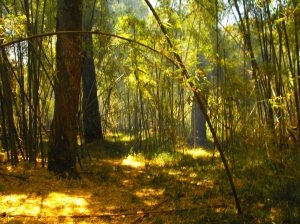 The smoke from the raging fire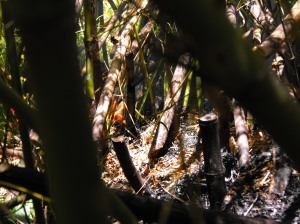 The fire that almost engulfed us as the wind blew it towards us.
Myself and four other volunteers remained behind in the clearer area while the rest were out fighting the fires and we were worried for them. We calmed down a bit and we just hoped that they were all okay. As much as we felt helpless in that situation, we then understood how serious
this was, how bad these fires were and how in a split second with just one gust of wind it could spread so fast, and just as the term depicts 'like quick fire' that's just what it was. We had high respect for the team members and all those who were working on the ground and putting their lives at risk to put out the fires. They were all brave in their endeavours to contain the fires and I told my fellow volunteers that I really salute them and that they were doing a fantastic job indeed. We went on talking about the short-lived experience as we waited in anxiety for the team to return.
A few of them finally returned and their eyes were red and teary from the smoke and we greeted them with sighs of relief. They also looked very worn out. They told us that they managed to contain the fire and successfully extinguish it. We went back to the place that we were before, (where we had to make a run for it )to see the other three members still trying to kill the smoulder from the log that the volunteers were trying to put out earlier. It was also a chance to analyse the area and look at the damage done ,as well as recall our positions and figure out how we managed to get out of there in the time that we did! It felt like we escaped death by a whisker, but we did have a laugh about it in the end, describing the yells we could hear and how one saw the other running and another on all fours trying to crawl out. We let them rest for a few minutes to have some water and regain some energy and we all shared a pack of Army biscuits. After a small speech to praise the team for their great work we did a team salute with the tools and we continued on with our hunt for some more fires.
I think by this time most of us were hoping that there would be no more fires and we could head back to camp, but that was not the case. After another half hour or so of trekking we could smell smoke and we were on a steep hill and at the bottom of that hill, smoke was visible. The MKT team quickly rushed down and told the rest of us to stay behind. We knew we were probably better off waiting for them as we didn't all have tools. Some nerve-wrecking minutes later, one of the volunteers shouted out to the team which were down to find out if they were okay and they responded and told us to keep going ahead and that we would meet up with them. Thankfully, it wasn't as bad as the other fire, and once again, they managed to put it out!
We were now all relieved and it was about that time to head back for camp, which seemed like a treacherous unending series of hills and the most difficult patches of grass that I have ever had to walk through in my life, so much so, that I even fell to my knees after tripping on one of the clustered roots of the grass. We came to one hill where the our brilliant tracker showed us the camp on top of another hill 'Ni hapo tu!' It was the last major climb and we all pushed ourselves to climb that steep elevated piece of land!!
FINALLY!! We made it to the top! our legs wobbling like jelly, but we dragged on to the campsite where we were welcomed back by the warden and we took the first seat we could get-on the grass! That was when we received the best and most rewarding meal of the day: the Broadway mkate and KCC Maziwa!! Nothing had ever tasted so good after such a day!
That was the end of the day, and the end of this post, I will have to write another post for part three briefly -about the last day of the experience! 🙂 Thanks again for reading! I do appreciate some feedback!
KENYA WILDLIFE SERVICES DROPS COMPLAINT AGAINST ECO-TOURISM CEO




Just before leaving Kenya yesterday for Uganda did news reach that the criminal complaint filed by Dr. Julius Kipngetich against Eco-Tourisms Kahindi has been dropped, following an apparent change of heart but very likely also because of the massive protests and opposition the action generated in the first place.
A meeting between Eco-Tourisms CEO and Board with a delegation from KWS had taken place last week and contentious views and opinions were reportedly candidly addressed and resolved.
While Kahindi stood by his assertion, that the real poaching figures were significantly higher than those reflected in published KWS statistics, Dr. Julius in turn assured the Eco-Tourism leaders, and the public at large, that his organization was doing all in their power to control poaching, combat it, disrupt the illegal ivory trade and establish exactly how many elephant have been killed in the past. Both organizations also agreed on an improved flow of information from both sides to share intelligence and data in the future with the aim of providing the public and stakeholders in conservation and tourism with accurate data.
When the news broke the Kenyan, and in fact East African conservation fraternity took a combined breath of relief that this unsavoury and potentially hugely damaging situation was amicably resolved, which could have seriously damaged the otherwise positive and engaged partnership between Kenya Wildlife Service on one side and conservation NGOs on the other hand.
In the meantime it was also confirmed from a usually well informed source at KWS in Langata that the wildfires in the Aberdare Mountains and on Mt. Kenya have been put out with the combined efforts of KWS personnel, government personnel, firefighters from nearby and a huge contingent of volunteers who put their own lives at risk to save the fragile environment. Congratulations and sincere thanks to all of them. Watch this space.

KENYA AIRWAYS ANNOUNCES ENGINE SELECTION FOR DREAMLINERS



Kenya Airways announced overnight that they have selected GE as their engine supplier for the 9 B787 Dreamliners on firm order with a further 4 on option. The newly developed GEnx-1B engine will reach up to 70.000 pounds of thrust each and yet offer up to 17 percent less fuel burn compared to the B767 fleet presently in use, which is due to be phased out as the Dreamliners come on line for Kenya Airways.
In addition it was pointed out that the new engine type will require a more friendly maintenance regime with longer time on the wings before overhauls, helping to make further savings on operating expenses.
Emissions too are said to be as much as 90 percent under currently permitted levels, although respective legislations and regulations will require a significant lowering of todays emission standards in coming years and aircraft powered with the GEnx-1B will have a greatly reduced noise footprint too during take off and landing, music in the ears of those living near airports or under the approach and departure air lanes.
The contracts were signed in Nairobi yesterday between the Kenya Airways CEO Dr. Titus Naikuni and GEs Vice President Sales for Africa and the Middle East Mr. Isam Moursy.
The airline last Friday launched their new share rights issue and sales started yesterday with encouraging news that the firm uptake is now already well into the 70 percent margin with leading institutional investors paving the way and setting the mood for private investors too to be part of KQs future growth.
It could also be confirmed last week, when speaking to senior management of Kenya Airways, that unlike Ethiopian Airlines, which is presently retrofitting blended winglets on their B767 fleet to improve performance and lower this aircraft types fuel consumption, Kenya Airways will not be going that way, as any savings, vis a vis the cost of conversion, would within the remaining productive lifespan of this aircraft type on the Kenya Airways fleet be at best borderline but in reality cost more than achieve. The first two B787 Dreamliners are due to join the Pride of Africa starting from the first quarter of 2014. In regard to the 4 options which KQ presently has, there is strong indication that they will be converted into firm orders in due course, when the current share rights issue has been concluded and future growth plans been backed up by the added capital. Watch this space.

Tanzania News
COURT BLOCKS TANAPA FROM IMPLEMENTING NEW FEE COLLECTION
Following the reported collapse of a mediation efforts initiated by the complainants HAT, TCT and TATO allegedly caused by TANAPA negotiators not moving an inch from their hardline position, did a court in Tanzania bar TANAPA from implementing their planned collection at park gates of concession fees, which according to current agreements are to be paid from hotel, resort, lodge and camp operators directly to TANAPA, until the principal case has been heard. These fees are built into our rates, our tariffs and we have been submitting the required dues to TANAPA in the past and continue to do so irrespective what their propaganda is saying. What we rejected was the unilateral rise in such fees they tried to impose on us. It also exposes TANAPA as an organization of blackmailers and extorters who have done Tanzania tourism a lot of damage. When they stopped safari cars last year from entering the parks unless tourists or drivers were paying in cash the charges already paid for through the accommodation tariffs, it caused a global storm. I dont think they even understand the meaning of a PR nightmare. Pictures, tweets, comments on Facebook raced around the world sent by clients held hostage at park gates, lacking food, drink and amenities. It gave Tanzania a bad name, gave our tourism industry a big problem in a year we were to celebrate 50 years of first gaining independence from Britain and made TANAPA look like a bunch of highway robbers. Those responsible should be held to account for wrongful imprisonment of drivers and tourists at park gates and they showed they have no regard for either contracts or human rights. You should have heard the comments from tourists when they finally reached our camp said a regular source from Arusha before adding we are confident we will win the principal case because TANAPA has broken the law.
In a related development have stakeholders at the coast also rejected TANAPAs attempts to expand the Tanga Marine Park inland accusing the organization of land grabbing, raising more questions over the sanity of TANAPA seniors actually scheming up such projects and then behaving like dictators. From the feedback my drivers gave me last year when they were stuck at the park gates, that stand off could well have resulted in much worse. What if one of those TANAPA lunatics would have ordered their gate staff to use force or hold tourists at gun point? This organization has gone out of control and all the good work done in the past is unraveling when failed leaders are able to trample on the general laws of the country another source mentioned. TANAPA needs a new leadership, a new philosophy on top, a sense of partnership that we are all in this together and the private sector is not their paymaster general and windowdress of public private partnership. We shall go and tell their donors the whole story to show people around the world when they deal with TANAPA their smiles are two faced and what they are really made of clearly expressing a growing anger. Watch this space.

ZANZIBAR TOURISM LAW TO BE REVISED AFTER ONLY 3 YEARS
A regular source from Dar es Salaam has taken issue with the apparent plans of the government of Zanzibar to amend the Tourism Act of 2009 after hard line legislators suggested moral decay brought by tourists needed to be dealt with. Only last year did a Minister in the government of the Zanzibar stir huge controversy when he demanded that anyone seen or found eating during day time during the month of Ramadan should be prosecuted, with a thinly concealed reference to tourist resorts and restaurants serving breakfast and lunch, when the Muslim faithful observe daytime fasting. This off the cuff remark was quickly suppressed though to avoid damage to the tourism sector, crucially important to the Spice Island economy and was played down by tourism stakeholders at the time as an overzealous if misspoken remark, swiftly making it known that foreign visitors were not subject to these restrictions.
This latest attempt to introduce a moral high ground is also thought to originate from the same school of thought as became evident through that ministers remarks and has raised concern what exactly the proposed amendments entail. While mention was made of the planned introduction of District Tourism Committees there is fear that those bodies will be stuffed with individual then embarking on legal witch hunts under the pretext of protecting their children from, as has been mentioned in the local media moral decay including our children copying indecent way of dressing a phrase regularly used even in places as far as the Maldives of late in reference to female tourists wearing bikinis. Said the source from Dar on strictest condition of anonymity: Last year people would not believe when you wrote that article but it was of course true. But the possible damage to tourism was too great so he was told to shut up in public and not wreck the flow of visitors. Now similar things are brought up again. I compare it with some articles you wrote about Maldives and how Seychelles and Mauritius would prosper if tourism there goes down because of fundamentalism. Now in Zanzibar, they even cried when we signed [a] MoU with Seychelles for dual joint holiday promotion. They claimed we are out to deny them tourists. For two years we have sent delegations to the carnival in Seychelles and benefitted from it. We want tourism, for our safari parks and our beaches including Zanzibar. Radical ideas and motives have no place in our considerations. I am Muslim myself and we need to be tolerant. We should not ever give [the] impression that we are anti foreign or anti tourism. We are not. We just have to be careful that zealots are not put in [a] position to cause problems in beach resorts by trying to arrest tourists with small bathing suits.
Will controversy or common sense carry the day lets hope for the latter as cooler minds in Zanzibar have always prevailed over a minority of a few how have their own agenda and not the best interest of the islands at heart. Watch this space.

GOVERNMENT IS LYING TO US OVER PLANS FOR LAKE NATRON, SERENGETI
Regular sources from Dar es Salaam and Arusha have insisted that the government is actively misleading the public over their true intent of constructing a soda ash plant at Lake Natron and the required road and rail links to the coast. President Kikwete last week talked to journalists and he singled out the Serengeti highway issue when he spoke of false and antipatriotic reporting. Why would he chose that topic? The Tanzanian governments own study shows how they expect traffic even on a gravel road to grow into thousands of vehicles a day. Can you even believe that at such a time they could resist the demands for tarmacking such a road?
They want the road because of the mining concessions beyond the Serengeti and towards Lake Victoria. And for the soda ash factory they are planning they need a rail link like the one from Magadi to join the RVR network to the coast in Kenya. And when the road and rail is at Lake Natron, does anyone believe them that they will not use the shortest route across the Serengeti to Lake Victoria and their new planned port in Musoma? The presidents mouth pieces are constantly on about the soda ash plant, his administration is mistreating and duping people at Mwambani and they are trying to secretly manufacture a supportive EIA by excluding key stakeholders and then peddle it like we told you, no harm is done. Why, you tell me, should we believe them one word. They have an agenda, and it shows here and there when they drop hints or speak unguarded but their intention for our parks and environment is very sinister one of them wrote following an exchange of information and opinions over the news last weekend that the Trade and Industry minister had reportedly revived talks with potential investors, inspite of the area in question being a RAMSAR Site and the existing EIAs all recommending that a wide area around the flamingo breeding grounds be left alone or else risk the extinction of the birds.
Momentum is now also visibly gaining speed in regard of the Mwambani port plans, where a global coalition is building up, similar to the Stop the Serengeti Highway campaign which has been hugely successful and driven government functionaries into the defensive, being confronted abroad about this wherever they go. No one is against expanding Tanga port, the way it is, in fact it is underutilized a lot. Having a modern railway run from Tanga to Lake Victoria is also not bad, as long as it avoids biodiversity hotspots and ecologically sensitive areas, inside and outside national parks and reserves. The government always makes us look as anti progress, to be denying the wananchi jobs and development. That is another lie. We support progress and development but with due care and consideration for the long term impact on the environment. Mining needs water and in semi arid areas, where is that coming from. Mining also can seriously poison the surrounding area and water sources, like in the case of plan to mine Uranium inside the Selous Game Reserve. What we say it be careful, dont rush, once the environment is poisoned you cannot reverse that fallout so prevent it.
It is clear that this controversy is not going to be resolved any time soon but with one court case now pending at the East African court of justice over the Tanzanian governments right, or not right, to build a highways, gravel or not, across the Serengeti, there is now scope following an appellate division decision that the EACJ is competent and permitted to hear such cases that more suits are brought against such plans in Arusha, after activists and conservationists have come to realize that the Tanzanian judiciary may just be a shade too susceptible to pressures from above. Watch this space as more news become available, often smuggled out of Tanzania via third parties to prevent detection of sources and the predicable brutal onslaught on them known from previous cases.

MWANZA TOURISM STAKEHOLDERS DEMAND BETTER INFRASTRUCTURE
According to a regular source from Arusha did tourism stakeholders meet over the last weekend in Mwanza, Tanzanias lakeside port town on Lake Victoria, to discuss the way forward of how to better promote travel into this part of the country and have a greater share of tourism receipts.
Members of the Tourism Development Initiative and other groups came together to map out how best this will be possible and amongst the key issues mentioned to this correspondent was the upgrading of Mwanza airport. Said the source in an email received yesterday: We heard that Kisumu is now a big international airport with more flights and more visitors. We in Mwanza would also like to see such efforts by our government. The plans to build another international airport near the Serengeti are rubbish really. We have Mwanza already in place and with some upgrading it can go a long way to serve our part of Tanzania. From here it is two hours drive to the Serengeti, or with the smaller aircraft even less than half an hour to some of the park airfields. From Arusha it is a long way by road and takes a longer time to fly into the park. But from Mwanza it is so much easier and as an extra attraction we have Lake Victoria right here. Most tourists to Tanzania never see the biggest lake in Africa. We are losing visitors and revenues and TTB and others must now shape up and promote us as much as they promote the parks. Lake Victoria gets very little promotion from the tourist board and yet there is fishing, bird watching, sunset cruises, island visits. We should also try to have more airlines from Uganda and Kenya come here with extra flights to bring passengers. Lets work together to achieve better results here for us.
Another periodic source from Arusha added: Government could do a lot for us here. Instead of talking about a new railway to Musoma they should fix up and modernize the rail link from Arusha to Mwanza. That way tourists could even use the train which right now is too slow. That would be a better option and much cheaper too. And at the same breath I add our opposition to the highway plans through Serengeti. They should build the road around the south part of Serengeti as a good highway and then link Mwanza too. That way the road used now through Ngorongoro and Serengeti can be relieved of heavy traffic. This government should stop making so much noise about things which are not happening anyway and concentrate to develop and modernize what we already have and what they have let go into disrepair for too long. And they should also stop listening to pressure from KADCO (Kilimanjaro Airport Development Company) and allow more flights from Arusha airport which is easier for people to reach than driving so far out almost to Moshi. Sentiments often heard yes seemingly so far fallen on rather deaf ears.
Precision Air is operating several flights a day between Dar es Salaam, Kilimanjaro International and Mwanza and a source close to the airline made it known that they would support any initiative to promote greater travel to the Lake Victoria town should the tourist board roll out a campaign. Watch this space.
Rwanda News
18 YEARS AND COUNTING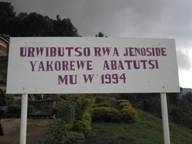 Never again has too often been spoken in haste, lacked honest conviction or was a convenient utterance aimed to capture an audience or score cheap points. When Rwanda this Saturday commemorates the 18th anniversary of one of the swiftest and most cruel genocides in human history in 100 days between 800.000 and 1.000.000 million innocent babies, children, women, elderly and men were brutally hacked to death, burnt to death or grenaded to death it will be a somber mood marking the occasion, the coming of age so to speak of an event which has traumatized that nation and her neighbours alike, and Never Again will mean something more than just words in the Land of a Thousand Hills.
When the news finally managed to escape, inspite of an attempted blackout by the brutal regime of the killer militias in Easter of 1994, which had gone as far as assassinating their own President for having shown willingness for compromise, the troops of the liberation movement, the Rwanda Patriotic Front, led by Paul Kagame who has since become President of Rwanda, reportedly cried. They were battlehardened of course like few others but when confronted with the piles upon piles of bodies they found at road sides, in churches, in community centres or floating down rivers by their thousands their tears nevertheless broke from their eyes. We in Uganda at the time cried also, well, at least those with a shred of human decency in them and yet found the steely resolve to raise much needed support for the RPF to complete the liberation of Rwanda. Meanwhile did the UN Peace Keeping Force, instead of being strengthened and given an active mandate to prevent the wholesome slaughter, withdraw, leaving forever a stain on the organization and in particular one Koffi Annan, who was at the time in charge of this operation. The French contingent also withdrew under a cloud, suspected ever since of covertly backing the killer militias, as they left their ammunition dumps and material behind instead of destroying it, which prolonged the slaughter when the killers made use of it.
When eventually the militias were driven out of Rwanda, the masterminds and inciters themselves had fled to safety, or what they thought was safety. For years did the killer militias cause hit and run attacks across the border, from their hidehouts in Congo, where they felt safe until Rwanda, harshly critizised at the time by the very people who had overtly and covertly supported the previous regime, for violating international borders. Again, for the friends of the new Rwanda, that came not a day too soon and the results today speak volumes. There are times, not many admittedly, but there are when legalities have to give way to common sense and when what needs to be done has to be done.
Since then have battlefield successes greatly reduced if not almost extinguished the ability of the erstwhile killers to launch any further meaningful military action, reducing that threat almost to naught while trial convictions have been achieved in Arusha where the International Tribunal on Rwanda sits and to where a number of key suspects have been extradited. Most notably have several genocide masterminds since been extradited to Rwanda outright, to stand trial, not abroad but at home where they caused mass murder on a hideous scale as to rival the Pol Pots of Cambodia or the purges of Stalin in those long gone days to get the justice they deserve, a life in prison with hard labour when convicted of their crimes.
Much has been said over the years, but this year, the coming of age with the 18th anniversary now ringing in, not all needs repeating.
What is evident is that the new Rwanda has risen from the ashes like a Phoenix, has created economic opportunities for all Rwandans and is shaping up into a new nation of equally news Rwandans, who have been able to reconcile, forgive, yet not forget what had happened in those 100 days of 1994.
Today, as on all occasions since 1994 when the calendar showed that date again and again, I offer my deepest thoughts and sympathy to my friends in Rwanda, as I stand with them and help to show the world what the new Rwanda is like, stands for and where it aims to be, in Africa and as a member of the global family of nations.
Let us work together, stand together and remember together and make sure that Never Again is not just a phrase but a lasting commitment under vigilant eyes, making sure that not one of those criminal ideologies and ideas ever takes root or rears their ugly heads again.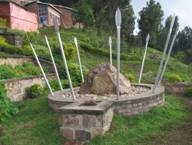 IN MEMORIAM OF 800.000+ RWANDAN VICTIMS OF A WELL PLANNED GENOCIDE, AS THE WORLD STOOD BY AND WATCHED INSTEAD OF ACTING.

RWANDA BACKS AMBITION WITH ACTION
News was received overnight that Rwandas declared ambition to become a regional ITC superpower has now been backed up by government plans and commitments to inject additional fibre optic high speed high bandwidth capacity in the market through a contract with Tanzania Telecommunications. The 1.244 Gigabyte per second new connection will at least in half be taken up by government and governmental bodies to enhance e-government across Rwanda while the balance is due to be released into the open market to bring subscription rates down while at the same time increasing the existing speed of connections.
Broadband penetration in Africa still lingers below the half percent margin, when looked at as a continent but Rwanda is set to offer universal access to the internet for use in schools, institutions of higher learning and by promoting e-commerce for the entire economy. Already, as a case in point, are Visa only being granted electronically unless for very special and rare circumstances, compelling visitors who require Visa to enter Rwanda to apply in advance on the immigration website and then come with a printed confirmation / receipt and reference number to the immigration counter at the airport where processing subsequently is swift and generally perceived as the fastest in the entire region. The Rwanda Development Board, Tourism & Conservation, has also kept track on virtual visits to the country via websites, which have over the past two years increased exponentially, giving added exposure to Rwandas tourism attractions and helping to market the country to real visitors who are coming to Rwanda in ever growing numbers.
In addition Rwanda is wired up through fibre optic connections extending from the landing points of the seabed cables in Mombasa, via Nairobi, the Ugandan border, Kampala and Kabale to the land borders between Rwanda and Uganda, besides existing satellite backups which are used when, as recently seen, cables are cut or damaged. Rwanda taking the lead, again. Welcome to the Land of a Thousand Hills, where things are happening.
Congo DR News
KORONGO AIRLINES SET TO FLY FROM APRIL 16TH


As reported here a few months ago in a breaking news announcement, Brussels Airlines Congolese aviation offspring Korongo Airlines has now finally given a date when flights will officially commence. After formally launching their offices last week the airline will be operating out of Lubumbashi. Korongo Airlines subsequently has just announced that flights between FBM (Lubumbashi) to Kinshasa will launch on April 16th with Johannesburg following hot on the heels on April 19th.
As of 01st of May passengers in both directions will be able to check through baggage to and from Brussels, as the flights are timed to land and depart from Kinshasa according to the daily flight arrivals of SN.
The airline has also announced that they will soon afterward launch Kolwezi (KWZ) and Mbuji Maji (MJM) using their present BAe 146 aircraft.
In a novel way of injecting confidence in Congolese aviation has the new airline been given permission to use Belgium registered aircraft under a wet lease, which includes not just well trained crews under EASA standards but also subscribes to EASA maintenance standards and EASA aviation safety oversight for continuous airworthiness, something many locally registered airlines in the Congo DR in the past lacked with disastrous consequences.
The airline has put up a Lubumbashi based maintenance facility which, needless to say, is also operated under the strict EASA standards and supported by the Congolese civil aviation authorities.
Important for travel agents is that they can use the Brussels Airlines plates on code 082 to ticket passengers on ZC to all destinations. Fares will be displayed in both Amadeus and Galileo systems, again using code 082.
Happy landings when the inaugural flight takes to the skies over Congo and best of success to this remarkable partnership between Brussels Airlines, Group Forrest International and local Congolese investors.

Mauritius News
AUSTRALIANS GET NEW DEALS FROM AIR AUSTRAL TO VISIT THE VANILLA ISLANDS



Air Austral of La Reunion, rather than the financially ailing Air Mauritius has now embarked to lift visitor numbers from Australia to Mauritius, the Seychelles and other Vanilla Island destinations, as the latest information from sources down under have confirmed overnight.
The carrier from La Reunion was swift in reacting to news a few weeks ago that Air Mauritius, currently undergoing a severe cost cutting programme aimed to ensure financial survival, would withdraw from Sydney and concentrate their entire Australian operation in Perth, to re-enter the market it had itself withdrawn from only weeks earlier. However, with the largest Mauritius expat community in Sydney and Melbourne, and intense travel interest to Mauritius figures had in 2010/11 grown significantly Air Austral reversed their own withdrawal within days of Air Mauritius making their announcement.
Fares on offer now are from as low as 274 AUS Dollars, plus 680 Dollars in taxes which goes to show how the current Australian government has loaded airfares to the detriment of promoting air travel and special couples fares are available for the twice weekly flights between Sydney and St. Denis / La Reunion. The airline then offers a choice of 4 onward flights to Mauritius, plus services to the Seychelles, Comoros, Mayotte and four key airports on Madagascar and stopovers, either way, on La Reunion are of course possible and happily arranged for. Visit www.air-austral.com for more details on special offers and the destinations the airline covers across the Indian Oceans Vanilla Islands.
Also visit www.seychelles.travel, www.reunion.fr, www.tourism-mauritius.mu, www.madagascar-tourisme.com, www.mayotte-tourism.com and www.tourisme.gouv.km/ for information on the Indian Ocean islands off the African continent, how to get there and the various attractions visitors can see.
Seychelles News
SEYCHELLES BOOST ARRIVAL SECURITY WITH NEW SCANNERS
Earlier this week two brand new state of the art scanners were formally commissioned by the Minister for Home Affairs and Transport Joel Morgan at the international airports arrival hall. Aimed to detect prohibited imports such as plants, seeds and even pets the new machines will be used for random checks of arriving passengers hand luggage, but where felt appropriate also for checked bags. Already are sniffer dogs deployed at the arrival hall checking out arriving luggage for illicit content, as the countrys governments anti drug policies take wider hold and even greater efforts are now being made to stop the flow of drugs into the country through the airport.
A regular source from the islands tourism industry had this to say when discussing the development by mail: When tourists come here they need no Visa at all, just a return ticket, a confirmed hotel booking and enough spending money, and in case they come from Africa a yellow fever inoculation certificate. That is all. But making it easy for our guests to come here does not mean we do not uphold our laws and regulations. We have some problems on the island through alien species of plants, insects and even animal species brought here under disguise in the past. We as Seychelles are committed to maintain our biodiversity, protect our immaculate beaches and flora and fauna and for that we need measures. Measures to detect illegal importation of seeds etc. Security at the airport is taking place in many shapes, aviation security to prevent any incidents on board the aircraft, and general security to protect our pristine environment too. Like before, when visitors enter through the green customs channel, suggesting they have nothing to declare which exceeds legal limits or permitted items, there is always a random check element. Now we are making this more sophisticated with scanners and again passengers will be selected at random. That is all there is to it.
The two scanners were given to the Seychelles Civil Aviation Authority through a grant worth nearly half a million US Dollars by the Global Environment Facility, in short GEF, which has responded to a request to facilitate better entry point checking for alien species to protect the archipelagos environment. Watch this space.
And in closing today once again some material from Gills The Livingstone Weekly produced faithfully every week by Gill and sent out, Zamtel permitting I understand, which has left her down time and again but then, that is part of our all struggle when dealing with utility providers here in Africa. Enjoy!

Zambia Ornithological Society
Annual General Meeting
The ZOS Annual General meeting was held on Saturday the 25th February. The meeting went well with good attendance and lots of work done. The new constitution has been ratified, the 2012-2016 Strategic Plan is now in place and we will soon be BirdWatch Zambia. Once the legalities have been put in place then the change will be put into effect.
We are still short of two people on the committee – we need a secretary to take the minutes at the meetings and someone to edit the monthly newsletter. Both jobs are interesting and do not have a heavy workload so if anyone out there is interested on being on the committee please email Mwape at zos.chair@gmail.com and offer a hand.
A new committee has been elected as detailed below:
Chairperson Mwape Sichilongo Member Annette Willemen
Treasurer Patricia Bingham Member Jerry Grieve
Membership Guida Bell-Cross ZAWA Representative Wilfred Moonga
Birdwalk Coordinator Pete Chalcraft Copperbelt Nest Kevin Shone
Member Daniel Mwizabi Luangwa Nest Fil Hide
Member Bob Stjernstedt

Unite for Climate Ambassadors and Wildlife Society plant trees at SOS Village

By Clare Mateke
On 24th March 2012 Unite for Climate Ambassadors planted trees at SOS Village in Livingstone, together with Chongololo Club Children from HG School at the Village. The Village and school are on Lusaka Road opposite the weighbridge on a large plot of land. Even before construction began, many of the trees had been cleared from the area, and more were cleared to construct the buildings, leaving the area very open. The management has made efforts in the past to replace some of the trees, and to allow some of the indigenous trees and shrubs to regenerate. However, there is still need for a lot more.

On this day, 25 African Mahogany/ Mululu (Khaya nyasica) trees were planted around the football pitch and between the pitch and the houses. It is hoped that these will eventually provide a windbreak to help protect the houses from strong winds, as well as providing shade while the children are watching sports.
Unite for Climate Ambassadors are children from various schools in Livingstone who have been selected and trained by UNICEF to carry out environmental projects and be ambassadors for the environment. UNICEF is working together with the Wildlife and Environmental Conservation Society of Zambia (WECSZ) in this programme.
The Ambassadors and the Chongololo Club children were accompanied their Club Patron, Mr Mwila. Also present were the Headmaster, the Director of SOS Village, some members of the WECSZ, and a representative from Environment Africa.
We are thankful to the HG School and SOS Village administration for enabling this programme to go ahead and run smoothly. We hope that this will not be the end. The school would like to create an orchard next to the school, for which we are looking for donations of fruit trees and manure. We have already received a couple of offers, but would be glad of more. We hope that this can be arranged within the next few weeks. The school administration have assured us that the Agricultural Science Department will be in charge of looking after the trees planted, so even if this is not the rainy season we are hopeful that the trees will still be well looked after.
We are also thankful to all the children, both Ambassadors and Chongololo members, about 35 in total, who helped dig the holes, plant the trees and water the young seedlings. It was a lot of work and everyone was hot and tired afterwards. But it was a good achievement and is a good step towards saving our environment.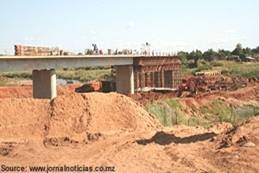 New Bridge over the Zambezi

A new bridge is under construction over the Zambezi River to link Tete to Moatize district. It is expected that the bridge will be completed by September 2014.
The bridge is 715 metres long and was started in April 2011.
Also included in the project is the upgrade of 260 km of road linking Tete to the Zimbabwe border.

RUN BABY RUN – THE HISTORY * THE CRISIS * THE SOLUTIONS
A special issue dedicated to rhinos

More than one a day. Thats the rate which rhinos are being massacred in South Africa. We are bombarded daily with kill counts, court cases, corruption allegations and those awful images. Debates, arguments and the opinions of everyone from conservationists to bloggers to economists about What Should Be Done rage back and forth. Depressed? Confused? The team Africa Geographic was and, in an effort to cut through the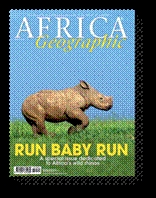 clutter and voices, has dedicated its entire April issue to rhinos.
Leading rhino experts have helped to produce Run Baby Run the most accessible and comprehensive guide to rhinos and their plight.
How many are there? What do they use their horns for? Are the horns just like hair (no), do they have any medicinal qualities (jurys out) and how long do we have before rhino populations start to decline (depends, but worst-case scenario is 2016)?
Most importantly, all the proposed solutions to the current poaching crisis are discussed: beefing up security; increasing legal penalties; poisoning the horn; cutting it off; fighting demand in Asia; and, possibly the hottest debate of all, proposals to legalise the trade in rhino horn. With input from SANParks, Department of Environmental Affairs, the Hawks, rhino conservationists, rhino farmers, forensic specialists, scientists and economists, the April issue of Africa Geographic gives you all the information you need to come to your own, well-informed decision.
PLUS: Moved to make your own contribution? Africa Geographic presents more than 60 NGOs working to save rhinos telling you what they stand for, how they spend your money and how to contact them.