AVIATION, TOURISM AND CONSERVATION NEWS from Eastern Africa and the Indian Ocean islands.
A weekly roundup of breaking news, reports, travel stories and opinions by Prof. Dr. Wolfgang H. Thome
You can get your daily breaking news updates instantly via Twitter by following @whthome, join me on www.facebook.com/WolfgangHThome where the articles also 'cross load' or read the daily postings on my blog via www.wolfganghthome.wordpress.com which you can also 'follow' to get immediate notification when a new article is posted.
Second edition February 2013
East Africa News
IT IS ALL LIES SAYS FLY 540
In yet a further escalation of the tone and intensity of the raging dispute between the erstwhile partners has Fly540 now made sweeping allegations against FastJet, telling them in all but name that they are telling lies and challenging them to check signed agreements and other documents with relevance to using licenses and permits held by Fly540. Calling it for legal reasons 'Factual Inaccuracies' this latest broadside between the two protagonists is having the aviation industry in Eastern Africa sit up and take notice, how the fledgling partnership could deteriorate into such a meltdown, leaving both sides now in legal court but also the court of public opinion. There chat room comments and comments made on the social media are not holding back at all in expressing views who exactly commentors feel is at fault and to blame, with the sycophants of both camps shouting on top of the cyber voices at each other, providing rich pickings for the media.
A statement seen by this correspondent, issued late this week, bluntly says: 'Lonrho Aviation [now trading as
FastJet] cannot produce written proof that it has held the sole and exclusive rights to the Fly540 brand, and its claim to have held these rights 'for a number of years' is a complete falsehood. FastJet's statement is incorrect in claiming that it acquired Five Forty Aviation through its acquisition of Lonrho Aviation (BVI) Ltd. Interested parties are invited to read FastJet's listing document, which clearly states that it was to acquire only a 99% economic interest in Five Forty Aviation. It was never to acquire control of Five Forty Aviation. As all the conditions of the acquisition were not met, FastJet did not gain a 99% economic interest in the company. Five Forty Aviation remains majority-owned by 530 Investments Ltd. and maintains its independence from FastJet. Copies of all license agreements and returns of the Registrar of Companies in Nairobi are available on request'.
Whichever way this battle of the skies in East Africa and elsewhere will go, one thing is certain already that both companies are suffering huge PR damages and the reputations of individuals will get shredded some more, leaving all main players soiled in the court of public opinion. From reports out of Dar es Salaam it is clear that the alarm bells are ringing and phone lines are running hot, as the UK based masters of FastJet demand answers, and fast, who failed to contain this escalating saga, who overlooked the issues claimed by Fly540 as unfulfilled and who will take the fall from among the aviation mercenaries they recruited.
What is clear is that the so called due diligence which should have been carried out is clearly not worth the paper these reports were written on and the principals, who put up the money, may anytime soon reach the point where the axe will fall on those they consider most at fault, those they consider most negligent and most careless in their dealings with their erstwhile partners, before licking their wounds inflicted by an investment which seems more and more shaky now and may well end up in the bin of upstart failures the aviation world has become accustomed to.
What is also clear is that the sentiments expressed here months ago already, which drew harsh words and intimidating complaints to editors and publishers, were after all entirely correct and are now seen by many as the early writing on the wall back then of what is now unfolding.
The lessons the traveling public will draw from all that is that they will vote with their feet as they walk on the planes of Kenya Airways, Precision Air, RwandAir and Air Uganda while watching with astonishment from the sidelines as the two protagonists are flying into heavy stormy weather, not in the skies but for certain in the corridors of the courts. Watch this space as this saga will surely produce yet more juicy twists in the tail.
HAS THE AIR RAN OUT FOR FASTJET?

The news for upstart FastJet are just getting grimmer by the day, as erstwhile partner now turned foe Fly 540 is reportedly stepping up efforts to extract by hook or crook nearly 7 million US Dollars from the FastJet owners, something they however strenuously and continuously deny ever owing.
The latest twist in the tail, informed about by a periodic UK aviation contact, talks of Fly 540 terminating the license agreement to use the name of Fly 540 in all African destinations other than Tanzania, where FastJet had acquired 90 percent of Fly 540 Tanzania according to records published.
This, if correct, would seriously impede FastJet, for the time being at least until another partner has been found and agreements negotiated – like with Jetlink in Kenya – to roll out the commencement of flights, with the Fly 540 owners now clearly playing on time and being the proverbial spoilers.
The Herald Online has today published the following details on the alleged termination of the license agreement between Fly 540 and FastJet, reproduced here with author's and publisher's credit:
Five Forty Aviation Withdraws Licences from FastJet
Licences withdrawn from operations in Angola, Ghana and Tanzania for failure to comply with agreements
NAIROBI, KENYA — Five Forty Aviation Limited ("Five Forty Aviation" or "the Company") announces that it has withdrawn the licences it had granted to Lonhro Aviation (BVI) Ltd operations in Angola, Ghana and Tanzania ("FastJet's Africa Operations") to use the Fly540 brand with immediate effect. This is due to the failure on the part of FastJet's Africa Operations to comply with the respective licence agreements signed with the Company.
In June 2012, FastJet (formerly known as Rubicon Diversified Investments plc) acquired Lonrho Aviation (BVI) Ltd ("Lonrho Aviation") thereby gaining control of the assets and liabilities of Lonrho Aviation's three subsidiaries: Fly 540 Angola – Sociedade de Aviação Civil SARL ("Fly540 Angola"), 540 Ghana Limited ("Fly540 Ghana") and Fly540 (T) Limited ("Fly540 Tanzania"). FastJet's Africa Operations have been licensing the Fly540 brand from Five Forty Aviation since 2008. FastJet flies three Fly540-branded planes in Angola and two in Ghana. It flew two planes using the Fly540 brand in Tanzania until November 2012.
On 24 January 2013, lawyers representing Five Forty Aviation Limited wrote to Fly540 Angola, Fly540 Ghana and Fly540 Tanzania respectively to inform them that if they did not demonstrate compliance with the terms and conditions of the licence agreement within seven days, the Company's lawyers would withdraw their ability to use the Fly540 brand.
Specifically, the conditions that are not being adhered to are as follows:
1. Payment of outstanding licence and other fees of US$6.9m, US$0.5m and US$0.3m for Fly540 Tanzania, Fly540 Angola and Fly540 Ghana respectively as well as failure to disclose financial information for December 2012
2. Contrary to the licence agreement and despite several reminders, FastJet's Africa Operations have not provided information to the Company's Head of Safety to demonstrate compliance with Five Forty Aviation's accepted safety systems
3. Failure to provide the Company's Quality Manager with reports demonstrating that the quality systems are in operation
As FastJet's Africa Operations have failed to respond, notice has been given to Fly540 Angola and Fly540 Ghana to re-paint their aircrafts in a neutral colour. Additionally, FastJet's Africa Operations have to re-brand all of the sales offices, removing the Fly540 brand; return all materials containing the Fly540 logo; and rename the companies other than 540. Also, as per the licence agreement, the Company has written to the Civil Aviation Authority in all three countries informing them of the withdrawal of the licences.
Don Smith, CEO of Five Forty Aviation, said: "We had no choice but to take this action because the most worrying aspect of non-compliance with the licensing agreement is that we have no way of assuring that the planes are safe to fly. We have not received any safety reports for the past three months from FastJet's Africa Operations and we believe that one plane, which flew with defects from Tanzania and landed in Nairobi on 14 December, should not have flown."
FastJet now finds itself in the unenviable situation to lack access to licenses in the countries in question, after being literally ambushed by a party they could not speak highly enough about some months ago and who have now turned into the proverbial bogeyman for them, not that key individuals had not been made aware of the sentiments the aviation industry had about the choices they made.
While there is a level of glee from key aviation pundits and observers in the region, into whom FastJet laid heavily in the past for speaking up about the misleading nature of their initial public statements of fares of 20 US Dollars without telling the public at the time of the significant extra add on charges for a variety of services and taxes, there is also some regret that a potentially major investor into the aviation sector in East Africa is now being torn to shreds by sharp business practices. Irrespective of the faults of individual senior staff at FastJet, who failed to cultivate a working relationship with the media, other than a select few courted almost nonstop, their mistakes in this area and apparently also in the field of due diligence covering ALL aspects of their contractual relationship with Fly 540 are now backfiring and seriously endangering the corporate well being of the company. Articles republished here in recent days about the call by the lessors to de-register the Airbus A 319 aircraft, have also rocked the market to quite an extent, with rumours flying high and low, something which has in the past for others led to an almost instant drop of bookings, as was seen with some ill fated regional upstarts like Victoria Airlines International or East African Airlines, both from Uganda, where market concerns in the end made all the difference about staying in the air with passengers or staying on the ground without sufficient numbers.
As this game keeps heating up, be sure to watch this space to stay updated when the next revelations become known.
THE AIR IS INDEED GETTING THIN UP THERE.

Predictably were the outcries from those named angry but for certain in denial, after the latest article was published on the ups and downs and twists in the tail of the FastJet versus Fly540 saga in Kenya and Tanzania.
As done before, it is always interesting to read what others write on this subject too, and a juicy morsel was sent to this correspondent a short while ago of an article by the Daily Telegraph in the UK, which, if true, could spell serious problems for FastJet in Tanzania, no matter under what name they trade, are registered or are doing business under.
Fastjet faces having planes repossessed
Daily Telegraph
Canada-based Avmax Aircraft Leasing has written to FastJet saying it was removing the registration of three planes leased by its Tanzanian operation. The trio of aircraft, flying under the Fly540 brand, have allegedly run up unpaid leasing and maintenance bills of almost $2m (£1.3m).
The letter from Avmax vice-president Don Parkin, headed "Notice of De-Registration", notified "Fly540/FastJet of its continuing default" under the lease terms. It added: "As such, the lessor has elected to deregister the aircraft from the Tanzanian Civil Aviation Registry." The January letter said the deregistration would "be commenced immediately".
Mr. Parkin's letter followed a warning in November that Fly540/FastJet was in default and continuing "to refuse and neglect your financial obligations". Avmax claimed the airline had undertaken to pay $150,000 per month for the rental and maintenance of the planes.
Last week's letter was sent to FastJet's chief financial officer Angus Saunders and Don Smith, the majority owner of Five Forty Aviation, which has a separate £4.4m legal dispute with the London-listed FastJet. Five Forty Aviation alleges FastJet has failed to honour a deal to repay debts that the company guaranteed with Chase Bank in Kenya – a claim FastJet refutes.
In a statement FastJet denied it owed Avmax anything, saying: "There has never been a contractual arrangement between Avmax and FastJet plc and therefore FastJet plc does not owe any money to Avmax. Don Smith, through Fly540 in East Africa entered into contractual relationships with Avmax and under these commercial arrangements owes money to Avmax for unpaid aircraft lease rentals and maintenance reserves."
A spokesman for Mr Smith wholly denied that, saying: "The admission document for the listing of FastJet on AIM states that it owns 90pc of Fly540 Tanzania through its acquisition of Lonrho Aviation (BVI) Ltd. As such, the action taken by Avmax against Fly 540 Tanzania has no implications for Five Forty Aviation or its chief executive, Don Smith."
FastJet also maintained that Avmax's notice related to a single Canadair Regional Jet parked in Nairobi, though the letter refers to three aircraft.
Asked for comment Mr. Parkin said: "I am flying to Kenya. We have studied the documents relating to FastJet's acquisition of Fly540 and feel there is a legal link between Fly540 Tanzania and FastJet. The Tanzania business owes us almost $2m. I plan to pursue it in court."
The dispute over unpaid leasing bills is the latest to hit FastJet, which is also facing a £1.5m tax claim from Tanzanian authorities and claims in Kenya over allegedly unpaid fuel and maintenance bills.
FastJet was formed last June via a £55m all-share deal that saw Lonrho's African aviation wing reverse into Aim-listed Rubicon Diversified Investments. The company was renamed FastJet – a brand owned by Sir Stelios, who was handed a 5pc stake and took a €50,000 (£43,500) per month consultancy fee. Operating in Kenya, Tanzania, Angola and Ghana, FastJet said it would "give people used to 12-hour bus rides the option to fly".
Clearly this shot over the bow should be ringing the alarm bells in the FastJet head office in East Africa but also in Sir Stelios' executive suite in the UK, as it would add to the already considerable headaches the top executives of FastJet must have at this moment in time vis a vis their nightmare relationship with Fly540 in Kenya and the pending legal case over nearly 7 million US Dollars claimed from them by one Don Smith. Add to that the more recent claims vis a vis alleged legacy debts by Fly 540 Tanzania and it seems there is a perfect storm brewing high up in the skies with the oxygen clearly running low.
Aviation is a business where trust and standing in the eyes of the public matter a lot and as a long time aviator and aviation buff turned aviation scribe it gives really no pleasure to have to write about these downsides of the aviation business. Jokingly we always say: 'How do you get rich in aviation' and the answer, by all in the know, sounds always like: 'By starting out very very rich (and losing a lot of that money in the process)'. Here, as seen before with upstarts in Uganda and elsewhere in the region, this seems once again a distinct possibility now.
The concept of Low Cost Carriers in East Africa, for this correspondent at least, is fundamentally flawed as the substantially lower cost such carriers incur in Europe, by using secondary airports many miles away from the main urban centres, are simply not available in East Africa. Handling and fuel too cannot be sourced from other cheaper suppliers and the main routes flown, those with sufficient traffic to perhaps fill an aircraft of the size of the A319, are but few and crowded as they are. There is no room to negotiate, as LCC's do in Europe, for lower parking, landing and navigational fees with airports in the region, as those airports have no reason to give away money. That is apart from the inevitable and serious repercussions airports would have with the other airlines using such airports and paying the published fees, which airports, as state corporations, have to reveal annually. And with the type of aircraft selected, an Airbus A319, FastJet basically ruled out establishing a network into secondary and tertiary airports and aerodromes, where at best only twin engine turboprop aircraft can land.
It always was a tough proposition to break into the East African market and being literally forced by the now known circumstances to start up in Tanzania instead of the wish destination Kenya, could not have made things any better.
Time to sit back and await reactions and more so, wait and see the next moves and countermoves between the erstwhile partners grown protagonists. Watch this space.
Uganda News
TRAINING AIRCRAFT CRASHES BUT BOTH PILOTS ESCAPE WITH MINOR INJURIES

The East African Aviation Academy in Soroti, aka, Flying School, a designated centre of excellence by the East African Community, has returned to the headlines for all the wrong reasons again, when a training aircraft crashed yesterday. The small Cessna plane carried two pilots currently undergoing training to become instructors, both of whom escaped with a shock and minor injuries while the plane itself was described as a 'total loss'. First reports from a regular aviation source at the Uganda Civil Aviation Authority, who asked not to be named for not being the official spokesperson of the CAA, indicate that there may have been a technical problem with the aircraft. A full accident investigation is now going underway with a commission of enquiry being constituted while two inspectors from the CAA offices in Entebbe have been dispatched to Soroti to commence the formal accident investigation.
According to other reports from Soroti the plane crashed just a short distance from a school, and on impact overturned, coming to rest upside down, with the entire engine section torn off the main hull.
The Flying School, as the institution has become fondly known in Uganda, has been in existence since the early days of Uganda and has in recent years been struggling with budget problems, attempted land grab by well connected individuals and a shortage of aircraft and other equipment needed to train students better and restore the erstwhile shine of those years, when many of today's senior pilots in East Africa actually learned to fly and got their first wings with a PPL from Soroti, before graduating further with a CPL and then going abroad to attain their ATPL's.
The two injured pilots received initial treatment and where then discharged and will in the morning face questions from both UCAA and school officials as to the exact circumstances of the crash. The aircraft's maintenance records have according to one source already been packed up and will be handed over to the Civil Aviation Authority investigators who will also examine the wreckage to establish the potential technical issues which may have led to the accident.
Kenya News
KENYA SECURES PROJECT GREENFIELD AIRPORT EXPANSION FINANCING

A regular aviation source from Nairobi has confirmed that the Kenyan government has completed the financing arrangements for the new mega terminal, second runway and other related facilities, which is estimated to cost at current prices well over 650 million US Dollars.
It is generally expected that the required co-financing along the Kenya government's contribution to the project and the internal capacity of the Kenya Airports Authority to pay for it, will be coming from global development banking institutions but also from Chinese banks, which if correct would point to the appointment of Chinese contractors – normally in a give and take reciprocation as seen with many other large scale projects too.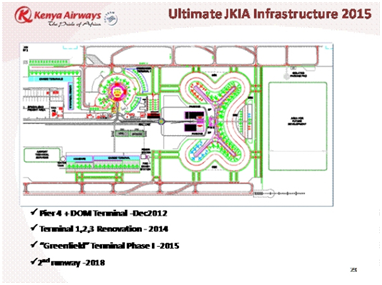 Main beneficiary of the airport expansion will be Kenya Airways, which is banking on this happening by not later than 2016 – even though there was initial talk of 2015 as the graph taken from their strategic roll out 'Plan Mawingo' has been outlining. Fleet expansion and more flights would put the current terminals under intolerable strain and even when the new Terminal 4 is coming on line later this year, or even only early next year considering it is still in the stages of a skeleton of a building, the rapid pace of Kenya Airway's planned rollout of new destinations and eventually tripling the current fleet size by 2021 cannot be sustained if the new Project Greenfield terminal is not ready.
Airline sources have expressed their satisfaction with the development and hope for early ground breaking, to finally see the congestion inside and outside of the present terminal building sections 1 and 2 come to an end. The new terminal four will be purpose built to include a one stop – on entry – security checkpoint but also those long awaited fast track facilities for premium class passengers Kenya Airways and other carriers are courting to fly with them, and the latest technology in the check in counters and baggage loading systems, besides more spacious general lounges and dedicated First and Business Class lounges by airlines and concessionaires.
President Kibaki might do the ground breaking as early as next Friday, 15th February, which would after the commissioning of the Isiolo airport phase one yesterday would further cement his legacy as a president bringing huge infrastructure project to Kenya, mainly new highways, roads but also the new port in Lamu and the expansion of Jomo Kenyatta International Airport into a future world class facility.
Watch this space for regular and breaking news from East Africa's vibrant aviation scene.
PRESIDENT KIBAKI COMMISSIONS NEW ISIOLO AIRPORT PHASE ONE
President Mwai Kibaki yesterday formally opened the first phase of the new airport in Isiolo. A new hard surface runway of 1.4 kilometres is the first visible sign of the new airport taking shape, due to be expanded to cater for larger jets in the future but for now good enough to accommodate landings and take offs of twin engine turboprops like the ATR or the Bombardier Q series and smaller corporate jets in use in Kenya.
Construction of a new passenger terminal, able to handle up to 600.000 travelers a year, has also gone underway and is expected to be ready for opening in 2+ years from now.
The Isiolo airport is part of crucial infrastructure being created to fulfill Kenya's Vision 2030 which sees Isiolo upgraded to a resort city, along the corridor of LAPSSET, which will connect the new port in Lamu with South Sudan and Ethiopia by highway, railway and pipeline.
Isiolo is the gateway to one of Kenya's leading conservancies, Lewa Downs, but also the Samburu National Park, the Buffalo Springs Game Reserve and the Shaba Game Reserve, and beyond Archer's post by road to Marsabit or the Matthews Range, a pristine wilderness area little explored so far but well know among adventure travelers and of course the acclaimed Kitich Camp by Cheli & Peacock. While airstrips, often grass, dirt or murram surfaced, do exist at Lewa Downs and near a number of camps and lodges, and the airstrip in Samburu itself is tarmacked, it will be the ability to fly larger planes to Isiolo which might bring airfares down and allow greater visitor numbers to see the parks in a part of Kenya formerly known and the 'Northern Frontier District'.
Present at the function was Kenya Airport Authority CEO Stephen Gichuki and other government officials as well as tourism stakeholders with an interest in the wider area the new airport will serve.
Watch this space for regular and breaking aviation news from Eastern Africa.
KENYA WILDLIFE SERVICE SENIORS FACE SUSPENSION AND REDEPLOYMENT

Kenyans will be waking up to stark news of significant changes at the Kenya Wildlife Service, which is facing mounting pressure from the country's tourism industry and conservationists over the recent upsurge of poaching across the country.
The man who briefly held the Acting Executive Directorship until William Kiprono was appointed in record time by President Kibaki, Peter Leitoro, until yesterday in charge of security, was sent home to make way for investigations alongside his colleague Benjamin Kavu, who oversaw Wildlife and Community relations.
A number of other top personnel were given marching orders to new duty stations, effective immediately, as William Kiprono asserts his authority and responds to critics who are at present as outspoken as never before.
A statement released by KWS however states that the two officials have not been interdicted, one should add 'yet' but simply allow for a range of issues to be investigated while the transfers were aimed to increase efficiency and effectiveness in service delivery. This diplomatic phrasing however does not conceal the fact that for those now affected it will be make or break in their new assignments, as Kiprono from his previous civil service career is not known to tolerate failures.
Only days ago did allegations surface which connected the dots of poaching to Somalia, something which was also the case in the 1980's when the appointment of Dr. Richard Leakey then turned the tide as he ruthlessly pursued the poachers in the field and cut off the political god father connections among senior political ranks at the time for those allegedly shielding the poaching gangs. The Head of Civil Service in Kenya, when the claims emerged, immediately ordered KWS to respond to these suggestions, which probably then triggered the actions taken by Kiprono yesterday.
Kenya's tourism industry in the meantime held a peaceful demonstration in Mombasa against poaching and demanded from government immediate action, led by MCTA chairman Mohammed Hersi, in a move which found broad support and is likely to trigger similar demonstrations in Nairobi and other Kenyan towns in coming days.
Mr. Hersi produced a list of demands on behalf of the MCTA membership and tourism stakeholders, which cover a range of most urgent issues:
'TOURISM SECTOR AND OTHER STAKEHOLDERS STATEMENT ON THE STATE OF INCREASED POACHING IN OUR PARKS.
Protest note to the Government of Kenya.
"Our core attraction is under attack "
Poaching right now is totally out of control. Our magnificent elephants in the Mara, Tsavo, Amboseli, Samburu, Meru and elsewhere, that attract hundreds of thousands of tourists, are being wiped out for a few thousand shillings paid to small-time crooks who do the killing while the big shots behind the ivory trade earn billions from illicit ivory. Rhinos are also being decimated at an alarming rate which cannot just be wished away.
The continued killing of our Elephants & Rhinos across the country is of great concern to us in the Tourism sector and wish to voice our discontent in the manner in which the whole is being handled.
In the Mara, over 90 of the big old bull elephants have been killed in recent months. Without the big old tuskers we lose a vital tourist attraction and there are no good breeding bulls left to improve the genetic diversity of the elephants. No serious effort to arrest and bring charges against those involved. Nobody convicted.
At present the sentences are ridiculous – someone in possession of ivory worth thousands of dollars is fined a couple of hundred dollars and released. Some work has been done by conservationists in identifying the various acts which could be used by the courts to enable much heavier sentences to be passed including stringent fines and prison terms. As well as taking legal action against the criminals the government must investigate how 4 rhino can be killed brazenly in a small park like Nakuru and how a family of elephants can be gunned down in Tsavo and the ivory just disappear after the killings had already been reported.
All the lodges across the national parks in Kenya will have to close down and all the tour vans and tour operators will no longer have anything tangible left for them to do. The consequences of losing our wildlife is too dire to comprehend.
The tourism industry condemns this senseless act of violence against our animals, hold the Government responsible and call upon the Government to take immediate steps towards stopping this cruel act.
Tourism is the second highest income earner in the Country contributing over 13% to the GDP. Our wildlife is a heritage we will not want to lose. The greatest attraction for visitors has been our wildlife and to date they are endangered with the numbers depleting at a very high rate. This will lead to a decrease in the income generation levels and the consequences are grave for the country. Wildlife and the big five have always been the greatest puller complimented by the beach experience. If we do not have wildlife and notably the Big Five then tourists will have no unique reason to insist on choosing Kenya. We will also cease to be the land of safari.
8 Point Demands:
1. We demand immediate response and action from the Minister of Wildlife and his PS who have both maintained silence despite these callous killings right under their noses. They are paid by tax payers money and they ought to wake up and do their work.
2. We demand the immediate arrest of the people concerned and charged accordingly. Media in Kenya has exposed on numerous occasions the people behind these trade yet no action is being taken against them. Huge stock are found at the port and to date no one has been charged .
3. We call upon the Government to set special task force within the Director of Public Prosecution's office which should be charged with overseeing the compiling of evidence and prosecution of persons arrested so that they should be charged under the Economic crimes act which is in existing legislation which provides much heavier penalties for economic crimes and for persons benefiting from the proceeds of criminal acts against wildlife.
4. We demand heavier sentences to be passed including stringent fines and prison terms for those prosecuted, as well as taking legal action against the criminals.
5. We demand more funds and support to Kenya Wildlife Services who have so far done splendid job to police our parks. KWS have lost many rangers in the line of fire and they must be given superior arms to deal with these ruthless poachers who do not hesitate to kill.
6. We do not believe all is well at KWS since the departure of Dr Julius Kipngetich and we want an independent body to ascertain with immediate effect what could be ailing the KWS
7. We must insist on ivory ban on trade in the Far East as we only have about 30,000 elephants left in Kenya now and if 100,000 were killed during the last poaching crisis until 1989, all of these will be gone long before Vision 2030 arrives and tourist will not come here to see elephants in zoos – they can do that at home.
8. We call on our Government to seriously review our bilateral relations with China, Thailand and even Philippines who are all reluctant to stop ivory carvings and factories in their backyards. If these countries can hang drug dealers they should equally be made to mete the same punishment to Ivory smugglers and traders. Our message to the Far East please leave the rhino alone, its horn has
NO medicinal value nor is it an aphrodisiac.
Chairman
Mombasa and Coast Tourist Association
Signature………………………………………………….
Chairman
Kenya Associaton of Hotel Keepers (KAHC)
Signature………………………………………….
Chairperson
Kenya Association of Tour Operators (KATO)
Signature………………………………………
Kenya Wildlife Clubs of Kenya
Signature……………………………………………………
Africa Network for Animal Welfare (ANAW)
Signature………………………………………………………..
This correspondent, for long an advocate of conservation and the protection of our region's priceless wildlife, THE key component for tourism, throws his voice behind Mr. Hersi's and those of the Kenyan tourism industry in calling on the Kenyan government to react immediately and comprehensively to the justified demands made to bring poaching under control, punish the culprits with appropriate fines and long prison terms and eliminate the menace from national parks, game reserves and the country at large. Watch this space.
KENYA'S TOURISM SECTOR NAMES CHINA AS 'ENEMY OF WILDLIFE CONSERVATION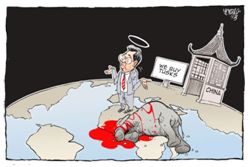 (Cartoon courtesy of The Star Editorial Cartoons)
The tone is getting sharper and the message louder and clearer whom Kenya's tourism industry who is who consider the main culprit in the growing wave of poaching incidents witnessed in recent months across Kenya. A demonstration organized by the Mombasa and Coast Tourist Association yesterday in Mombasa, befittingly kicking off under the famous tusks which span across Moi Avenue in the centre of the city, raised support and approval from across society at large as well as the political spectrum, where candidates for various elective offices – Kenya is having a general election on 04th March – voiced their support for demands to strengthen anti poaching measures.
'Our government should listen to us, the people, when we tell them to name and shame China, Vietnam and others in Asia. Those are responsible for the slaughter of our prime tourism resource, our wildlife. Across Africa poaching is at an all time high for ivory and rhino horn. These countries are doing nothing to help us because they covertly tolerate the greed of their citizens for our ivory and rhino horn. China has many Kenyans on death row for drug offenses, crimes those fellow citizens of ours should not have committed. I am saying that smuggling, processing and possessing blood ivory is as bad an offense. Those responsible for wiping out our natural heritage too should meet such harsh measures. China may give us a lot of assistance and has helped to build infrastructure but there is a limit for us. Let me be candid, they siphon away Africa's mineral resources at laughable prices because our politicians are corrupt. Now, wherever they are, wildlife is getting poached, stray dogs disappear and last week several Chinese were arrested in Naivasha for cooking a snake. My colleagues and I are clear, this has to stop or they should pack up and go home. We demand from our government that when Kenya goes to CITES they mince no words. They must expose the culprits and have their ivory trading licenses cancelled to make it impossible for them to even legally trade or import ivory. It is time to name and shame them, because if we do not, our wildlife will be gone just as fast as our mineral resources and oil and gas. If China cannot behave like a friend, I am sorry to say, they are our enemies, enemies of conservation, enemies of our wildlife and enemies of our tourism industry. We want their tourists to come and see our wildlife alive and go home and advocate for us. But we can no longer tolerate that their government metes out harshest sentences if one of their Pandas is poached inside China but allow tens of thousands of elephant and hundreds of rhinos slaughtered in Africa every year' said a regular source from the Kenya coast, who on second thought then requested the comment to be treated without giving a name as was initially agreed.
It is understood that following the well organized campaign in Mombasa similar events are planned in Nairobi and other key towns benefitting from tourism across Kenya, to put more pressure on politicians to include anti poaching measures and tourism support in their agenda, should they win the forthcoming elections and form a government.
Another top tourism executive in an exchange of emails also made it clear where he would like to see the new government's commitment vis a vis tourism and wildlife conservation when he wrote: 'Maybe the first thing is for you to mention that as all eyes are on Kenya in the run-up to the election some stakeholders have expressed surprise that the importance of tourism, as an economic driver which creates jobs and livelihoods for Kenyans, has not been given any prominence by the Presidential aspirants who should be showing how they will encourage further growth of tourism. One candidate, William Ruto, did mention tourism, stating that his party would bring in 5 million tourists but gave no inkling into how this miracle would be achieved and presumably he has no idea that without a major re-development of the airports to bring them up to proper international standards (like Addis Ababa) and without incentives to attract major airlines into Kenya from new markets such as Singapore and Hong Kong or to encourage the existing airlines to increase their frequencies, the present flights into Kenya could not handle even half the suggested number. And even if they could, we do not have the hotel capacity to accommodate these numbers. Airlines will only increase their frequencies or add new flights to a destination if there is a big increase in demand. If Kenya intends to allow all its wildlife to be killed by poachers and to allow those behind the poaching to operate with impunity then we will no longer have the unique attraction that brings tourists here in the first place and demand will decrease!'.
In four weeks Kenya will have a new parliament elected and there will either be an outright winner of the presidential election of the country will have a run off a few weeks later. The time is therefore now to use the campaigns of the leading candidates for office to understand what is at stake for Kenya and what the all important tourism industry needs in terms of commitment, including a total commitment to treat the slaughter of wildlife just like homicides are treated. 'As you so often wrote, the fines must cripple those who are involved in poaching, financing, trafficking. And like Uganda proposes, jail terms should start from 10 years for 'ordinary' poaching and go to life imprisonment for commercial poaching to take any incentive out of the game for those raping our natural heritage' added another source.
A high level task force is being put together right now in Kenya to address all these issues and present the government with recommendations of how to act and respond to this crisis in an appropriate fashion, including resource allocation and where necessary a presidential directive to enforce immediate action outside the red tape government otherwise might face. Watch this space for more updates on this critical issue.
TOURISM INDUSTRY MARCHES AGAINST POACHING MENACE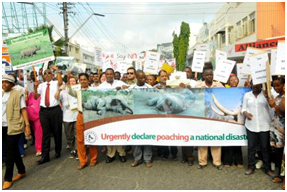 (MCTA Chairman Mohammed Hersi, wearing a necktie on the left, leads the demonstration against poaching in Mombasa along Moi Avenue)
MCTA Chairman Mohammed Hersi, also Area General Manager Coast for Sarova Hotels in charge of the Whitesands Beach Resort and Spa and the two sister lodges of Taita Hills and Salt Lick, in recent days said more than enough in his tweets, when he expressed his outrage at the rate of poaching and the inadequate response by government to stop this menace.
Subsequently he organized a tourism protest march earlier today, starting under the world famous tusks which span over the Moi Avenue in the centre of Mombasa, expressing publicly what the tourism industry has been quietly whispering and not so loudly saying: 'Enough is enough. Our message was clear No Wildlife=No Tourism=No Economy=No Vision 2030=No Jobs= Poverty . We must stand up and be counted and protect our national heritage. Our forefathers conserved the wildlife for us to see them so it is our duty to do the same.
The march was covered by Kenya's key television and radio stations in live transmissions and has raised immediate responses from among key contestants for public office – Kenya is going to the polls on March 04th – when several of them pledged to make anti poaching measures part of their government agenda, should they be elected in a month' time.
Those sampled for a reaction all applauded Hersi's action and expressed their hope that the trade associations in Nairobi and perhaps other key towns across Kenya, which benefit from tourism, could stage similar public expressions of concern and demanding action from the outgoing government NOW, and not in a few months time when a new government may be coming into office.
Congratulations to Mohammed, a long time friend and never shy to call a spade a spade in the interest of the tourism industry. Well done!
Tanzania News
AIR TANZANIA ANNOUNCES ITS RETURN TO MTWARA

After overcoming the cracked cockpit window incident on the inaugural flight to Kigoma three weeks ago, when the airline's Bombardier Q300 aircraft for the first time went back into the air for a commercial flight since its accident in Kigoma in April last year, has Air Tanzania's Acting CEO announced that the airline will add Mtwara to the list of domestic destinations. The first flight will take place this Friday, 08th February.
ATCL presently flies a B737 between Dar es Salaam, Kilimanjaro and Mwanza while using the Q300 for flights to Kigoma, now adding Mtwara in Southern Tanzania.
Air Tanzania will initially fly between Dar and Mtwara every Monday, Wednesday, Friday and Sunday but has already made it clear that they are aiming at daily flights as demand for the route is developed. The airline has to compete with Precision Air, now flying daily to Mtwara using their workhorse ATR aircraft.
Happy Landings to aircraft, crew and passengers for the re-launch of the destination.
HIDEAWAY OF NUNGWI COMING TO ZANZIBAR

A new luxurious 5 star resort and Spa complex is nearing completion at the far North West side of the main Zanzibari island of Unguja, set in nearly 25 acres of prime land with over 300 metres of direct beach access from within the resort. Located about an hour's drive from the international airport, the added transfer time is reportedly worth it as the splendid isolation of the resort ensures privacy for guests and full enjoyment of the glittery white beach without the menace of any vendors intruding. Due to open by the end of April, give or take a little, the Hideaway of Nungwi will offer 100 villas, suites and junior suites for guests seeking the added comfort of larger rooms or extravagance of private villas and a range of facilities including what is supposed to become a top of the range Spa. A full range of treatment options will be on offer for guests seeking not just a dream holiday but also aim at wellness through tailor made programmes covering an entire stay, if so wished.
Built in a style combining local Arabic Swahili features with Moorish architectural designs the new resorts rooms measure from 45 over 54 to 90 square meters, depending on the type of suite preferred while the villas offer between 90 to 320 square metres of space, private infiniti pools of course part of the added facilities.
This latest addition to upmarket accommodation on Zanzibar is in line with the destination seeking to set itself apart from the rest of East Africa's coastal resorts, aiming to claim the top end of the market and making it move into the direction of Mauritius or the Seychelles vis a vis client expectations and destination reputation.
The new resort will on opening be a member of Leading Hotels of the World, a further notice of intent by the owners and managers where they want to see the Hideaway of Nungwi Resort and Spa positioned in the highly competitive market for Zanzibar beach resort vacations. Visit www.hideawaynungwi.com for more information, tariffs and bookings.
IS THE AIR GETTING THIN UP THERE FOR FASTJET?

Already embroiled in a potentially major lawsuit with erstwhile buddies Fly540 in Kenya, where some nearly 7 million US Dollars are at stake over alleged outstanding payments claimed by one but strenuously denied by the other, FastJet is now faced with yet more such woes in the only country they are presently operating in, Tanzania. As reported here at the time, Fly 540 Tanzania ceased operations late last year to make way for FastJet to introduce Airbus A319 equipment and then relaunch operations ahead of the busy end of year holiday travel season, flying between Dar es Salaam, Kilimanjaro and Mwanza.
Information is now emerging from Tanzania that claims are being pursued by TCAA and others, including the Tanzania Revenue Authority, from business transactions still undertaken by Fly 540 Tanzania, before FastJet came on to the scene, but with Fly540 for all purposes gone from Tanzania, authorities are now ready to pounce on what they consider the legal successor of that company.
As was the case with the multi million US Dollar claims in Kenya now laid on FastJet's doorsteps by Fly 540 Kenya, here too the upstart's managers are at pains to explain the precise reasons for the sudden dispute away, waiving what they consider the foundation document for rejecting any and all such claims into the faces of all and sundry. That document, a transaction paper reportedly dated 24th July 2012, allegedly confirms that only debts specifically listed in an annex to the document would be 'inherited' by FastJet and that all other, unlisted existing and old debts, would remain the burden of the Fly540 company and its owners.
FastJet, in the case of Tanzania, is also using this document in their defense vis a vis claims now made against them of historical debts by Fly 540 Tanzania, but also appears to be faced with demands for payment of more recently incurred obligations, since they started operations.
Said a regular aviation source and commenter from Nairobi when discussing the issue yesterday: 'Let's face it, Stelios' boys messed up. The failure of FastJet to commence operations in Kenya first is from what the grapevine says entirely due to their dispute with Fly540. This is the lucrative market they wanted, not Tanzania. That was a second or third choice but in the end they had no option. Aircraft were purchased, crews recruited and they had to start earning revenue. The reports two weeks ago that they entered an MoU with Jetlink also shows that they are now desperate to get into the Kenyan market by almost any means and make use of their aircraft. Those are by any standard totally underutilized, and knowing what hours each aircraft flies for EasyJet, Stelios' initial company in Europe, they must be bleeding from that. They completely failed to understand the nature of their proposed partners in Kenya and how those are doing business. For us it was simply a matter of time before something would blow up in their faces. And to be honest, when all is said and done, Stelios and his co-financiers of this venture, will probably take a hard look into those responsible for this mess and part company. A few people were probably quite negligent in protecting the interest of Stelios and Co and I guess there will be hell to pay'.
Added information from Tanzania also points to the direction that the spreading public knowledge about such lawsuits is not having a positive effect on FastJet's reputation and operations in Tanzania, where the market is – apart from the strong following Precision Air has built over the years – rather jittery, considering the repeated in the air / on the ground scenarios by Air Tanzania, which has time and again let travelers down when they halted operations due to lack of aircraft or when at one time they had their AOC withdrawn by TCAA over regulatory documentation issues.
'The moment an airline gets into the news over money owed, even if those are only allegations and subject surely to a full legal process to establish who owes whom how much, it is not good PR. Some people tried to smear Precision just before they were about to launch their IPO and it had to be postponed. That winding up petition then was frivolous of course and eventually dismissed, but it caused them a delay in launching the IPO and that cost them dearly. So if a new company, with other issues as we all know over the way they advertised a cheap 20 Dollar fare but which costs the traveler a whole lot more before he actually steps on the aircraft when fees and baggage charges are added, gets into the news like this, it is not good news. It can cause a rift between the market and them, can cause a rift between expatriate management and local staff when these questions are not answered completely and in a way it makes sense and it can cause a rift between management and owners. Meanwhile is Precision adding more places in Tanzania to fly to, giving the market the confidence that they are the dominant aviation force in Tanzania, highlighting their advantages instead of bothering with the problems of Air Tanzania or FastJet. This will be interesting because TCAA has the powers to sanction airlines if they do not settle debts promptly and even if it goes to court, the damage is done' said another aviation source based in Dar es Salaam when requested to comment, albeit under the veil of anonymity.
Time surely will tell a fuller story on this latest twist in the tail of a long running saga, and for once it would be a positive development if FastJet could this time round opt for full disclosure and answer all pending questions, those asked here and surely in many other places too, instead of firing off angry communications to editors, attempting to silence inconvenient critics and aviation pundits.
So what are the passenger numbers since the launch, the load factors on flights on a week by week basis, are any current dues since operation start overdue to Tanzanian authorities, how does the airline intend to tackle what they call legacy debt issues and is there really growing disenchantment between owners and management over these emerging, but for informed observers not entirely unexpected problems with their local partners. Watch this space for answers, if any, and for breaking and regular aviation news from the Eastern African region.
Rwanda News
RDB SET TO GRADE A FURTHER 30 HOTELS THIS YEAR

Information was confirmed from a regular source in Kigali, that the Rwanda Development Board's Tourism and Conservation Department will grade at least 30 more hotels this year, following the start of the exercise last year. Using the East African Community's guidelines for grading and classification of hotels and other hospitality businesses, RDB is reportedly committed to play their part in ensuring that standards and quality of tourism establishments in Rwanda are uplifted to match if not exceed those of their neighbours in the East African community. Presently only the Kigali Serena Hotel and the Nyungwe Forest Lodge by DubaiWorld hold the coveted 5 star ranking, while a number of other Kigali hotels were graded as four star properties, as was the Lake Kivu Serena. A number of other establishments have requested to be put on the list for upcoming inspections to ensure they too can publicly announce and display their star rating once the exercise is complete. Those already graded will however also undergo a fresh audit to ensure that standards established at first inspection will have been maintained to ensure continued high ranking, also giving others the opportunity to attain a further star, should improvement made over the past two years warrant such a decision.
'When you were here last time we discussed the very issue of standards. Rwanda is a niche destination, still largely focused on gorilla tracking. The new products launched over the past two or three years however have attracted a lot of attention. Hiking is now a regular activity, in Nyungwe Forest, Gishwati Forest and along the Congo-Nile Trail. Birding has become an important additional niche. It is now important to raise our standards so when visitors come to Rwanda as an extension of their Kenya or Tanzania holiday they get the best possible quality, in guides, in infrastructure and of course in hospitality. There is always room to improve but we have made it our mission to accomplish certain goals sooner rather than later. When the new Marriott will open, it will compete at level terms with the Serena and that is good for the country as it offers another 5 star choice. Our MICE business is growing strongly too and that segment of the market in particular is really very much interested in quality facilities. Rwanda is going places' said a source in Kigali working at a hotel but, for not being the official company spokesperson had to opt for an off the record comment.
This correspondent will return to The Land of a Thousand Hills for the upcoming Pan African Dance Festival, a major event which will bring delegations and participants from over 40 African countries to Rwanda to perform and showcase the art of African dance at the bi-annual FESPAD festival. Watch this space as that event will start on February 23rd in Kigali.
Seychelles News
AND THE CARNIVAL IS OVER – FOR THIS YEAR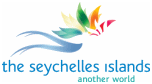 The classic song by the Seekers from 1968 came to mind when the Notting Hill Carnival Road Show Company once again had the cat whistles in the air and screams of approval fill the streets of Victoria, being the last highlight and the last in fact to close the carnival juggernaut this year. That song And the Carnival is Over started playing in my head just as soon as the Seychelles Red Cross Society's First Aid float had passed and the streets behind the parade filled with people again.
Bigger and Better they had promised and it was a promise well kept as even the normally subdued VIP tent occupants were regularly on their feet as float by float drove by and the groups performed their dances and thrilling shows in front of President James Alix Michel, his family and invited guests which included President Didier Robert from La Reunion, Vice President Foure, former Seychelles President Sir James Mancham, members of the Seychelles cabinet, members of the Diplomatic Corps and the who is who in Seychelles society.
20 floats put together by groups from abroad, spanning the globe from Brazil to China, the United States to Russia (with love no doubt), from Bali to Zimbabwe and from India to Italy to name but a few.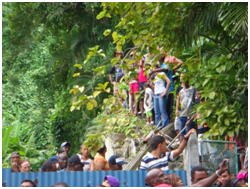 (Anywhere will do to get a glimpse of the thrilling action)
The streets were lined with Seychellois and foreign visitors standing several deep on the sidewalks and those with the wish to see better, they found vantage points on rocks and trees, peeping over perimeter walls and out from behind fences to be sure they did not miss a single beat, as the parade made its way through the centre of Victoria.
Going by the reaction of the crowd the top three floats and performing groups will come from Brazil, Mauritius and Notting Hill, though the judges may be good for another surprise yet as especially the local floats showed immense improvements compared to past years and the dance routines were visibly improved and well rehearsed, as carnival experience took root. Colourful costume creations, well chosen music and of course dance routines and performances showed that the Carnaval de Carnivals, the Carnival International de Victoria, has come of age with the third edition and is here to stay, becoming a magnet for all carnival nations and carnivalists from around the world wanting to participate in Africa's number one carnival show which brings everyone together regardless, as Minister St. Ange said in his launch address, of religion, politics, race and creed. The world was united in Victoria as in particular the participation of Zimbabwe as a co-host showed, affirming the Seychelles' general policy of being in good terms with everyone, and better, being friends with everyone who wants to be a friend.
Notably did two navy units, from India and Russia, take part performing a traditional march past, the Russians with their goose step routine stealing the show. The two units were coming from their naval ships on visit to Victoria port for some well deserved R&R from their duty with the international coalition against ocean terror by Somali pirates. They go plenty of applause and for a good reason as the people of the Seychelles know their friends who help keeping them safe and appreciate them, no matter from where in the world they came from to extend a helping hand.
The 'mastermind' of the event, now Tourism and Culture Minister Alain St. Ange could not conceal his broad smiles, and neither could the team around Elsia Grandcourt, Chief Executive of the Seychelles Tourism Board, when the show was over, the rainclouds had remained zipped up throughout the parade and they had been complimented by President Michel and those assembled outside the Ministry building, where the VIP tents had been put up.
'And next year it will be bigger and better and more global again as you will see' was his instant comment when asked how he felt about this year's performance.
A separate interview with Minister St. Ange will be published here in due course but for now congratulations are in order to everyone involved in making the Carnaval de Carnivals such a roaring success, especially those often overlooked enthusiastic individuals from the Seychelles Tourism Board and their countless colleagues from the hospitality and tourism sector, the Seychelles police force who behaved at their Sunday best and were a credit to the country, the Red Cross and all the volunteers. Thank you for the splendid hospitality, the opportunity to see behind the scenes and the open access to all and sundry once again, showing the Seychelles have nothing to hide. Until next year for Carnival 2014 when we shall meet again.
SEYCHELLES CARNIVAL KICKS OFF WITH A BIG BANG AS BRAZIL STEALS THE SHOW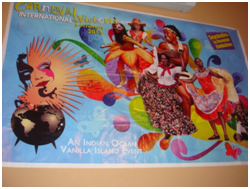 LA REUNION, ZIMBABWE, MADAGASCAR were the names called out when Alain St. Ange, Minister of Tourism and Culture, introduced the co- hosts of this year's Carnaval de Carnivals, the Carnival International de Victoria, bringing together 3 or the initial 6 Vanilla Islands in the Seychellois capital, alongside twin centre holiday partner Zimbabwe, which took the leap to join the ranks of the carnivalists this year in an official co-hosting capacity after attending the previous editions as participants.
'President Michel, this has become the biggest tourism event in only 3 years and we thank you for your support' said the Minister for Tourism and Culture in his opening remarks before adding '… and we hope that next year more of the Vanilla Islands and more partners from Africa will join the only carnival show which has gone truly global, our Carnaval de Carnivals here in the Seychelles'. He also thanked the Seychelles tourism and business community for their 'standing 100 percent behind the event' before recognizing Emirates as the official festival airline, which with 12 flights a week from Dubai connects the archipelago like no other airline with the world.
And after officially declaring the festival open, the show truly went on the road, ably conducted by the two MC's, with musical interludes of top performers from the Seychelles and La Reunion separating the group performances which saw the Seychelles, La Reunion, South Korea, Bali / Indonesia and Goa / India and Zimbabwe getting the capacity crowd at the Seychelles International Conference Centre to its feet.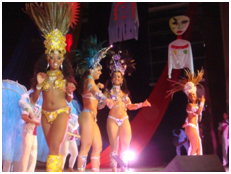 Winner though, and the screams from the audience were more than enough evidence for that, was the Golden Rose Samba School from Rio de Janeiro, which thrilled the crowd with their moves, and with their costumes which needed no wardrobe malfunctions to see quite a few husbands in the audience getting a wifely elbow into their ribs while told 'close your mouth darling'.
This opening show clearly was but a promise of things to come when the 2 hour parade goes underway on Saturday afternoon in the heart of Victoria, when the floats will bring out the Carnival best and when one attraction chases the next down the streets of the Seychelles capital city to the delight of the expected 20.000+ spectators lining the route.
(All performers returning to stage to take a combined bow for their winning performances / all pictures taken by taken by W. Thome)
After the parade will a number of local music groups and performers entertain the crowds deep into the night and food stalls and impromptu bars will provide the sustenance to see spectators turn into carnivalists themselves as Victoria's largest street party will go on into the early hours of Sunday, only to continue with another Food Fiesta and all the floats being on display, close up and personal, for Victorians and Seychellois from the other islands at the national stadium.
The Carnaval de Carnivals is now not only the arguably most important festival event in the Seychelles but has also been made a key event in the annual calendar of the Vanilla Island group, where the member islands throw their own weight behind selected festivals held from La Reunion over Mauritius, Madagascar, Mayotte and the Comoros to the Seychelles. And for the readers the question must arise, why are YOU not in Victoria for this event? Make a date with the Creole island paradise of the Seychelles next year, as Emirates will promote the even with special fares as will other airlines flying to Mahe. Seychelles, truly Another World.
CARNAVAL DE CARNIVALS EDITION 3.0 GOES UNDERWAY WITH MEDIA BRIEFING

The Constance Ephelia Resort provided a befitting venue for the launch of the third edition of the Seychelles' Carnival International de Victoria, which will have 19 participating foreign groups show off their floats and performances, when the juggernaut hits peak with the parade on Saturday afternoon through the streets of Victoria.
Besides already familiar faces like the Notting Hill Carnival Road Show, this year represented with twice as many dancers compared to last year's eye candy bonanza and co- hosts La Reunion and Zimbabwe, will all eyes surely be on the Golden Rose Samba School from Brazil, which is a regular sight at the Carnival in Rio. Other groups come from as far as China and Bali, South Korea and India but also from the more 'regular' carnival nations like Germany. An even larger number of floats representing the who is who in the tourism industry of the Seychelles, but also the business community at large, will of course also feature in the parade compared with past years, as the new found carnival tradition has firmly taken root now.
Main host country representative and Minister for Tourism and Culture Alain St. Ange was joined on the podium by Didier Robert, President of La Reunion, as well as representatives from the Seychelles, Madagascar and Zimbabwe tourism boards with the co-hosts given ample opportunity to showcase their own destinations.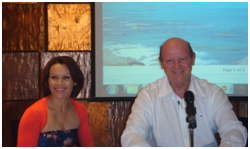 (The beaming hosts, Minister Alain St. Ange and the STB Chief Executive Elsia Grandcourt)
Over 100 invited journalists and travel writers from across the world, with notably more Chinese scribes this year in the room, was the Ephelia conference hall packed, as the various speakers talked about what the carnival festival had done for the Seychelles and what Seychelles has done for those willing to partner in the event, like La Reunion and Zimbabwe getting that extra exposure needed to get their tourism sectors into a higher gear.
Following an intense Q&A session, which gave both President Didier Robert and Minister St. Ange the opportunity to highlight the concept of the Vanilla Island Cooperation and the willingness of key islands in the Western Indian Ocean to work hand in hand to promote travel to the diverse region, did the meeting move on to the Seselwa Restaurant of the Constance Ephelia Resort where the management of Constance Hotels in the Seychelles led by Philippe Guitton co-hosted with the Seychelles Tourist Board a Creole Night. The evening was filled with Creole music while the scribes and TV teams got filled with the finest Creole food creations, the Ephelia in particular is so well known for, but also with the more 'spirited' side of Creole social life.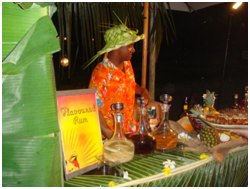 (The Seychelles produce some fine rum with the most popular brand being the Takamaka)
A befitting start for an exciting three days, officially kicking off at the Seychelles International Conference Centre in the presence of President James Alix Michel on Friday evening before on Saturday afternoon the streets of Victoria will be filled by dozens of floats and performing groups from around the world.
It is truly Carnaval de Carnivals time again in the Seychelles, bigger, better and already with the third edition a globally renowned event for which thousands of additional tourists now travel to the archipelago.
Seychelles, Another World.
SEYCHELLES TOURISM ACADEMY SIGNS MOU WITH MALTESE COUNTERPARTS

In recent weeks did the Seychelles Tourism Academy sign MoU's with counterpart institutions in Oman and Shanghai, before now embarking on their latest mission to do the same with the Maltese national tourism and hospitality training institute. According to a source in Victoria this will pave the way for students to find industrial training opportunities in these countries with leading hotel and resort companies but also permit the exchange of lecturers and additional training opportunities for Seychellois lecturers from STA finding a warm welcome from Shanghai over Muscat to Valetta. 'Seychelles Tourism Academy is now recognized by our government as the back bone of job creation through tourism. Finally can our own institution train young people seeking a career in the hotel and travel industry to standards acceptable to employers. In the past this was always an issue that investors would claim there are no qualified Seychellois to do a job and brought in expatriates. Now that is changing to the better. Years ago you could have a resort employ 70 or 80 percent of staff from foreign countries and now in some cases that has reduced to 50 percent and less. And it is not just staff but also management. Our STA management programmes which are offered together with Shannon in Ireland, have been very successful. Graduates know often in advance they will return from industrial attachment to a job at home. They can build a career. The industry is behind these courses because they have opportunity for input on course content from their members represented on the STA committee. This way Seychelles can offer much needed employment to young people and give them a career path in life' said another source this morning when discussing the impact of the new courses at STA on the tourism sector.
At the same time did a site visit establish that the phase one of the re-building of the academy has suffered slight setbacks vis a vis the ambitious time frame and opening of the currently under construction buildings is now expected by middle of this year or in Q 3 of 2013.
Watch this space for regular updates from the Seychelles islands on all matter concerning tourism.
CONSTANCE EPHELIA RESORT TURNS THREE
Three years down the line and three visits later the Constance Ephelia Resort has just turned 3 years old, young in human years but enough time to mature beyond expectations.
First seen while still in the final stages of construction and permitted a hard hat tour of the property in 2010 just weeks prior to soft opening, this was followed in 2011 by a half day visit and red carpet tour organized by the hotel's management. Then last year I stayed at the resort for almost a week, when the Ephelia served as the main based for a weeklong visit to the archipelago. A fourth return to the resort this Friday for a gala dinner honouring the global media assembling on Mahe for the upcoming Carnaval de Carnivals will undoubtedly round up the past culinary and service experiences, which are best described as the ultimate temptation by the chefs for anyone on a diet – doomed to fail for sure.
During these past visits it became clear that the Ephelia is clearly vying for the top spot among the larger resorts on the archipelago, for the quality of food, service and the range of facilities, which include the largest Spa anywhere in the Indian Ocean. Here the main rival is interesting enough the Seychelles' one and only golfing resort, the Constance Lemuria on the island of Praslin, and of course the more established rivals like the Hilton managed properties, among others in equal contention for the top spot.
Built on over 124 hectares of land and occupying an entire peninsula, which allows beach access on two sides of the sprawling resort, the Ephelia employs nearly 800 staff, whose sole purpose is to please their guests and be at their beck and call around the clock. Highly rated by TripAdvisor, where guests can post their own impressions and comments and give the resort a rating, the current showing of 723 ratings have 634 of those in the top bracket while 29 disgruntled visitors gave the resort bad marks, those of course often based on hard to fathom sentiments which may come from such a wide range of issues like trouble with the traveling partner to failing to get upgraded to a larger suite or villa apart from a one off truly justified complaint.
The resort is now also an acknowledged adventure activity centre with rock climbing of various challenging courses to zip lining, the only such facility anywhere on the archipelago and a magnet for visitors from within and even outside the resort. Looking forward to a happy return to delivery Happy Birthday greetings in person and expecting that large slice of deliriously delicious iced chocolate cake with a splash of whipped cream – which I am sure the chef will remember. Watch this space.
SEYCHELLES BOOSTS AERIAL SURVEILLANCE CAPACITY WITH NEW PLANE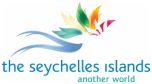 The Seychelles government has over the weekend taken formal delivery of a brand new Dornier surveillance aircraft, built in India and donated by the Indian government to the Seychelles as part of their bilateral assistance.
For the last nearly two years was an Indian airforce Dornier deployed to the Seychelles to act as an airborne platform to carry out literally nonstop surveillance flights which then provided instant updates to the naval forces deployed in the Indian Ocean to combat ocean terrorism. Seychelles personnel was trained both on board, as pilots and technicians but also in aircraft maintenance and more pilots are currently undergoing training in India to then fly the new aircraft home in early March.
The Dornier will operated alongside a number of other aircraft operating out of Djibouti but also the Seychelles and an unspecified number of UAV's, aka drones, which carry out aerial surveillance in different sectors of the Indian Ocean but fly out of the main Seychelles airport on Mahe.
Cruise tourism to the Seychelles has been boosted by strict security measures the government in Victoria has established, which among other activities also saw armed guards deployed on all ships transiting Seychellois waters or calling on Victoria. This initially controversial measure, a number of foreign countries and in particular misguided 'civil rights activists' there had raised issues on legalities and principle policy, proved highly successful and led to a sharp decline in ship-jackings as not one single ship with security on board has ever been captured by the Somali ocean terrorists. As a result has cruise tourism resumed operations in the Seychelles waters after a period of time when cruise lines decided to avoid the Indian Ocean, bringing in much needed extra revenues and helping the Seychelles to boost economic performance, which last year saw a new passenger record established. Watch this space for the news update when the aircraft will actually come 'home' to the Seychelles next month and resume operations.
AND in closing some interesting reading material taken from The Livingstone Weekly produced by Gill Staden:
Nunda River Lodge
Continuing our trip to Botswana and Namibia …
(I left off a couple of paragraphs in my story of Ngoma Lodge last week. You can find it all on: www.storiesbeyondthevictoriafalls.wordpress.com)
We left Ngoma early-ish and headed to the Ngoma Border with Namibia. This is a very quiet border and the officials are friendly and efficient. We did have to undergo a rather thorough search but I didn't mind – the officials are searching all vehicles for rhino horn and elephant tusks. We were to go through a few of these roadblocks in Botswana and Namibia.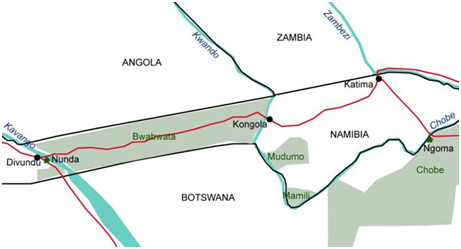 A bridge takes the road across the Chobe Floodplain and there are a couple of picnic spots in No-Man's-Land to enjoy the view. The view at this time of year is a confusing one because whereas the Batswana are banned from fishing in the river to allow the fish stocks to breed and regenerate the river, the Namibians have no such ban and are all out in their makoras with nets strung along all the reedbeds … surely something is wrong somewhere. As far as I am aware, Botswana, Zimbabwe and Zambia all ban fishing on their rivers for the first three months of the year to allow for breeding … so why not Namibia? It seems very unfair … According to information on the internet, Botswana is having meetings with Namibia through Zambezi Watercourse Commission and the Okavango Watercourse Commission to harmonise the situation. It seems to me quite obvious that the ban has to apply to Namibians as well … we owe it to the life of the rivers …
I digressed …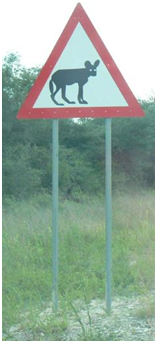 Katima Mulilo is about 70 km from Ngoma on a tar road. It is a good shopping centre, but there are no bureaus de change, only banks to change money – and banking hours are short. We changed some money, did some shopping for essential supplies. There was no camping gas in town – we went all over – so we would have to rely on charcoal. We set off west to Kongola and Bwabwata National Park. All along the road through Bwabwata there are signs telling drivers to beware of elephant. I had never seen one ever on my journey through the park, but today we were lucky. I was very happy and excited.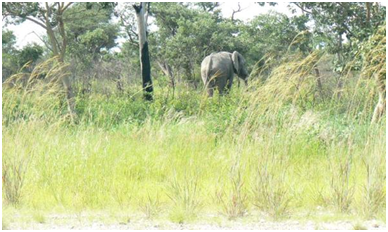 There is also a project on hyena within Bwabwata and it was good to see signs up warning drivers of hyena on the road. This road is a main road and although signs tell drivers to keep to 80 kph, few do so. At night when the hyena are more active, the signs are a good reminder to motorists.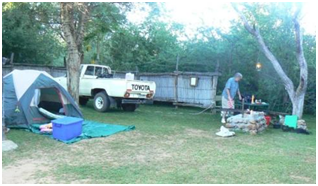 I had decided to stay at Nunda River Lodge instead of Ngepi, where I had stayed before. I had enjoyed Ngepi but wanted to see a different place. Nunda was not far down the road from Divundu, so we made it in good time to get the tent up and make supper before it got dark.
The campsites are all individual, each with its own bench, table, electric point and tap. It is a real treat to have everything nearby and makes camping much easier. We were to find that most campsites were much the same – an indication that tour operators in Namibia are busy and have listened to the needs of their guests.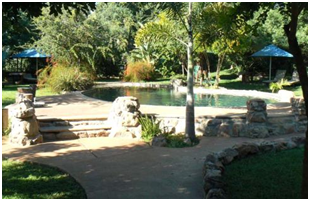 I didn't have much of a look around Nunda because it was an overnight stay only. The main buildings were full of interesting stuff like books, maps and traditional crafts. The deck overlooked the Kavango River and we could hear Popa Falls in the distance. In the morning we had a quick chat with Cameron, the owner, who told us a bit about the history of the lodge – old farmland which had been lovingly planted with trees and shrubs to make it green, shady and inviting. Definitely a good place to stay.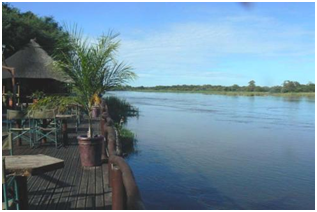 We were on our way early … off to Etosha … 600km away …
Red Nose Day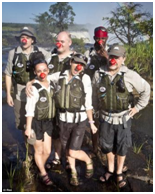 Photo from the website
Every year on March 15th, it is Red Nose Day in UK. Red Nose Day is one of the projects of Comic Relief a British charity set up in 1985. The claim of the charity is that all the money raised by donations is spent on charities – the administration is all done through corporate sponsorship.
This year 6 personalities from UK arrived in Zambia to take on the Zambezi River. They canoed or rafted over 100 km of the river. From Mambova to the Victoria Falls they canoed and then they descended down to the gorges for a whitewater trip. All survived …
The whole adventure was a bit 'top secret', I was told, because the BBC documentary of their exploits is to be shown on 15th March on British TV. Before that, it was to be kept under wraps. I was closeted in my house, anyway, with flu …
According to the website, www.rednoseday.com, the expedition has so far raised over £590,000. The target was £1million, so there is a way to go, but I am sure they will achieve it.
Cycle Zambia
Game Rangers International which runs Camp Phoenix and Lilayi Elephant Orphanages are raising funds through a Cycle Expedition. It will start in Livingstone; reach Lusaka and then join the Elephant Epic, a cycle rally from Lusaka to Lower Zambezi. I cannot find a date for this ride but it would seem to be in August.
The team will be made up of Andrew White and his cousins Seb and Dom Loram. They are hoping to raise £20,000 for the elephant orphanages.
Keep Livingstone Clean Campaign

The Livingstone City Council has launched a Keep Livingstone Clean campaign. With the help of Zambezi FM Radio, Livingstonians are being bombarded with messages about not dropping litter. Meanwhile, Inyatsi is busy on the roads filling in potholes and resurfacing. I even saw some workers clearing the drains along Kombe Drive and gave them a wave and a cheer as I drove past the other day!
We also need some education on hoeing and slashing. Many Livingstonians like to hoe their road frontage and gardens because it looks clean and tidy. But, without the grass and weeds, the land is bare and suffers from erosion – one of the reasons we have sand all over the road. Surely a bit of advice to residents on a better way to keep their environment healthy is to slash the grass.

Of course, we are all excited to see these developments, but really this is what we should be doing as a matter of course. I really hope that all these initiatives do not come to an end after the UNWTO.