IFTAR SPECIALS – ONLY IN KAMPALA'S LEADING HOTELS
(Posted 06th June 2015)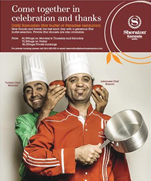 While the Kampala Restaurant Week goes into overdrive this weekend with locals and visitors taking advantage of the fabulous offers put on the market by 40 participating restaurants and hotels are some already looking two weeks ahead to the start of the month of Ramadan and the special evening meals, when Muslims break their daily fast and often share the Iftar meal with family, friends and at times even strangers.
First out of the starting block this year was again the Sheraton Kampala Hotel, but only by a 'short nose' as the Kampala Serena Hotel followed just moments later with their own special offers this year.
Both hotels provide special Iftar meals with all the traditional trimmings, including hosting special private Iftar functions which are particularly popular on Fridays and weekends.
Uganda, while predominantly a Christian country with an almost equal share between Anglicans and Catholics, also is home to a significant number of Muslims and notably do the religions not just peacefully coexist but in many areas cooperate closely for the betterment of social services in the country.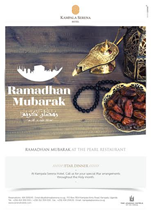 Hence is the evening meal during the fasting month of Ramadan of particular importance for the Muslim communities in Uganda and they regularly invite both ordinary people as well as community and business leaders to sit with them as they break their fast. Accepting such invitations extended to Christians, incidentally called 'People of the Book' in the Koran in recognition of their shared history and beliefs, is both a privilege but in a way also a sacred duty as it provides a perfect platform for people of different denominations to meet in a social gathering and experience common values and the spirit of giving.
It has traditionally been the leading hotels of Kampala which have taken the lead in offering such special meals but over the past few years have other hotels also taken not of the successes of the Sheraton and the Serena and started to offer their own services. The fasting month then ends with one of Islam's great festival holidays, Eid al Fitr, which in Islamic countries is celebrate over a period of three days. Here in East Africa has the official day when Ramadan ends, this year expected to be on or about the 17th of July, been given the status of a national holiday in recognition of the equality of the main religions. And while still just under two weeks ahead, it is already now Ramadan Mubarak to all readers of Islamic faith.