GOOD NEWS FOR UGANDAN TRAVELLERS AS RWANDAIR STEPS UP NAIROBI FLIGHTS
(Posted 23rd May 2015)

Uganda's adopted home airline, RwandAir – the story of the Uganda Civil Aviation Authority's folly of eleven months ago when in an attempt to save themselves from being cited by ICAO they all but destroyed Ugandan aviation is of course well known – has confirmed that effective 01st of June, flights to Nairobi will be upped from the present one daily rotation to two daily flights.
The flights will leave Entebbe at 09.30 hrs and at 12.40 hrs daily and the flights from Nairobi to Entebbe are scheduled to take off at 14.50 hrs and 21.05 hrs respectively. After the initial launch at the end of January of a single daily flight, operated under fifth freedom rights granted by Uganda and approved by the Kenyan CAA, is this added connection a reflection of not just rising demand but also a reflection how Ugandan's appreciate added choices, of airlines and of departure times.
Meanwhile is speculation growing that, in view of continued high loadfactors, another RwandAir operated fifth freedom route, Entebbe to Juba, may eventually see more flights added. Demand for travel to Juba, despite the South Sudan's ongoing internal conflict, remains high and flights from Kigali to Juba route daily via Entebbe where travelers then board the aircraft for the 50 minutes flight to the South Sudanese capital.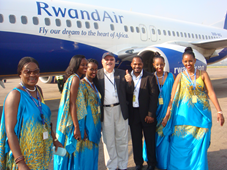 (Ms. Ada Mugenyi Magezi, seen here on the left, at the EBB – NBO launch flight on 29th January 2015)
It was also learned that Ms. Ada Mugenyi Magezi, of course no stranger to Uganda's aviation scene, has been promoted to the position of RwandAir's country manager for Uganda, based in Kampala at the airline's offices in Rwenzori Courts. For information about the airline's destinations, schedules and more click on www.rwandair.com