ANOTHER CHINESE BLOOD IVORY SMUGGLER NABBED AT JKIA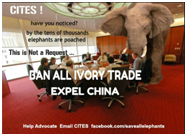 The Jomo Kenyatta International Airport dog squad, as well as the vigilance of security personnel, are credited with the arrest of yet another Chinese citizen, who was found in Nairobi with 58 kilogrammes of blood ivory stuffed in his baggage, as he tried to check in for Guangzhou on Sunday night.
According to initial findings by the police the suspect, who lived in Kenya, bought the blood ivory from dealers at a popular tourist market in Nairobi, and investigations have extended to shops and traders there too, with additional arrests likely to take place in coming days.
Chinese citizens, across the elephant range states of Africa, constitute the majority of arrests, an indication that their culture and behaviour is pure contempt for the ideals of conservation and the protection of the vital resource from which the continent's safari tourism industry makes a living. Notably it was learned that poaching of Pandas, the national wildlife symbol in China, is punishable by death sentence and calls have increased in recent weeks to dish out similar sentences in Africa to preserve what is left of the continent's last big herds of elephant and protect the dwindling numbers of rhinos.
The same source also confirmed the arrest yesterday of two Tanzanian citizens on the outskirts of Nairobi while in possession of 141 kilogrammes of blood ivory, supposedly smuggled in from Tanzania in a specially constructed hidden compartment under the back seats of a tourist vehicle. Both suspects are due in court on Tuesday morning but in view of the lax laws currently in place are expected to get off lightly in comparison with the seriousness of their crime, as will very likely the Chinese national, where in similar cases in the past fines of a few hundred dollars were enough to be let off the hook before then being deported as persona non grata.
Meanwhile did KWS security personnel shoot dead a suspected rhino poacher at Lake Nakuru National Park while his accomplice managed to escape, only two weeks after several rhinos were found dead in this park as the wave of rhino poaching has clearly reached East Africa after being totally out of control in Southern Africa already for the past several years. An M16 assault rifle and ammunition were recovered from the dead suspect. Watch this space for more updates as and when available.