SANGANAI – NUMBERS DON'T LIE
(Posted 19th June 2015)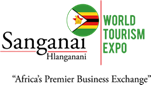 The 8th edition of Sanganai, Zimbabwe's international tourism expo, went underway yesterday and all indications are that the 2015 edition will be better attended, with more buyers, more exhibitors, more media and notably, more space to accommodate all those seeking to showcase their companies and services.
According to information received yesterday are 110 international buyers and 27 media houses and representatives attending the fair, up from 66 and 10 respectively in 2014.
Attendees have come from 11 African countries, at least 9 European countries as well as from South Korea and from China. The number of exhibitor stands rose to 128 from last year's 115 while exhibition space grew from 4.150 square metres to 4.500 square meters.
Among the high profile foreign exhibitors are tourism boards and tourism ministries from Kenya, Angola, Zambia, Botswana and Tanzania but also from Mozambique and Malawi and notably from India.
Foreign airlines in attendance were TAAG, LAM, Fastjet and Air Botswana, joining the national airline Air Zimbabwe in showcasing their destinations across the wider Southern African region.
17 restaurants from Harare are further participating in the Sanganai Culinary Expo which is running concurrently with the main tourism event.
The obvious success of the tourism expo is to a good part attributed to the resilience of Zimbabwe's tourism and hospitality industry, in recent years often in the face of adversity. It was obvious from the moment of arrival that officials from the Zimbabwe Tourism Authority are pulling out all stop to make their visitors not just welcome but that they feel as most welcome guests, red carpeted wherever they go.
A ministerial round table took place on opening day with tourism ministers and deputy ministers from Zambia, Democratic Republic of Congo, Mozambique, South Africa and of course Zimbabwe discussing how to grow the global visitor share for African countries, with differences of opinion emerging over the Africa Union's plan to tax tourists and add a bed levy on hotel accommodation to finance their growing deficit, a plan vocally opposed by South Africa's tourism minister who felt it was the wrong approach if tourism arrivals and receipts were to double by 2020. That debate will no doubt continue for some more time while there was however consensus that Visa regulations were a major obstacle to growing travel by Africans across Africa. South Africa's tourism minister in fact conceded that his country's present set of Visa requirements was under review, again with the view to grow arrivals and not see them shrink when Visa issues prevent travelers from visiting South Africa and instead opt for other countries where they are admitted without bureaucratic red tape.
Career guidance workshops will dominate day two of the tourism expo before Zimbabwe's Vice President will perform the official opening on Friday evening. Watch this space.