(Posted 09th December 2022)
By Achola Rosario, Contributing Editor at www.ATCNews.org
He took my hand in his and pressed it to his hot forehead. I was taken aback. Here was this
blond haired, blue-eyed man bowing at me! Definitely not your everyday occurrence. But
for Stephano, the General Manager of Leopard Point Luxury Beach Resort and Spa in
Malindi, this is how a guest is supposed to be greeted. After all, those who come here are
"important" enough to merit such treatment, judging by the price bracket this resort falls in.
After getting my luggage out of the car, Stephano instructed one of his minions to take me
to my villa, apologising profusely for having other guests to attend to. I must admit, I could
get used to this kind of treatment.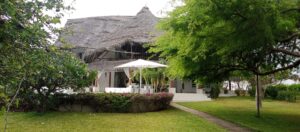 My "villa" turned out to be a large open-air Makuti-roofed maisonette with four large
ensuite hotel-style bedrooms in each corner on two floors. The guts of the house were left
exposed to the open air and revealed lots of wood with large green contrasting palm fronds,
a wood and white linen sofa large enough to fit 4 well-rounded individuals and a private
pool for all your frolicking needs. Music was piped from a discreet stereo behind the sofa
through Bose speakers in little nooks. My room was the fourth one on the upstairs wooden
deck, and as I opened the door, I was hit by a wave of air-conditioning that instantly chilled
my nose. I made a mental note to switch it off and open the French double doors onto the
upper deck's warm fresh air.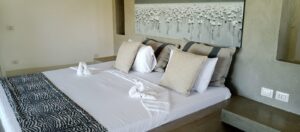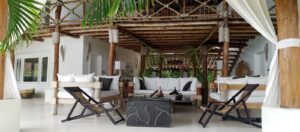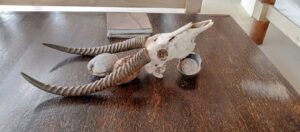 Cement grey and somewhat spartan, the room itself had a king-sized concrete bed with a
large concrete centre-piece headboard that dominated the middle, with a small desk with a
rigid straight back chair to one side, and a 17inch flatscreen TV on the adjacent wall. Behind
the floating bed centre-piece was the shower in the corner, double sink with overhead
spotlights, a decent sized walk-in closet opposite the sink and the toilet with bidet in the
other corner. There were lots of pillows on the bed, but covered in a rough hessian cloth
that looked (and felt) very uncomfortable. The mattress was firm to the touch. The
headboard photograph was of black and white flamingos. It all felt very industrial, like it was
decorated by an engineer. Where were the silks, velvets and furs of my luxurious dreams?
The pillow soft mattress?
This place needs a woman's touch.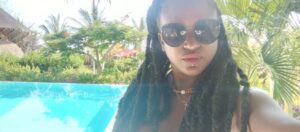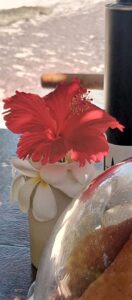 A waiter stood at the bedroom door with a chilled virgin mimosa (read orange juice) on a
silver tray to quench my thirst from my "tedious" 1 hour journey from Watamu in an air-
conditioned SUV cab. Life is hard. I drank deep, ditched my navy-blue pinstripe blazer and
went out in my navy-blue spaghetti-strap vest and indigo Levi's to make my introduction to
the owner, Eng. Antonio. He built this place after coming to Kenya from Italy on holiday 5
years ago and falling in love with Malindi. As we say here, the bug bit.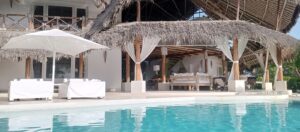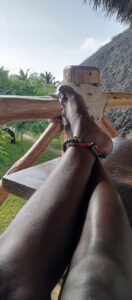 Engineer came walking up to my villa as I was preparing to go down to him and I could
immediately tell he was a colourful character. Florid of face and not-overtly large of girth, he
could have been Baccus personified. Or Santa Claus without the beard. Especially when I
found out later that he only drinks champagne. He took me to one of the two restaurants
down at the main complex to meet his friends, some young 20 somethings that were
actually guests at the resort. One of the guys I later find out is one of the original Kenyan
song-writers who has written most of Sauti-Sol's hits. He corrected me when I commented
on their collective ages that he is actually 50 years old. I fell on the floor. His girlfriend
however, who was cute as a button but sharp as a nine-inch nail, was actually 25 years old.
And ran her mother's coffee factory. I love the young Kenyan generation- these guys are
taking no prisoners. To complete the trio was Lisa, a loud and lanky slay-queen who behind
the inappropriate jokes, lay eyes that never missed a trick.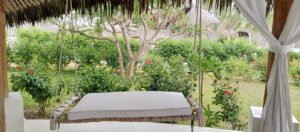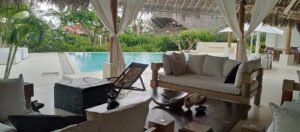 I ordered myself a super-cold Tusker Cider with lime and fell into the conversation. We
snacked on local oysters with huge crumbling flat brown shells and tiny actual oysters,
before I caved in and ordered a prawn cocktail, which was actually rather decent, having
been made with home-made tomato sauce and mayo, not the typical bottled 1970s disco-
fever kind. I topped it up with a lobster linguini which was made with spaghetti instead and
worryingly did not taste like it had just come from the sea. By nightfall, I switched to a
Capairiña and we were joined by a man wearing nothing but a white towelling dressing
gown and slippers, and yelling at his girlfriend in Italian on speakerphone. He plonked
himself down next to me and proceeded to furiously type on WhatsApp for the next 2 hours
as we ate, laughed and swapped tall tales.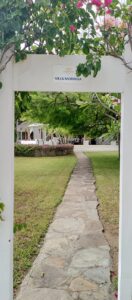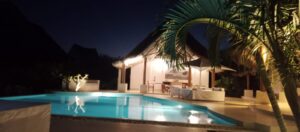 By 9pm we moved to the private pool at Moringa, my villa, and our host put on Abba on the
mega boom-box he had brought over from his own villa. The party was in full swing and
someone broke out a bottle of Captain Morgan's. I wisely declined to partake and stuck to
the champagne – that stuff brings out daemons. Bathrobe guy sat on the edge of the pool
drinking said Captain Morgan's and smoking a cigar, before shedding the last of his modesty
and diving into the pool. Thankfully it was dark in the pool so we all didn't have to look
elsewhere too frequently. He requested I do the same and I politely declined and continued
dancing in my shorts and swimsuit to long gone Donna Summer disco hits and Frank Sinatra.
This ain't that kind of party my friend- I do things My Way.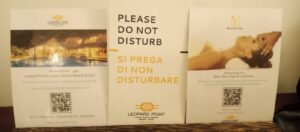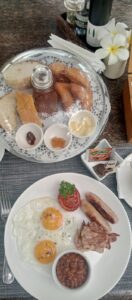 Morning came and along with it my long-awaited spa treatment. Breakfast was an array of
pastries which I avoided and instead ate my standard English breakfast.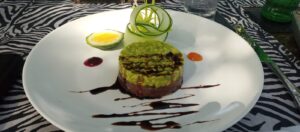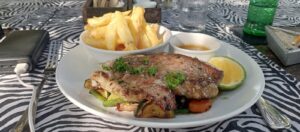 I ruminated until the afternoon, after a delicious red snapper, when the masseuse came and Stephano personally
coaxed me from my room. Apparently, she is Malindi's finest and also works at another local
top resort, so they secretly poach her from each other. I could understand why because for
the first time, my flesh yielded uncomplaining at her touch. She had a way of getting into
the damaged deep tissue without eliciting cries of pain. When she was done, I could barely
speak. I had to take a moment. And then I went into the steam, which although is delicious,
is not advisable in the near midday Malindi heat. I almost fainted.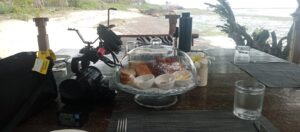 I went back to my room, slowly packed my things, cleared my $140 for 2 lunches bill with a
lot of salty sweat, and a corner tear or two, got into my cab and left.
Hedonism it seems, doesn't come cheap.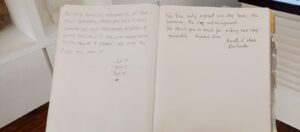 Leopard Point Luxury Beach Resort and Spa has 4 villas, each with its own pool, and a total of 15 rooms.
Cost is kshs65,000 ($650) per person per night. Each villa accommodates 8 people. AC and WIFI available.
To book: reservations@lpbresort.com
marketing@lpbresort.com
Guest Relations/Marketing Manager: +254 708 696521
To Watch the FOMO Travel Show Ep93:
Live long and prosper and Seasons Greetings!
Contact Achola Rosario via coalrosa@gmail.com if you are interested to have your location featured on the F.O.M.O. Travel Show and on www.ATCNews.org