FLYING VISIT BY THE LATEST AIRBUS A320 FAMILY MEMBER TO THE SEYCHELLES

(Posted 29th March 2018)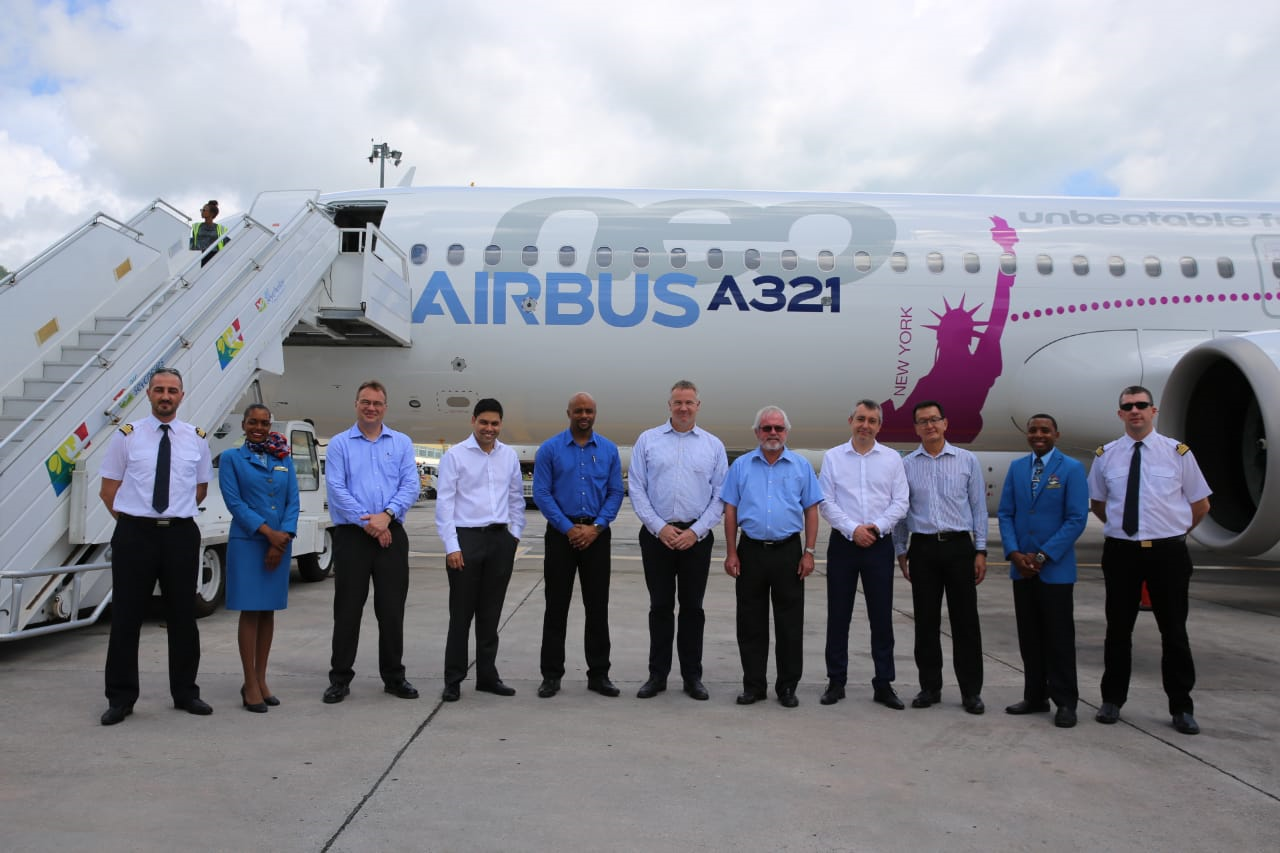 Airbus' latest cutting-edge aircraft arrived in Mahé on Wednesday 28th of March at 6 pm, providing a rare chance for aviation enthusiasts to get a glimpse of Airbus' latest aircraft before it departs for the French capital this evening.
The A321LR (meaning 'long range') is the newest member of the Airbus A320 family, the best-selling single-aisle aircraft in the world.
The new variant features a greater maximum take-off weight of 97 tonnes and a third fuel tank, which have extended its range to 4,000nm (7,400km) and made it possible to operate the aircraft on long-haul routes.
Air Seychelles, which operates Airbus aircraft on its international services, hosted a senior delegation from Airbus during the visit, as well as provided ground handling for the flight.
In addition, the airline held a joint press conference this morning with representatives from Airbus and the Minister of Tourism, Civil Aviation, Ports and Marine, Maurice Loustau-Lalanne.
Following the meeting with the press, guests were able to experience the ultramodern aircraft for themselves by taking a guided tour led by Airbus flight engineers, which included videos and a virtual reality 360° experience.
Minister Loustau-Lalanne said: "We are honoured that Airbus, a leading global aircraft manufacturer, has chosen to conduct a test flight to Seychelles. It not only reflects the growing importance of the Seychelles civil
aviation market, but also the strong relationship between our national airline and Airbus. The A321LR looks like a fantastic aircraft and we are excited to see it in our skies."
Remco Althuis, CEO of Air Seychelles, said: "We are delighted to have facilitated this test flight and welcomed the Airbus team to Seychelles. As a proud operator of the Airbus fleet, seeing the latest variant of the A320 family land on our shores has been an exciting moment. Like its predecessors, the A321LR features top-of-the-line efficiency and performance. It looks set to become another winning aircraft for Airbus."
"We are delighted that Air Seychelles is hosting the A321LR for the first time in the island of Mahe" said Patrick du Ché SVP Flight and Integration Tests at Airbus.
'This aircraft is about to make a new long-haul flight of over 4000 nm, as part of its flight test program, between the Seychelles and Europe. The A321LR will prove to be a game-changing aircraft for carriers around the world enabling airlines to greatly expand their networks and capabilities and continue to provide cost effective travel whilst ensuring unrivalled passenger experience" he concluded his remarks.
Airbus successfully completed its maiden A321LR flight on 31st of January 2018, from its assembly facility in Hamburg, Germany.