(Posted 03rd February 2023)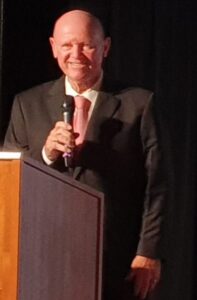 Alain St.Ange, the Seychelles former Minister of Tourism, Civil Aviation, Ports and Marine delivered his address to the passengers of the Cruiseship THE WORLD in the ship's main auditorium, xxcc.
The address was simultaneously also beamed to the residences on board and was filmed for viewing by passengers as and when they want.
The 45 minutes address started with the history of the islands before moving into the selling of the islands tourism attractions. As the former Minister St.Ange was addressing the passengers the large TV screens behind and on his sides were beaming the beautiful sights of the islands.
Mr St.Ange highlighted the need for passengers to land in Seychelles as the ship docks in Mahe this weekend and to also disembark on Praslin and La Digue when their ship anchors of these islands next week.
He spoke about the sustainable approach of Seychelles Tourism and emphasised on the diversity of the population saying that the Seychellois lived as the 'Rainbow People' where colour of the skin, religious affiliation, sexual preferences and political affiliation was always respected.
St.Ange boarded the ship in Maldives and will disembark in Seychelles on Sunday the 5th after the ship drops anchor at 3pm.
"I enjoyed my stay on board. It is more a floating resort with private villas than a traditional cruise ship. It has been a great cruise where I had time with many of the passengers to guide them with their time exploring Seychelles" said Alain St.Ange
Cruise tourism is a key component of the Seychelles' tourism industry and contributes to the national coffers through excursions taken by cruise passengers, curios and memoires sold, restaurant business during land days, supplies delivered on board and ship handling while in port – besides the regular passenger exchanges which take place by air via the Seychelles International Airport.