KENYA'S SOUTHEAST THROWS IN THE TOWEL – BLAMES COMPETITION FOR EXIT
(Posted 18th May 2015)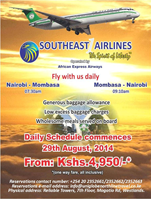 News are filtering in from Nairobi that Kenya's Southeast Airlines – The Spirit of Liberty has finally faced up to reality and halted operations. The airline, which used a leased African Express Bombardier CRJ100 aircraft and which according to the airline's own launch advert was operated by African Express, found it according to aviation pundits more and more difficult to compete with the top dogs on the route, namely Kenya Airways and its LCC subsidiary Jambojet, which among them are reportedly carrying over 85 percent of the traffic between Nairobi and Mombasa. Southeast had maintained its launch fares of 4.950/- Kenya Shillings for a one way ticket or 9.900 Kenya Shillings return, which while by the look of it more expensive than Jambojet's entry fare for bookings well in advance of 2950/- Kenya Shillings included a meal on board as well as checked baggage. However, later bookings on Jambojet closer to departure closed the fare gap in favour of Southeast and yet was the airline unable to carry viable numbers ensuring financial survival in the longer term.
Suggestions by the company's management that the aircraft size was to blame, the CRJ operated with a single class cabin of 50 seats, were immediately rubbished by other aviation sources, pointing out that even Fly540 was using the same aircraft type and threw the claims back into Southeast's faces for only operating one flight a day when other competitors were operating multiple frequencies which allowed passengers a same day return after doing their business in either Mombasa or Nairobi, avoiding the expense of an overnight trip. The same sources equally doubted assertions by Southeast's management that they would return to the market later in the year or in early 2016 with one source in particular, on condition of anonymity, saying: 'Jetlink tried to come back and they did not. Jetlink was much better established and a known brand and Southeast never made it into brand recognition status. That was one problem besides operating only one daily flight. Now should Fastjet be given a license to set up shop in Kenya, it will be a game of cat and mouse between KQ, Jambojet and Fastjet and even 540 will probably not stand the heat. However, I think the KCAA may use the excuse of Southeast's failure to claim that there is overcapacity in the market and keep Fastjet out for the time being and then of course will fares rise sooner or later. Either way it is the consumers which will pay the price by having less choice and probably paying higher fares than they should. This is Kenya aviation for you!'.
True enough do single aircraft operators of this kind in Kenya, and elsewhere for that matter, not exactly take the markets by storm, not over low fares nor over sufficient frequencies to make the market take notice and there have been suggestions that the KCAA should employ higher thresholds for upstarts to qualify for first an air service licence, in short ASL and then an air operators certificate, in short AOC. 'Ideally should a startup airline have two aircraft if they want to go into scheduled services and show available capital to pay for operational expenses and startup losses for at least a year, maybe for longer' suggested another regular aviation contributor from Nairobi, justifying the need for a second aircraft with operational backup requirements during periods of maintenance of when technical problems occur with a plane. 'If you have only one plane and it gets grounded over technical issues, a second aircraft will be they key to keep a resemblance of maintaining a flight schedule. But if an airline only got one plane there is no back up and normally they do not have the funds to wetlease another aircraft instantly' did the source then add for further clarification.
Be it as it may, the Kenyan aviation industry appears to mourn another casualty of the air fare wars being waged between the various carriers now remaining in the air. Interesting days ahead no doubt so watch this space for more breaking and regular aviation news from Kenya and the wider Eastern African region.