PITON DE LA FOURNAISE ERUPTS AGAIN
(Posted 18th May 2015)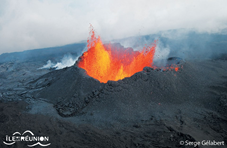 Reunion's regional government on the 29th of April issued a notice that the island's active volcano, the Piton de la Fournaise, was likely to erupt again, suspending all hikes to the rim of the crater and also direct overflights by helicopters, a very popular activity for tourists coming to the island.
Yesterday, two and a half weeks later and after increased signs of seismic and volcanic activity building up, did the volcano erupt again in a major spectacle, captured on picture by Serge Gelabert for Ile de la Reunion Tourisme.
Helicopter tours continue to circle the volcano from a safe distance, as prescribed by safety regulations introduced several years ago by the regional government, giving tourists the spectacle of a lifetime one can witness in few other places around the world except perhaps Hawaii.
The Reunion Tourism Board will no doubt use this latest eruption to promote the island as one of the greatest adventure destinations intrepid travelers are able to visit, offering all the conventional tourism activities and in addition the active components many independent travelers today seek. From abseiling to paragliding, from white water rafting to canyoning, from watching whales and dolphins to diving and deep sea fishing, from hiking to biking across the spectacular interior of Reunion, the island has it all. Add to that the unique blend of Creole culture with the French way of life, from cuisine to song to art and poetry, it is clear that Reunion has the winning formula to promote island holidays.
For regular updates on what is happening on the island click on www.reunion.fr