SEYCHELLES TOURISM OFFERS SUPPORT FOR CAISSA TOURISTIC' BEIJING – MAHE NON-STOP FLIGHTS
(Posted 18th May 2015)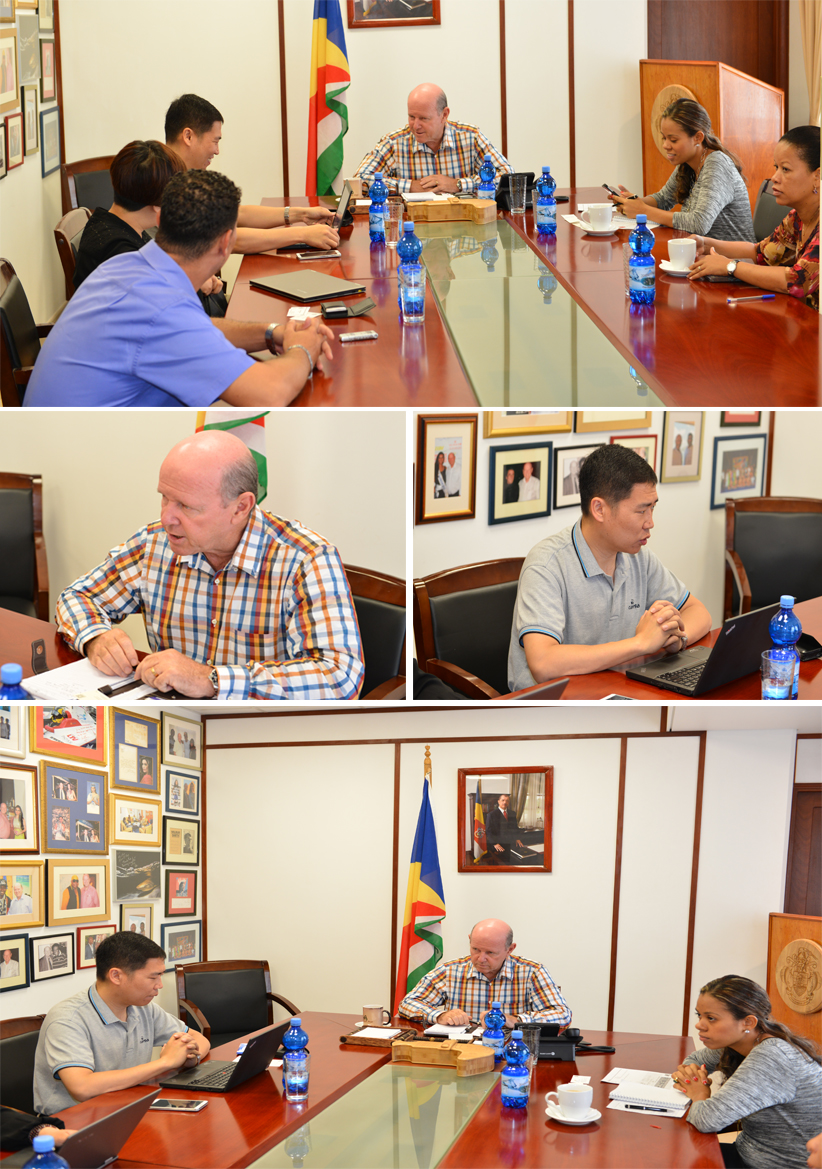 'Seychelles Tourism Board will work with the Caissa Touristic team to give marketing support if its flights from China to Seychelles are non-stop'. This statement was made by Alain St.Ange, the Seychelles Minister responsible for Tourism and Culture in his office at the Espace Building in Victoria, as he gave his assurance that the Seychelles is ready to welcome more visitors from China. It was at two back to back meetings between Caissa Touristic and the Ministry of Tourism and Culture and its Tourism Board that confirmation was received that Air Seychelles, the national airline of the islands would be introducing eight weekly chartered flights to Seychelles from Beijing as from July this year.
During his meeting with Chen Jie, Assistant President of the Caissa Travel Management Company and General Manager of the Caissa Touristic Shenyang Branch, Minister St.Ange explained that today visitors from China have the option to fly to Seychelles via Abu Dhabi using Etihad, Dubai using Emirates, Nairobi using Kenya Airways, Addis Ababa using Ethiopian Airlines and via Sri Lanka using Mihin Lanka Airlines.
'To support to these airlines our offices in China work hard to keep increasing the visibility of the Seychelles as each airline develop their working arrangements with the different Chinese Tour Operators. The Ministry of Tourism and Culture and the Seychelles Tourism Board will work more closely with Caissa Touristic if their flights to Seychelles are non-stop' the Seychelles Minister said before adding: 'We are keen to consolidate the Chinese route, but we know from surveys and visitors' experience that the Chinese market can only grow with non-stop direct flights'.
Mr Chen of Caissa Touristic on his part said his company had been pushing negotiations with Air Seychelles to operate, as it was the case for Chinese New year already, a series of chartered flights from Beijing to Seychelles but this time around operated as non-stop flights.
Minister St.Ange said with firm confirmation the chartered flights will be non-stop, the Ministry of Tourism and Culture and the Seychelles Tourism Board will ensure its China Offices will work with Caissa Touristic to develop dedicated marketing strategies. The Minister also stressed on introducing the island's culture in the marketing strategy of Seychelles in China as the participation of China in the annual Seychelles Carnaval International de Victoria has already been making Seychelles more visible in China. Following further meetings with Minister Joel Morgan and Air Seychelles, Caissa Touristic has now announced its upcoming season chartered flights to Seychelles to operate as follows:
The first five weekly chartered flights operated on the Seychelles – Beijing route will take place in the period of July 21st – August 18th 2015. The additional three chartered flights are scheduled for September 21st, 29th and 6th October. The chartered flights will land in Seychelles every Tuesdays. The first flight will be carrying a capacity of 249 passengers.