GOLDEN TULIP HOTELS SIGNS MANAGEMENT DEAL IN KIGALI
(Posted 31st March 2015)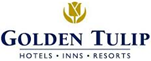 The Rwanda Development Board was reportedly putting the deal together for the owners of the La Palisse Hotel, a new four star project with over 230 rooms and suites to use Golden Tulip Hotels & Resorts to oversee the preopening stage and the manage the hotel.
The proprietors were quoted to have spent over 25 million US Dollars but were still short to put the finishing touches to the hotel for a mid-year opening.
It could not be established if Golden Tulip will arrange to bridge the financing gap.
This brings another international hotel brand to Rwanda, after Marriott's Protea Hotels were the first to open shop while the Marriott Kigali and the Radisson Blu are still not open. Sheraton too had a while ago indicated that they will open a hotel in Kigali by 2018 but nothing further was heard from them since.
Rwanda's tourism industry is targeting the MICE sector but requires the new national convention centre to be operational to meet a revenue target give as about 150 million US Dollars over and above the current tourism revenues which for 2014 stood at over 303 million US Dollars according to figures released by the Tourism and Conservation Department of the Rwanda Development Board.