ARUSHA FINALLY BECOMES A CITY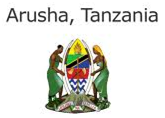 The municipality of Arusha, best known as East Africa' safari capital, was last week finally granted city status, fulfilling the hopes and aspirations of the hundreds of thousands of residents, who enjoy life under the shadow of Mt. Meru. President Kikwete, last week on a tour of the Kilimanjaro region of Tanzania, formally inaugurated the new city signs. The inauguration ceremony made formal the legal documents signed to this effect back in August, when the story was first reported though residents were happy to wait for the launch by none other than the president himself.
Arusha was first mentioned in the records in the year 1900 and was under the colonial administration upgraded to a township in 1949 before becoming a municipality in 1980. It is Tanzania's fifth city after Dar es Salaam, Mwanza – the country's second largest – Tanga and Mbeya. While tourism is undoubtedly the best known commercial sector in and around Arusha, agriculture and agroprocessing, horticulture and manufacturing have also grown in recent years, spurred by increased flights into Kilimanjaro International Airport, located some 50 Km's outside the city towards the municipality of Moshi.
The newly gained city status is also thought to enhance chances of Arusha to host yet more international conferences and meetings, for which the International Conference Centre and a number of privately owned and operated convention centres are now ready to host larger numbers of participants, boosted also by added hotel room capacity inside the city as well as in the vicinity of Arusha. Congratulations to the new city, Arusha rocks.