AVIASSIST ANNOUNCES PROGRAMME FOR 'SAFETY IN AFRICAN AVIATION' CONFERENCE
(Posted 22nd July 2015)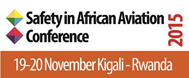 RwandAir's CEO John Mirenge has confirmed that he will deliver the opening address to AVI Consult's 'Safety in African Aviation' Conference which will be held in the Rwandan capital Kigali on the 19th and 20th of November.
It is expected that the RwandAir CEO will in his speech focus on the airline's determined progress vis a vis flight safety, culminating in being awarded the coveted IOSA certification last December and earlier this year attained full IATA membership.
During this conference will other key topic deal with such elements like runway safety, safety management system, operations engineering and aviation insurance, among others.
Click here to view the conference program.
This year's conference includes two in-depth training seminars so you can take home practical tips on maturing you safety culture and improving runway safety. Benefit from over 2,5 hours of networking time each day set aside to make those crucial business connections.
Potential participants should make sure to register by Tuesday 18th August to benefit from the 30% Early Bird rebate on participation fees and those who pay before the 18th of September will receive a yearlong subscription of AVIASSIST quarterly Safety Focus Magazine.
There is however more to come. Alongside the main conference are additional activities and workshops planned prior to and after the key event.
· A 3-day Fundamentals of Airworthiness Certification Course – 16-18 November
· A 2 -day Flight Data Management course – 17 & 18 November
· A 5-day IATA Dangerous Goods Course (cat. 6) – 23-27 November
All sessions will take place in Kigali and all taught by inspiring experts. For more information & registration for all these unique events, visit the event website www.2gether4safety.org
As Africa's only independent, non-profit organisation dedicated to aviation safety promotion, AVIASSIST relies on wide participation to bring affordable courses to the continent's main aviation markets and has therefore asked to acknowledge their corporate partners and sponsors of such events: