#MAHE TO #PRASLIN FLIGHTS DISRUPTED BY BAD WEATHER

(Posted 19th May 2018)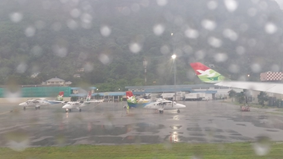 (Air Seychelles file photo)
Torrential rain and stormy wind conditions yesterday brought the Air Seychelles inter island flights between Mahe and Praslin – the two largest islands of the archipelago – to a stop when the airline for safety reasons decided to cancel all afternoon flights between 01.30 pm and 07.30 pm local time.
While these domestic flights then resumed in the evening will passengers who failed to travel when their service was cancelled be uplifted today, 19th of May as the airline has listed an extra 8 flights between the two islands in each direction.
Air Seychelles, through regular and social media made several announcements during the course of yesterday to reach affected passengers and notify them not to come to the airports in Mahe and on Praslin while the halt of flights lasted.