BAHR EL JEBEL SAFARIS PUTS SOUTH SUDAN MIGRATION UP TO THE 2 MILLION MARK


Already featured in National Geographics series The Great Migrations as one of the greatest wildlife spectacles remaining on the globe, the migration of the White Eared Kobs, the Tiang Antelopes and the Mongalla Gazelles remains a mystery to most, as even ardent wildlife specialists and experts across Eastern Africa often profess knowing bugger all to repeat the words of a long time friend seen a few weeks ago in Kenya, about the extent, locations or migration patterns of this second great migration found in Eastern Africa.
Everyone knows of course about the Serengeti migration which annually extends to the Kenyan Masai Mara Game Reserve, immortalized by Prof. Dr. Grzimek in his books and TV series Serengeti Must Not Die or the film of the great Kenyan wildlife enthusiast Allan Root The Year Of The Wildebeest and which is now under threat by the Tanzanian government over plans to construct a highway across the most sensitive migration paths, potentially decimating the estimated numbers of up to and beyond 1.5 million animals moving across the plains and savannah ecosystem shared between Kenya and Tanzania.
Yet, the South Sudan migration, extending from the Boma National Park at the border with Ethiopia to the Sudd one of the worlds greatest and hitherto almost totally unexplored wetlands created by the White Nile to Bandingalo aka Badingilo National Park and even as far as into Ethiopia itself at the Gambella National Park, is literally still a well kept secret, inspite of multiple articles by this correspondent going back several years. In fact the first few articles at the time raised strong objections from readers like stop lying or stop inventing things to sound important before eventually the truth emerged, only with even greater numbers than the figure given initially here of over 800.000 migrating plains game.
It was gratifying to see that my version eventually prevailed and that in fact the latest game counts put the real figures on the ground, combining the various species coming from different directions to the Badingilo National Park in July and August every year to congregate there for a few weeks, at almost twice the number estimated some years back by yours truly and the spotters from single engined light aircraft when doing the initial surveys, even though those were rather limited in their extent and could not cover the entire area shown on the maps above.
South Sudan remains unexplored and undervisited, and the recent negative publicity following the brutal aggression by Khartoum Sudan has certainly not helped to promote Africas youngest nation as a tourism destination, but there is a hard core of explorers, adventurers and intrepid travelers not shy to rough it within reason that is tough it and go there and be counted amongst the very first to have actually seen this amazing spectacle, if not miracle of nature with their own eyes and through the lenses of their own cameras.
Pioneer for South Sudan is Bahr el Jebel Safaris, also operating in Northern Uganda along the Albert Nile, which when entering the South Sudan at Nimule is then called Bahr el Jebel. Bahr el Jebel Safaris has defied the odds and overcome the challenges to operate in a new country short of infrastructure and still building itself and actually offers expeditions into these parks and the areas in between, depending on the time of the year. Itineraries are changing so as to be certain to show their followers what the large herds since times immemorial have looked like, still roaming their age old grazing grounds with little if any impediment by mankind.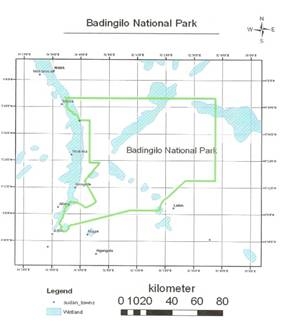 Badingilo National Park, unbeknown to most, now incorporates the Mongella Game Reserve of old to form one administrative unit of over 8.000 square kilometres and with minor changes depending on the weather pattern are the great herds moving into this ecosystem every July and August before then disbursing again to follow their own engrained route map back to the Sudd, the Boma National Park and beyond, or else linger on with always a strong resident population remaining. Here too, factual knowledge about Boma National Park amongst the safari operators across Eastern Africa remains scarce and few would possible accept at first hearing that the park sprawls over 22.800 square kilometres. While not touching the border with Ethiopia, it would be hard to figure where the park ends and the frontier runs along were it not for the wider use of GPS systems today. Between ordinarily November and March each year are the White Eared Kobs are mostly found inside Boma although even here migrating from the North to the South of the park before then turning West again to return to Badingilo for another annual meet up with their cousins.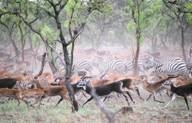 Bahr el Jebel Safaris is using the traditional camp method of semi fixed sites along the migration routes, flying clients from Jubas international airport to the nearest airstrip, often grass or dirt and after rains at times unserviceable till dried up again to carry the weight of the twin engined aircraft used, and there expedition members are met by vehicles to take them to their prepared camp, from where they can then for the next few days explore the area by 4×4 vehicles pushing and digging absolutely required when getting stuck in the mud, but all that being part and parcel of an expedition experience.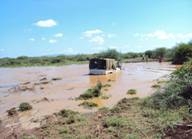 Accompanied by armed rangers and guides with intimate knowledge of the area and where the game tends to be concentrating, daily game drives take place from morning till evening before returning to camp.
Facilities to charge camera batteries are available, needless to say, but there is NO coverage of any of the South Sudanese or Ethiopian mobile networks and the only means of communications is restricted to the emergency use of a satellite phone, perhaps making it a good idea for participants in such an expedition to bring their own satellite phone with them, often available at airport duty free shops including sufficient credit to make and receive the still hugely expensive calls. Otherwise a call from the camp satellite phone will be charged at a cost of 4 US Dollars per minute for those who absolutely cannot do without a daily ration of phone calls.
The camps are simple but perfectly adequate, with mosquito proof Arabian tube shaped tents, outdoor bucket showers in a little enclosure where hot water is provided by the camp staff on request, though the regular high day time temperatures often make a cold shower more desirable, and long drop loos with a proper seat to facilitate doing the business. Depending on the camp location there will be 2 3 showers and loos to cater for the camp guests.
The menus are varied and include fresh produce procured from nearby, and provide home cooked fare with freshly baked bread, even cakes and seasonal fruits. While on daylong game drives out into the wilderness a packed lunch is kept fresh in cool boxes, available to provide some relief when that peckish feeling hits the stomach.
The camps offer a limited bar service of soft drinks and alcoholic beverages but for special preferences it is advisable to inform Bahr el Jebel on booking to facilitate a particular preferred brand or else bring your duty free allowance of your favourite poison. Water, juices, tea, coffee and other hot beverages, alongside iced tea, are part of the items included in the cost of the expedition while alcoholic beverages are chargeable items. At night kerosene lamps provide an authentic camp atmosphere, supplemented by that quintessential camp fire and for individual use lanterns with rechargeable batteries are available for the maximum of 10 participants which can go on each of the expeditions Bahr el Jebel Safaris organizes.
Visit the website at www.bahr-el-jebel-safaris.com for more information on available departure dates from Juba, the cost of the expeditions and details on Boma and Badingilo, the game likely to be seen as well as details on what clothing and how much to bring and generally what one needs to know about coming to South Sudan, Visa now incidentally granted on arrival at the airport in Juba and recommended inoculations and insurance packages including cover for medivac flights, should that at all be necessary. Travel by air to Juba is now twice a day by Air Uganda from Entebbe, visible via www.air-uganda.com or from Nairobi by Kenya Airways, also twice a day and visible via www.kenye-airways.com or else Jetlink, one of Kenyas private airlines visible via www.jetlink.co.ke.
Bahr el Jebel Safaris has made a slot available to yours truly later in the year to give a firsthand report and a serialized daily diary of the expedition experience, pictures and all, which will be available here on the blog, published by global industry leader eTurboNews upon returning to base and for sure picked up by a number of other media organizations dedicated to travel and adventure tourism. Therefore, as the saying goes, WATCH THIS SPACE and look out for the dates and expedition articles as and when.