#RWANDA'S RAIL LINK TO DAR ES SALAAM BENEFITS FROM UNCERTAINTY OVER SGR EXTENSION TO KENYA / UGANDA BORDER

(Posted 01st November 2018)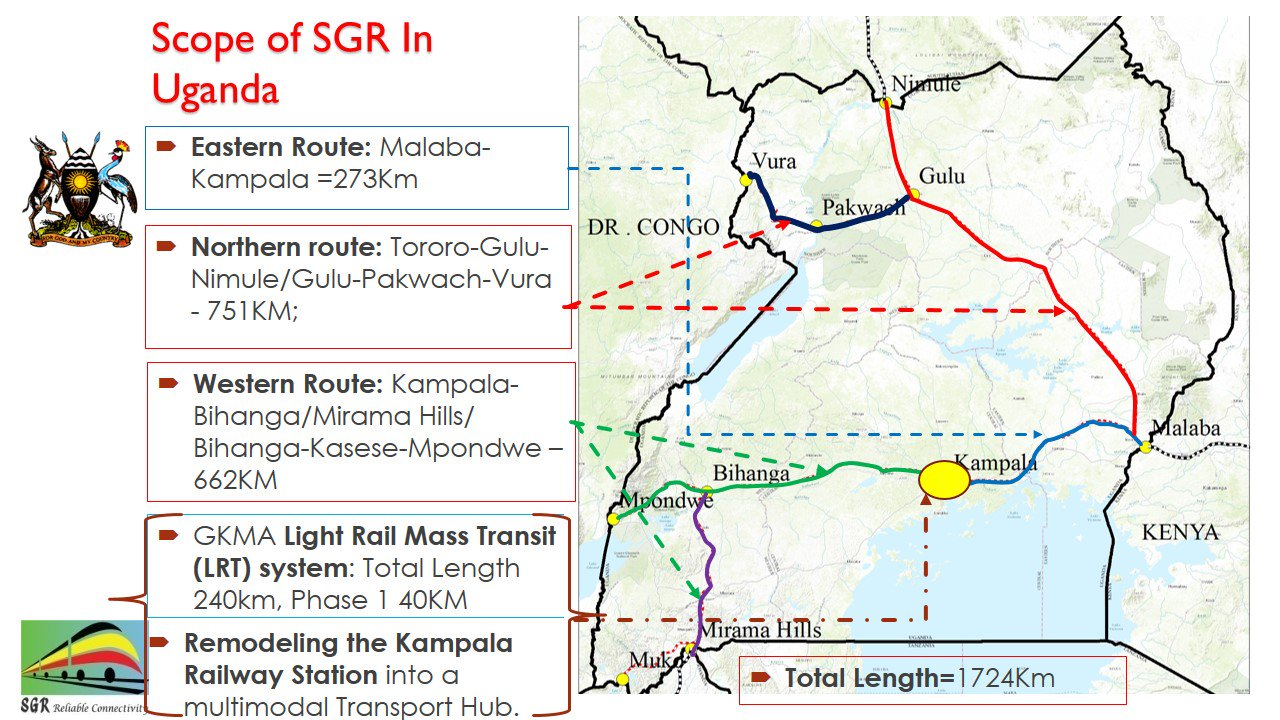 (Lack of financial closure of Kenyan section from Kisumu to the Ugandan border now cast doubts over
the timeframe of the entire SGR project in Uganda)
News have emerged over substantial differences over the future of the joint SGR project between Uganda and Kenya over the lack of financial closure of the project finance of the railway from Kisumu to the Ugandan border.
The apparent lack of clarity seems to have prompted Uganda to now settle for the near and medium term future on the refurbishment of the existing narrow gauge line, from Malaba to Gulu and beyond and also enroute to Kampala.
With the anticipated completion date for this project now moving further and further into the future does also the portion of the new line from Kampala to the Rwandan border hang in the balance, once upon a time one of the centerpieces of the new infrastructure initiatives taken by Kenya, Uganda and Rwanda.
Meanwhile is work ongoing on the new SGR central line in Tanzania, which will link the port of Dar es Salaam with the inland dry port of Isaka, from where construction of a new SGR line will then link Isaka with the Rwandan capital of Kigali.
Pundits have already suggested that, once this link is going live, the rail link with Uganda will stand on shaky grounds if not outright quicksand due to the reduced cargo uplift on that line, after Rwanda will have shifted their focus to the port of Dar es Salaam and away from Mombasa. The same sources have also all but dismissed plans to create a Kisumu to Port Bell cargo corridor by using rail ferries due to added cost and transportation time of cargo, which, when destined for Rwanda, will still need to be evacuated by truck from the landing site.
Ugandan government sources were quoted to for now adopt a wait and see attitude with new negotiations between the two countries to commence again only once the Kenyan SGR line reaches the Ugandan border.
In a related development, given the warming of relations between Ethiopia and Eritrea and the opening of the Eritrean Red Sea ports to Ethiopian imports, is the future of the Kenyan LAPSSET railway now also in doubt, given the much longer distance cargo would have to travel to reach Addis Ababa and given that Ethiopia still has a shorter redundancy route to Djibouti as a fallback while the Eritrean port and rail infrastructure is being revamped.
See links to related articles below:
https://atcnews.org/2018/07/02/uganda-under-pressure-to-make-progress-on-sgr-project/
https://atcnews.org/2018/01/18/rwanda-presses-ahead-with-railway-infrastructure/
https://atcnews.org/2016/07/25/with-finance-now-secure-can-new-rail-project-go-underway/
https://atcnews.org/2016/04/25/tanzania-rwanda-burundi-rail-project-to-go-ahead/