#ZAMBIA NEWS UPDATES FROM 'THE LIVINGSTONE BI-WEEKLY' COURTESY OF GILL STADEN

(Posted 18th April 2018)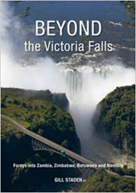 Inside this latest edition ATC readers this week find:
Livingstone Golf Course
LAPS – Cats and dog
Bridge collapse
Kasanka Elephants causing trouble
Batoka Dam conflicting reports
Overnight sleeper train from Vic Falls to Hwange
Simon, the wild dog, saved from snare
New High-Care Facility in Vic Falls for Wildlife
Planned Trans-Kalahari Railway Line Struggles
Hyenas take a bath
Floods in Namibia
African Parks takes on another reserve in Malawi
Twin elephants born in Tanzania
For the full edition click on https://thelivingstoneweekly.files.wordpress.com/2018/04/tlbw18apr18-compressed.pdf
Some additional videos are once again also available.
National Geographic
This mongoose pup will crack you up.
https://web.facebook.com/natgeo/videos/10155539141918951/
Discover Earth
A snake and a tortoise
https://web.facebook.com/discoverearthofficial/videos/1667573260006282/
Traditional Dancer
This clip has been floating around on social media. It is really amazing. I have been told that it is from West Africa. Maybe some of our traditional dancers can get some inspiration.
https://web.facebook.com/rose.adams.1257/videos/10155596032047701/
Also check out www.awindowonzambia.com for further information about the country's varied tourism offerings

Thanks go to Gill Staden for her tireless efforts to promote Destination Zambia!