This guest post comes to you courtesy of Tob Cohen, the owner of Tob's Kenya Golf Safaris and, needless to say, a keen golfer himself. Read on to learn a bit more about the game of golf in Kenya and the many options which exist today to play while on safari or while enjoying a beach holiday. Therefore in addition to Tob's article, a reminder how easy it is today to reach Kenya's best golf course, Vipingo Ridge, now that Safarilink offers a daily scheduled service from Wilson Airport via Ukunda to Vipingo. And of course one can get off the plane already in Ukunda and play a round on the Leisure Lodge Golf course before flying on to Vipingo, a great combination of a weekend golfing getaway.
GOLF TOURISM IN KENYA OFFERS HUGE POTENTIAL
By Tob Cohen
I was happy to read Sean Cardovillis' article with the same title last Saturday Nation and having been in Kenya's golf tourism industry for 24 years,
I would like to add some more information for interested readers.
There are 60 million golfers worldwide, half of which go on a golf holiday at least once a year while spending a whopping 12 billion euro's per year. This makes Golf Travel the largest sports related travel market which is even more than golf clothing and golf equipment combined!
Being a golfer and seeing this huge potential, I started my company Tobs Kenya Golf Safaris in 1991. In 1997 I became the first member of the International Association of Tour Operators (IAGTO) in Africa and founded the Kenya Golf Marketing Alliance (KGMA) in 1998. Our objectives: To promote Kenya as a superb golf destination and achieve a sizeable market share in this huge potential market together with the KTB. To that effect we developed Golf Brochures, Golf Video's, invited Golf journalists to see the product and write about it, while Kenya attended every International Golf Travel Market (IGTM) since its inception in Ft Lauderdale, Florida in1998.
KGMA's biggest success was to win IAGTO's prestigious award for the Best Undiscovered Golf Destination in the world for the year 2009.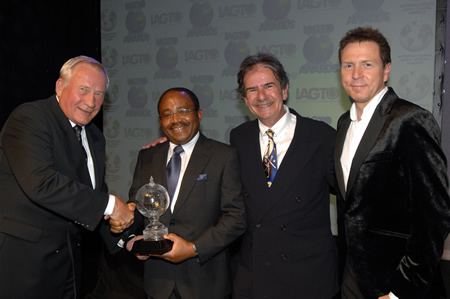 From left to right: Jussi Jaakonkari – President IGTWA His Excellency Mwakai Sio – Kenyan Ambassador to Spain Tob Cohen, Chairman – Kenya Golf Marketing Alliance, IAGTO Kenya Chapter Peter Walton, Chief Executive – IAGTO
Kenya won IAGTO's award of Best Undiscovered Golf Destination 2009. The award was presented during the Gala Award Evening on Thursday the 20th of November 2008 in Estepona, Spain at the last night of the 11th IGTM (International Golf Travel market)
Out of the 40 golf courses in Kenya, 15 are world class 18 hole championship golf courses.
Dubai has 9 and Mauritius has only 7 18 holes golf courses.
Both countries attract around 60.000 golfers every year!
Why are these golfers not coming to Kenya?
Because we only targeted the Golf Tour Operators and not the golfers themselves.
While most specialised Golf Tour Operators worldwide now know about Kenya as a golf destination, the consumers, the golfers themselves, are largely unaware of what Kenya has to offer them.
A few million shillings per year, targeting the golf tour operators only, did not do the job. To tap this huge potential we need at least US $ 1 million every year and target the golfers directly in golf magazines, during major PGA golf competitions, through sponsorships etc. Promote Kenya as a superb golf destination with the best all-year-round weather conditions, the combination with the best wild life and beautiful beaches. We must invest, if we want to attract this huge potential and get the numbers we want and deserve.
There are some positive developments: The Kenya Golf Union (KGU) under the new chairmanship of Anthony Muhoro has formed a tourism committee to promote Kenya as a Golf tourism destination.
The Minister of Sports Hassan Wario wrote an article last month and stated: "The sports tourism market is a fast-growing sector of the global travel industry and equals $600 billion a year. Sports and tourism each contribute a great deal to the global economy and have become an important element in the Kenyan economy as well. My ministry will do everything in its power to encourage sports tourism as a package in the Kenyan market."
Numerous times we have heard that golf tourism will be promoted. However, I sincerely hope that the time of talking is over and that now the time of action and investment has come.
The government needs to invest a minimum of US $ 1 million per year in marketing and advertising directly to the overseas and regional golfers. This will create awareness, interest and a desire to come to Kenya play golf and perhaps combine it with a wildlife safari and beach holiday, unlocking our huge potential in the golf travel market.