(In the picture shown is the hotel's General Manager Lorenzo Baleri on the right and Director of Sales and Marketing Liz Tapawa on the left)
(Posted 12th November 2022)
The Hilton Garden Inn at Nairobi's Jomo Kenyatta International Airport was won the ABEA Award 2022 in the hotel category and also the overall AWARD hosted by the Kenya Airports Authority and The Kenya Institute of Management.
ABEA stands for the Aviation Business Excellence Awards (ABEA 2022) and recognizes outstanding performance and excellent service delivery in the aviation industry.
ABEA involves a series of activities centered around instituting a credible business assessment process that culminated in the awards ceremony held last night in Nairobi.
The ABEA awards seek to:
1. Improve Customer Experience at Kenya's airports.
2. Recognize and encourage best practices within the industry with a view to making all the industry players more competitive.
3. Bringing the aviation stakeholders together beyond the SLA reviews
4. Showcasing business excellence beyond the Service Charter.
5. Enhancing airport brand equity.
For transparency and credibility of the process, stakeholders are vetted through a Business Assessment Tool that will evaluate their service delivery to customers.
The tool assesses how the organizations inculcate the core themes of excellence, specifically focusing on the following broad determinants;
– Leadership;
– Customer Focus;
– People Focus and;
– Marketing.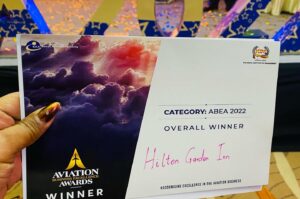 ATCNews extends best wishes to the Hilton Garden Inn at JKIA Nairobi and to the winning team led by Lorenzo Baleri