RWANDAIR JOINS THE BIG LEAGUE AS IATA ADMITS THE AIRLINE AS A FULL MEMBER
(Posted 27th May 2015)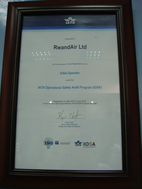 (IATA's IOSA certificate for RwandAir)
IATA's Vice President for Africa, Mr. Raphael Kuuchi, flew to Kigali yesterday to officiate at the handover of the certificate for full IATA membership to RwandAir's CEO John Mirenge, signifying another milestone achievement for the airline.
RwandAir, already linked in the past with IATA by participating in the BSP settlement plan and being part of IATA's Geneva based clearing house system, sought full IATA membership after being IOSA certified in December last year. The airline 'graduated' in the short space of just five months from the audit processes with flying colours according to Raphael Kuuchi, clearly a sign how seriously RwandAir took the question of aviation safety. From the initial gap analysis over the mock audits to the final assessment was RwandAir the first to complete the task of a group of more than a dozen airlines selected in 2013 by IATA to participate in the operational safety audit for the first time.
That not enough did John Mirenge yesterday make the announcement that the airline was not waiting for the next prescheduled audit to commence in June 2016 but had asked to bring the date forward by three months, at which stage the e-IOSA, aka enhanced IATA Operational Safety Audit will be carried out, under which a number of key safety features will be strengthened yet further.
Also going underway soon, with the upcoming gap analysis, is the ISAGO audit, under which the airline's ground operation is meticulously checked vis a vis global safety standards, bringing ground handling at Kigali's International Airport also into the big league of airports.
Alongside such accomplishments and plans has the airline however raised the bar internally too with a rollout of a range of added services aimed to retain passengers' loyalties.
Rwanda in 2013 announced that citizens of all African Union member states would be given Visa on arrival in Kigali and with no transit Visa required when connecting in Kigali did this measure swiftly translate into additional passenger numbers for the airline. A growing West Africa network helped to connect travelers via Kigali into all key airports across Eastern Africa but also to Dubai and Johannesburg.
To promote brand loyalty has the airline now started to offer a free night accommodation in Kigali for those passengers from Lagos, Accra, Libreville, Brazzaville who fly to listed destinations while equally applying for those from Dar es Salaam, Kilimanjaro, Kamembe (reopening in June after a runway expansion and resurfacing) and Juba destined to West Africa. Though terms and conditions apply is this the first time RwandAir has launched such a scheme, reminiscent of what some Gulf airlines do should passengers decide to take a break in their journey, either outbound or inbound.
In a related development has RwandAir also confirmed that they are already cooperating with 19 other airlines vis a vis electronic ticketing, besides also using Hahn Air and Heli Air Monaco. Among these carriers are the leading African airlines Ethiopian, South African and Kenya Airways, from Europe Brussels Airlines, KLM and Turkish, two of the Gulf giants Qatar Airways and Etihad and notably also China Southern, among others. Following RwandAir's joining IATA will such cooperation, according to airline sources, be expanded yet further for the benefit of the airline's passengers.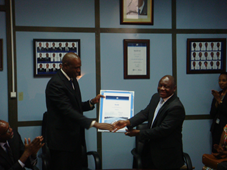 (RwandAir's CEO John Mirenge, on the left, receives the IATA membership certificate from IATA Vice President for Africa Raphael Kuuchi)
Raphael Kuuchi no doubt had this, the airline's frequent flyer programme and other goodies in mind when he applauded RwandAir after handing over the membership certificate, calling the airline a prime example of how a good corporate strategy and dedicated staff translates into success in the skies over Africa and beyond. He also invited RwandAir to attend the upcoming IATA general meeting in Miami and the IATA Africa meeting in Nairobi at the end of June.