KAA IN DESPERATE RUSH FOR SHORT TERM CAPACITY SOLUTIONS

A regular aviation source from Nairobi has confirmed that the Kenya Airport Authority, under immense pressure to complete ongoing construction and expansion work and then start with Project Greenfield – long delayed by political interference in the planning and procurement process as well as in the management of the KAA – is now considering to use temporary structures to provide much needed extra capacity for passenger handling. Indications are that a group of technical experts from the KAA over recent weeks made a series of trips to meet counterparts in other countries where temporary structures have been successfully used to provide short term solutions for fast growing passenger volumes, before scheduled expansion projects could be completed in their own time.
Such short term measures, while costly, might provide a solution for the growing pressure on JKIA and in particular on the hub function of Kenya Airways, which is struggling with a range of problems inflicted on them like insufficient aircraft parking, available gate spaces and restricted passengers processing facilities, which according to their website information led to a slide in on time performance. Considering that over the next three years the fleet of Kenya's national airline is expected to double already, before tripling by 2021 under their Project Mawingo, as their 10 year strategic plan is known, a swift resolution of these problems will be the key to further growth for KQ. Neighbouring Ethiopia is in the process of building a brand new hub airport for equally fast growing Ethiopian Airlines and Rwanda is set to construct a new airport some 20 kilometres outside of Kigali at Bugesera, signaling intent to providing first class state of the art aviation facilities, rivaling those in Nairobi, and adding to the competitive pressure on Kenya's hitherto unchallenged position as Eastern Africa's main aviation hub.
It is not unknown that airlines put up their own terminal buildings, with JFK in New York a prime example, but private public partnerships or outright private investments in the aviation industry, other than maintenance hangars, are still a long way off in Africa, though now an increasingly attractive option to consider in order to facilitate growth and functionality, currently suffering from ageing infrastructure of terminal buildings, aprons and runways.
The following outline is to demonstrate how JKIA will change under Project Greenfield and what Eastern Africa's busiest airport will look like when the project is completed.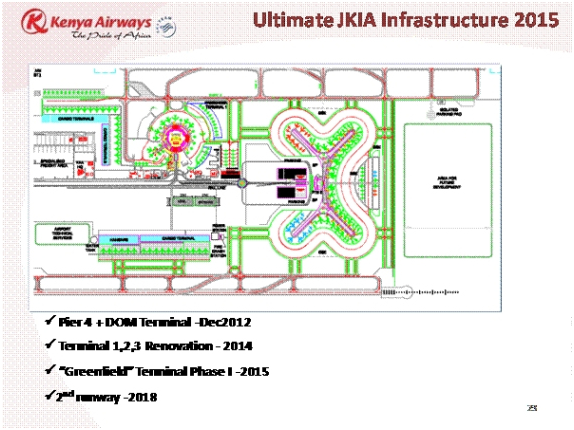 (Courtesy Kenya Airways)