KEMPINSKI USES NAIROBI HOTEL CONFERENCE TO BREAK NEWS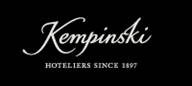 Kempinski has announced plans for further expansion into Africa during the ongoing Africa Hotel Investment Forum held at the InterContinental Hotel in Nairobi. It was learned from a usually reliable source that with new management agreements under review in more than a dozen countries, and five hotels under development across the continent, Kempinski plans to significantly increase its presence in Africa as one of the globally leading luxury hotel brand over the next five years.
Kempinski representatives, including Chief Operating Officer Mr. Duncan ORourke and Regional President of Middle East & Africa Mr. Ulrich Eckhardt, arrived in Nairobi on Monday to attend the Africa Hotel Investment Forum. Mr. Eckhardt said in a media statement given to this correspondent: Its no longer a secret that Africa is going to be the next big growth story in the world, which is why we are already operating hotels on the continent in places like Djibouti, Tchad, Namibia, and the Seychelles; as well as looking for more opportunities to expand our portfolio in this region.
The forecast for Kempinski in Africa is estimated to produce more than 5,000 additional jobs, thus providing a great opportunity for Africas next generation to find careers in one of the worlds fastest growing industries – hospitality. Mr. Eckhardt then added: Africa is poised for impressive growth and its not only rich in natural resources, more importantly its rich in people. Africa has a growing population of creative and driven young people, who are seeking opportunities for long-term careers. Kempinski prioritizes talent development and provides ongoing opportunities for our staff to learn and to grow. We are committed to building sustainable business in Africa and the key to our success so far has been to build on the strength of local talent and African traditions of hospitality.
Kempinski at the moment operates seven hotels in Africa and has five more under construction, including the much-anticipated Villa Rosa Kempinski, Nairobi and the Kempinski Hotel Gold Coast City, Accra which are both set to open over the next few months. Additional hotels have been announced for Nigeria, Angola, and Namibia. Kempinski is also working with key partners on future projects in various countries in Africa including Morocco, Senegal, Côte DIvoire, Benin, Malawi, Cameroun, Central African Republic, Tanzania, Madagascar, La Reunion, and South Africa.
In a related development were some additional details revealed about the new Kempinski in Nairobi. The five-star Villa Rosa Kempinski is located on Chiromo Road, Westlands, near the Central Business District of Nairobi. The new luxury hotel will offer 200 spacious rooms and suites over ten floors, including two Presidential Suites on the top floor. The hotel will when open feature three stylish concept restaurants in addition to an all-day dining restaurant, a bar, and a cigar lounge. Watch this space for regular and breaking news from East Africas exciting hospitality sector.