KENYA AIRWAYS APPOINTS CHRIS DIAZ AS NEW DIRECTOR OF MARKETING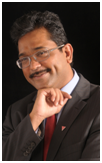 Kenya Airways has just announced the appointment of Mr. Chris Diaz as their new Director of Marketing, effective immediately.
Chris joins Kenya Airways from BIDCO Group where he served as the Group Marketing Director, overseeing functions in Communications, Corporate Affairs and Business Development across different countries. With the new appointment at Kenya Airways, Chris will continue to serve BIDCO as a non Executive board member.
Along with his position at Kenya Airways, Mr. Diaz who is a Trustee of the Chartered Institute of Marketing will remain a member of the Brand Kenya Board where he is charged with the responsibility of giving strategic input in activities to position Kenya positively to the rest of the world. He holds a Chartered status, Bachelor of Commerce (Hons) in accounting, Diploma in Marketing and a Masters in Science in International Marketing (UK). Commenting on the appointment, Chief Executive Officer and Group Managing Director, Dr. Titus Naikuni said Diaz will in his new capacity be expected to spearhead KQ's marketing activities locally and in other markets in line with the airline's 10-year growth strategy dubbed Project Mawingu. Said Dr. Naikuni on the occasion of introducing Mr . Diaz to the media and senior staff of the airline: 'Mr. Diaz has joined us at a crucial time when we are in the process of expanding our route network with projected destinations to the Far East and other African markets. His vast diverse experience in the FMCG sector and strong grasp of marketing to a global audience is an asset to Kenya Airways. Mr. Diaz is reputed as passionate about high quality corporate strategic communications and is experienced in building consistent Brand Equity for international services and products. He enjoys and stimulates positive teamwork, strongly encourages modesty and attention to detail as a Brand personality'.
Chris Diaz was awarded the Head of State Commendation (HSC) and has also been honored by the Marketing Society of Kenya with the Warriors and Fellows Awards, for successful marketing and supporting growth of world class brands. Alongside his professional roles, Mr. Diaz has served as Director in CMC Motors Group, African Marketing Confederation and is currently a board member of the World Marketing Summit Group.
He is described as having a passion for conservation, environment and supporting sustainability projects for community development.
Congratulations from this correspondent to Chris and looking forward to many years of working together in promoting Kenya and The Pride of Africa.