KENYA AIRWAYS INTRODUCES FIRST OWNED FREIGHTER TO THE PUBLIC

Kenya Airways yesterday introduced the media, cargo partners and the general public to their first fully owned B737-300 freighter aircraft, which was converted over the past few months from a passenger version to a cargo plane, the first of four such planned conversions. Registered as 5Y-KQC the aircraft is capable of uplifting up to 20 tons of palletized cargo, allowing Kenya Airways to feed and de-feed such shipments into the wider region as well as across the continent of Africa, where wide body cargo planes could either not land or could not viably fly to.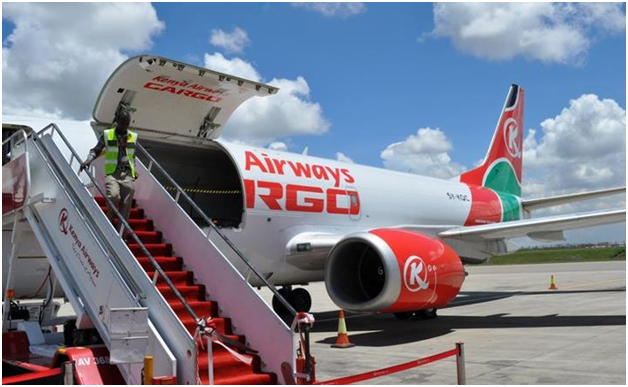 (Picture courtesy of Kenya Airways, Corporate Communications)
Kenya Airways CEO Dr. Titus Naikuni was delighted to show invited guests around the cargo plane, which is now joining a leased B747-400F to form the foundation of the airline's cargo business, the dedicated fleet eventually expanding to 12 aircraft under Plan Mawingo, the strategic 10 year plan launched last year.
Dr. Naikuni, according to the media release received, said: 'We are excited to take delivery of this newly converted freighter jet, which will be a perfect addition to our fleet. This aircraft will go a long way in enabling us to grow our cargo business segment across regional routes as well as increase revenue from cargo services which will be a significant contribution to our bottom-line'.
At the same time did information come to light that Kenya Airways, aka The Pride of Africa, continues to be working on the launch of an own inhouse lower cost airline to be known as Jambo Jet, after finalizing all relevant documentation now before the board of directors for consideration. Should the board sanction the plans put together by management, Jambo Jet could be launched over the coming months. Meanwhile has the financial year of Kenya Airways also ended on 31st March and preliminary financial results are expected to be released in due course. Watch this space for breaking and regular news from Eastern Africa's vibrant aviation sector.