KENYA TOURISM BOARD CONFIRMS HOSTING OF WTA AWARD CEREMONY

No sooner had the former tourism minister Mwazo left Utalii House did the Kenya Tourism Board confirm that the country has been selected to host the World Tourism Award Ceremony for Africa this coming October, aka the Oscars of Tourism. A gala of major proportions is being planned as this event will be part of the build up to celebrating the Golden Jubilee of Independence from Britain, which will be celebrated in December 2013.
Already slated for last year, the tourism ministry at the very last moment embarrassed the nation when citing financial problems to meet their obligations, compelling the organizers to hastily move the award ceremony to within the framework of the World Travel Market in London, but as mentioned, no sooner had Mwazo left the building for the last time, the tourism board executives and the WTA organizers were back in business.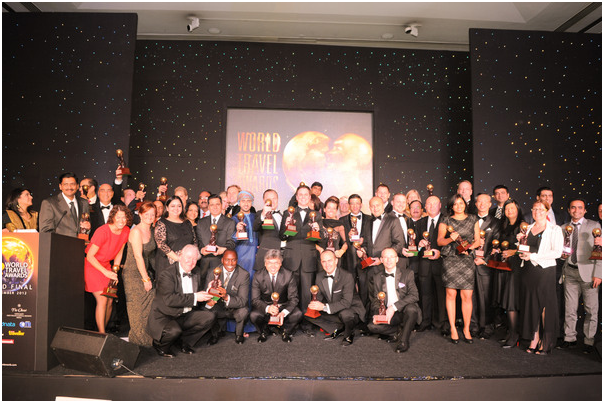 (Picture courtesy of the Kenya Tourism Board with Mr. Muriithi Ndegwa second from the left / front row)
Notably was Kenya crowned 'Leading African Tourism Board' during the London ceremony, something many stakeholders would have wanted to take place on their home turf, but chances are good that Kenya will repeat to claim top position once again, now that a new tourism friendly government has come into place.
KTB's CEO Muriithi Ndegwa was quoted in a media release just received as saying: 'World Travel Awards (WTA) is coming to Kenya at the right time after a successful and peaceful general election under a new constitution. This has further raised the country's profile as a safe destination' while the WTA President and Founder Graham Cook added: 'The selection of our hosts is fundamental to the success of our awards programme, and Kenya as a nation has all the ingredients to rise to the challenge of hosting our Africa Ceremony – a warm, vibrant and progressive nation, brimming with enthusiasm and creativity. Tourism is vital to Kenya's economy, contributing 12 percent to its GDP and sustaining one in ten jobs. The future is bright for Kenya, given the nation's overwhelming natural resources, its unrivalled wildlife experiences and pristine beaches'. Tourism stakeholders across Kenya have already been urged to participate widely in this year's nomination process and ensure that they will once again scoop major prizes and recognition for beach resorts, safari lodges and camps, city hotels and other service providers. Details are available via www.worldtravelawards.com/nominate where further details, including entry forms and closing deadlines for nominations can be accessed.
New government, new spirit, new hope and new horizons – well done indeed!