KENYA AIRWAYS SHARES JUMP BY 10 PERCENT ON VIRGIN EXIT NEWS



There was combined excitement in the Kenyan share market yesterday as on opening of the Nairobi Stock Exchange on Monday morning the weekend news of Virgin exiting the market later in the year gave investors the confidence to drive the airlines share price up by over 10 percent to a new long time high of 16.35 Kenya Shillings a share, compared to 14.70 KShs per share last Thursday.
The market is also building up anticipation of the May 30th announcement how the share rights issue has panned out when the companys financial advisory team alongside the airlines top management will reveal how intensely the issue was subscribed to. Kenya Airways was due to raise about 20.8 billion Kenya Shillings in the exercise aimed to leverage the financing of an unprecedented number of new orders for Boeing aircraft, which will drive the fleet size from the present 34 to 119 in 10 years time, including however a number of dedicated cargo planes.
The share rights issue was priced at 14 KShs per share, giving those who trusted the airline and invested an already significant appreciation of their investment.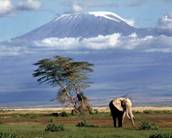 (Picture courtesy of Lesley Simpson Communications on behalf of Kenya Airways)
The airlines standing was also boosted by the announcement over the weekend that, as mentioned here previously, the airline would join partner Precision Air on the route to Kilimanjaro with daily codeshared flights effective 02nd July, adding more capacity on to the starting point of safaris to the northern circuit of Tarangire, Manyara, Ngorongoro and Serengeti, or for those wishing to climb Mt. Kilimanjaro.
Watch this space for regular and breaking aviation news from Kenya and the Eastern African region.