EAST AFRICAN SAFARI CLASSIC RALLY 2011 ALL SET TO ROAR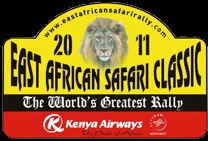 The classic version of the Safari Rally will take off from underneath the world famous tusks along Moi Avenue in Mombasa on the 19th November at 3 p.m. in a ceremonial start aimed to attract local and global media attention while the start proper will follow the next morning from the Sarova Whitesands Beach Resort and Spa at 6 a.m. when the cars will be flagged off from the parking area of the resort.
This years edition will end on the 28th November, again at the Sarova Whitesands from around mid day onwards, when the winners will roar back to the finishing line while others may just about limp over it.
The classic edition once again brings together winning rally car models from those great days in the 70s when The Safari was the most grueling event of the annual rallying calendar, which tested the mettles of drivers and the durability of the machines they drove. Held in those days over the Easter weekend it permitted motor sports fans to be part of a team by helping in various capacities and such volunteers really made the world championship rally happen, and had their tales to tell in the process as this correspondent well remembers.
The 10 day event is bringing 52 entries to Kenya, led by former World Champion Bjorn Waldegaard in a Porsche 911 and local legend Ian Duncan who has entered in a Ford Capri, amongst many other well known rallying and motorsport names and car types. The route this year again leaves out Uganda, which was on the route map of the inaugural version of the Classic Safari Rally but will again traverse scenic parts in Tanzania during race days two, three and four, before after the day 5 rest day moving into the Great African Rift Valley along the UNESCO World Heritage Site lakes between Naivasha and Baringo. Some of the most scenic night stops along the route will be at Amboseli National Park at Kilima, Kibo and Sentrim safari camps but also the Amboseli Serena and Ol Tukai safari lodges, with the back drop of Mt. Kilimanjaro, then in Arusha in the shadow of Mt. Meru at the Mt. Meru Hotel and later at Lake Naivashas Sopa and Simba lodges before making the penultimate night stop at the doorsteps of Tsavo East National Park at the Voi Wildlife Lodge.
Key sponsor is once more Kenya Airways, The Pride of Africa, doing Kenya proud by being at the forefront to promote such an eye catching sporting event and promoting the country as a sporting and tourism destination. Extensive television reporting is expected and footage will be aired around the world with fans who cannot make it to Kenya being able to watch the 2011 Classic Safari Rally from the comfort of their armchairs. Vrooom, Vrooom time to floor those pedals again in Kenya and Tanzania.