KENYA SECURES PROJECT GREENFIELD AIRPORT EXPANSION FINANCING

A regular aviation source from Nairobi has confirmed that the Kenyan government has completed the financing arrangements for the new mega terminal, second runway and other related facilities, which is estimated to cost at current prices well over 650 million US Dollars.
It is generally expected that the required co-financing along the Kenya government's contribution to the project and the internal capacity of the Kenya Airports Authority to pay for it, will be coming from global development banking institutions but also from Chinese banks, which if correct would point to the appointment of Chinese contractors – normally in a give and take reciprocation as seen with many other large scale projects too.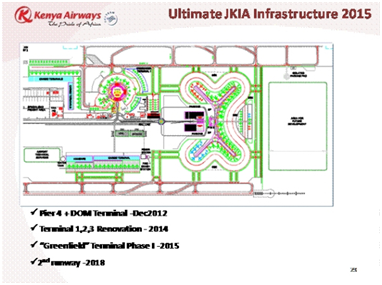 Main beneficiary of the airport expansion will be Kenya Airways, which is banking on this happening by not later than 2016 – even though there was initial talk of 2015 as the graph taken from their strategic roll out 'Plan Mawingo' has been outlining. Fleet expansion and more flights would put the current terminals under intolerable strain and even when the new Terminal 4 is coming on line later this year, or even only early next year considering it is still in the stages of a skeleton of a building, the rapid pace of Kenya Airway's planned rollout of new destinations and eventually tripling the current fleet size by 2021 cannot be sustained if the new Project Greenfield terminal is not ready.
Airline sources have expressed their satisfaction with the development and hope for early ground breaking, to finally see the congestion inside and outside of the present terminal building sections 1 and 2 come to an end. The new terminal four will be purpose built to include a one stop – on entry – security checkpoint but also those long awaited fast track facilities for premium class passengers Kenya Airways and other carriers are courting to fly with them, and the latest technology in the check in counters and baggage loading systems, besides more spacious general lounges and dedicated First and Business Class lounges by airlines and concessionaires.
President Kibaki might do the ground breaking as early as next Friday, 15th February, which would after the commissioning of the Isiolo airport phase one yesterday would further cement his legacy as a president bringing huge infrastructure project to Kenya, mainly new highways, roads but also the new port in Lamu and the expansion of Jomo Kenyatta International Airport into a future world class facility.
Watch this space for regular and breaking news from East Africa's vibrant aviation scene.