PORINI CAMPS ECOFRIENDLY OPERATIONS REWARDED
The Ol Kinyei Conservancy, adjoining the Masai Mara Game Reserve, has received recognition from the Eco Tourism Society of Kenya when recently awarded the rating as best community conservancy in Kenya. Established in 2005 the conservancy has now grown to over 16.000 acres and is home to the Porini Mara Camp, itself holding many accolades for quality.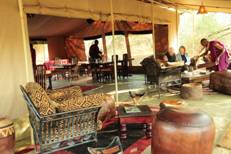 Alongside the award for the Ol Kinyei Conservancy also came the announcement that the Porini Amboseli Camp was named at Kenyas top eco rated facility, an affirmation of the hard work of past years to reduce the carbon footprint of their camps and make them of minimal impact on the neighbouring ecosystems.
Said Jake Grieves Cook, former chairman of the Kenya Tourism Federation and past chairman of the Kenya Tourist Board, who is the main shareholder in Porini Camps and Gamewatcher Safaris: The Porini Camps strive to be as eco-friendly as possible, and we are proud of the team at Porini Amboseli Camp. Our conservancies in the Masai Mara are making strides as wildlife numbers are increasing and local communities are benefiting significantly. He then went on to point out that the Ol Kinyei Conservancy was established by Gamewatchers Safaris six years ago and is comprised of many small plots of land leased from individual private landowners. These landowners, most of which are Maasai, have voluntarily vacated their plots to help form the conservancy. Today, Ol Kinyei is 16,000 acres and is exclusive to guests staying at Porini Mara Camp ( www.porini.com/kenya.html?sub=mara-porini-camp) and at a handful of mobile camps. There are no more than 5 vehicles within the entire conservancy at any time.
Congratulations to the entire team at Porini and Gamewatchers and even greater success in the New Year.