FROM KENYA'S COAST WITH LOVE
(Posted 28th March 2015)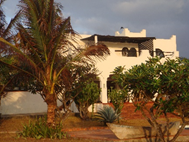 (Scheherazade House in Kilifi)
Conventional beach vacations along the Kenya coast offer plenty of choices with resorts from Lamu over Malindi, Watamu, Kilifi, the beaches from Shanzu over Bamburi to Nyali and then of course south of Mombasa ranging from the very simple to the very luxurious. Along the coast north of Mombasa one even finds a range of holiday apartments let out on a self-catering basis which may appeal to a certain niche market, though I like my holidays catered for, fully, without having to wash any dishes.
More and more people though are now looking at other alternatives, not wanting to be squashed into an apartment and preferring the more open spaces of holiday villas, garden, pool and most important, domestic staff all included.
Watamu has become a definite hub for that niche, and having just spent time in the area I can well understand the rationale for that. Beautiful beaches a stone throw away, the vista over the Mida Creek and a range of villas on offer to suit perhaps not all but at least many pockets. The KenyaBuzz.com weekly e-guide clearly got it right when they showcase one such holiday let from Watamu every week, not just because Watamu 'WOW's' visitors but because there is new option for a beach vacation available which offers all the services one wants plus the privacy which only a private villa can offer. Besides, Watamu is safe to visit and that provides added peace of mind.
My own schedule, being rushed as it was, compelled me to say goodbye to Watamu without perhaps staying a night or several in one or more of these villas but Kilifi was waiting and it was there that I gave that vacation concept a try.
Along the way I stopped over in Kilifi town, at the Mnarani Fishing Club's private beach. The club of course, just next to the Kilifi bridge, sits high above the ocean on a cliff giving excellent views but the beach awaits below for those who are fit to not just walk down but then up again on a route aptly called 'Cardiac Hill'. From there all sorts of watersports, deep sea fishing included, are on offer and their diving and sports centre is happy to arrange whatever a visitor fancies at literally no notice.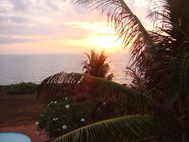 (Sunrise as seen from the roof top of Scheherazade House in Kilifi)
A short drive from the club along the main highway to Mombasa does then a gravel road lead off into what is commonly known as the 'Kilifi Plantation' and it was there that my night's abode was located.
Scheherazade House is of course right at the ocean and sits like the Mnarani Club on top of a cliff. For those who absolutely have to feel the sand between their toes does the house arrange trips to a private beach not too far off but otherwise does a crystal clear pool cater for those refreshing dips, when the temperatures rise during the day. Luckily does Scheherazade's position on top of the cliff allow for a constant breeze from the ocean, cooling the peak temperatures by a bit at least.
Three bedrooms, all en suite, one of them in a guest house slightly apart from the main house, easily allow for three couples to stay there and extra beds can be arranged in case families come to stay and kids need to be accommodated. Furnished with all one requires, mosquito netting around the four poster beds included, does the house provide for sound sleep for normal people while insomniacs like yours truly of course listen all night to the surf crashing into the coral rocks, the salty spray wafting inland, providing that unique flair in the air which only an ocean side location can produce.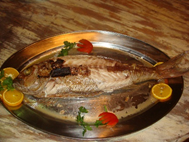 (Dinner is served at Scheherazade House)
The house, like others described earlier, comes with a qualified cook and a housekeeper who also doubles up as factotum general, available to serve drinks during the day, to prepare snacks, to bring more cushions for the sunbeds and of course serve the main meals which, to be fair, she helps the cook to prepare. The kitchen is fully equipped and fully really means fully with fridges and freezers, pots and pans, cutlery and crockery and plenty of those.
I opted to let the cook decide on the menu contents and a cold avocado gazpacho made perfect sense for lunch as the outside temperatures had risen to over 30 degrees C. That was followed by a portion of Lobster Thermidor, which not only looked appealing but tasted good too. For dinner was the main course a grilled whole Red Snapper and for the food alone I could have stayed longer to find out what else the cook was able to prepare to tickle my taste buds.
The large open plan living room extends to the outdoor terrace under roof before that space extends further towards the pool. Some of the original furnishings still show a distinct Italian touch, giving it an almost Mediterranean appearance and if they outside were painted in pink, turquoise or ocean blue instead of white one could be fooled to think that the ocean below is the Mediterranean rather than the Indian Ocean.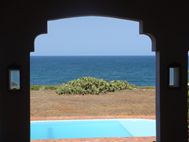 (A living room with a view)
Originally owned by an Italian expatriate was the house more recently sold to a Kenyan couple and when the owners are not taking a break from their corporate life in Nairobi, is Scheherazade available for rent.
Getting there is easy, as flights from Nairobi to the coast are many, with Kenya Airways, with Jambojet or others operating on the route. The earlier one books the better the fares are which help to keep the overall cost of a coast holiday within reason.
Guests have the choice of renting a car at the airport in Mombasa but again, that is best prebooked to be sure to get the model one prefers. Franchises of international car hire brands are available at Moi International Airport but then, so are local car hire services often at a much lower cost and also using relatively new cars plus offering back up should the unexpected happen. Otherwise can guests use a licensed taxi from Mombasa airport and give the driver directions, which the owners of course provide via Google Maps.
Why bother one might ask, why not stay at a resort or a hotel? Well, there are many reasons, privacy is one of them and of course, there are no mealtimes set in a private villa. Here the staff are quite ready to serve breakfast at noon, lunch at 5 p.m. and dinner as late as the guests want. The fridge is stocked with exactly the kind of drinks the guests want and when coming from the airport visitors can stock up in Nyali or along the route in one of the new mega malls which have sprung up on the outskirts of Mombasa. The cook will be happy to buy the catch of the day, fresh from the fishermen's net, and delicacies like prawns, crabs and lobster come at a fraction of the cost of what one pays at home in a seafood or fish shop. This is apart from the fact that in many shops the seafood is regularly frozen while at the coast it literally moves from the ocean into the net into the pot or on the grill.
Phone connections work, as does internet, and while Safaricom was patchy during my visit did Airtel provide a regular strong signal on which one can rely to send mail from the phone or else hook a laptop on a dongle modem.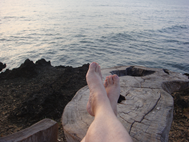 (African magic made in Kenya)
Before closing special mention has to be given to that magic place right at the edge of the cliff, where roughly hewn furniture, cut out of a large tree trunk, invites guests to sit and watch the sunrise in the early morning, or else enjoy sundowners in the evening. But the best time no doubt is to sit under the full moon and a star studded sky, listening to the endless waves rushing on to the coral rocks, louder at high tide and quite soft when the tide is out. It is a place for two no doubt, leaving this solo traveler musing what could have been or should have been. A couple seeking to get away for a few days, from work and even the kids, or a couple of friends wanting to party without disturbing the neighbours and dip in the pool at any time of the night, dress code entirely at their own discretion, when they come to Scheherazade they have come to the right place. The house is not top of the range – those are available too at the Kenya coast of course, but more modestly priced and therefore of course much more affordable, even though car hire and periodic shopping adds to that expense. But beers and wine bought in the supermarket are far less costly than what hotels charge and the bottom line will be no doubt in favour of those who opted for this sort of a vacation. And there is nothing like getting back home and bragging about that phantastic holiday in one's own private villa, no? My thanks go to my hosts, Dorothy who sadly in the end could not make it and Carol who proved to be a great hostess, conversations over breakfast, lunch, tea and dinner included.
Kilifi is thankfully not hit by Western anti-travel advisories and the area is peaceful and guests are welcomed rather than hassled and at the beaches described in this article there are no beach boys accosting visitors. It was an allround positive experience, as was the entire trip until this point and the only downside was staying only for one night. This, as other places where I stayed, deserve several days if not a week, but with time at a premium one day and one night just had to do. The experience was all I had hoped for, exploring new ways and means for my readers how to spend a quality vacation at the Kenya coast without having to mortgage their home or break or worse, rob a bank to be able to afford it. The Kenya coast, Kilifi included, continues to offer exceptional value for money and Scheherazade is but one place of many visitors can opt for when they have made up their mind which part of the Kenya coast to stay at.
More information about the country can be found via www.magicalkenya.com while the marine national parks along the coast are featured via www.kws.go.ke