KENYA HITS BACK AT ANTI TRAVEL ADVISORIES


On arrival from the Seychelles in Nairobi a storm of outrage by the countrys tourism industry awaited this correspondent, as the usual suspects of Britain, Australia and France had slapped fresh anti travel advisories on Kenya, unsettling yet further an already brittle situation and the bag of mixed fortunes, as the Kenyan tourism industry presents this year. Sections of the local media too came under fire for sensationalizing the advisories and making the country look worse than stated in the FCO statement, causing more furore amongst stakeholders, many of whom bluntly called the media in question useless to the point of sabotage, just to sell a few more of their gutter publications as heard yesterday when speaking to Kenyas who is who at the monthly luncheon of the Skal Club of Nairobi. There pointed comments were made too about a recent statement by the Minister over growth of the industry, largely greeted by comments such as on what planet does HE live. It seems the ministerial statement contrasted substantially with figures available within the industry via the Kenya Association of Hotelkeepers and Caterers, where in particular occupancy figures at the coast have raised added concerns, accusing the minister to confuse tourists with overall arrivals, many of which take place at land borders.
Several events in past weeks have had impacts on the projected annual performance of the tourism industry, which in 2011 had reached an all time arrival and revenue record of just under 98 billion Kenya Shillings.
The announced withdrawal of flights by 1Time from South Africa, of Air Berlin and the postponement of scheduled flights by Qatar Airways to Mombasa, initially due for August 15th, which now appears to be reaching the indefinitely delayed stage, has rattled Mombasa stakeholders.
Yet far from letting doom and gloom take over, the industry is ready to fight back and has according to a regular and senior source within the stakeholder establishments demanded audience with government, while also lobbying parliament, to increase funding for tourism marketing. If we can increase our efforts in emerging markets like the Far East and China, even India, the potential for growth from there would cushion us from the soft market conditions in our core markets of Europe. But that costs money and KTBs ability is limited to react on the fast track and put missions together. The closer we also get to the elections in March next year, the more we need to be in the market place to quell negative publicity and the fears of the market what might happen. The private sector alone cannot do that so we need KTB to be funded accordingly to drive such activities, act as catalyst and create momentum. Not all is lost and we have gone through hard times before, but it seems our government officials are having short memories. In times of a crisis we must go out and tell the world the facts about Kenya. Like I told you before, the loss of our previous tourism minister now proves to be a major fifth column blow to our sector and we know whom and what to blame for that of course ranted a regular source during a face to face encounter in Nairobi yesterday when asked to comment, as usual requesting anonymity for the justified fear of repercussions.
Meanwhile has Mrs. Agatha Juma, CEO of the Kenya Tourism Federation and as such the official spokesperson of the Kenyan private sector in tourism, gone on record when putting her sentiments in an email to this correspondent yesterday afternoon:
Please find my reaction to the story titled Australia, Britain and France issue travel advisories due to Kenyan riots below:
1. The article was published on 04th September (yesterday) and reads in part Three days of continuous fighting and bloody street battles between the police and Muslim youths protesting the cold-blooded killing of Muslim cleric Aboud Rogo have seen a number of tourism source markets offer travel advisories to their nationals. Among the embassies that have warned their nationals against travelling to the Coast are Australia, Britain and France. It is expected that more embassies will follow if the situation goes unabated.
There is no indication of when these three days were or the fact that it was exactly one week before the article was published when the riots happened and have since stopped and calm was restored in the area by Wednesday last week.
What we find published on the FCO website is Riots and grenade attacks in Mombasa this week have resulted in the deaths of two police officers and several injuries. At present, Mombasa remains calm and police have been deployed to the area. However, there is the potential for further disturbances following prayers this weekend (31 August 2 September). British nationals have not been targeted but you are urged to exercise extra caution and to remain vigilant in Mombasa at all times. You should avoid all protests.I do not think this equates to warning their citizens against travelling to the coast as indicated in the post.
On the Australian Smart Traveller Website:-
· We strongly advise you to exercise a high degree of caution overall in Kenya at this time due to the high risk of terrorist attack, civil unrest and high crime levels in the country.
· Pay close attention to your personal security at all times and monitor the media for information about possible new safety or security risks.
· On 27 August 2012, a prominent Islamic cleric was killed by an unknown gunman in Mombasa. Ensuing riots resulted in burning of vehicles, looting and attacks on churches in Mombasa. Further civil unrest is likely and Australians in the area should avoid all public gatherings and monitor local media for updates on the security situation. The killing occurred in the vicinity of the main highway entering Mombasa from the north. Australians travelling in or out of Mombasa should avoid this route as further violence may occur.
2. Police are carrying out investigations on the killing of Sheikh Aboud Rogo.
3. Safety and security of citizens and visitors has become a priority for most countries around the world especially due to the challenges that terrorism brings to a lot of countries Kenya included. It is not a problem unique to Kenya and it not a problem that is going away globally in the short term. Our government is doing its bit to try and eliminate the threat posed to its Citizens by Al Qaida linked Al Shabaab terror group. This is especially because the attacks that have happened in downtown Nairobi, parts of North Eastern Kenya and downtown Mombasa have been targeted at local residents.
4. Kenyas tourism is one of the countrys largest sources of employment for our citizens both directly and indirectly and when a tourist comes to enjoy the sights and sounds of magical Kenya, they are putting food on the tables of a lot of Kenyan families and travel advisories have the reverse effect.
5. Most tourism establishments have increased security in and around their establishments to ensure that tourists are able to enjoy their stay in our country and have peace of mind while doing so. Intending visitors are reminded to book their tours and safaris with reputable and licensed operators.
6. The KTF Safety and Communication Centre remains open 24hrs daily and gives information and responds to concerns on tourist safety and security. Email address operations
I have attached a statement issued yesterday by the KTB Chairman for your information.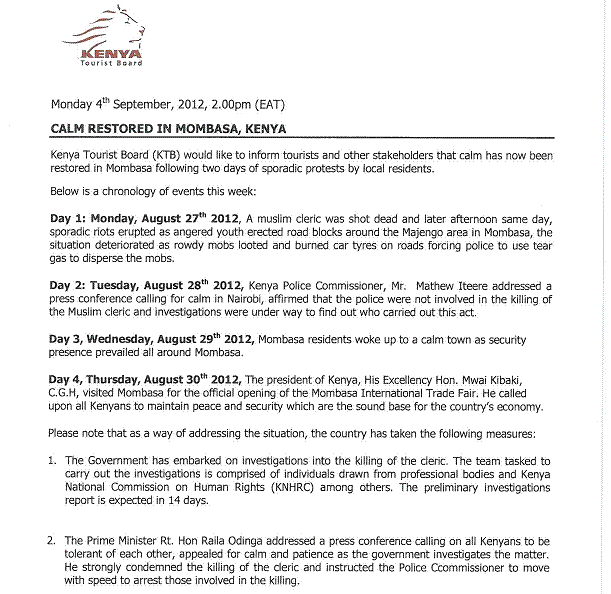 This correspondent, as a friend of Kenya and with many personal links to leading stakeholders of the countrys tourism industry, in the meantime has extended a series of invitations to them to provide facts and opinions to be reflected here, respecting the wishes of anonymity when so requested or having someone go on record as did the CEO of KTF and the Chairman of the Kenya Tourist Board, to allow readers from around the world to form their own opinions based on the availability of more if not ALL facts and not just based on one sided and often ill considered or poorly presented reports from elsewhere. Watch this space.