KIGALI SERENA AND RWANDAIR HOST CORPORATE CLIENTS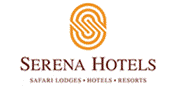 The Kigali Serena Hotel and RwandAir last evening hosted a wide range of corporate clients, including leading bankers, to present their respective loyalty schemes Dream Miles and Prestige Club. The two schemes, offering a variety of benefits to members, will undoubtedly be more closely aligned in coming weeks, so that miles can be earned and burnt when using respective services.
The two companies were represented by RwandAirs Deputy CEO Jean Paul Nyirubutama and Serenas Rwanda Country Manager, who is also the General Manager of the Kigali Serena Hotel Charles Muia.
RwandAir took the opportunity to talk about their future expansion plans, boosted by the announcement a few days ago of a purchase deal with Bombardier for two CRJ 900 NextGen plus two more options. By 2017 the national airline of Rwanda intends to be flying to a number of additional destinations in the wider Eastern and Southern African region and will have gained intercontinental capabilities with the expected arrival of at least two B787 Dreamliners, while Serena, already East Africas premier hotel, resort and safari lodge group, continues to look at an expansion across the region including here in Rwanda.
The banks in particular were of interest amongst the participants to the hosts, as both of them now have state of the art, secure transaction platforms on their websites, through which credit card payments can be made for tickets and accommodation, a trend encouraged by both teams as e-Commerce continues to penetrate deeper and deeper into the African business landscapes.
The function also allowed for an evening of intense networking amongst business leaders from Rwanda who had nearly two hours during the cocktail party ahead of the dinner to interact and strike alliances aimed at building the new Rwanda. Door prizes on offer for raffle showed that both hosts spared no expense as a total of 4 return business class tickets eventually found new owners as did stays, including meals, at the Kampala Serena Hotel and the Mombasa Serena Resort and Spa. Said Michael Otieno, Corporate Communications Manager of RwandAir who also emm-ceed the evenings proceedings: RwandAir values the partnership with Serena. Both companies are leaders in their field and complement each other. Working hand in hand makes sense and creates greater impact while bringing added value for our clientele. Not everyone flying with us stays with Serena and not everyone staying with Serena flies with us. These are opportunities to create more business for each other which help us to grow. Added Charles Muia: We had independently launched our corporate loyalty schemes, almost at the same time. We now see that if we seek common ground and do a few alignments here and there, our Prestige Club can enhance the value of RwandAirs Dream Miles and vice versa. We are now exploring how guests staying at Serena can earn miles with RwandAir and in turn how such miles can be utilized for rewards given by Serena and RwandAir like upgrades to business class, free late checkouts, room upgrades etc. We at Serena like to work with the national airline where one exists and working with RwandAir is a winning combination. They are young and ambitious and we at Serena want to expand in Rwanda, so we need the airlines to provide the seats to bring in extra guests.
The evening also brought two hectic days in Rwandas capital for this correspondent to a fruitful conclusion in search of new story lines and latest news from The Land of a Thousand Hills which will in coming days appear her. Watch this space.