SO NOW WE ARE FULL OF PRIMITIVE ENERGY


Getting an invitation for an inaugural flight celebration is often something to be more than just a little happy about, as the access to the apron and the smell of jet fuel tends to bring out the best in me when writing about aviation developments. Months ago already when able to tell my readers about Korean Air planning to fly to Nairobi, I was almost excited about the prospect to fly over to Nairobi to see Korean Air touch down at JKIA but now I am no longer so sure that I will. The airline had launched the mother of all insults to us Africans when in a promotional clip the tried to entice travelers from Korea and connecting destinations to Fly to Nairobi with Korean Air and enjoy grand African Savannah, Safari tour and indigenous people full of primitive energy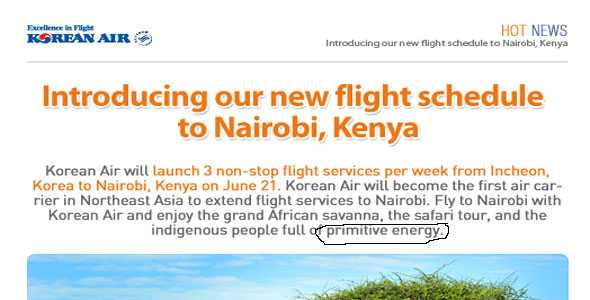 The contentious advert which was widely perceived as a racist slur
I know from personal experience how easy it is to become a black sheep and be looked upon with both suspicion and pity for havingmade Africa my home, but here I am and ready to defend my turf alongside my fellow brethren and sisters I live amongst, interact with, visit and meet every day and no wonder my inboxes yesterday filled up fast when in particular Kenyans, but to no surprise East Africans and the rest of the continents contacts and sources I have voiced their opinions on this faux pas.
Whoever created this tag line, whoever is responsible for letting it slip through the inevitable reviews and edits and whoever within the airline and their advertising agency is responsible simply MUST BE SACKED for calling us primitive, as it is a reflection of how they view us and the racial prejudice this message brings to the forefront.
We might still need to develop, have challenges ahead of us which amount to Herculean tasks and are fighting climate change perpetrated on us by the developed world, including Korea by the way, but one thing we are not, and that is primitive. Africa can be proud of being a continent which has produced some of the finest poets, excels in arts and music, creates colourful fashion and is turning out professionals in demand around the world as expatriates, from pilots to engineers, from nurses to doctors in all fields of trade, commerce and industry.
The social media time lines are full of the insult and the reaction was as sharp as it was a few days ago when the embattled Spanish prime minister, in a private message, outed since then, to his finance minister, who was kowtowing before the European mega powers begging for a 100 billion Euro bailout, that Spain is NOT Uganda.
I am painfully aware of the many shortcomings we have, in Uganda in particular, Eastern Africa and the continent of Africa in general, but we walk with our heads held high, proud of what has been achieved in nearly 50 years of independence and aware of what still has to be accomplished in years ahead.
But still, to be so insulted, first by a Maskini, aka beggar wearing the robes of a prime minister and only days later by Korean Air, is a sign of only the tip of the iceberg of negative sentiments about Africa, of how the rest of the world eyes our mineral resources with great envy and greed but disrespects us as the people who own then.
While it is worth to mention that faced with a fire storm of biblical proportions from Kenya, Eastern Africa and much of the continent Korean Air moved swiftly to remove the offensive commercial message, we want to see heads roll too or else might think that the apologies now offered are neither genuine nor given under anything else but commercial duress, fearing that their flights will be shunned and they be deprived of loads.
What could have been a grand start of cooperation with Korean Air they are Sky Team partners like Kenya Airways is their start up now is sullied and stained. A regular source close to Kenya Airways, when asked overnight to comment, had this to say: True, Korean is a Sky Team partner and those at Kenya Airways were looking forward to extend a partnership to have access to nonstop flights to Seoul and beyond with code shares and closer links. This advert however has created some real problems for them. Privately many of our colleagues are now looking at them, at their staff in particular, and wonder if that is how they see us. Are we some stoneage dwellers in their eyes, maybe cannibals or barbarians? There is a great need to clear the air with more than a published apology to show Kenya that this is not symptomatic, generic of how they see us Africans and there is more to international relations than to seek exploit our mineral resources. In fact for some it is embarrassing now to be known as a partner through Sky Team but there is not one amongst our colleagues who would defend them but we all condemn that stupid portrayal of us being primitive. It also spoils the launch party of course and overshadows any celebrations of the inaugural flight because the word PRIMITIVE will be overshadowing it all.
Barbs galore it is for Korean Air and only time will tell in fact if ever they get a review or mention here again for sure not before they have done penance to the people of Africa they so insulted. We will not turn the other cheek and we will not be your friends until this mess is sorted out to the satisfaction of the continent and the people of Africa, yours truly included. Watch this space.