AVIATION, TOURISM AND CONSERVATION NEWS from Eastern Africa and the Indian Ocean islands.
A weekly roundup of breaking news, reports, travel stories and opinions by Prof. Dr. Wolfgang H. Thome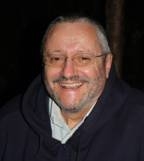 You can get your daily breaking news updates instantly via Twitter by following @whthome, join me on www.facebook.com/WolfgangHThome where the articles also cross load or read the daily postings on my blog via www.wolfganghthome.wordpress.com which you can also follow to get immediate notification when a new article is posted.
Third edition June 2012

East Africa News
QATAR AIRWAYS GOES DOUBLE DAILY TO JAPAN



A media release received overnight has confirmed that Qatar Airways will commence a second daily flight to Japans capital Tokyo, adding to the present daily service routing via Osaka at present.
The new service will commence on 28th of October but the airline gave early notice to the markets in East Africa to allow for advance sales.
Qatar Airways in less than 6 weeks will add Kilimanjaro, via Nairobi as the 5th destination in East Africa before adding Mombasa, via Dar es Salaam a month later. Zanzibar, also via Dar es Salaam will then follow as the airlines 7th destination in East Africa probably by November, no firm date has been announced as yet, making it the one foreign airline to cover all airports of significance and not just the capitals as others do.
All routes to East Africa are served with Airbus A320 equipment offering both business and economy class while the route to Tokyo, and other key international destinations are served with B777 and A 330 equipment, offering greater comfort through reduced seat numbers in economy the B777 only as a 3-3-3 configuration unlike most competitors using a 3-4-3 configuration while in business class state of the art flat bed seats are available to travelers on the worlds 5 star airline. Watch this space for breaking and regular news updates on aviation developments from Eastern Africa and the Indian Ocean islands.
EMIRATES HITS MARKET WITH SUMMER FARES


With summer and scorching temperatures now arriving back in the United Arab Emirates and other Gulf countries, Emirates is simultaneously launching their annual Summer Sale in the East African markets.
Under the offer, up to two children under age 12, traveling with an accompanying adult in economy class, are eligible to receive complimentary accommodation (minimum three night stay), meals in participating hotels, plus airfare discounted 50% off the adult fare. The promotion will allow travelers of any age to create unique experiences across Dubai – from beach to malls, from the desert to the pinnacle of the worlds tallest building.
The airline partnered with Dubai Commerce and Tourism Marketing and the Dubai Mall, amongst others, to create value for travelers opting to fly via Dubai and taking advantage of the stop over option, shopping either enroute to or from their final destination and getting some extraordinary value for money. Dubai has developed into a destination for all seasons and Emirates has chosen its partners, DTCM, Dubai Mall and the many participating hotels, to showcase the best the city has to offer. Emirates knows that finding a holiday destination to meet the needs of a diverse group, be it families with children or a group of friends, is challenging and has thus created this offer to make travel a little easier said Emirates Regional Manager for East Africa Essa Sulaiman Ahmad in Nairobi as the packages were launched in Uganda, Tanzania and Kenya at once. Emirates is known for its superior service in the air and with Do More in Dubai brings our spirit of hospitality and adventure to our passengers on while on the ground. Emirates invites families with children, as well as those still young at heart, to come and experience everything our hometown has to offer this summer. Do More in Dubai cover all a travellers needs: flights, transfers, accommodation, shopping, activities and tours – making Dubai a unique destination without breaking the bank he then added, sentiments echoed by the respective country sales managers in Dar es Salaam and Kampala. Dubai Mall is the worlds largest shopping and entertainment destination and is obviously any travellers ultimate destination for great shopping and entertainment in the city. We have therefore increased our baggage allowance by 10kg per adult for up to two adults traveling with children; making space for shopping purchases and family souvenirs of Dubai. The offer also provides the Dubai Mall discount voucher book which provides one-of-a-kind experiences for those still young at heart such as golfing at the Els Club in Dubailand and Arabian Ranches Golf Club, dinner along the Creek on a Bateau Dubai Dinner Cruise Mr. Ahmad then concluded his presentation. It was also learned that additionally, the offer includes entrance deals to some major attractions in Dubai such as the Wild Wadi Water Park; Aquaventure & Lost Chambers at Atlantis, iFLYDubai; Soccer Circus & Cite' des Enfants at Playnation – Mirdif City Centre; and the Dubai Dolphinarium at Creek Golf Club.
The offer covers Meet & Assist service at the Dubai airport, airport transfers, and a free Dubai City Tour & Dhow Cruise with dinner for up to two children with accompanying paying adults
Do More in Dubai packages and information can be found online at www.emirates.com, through Emirates Holidays, Emirates offices and travel agents. What else is there left to say but GO FLY.
TURKISH TO DOUBLE AFRICAN DESTINATIONS BY END 2013


A source at Turkish Airlines in Nairobi has confirmed that the airline is set to double its African destinations by the end of next year. Presently flying from Istanbul to 20 destinations on the continent, mainly using narrow body B737-800 and B737-900 aircraft, including the East African gateways of Nairobi, Dar es Salaam, Entebbe and of late even Kigali, THY is set to use additional aircraft deliveries in coming months to progressively roll out a tight Africa network, set to rival the big Gulf carriers Emirates, Qatar Airways and Etihad, all of which too have focused in recent years on traffic from the African continent, connecting to the world through their respective hubs.
Turkish, a member of Star Alliance, has in recent years emerged from the shadows of the well near unnoticed large airlines and to the surprise of many now operates 185 aircraft and by the end of 2012 expects to have a fully operational fleet of 200 aircraft. The additional deliveries of in particular B737NG aircraft will allow Turkish to push African destinations up to 30 by the end of this year, with an expected further 10 coming on line over 2013. Africa is now the last frontier for economic development in the world and as the national economies grow there will be greater need for airtravel and air cargo. Turkish is getting ready to tap into that market by rolling out more destinations to countries which have the potential to make big contributions in terms of passengers and cargo the source said on condition of anonymity..
When asked to confirm the new destinations for Africa, this year and next year, the source however cited the need to keep such information secret for as long as possible to avoid competitors being tipped off too soon but be sure you read about the next countries in Africa THY will fly to right here, so watch this space.
BRUSSELS AIRLINES FLIGHTS TO THE BIG APPLE SAVOIR VIVRE RETURNS TO THE AIR
A contact from Brussels Airlines has made a range of comments and pictures available, received soon after the airline launched their own nonstop flights between Brussels and New York, and only a number of already planned
trips into the nearer and more distant region actually stops me from sampling this inflight spectacle
myself – but do not give up hope just yet, it is my firm intention to actually fly on this service AND report,
connectivity permitting, from the flights and the respective layovers.
And as I responded to the sender, it brings back those fond memories of the erstwhile Savoir Vivre when
flying on the venerable B707 of the then SABENA in First Class and being treated like Royalty.
THAT seems to be back in the skies now and when the entire fleet of SN's A330's has been retrofitted
by later this year with the new cabin product, it will be a choice airline to travel with, from Africa and to
Africa.
Watch this space and enjoy the pictorials.
http://travel.bart.la/2012/06/09/brussels-airlines-new-business-class-new-york-jfk-brussels/#more-1797
Brussels Airlines new Business Class JFK-BRU
Posted on June 9, 2012 | 3 Comments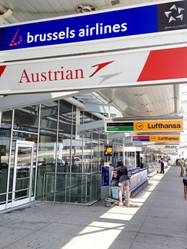 Pic: Brussels Airlines entrance at New York JFK Terminal 1 (Jun 2012)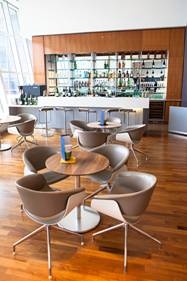 Pic: Lufthansa Senator Lounge at New York JFK Airport (Jun 2012)
On Friday June 1, I joined inaugural flight SN501 from Brussels to New York JFK. I flew economy class and was seated on the first row (14D) in Y. As frequent Brussels Airlines flyer (almost weekly now thanks to their Flydaypromo) and Miles and More Senator, I was upgraded* to business class on the return flight from JFK to BRU. Both the hard and soft product were outstanding. I think my pictures speak for themselves regarding the quality of the hard product. The only two negative experiences I had during the BRU-JFK-BRU journey were out of Brussels Airlines control: A queue of almost three hours (!) at JFK Terminal 1 Immigration to enter the USA and a 1,5 hour queue on the JFK runway before take-off back to BRU. Not sure whats wrong with JFK airport, but I hope they fix these issues soon!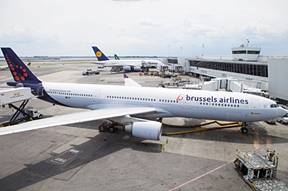 Pic: Brussels Airlines A330-300ER OO-SFM at JFK Airport (Jun 3, 2012)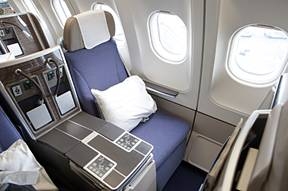 Pic: My Brussels Airlines Business Class seat 4K on flight SN502 JFK BRU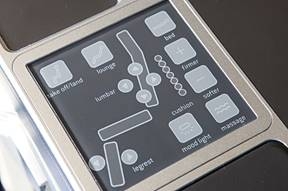 Pic: Brussels Airlines new business class Seat controls (Jun 2012)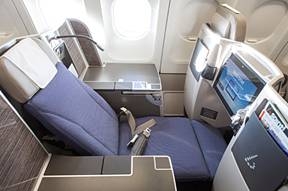 Pic: Brussels Airlines new business class seat in lounge mode (Jun 2012)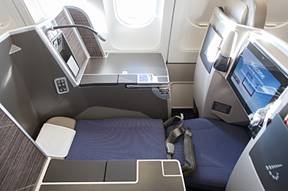 Pic: Brussels Airlines new business class seat in bed mode (Jun 2012)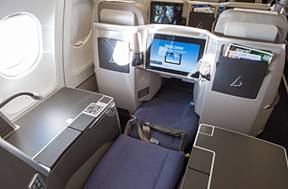 Pic: Brussels Airlines new business class seat in bed mode (Jun 2012)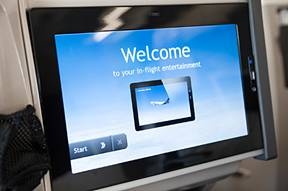 Pic: Brussels Airlines new Business Class 15.3-inch IFE touchscreen (Jun 2012)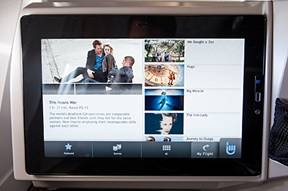 Pic: Brussels Airlines new RAVE inflight entertainment system (Jun 2012)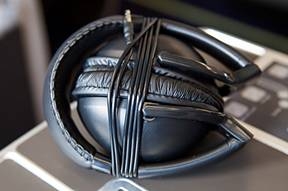 Pic: Brussels Airlines Business Class headsets (Jun 2012)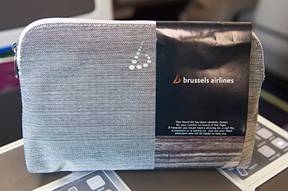 : Brussels Airlines new Business Class amenity kkit (Jun 2012)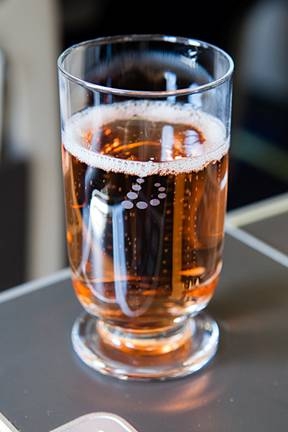 Pic: Brussels Airlines Business Class Aperitif Kir Royal (JJun 2012)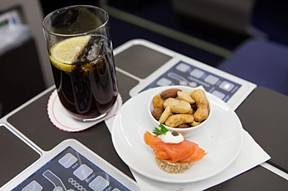 Pic: Brussels Airlines Business Class Amuse Gueule (Jun 2012)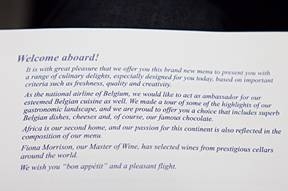 Pic: Brussels Airlines Business Class Menu introduction (Jun 2012)
Pic: Brussels Airlines longhaul Business Class Menu (Jun 2012)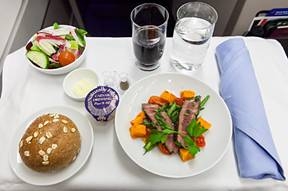 Pic: Brussels Airlines Business Class Dinner Starter: HHerbed Sliced Beef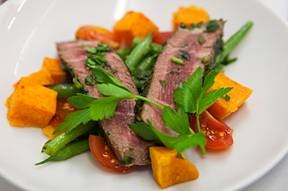 Pic: Brussels Airlines Business Class Dinner Starter: Herbed Sliced Beef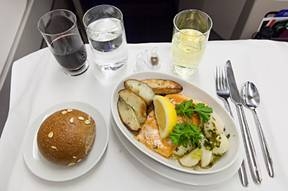 Pic: Brussels Airlines Business Class Dinner Main Course: Seared Arctic Char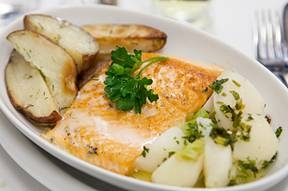 Pic: Brussels Airlines Business Class Dinner Main Course: Seared Arcttic Char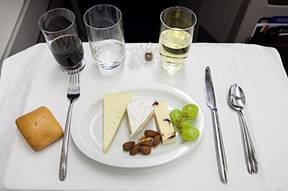 Pic: Brussels Airlines Business Class Dinner Cheese Platter (Jun 2012)<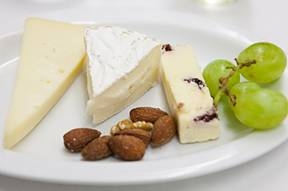 Pic: Brussels Airlines Business Class Dinner Cheese Platter (Jun 2012)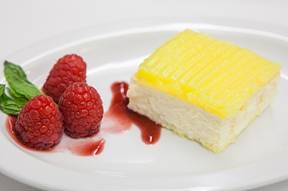 Pic: Brussels Airlines Business Class Dinner Dessert: Cheese Cake (Jun 2012)>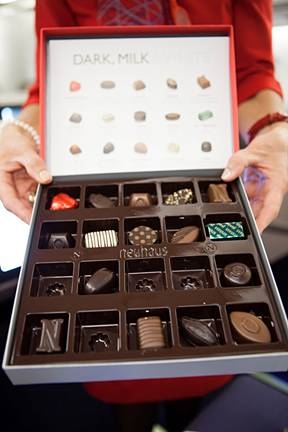 Pic: Brussels Airlines Business Class Dinner Neuhaus Pralines (Jun 2012)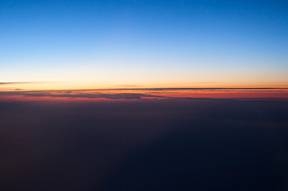 Pic: Brussels Airlines New York JFK to Brussels Sunset (Jun 2012)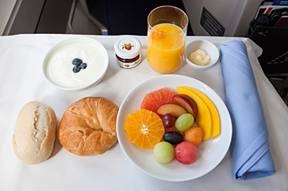 Pic: Brussels Airlines Business Class Breakfast (Jun 2012)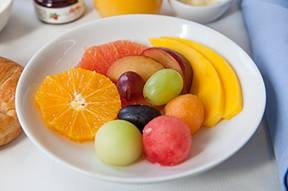 Pic: Brussels Airlines Business Class Breakfast Fresh Fruits (Jun 2012)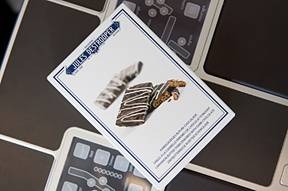 Pic: Brussels Airlines Business Class Jules Destrooper Cinnamon Butter Thins
Remark: Ive put quite some effort in providing you with high quality pictures of the new Brussels Airlines hard product. Ive not posted all pictures I made during the flight, if you are looking for a specific detail (e.g. seat control instruction card) feel free to ask in the comments section of this post. Thank you.
1. BRU to JFK June 1st
http://www.flyertalk.com/forum/trip-reports/1352417-sn501-bru-jfk-innaugurationflight-01jun2012.html#post18689724
a complete new interior thhroughout the plane, award winning business seats with a 180° full flat bed, a 15 AVOD IFE system with connect ability for personal devices like iphones or ipads. The seats are nearly identical to these of sister company Swiss International Airlines but with some nice upgrades (bigger screen, etc ).
The economy passenger can now rely on a 33 seat pitch witch is more then other airlines offer in economy. A new AVOD IFE system, with hours of entertainment with 10 screens has also been installed. The IFE system features an USB port which will load your personal devices like an iPhone or iPad
Actually with the new seats, the AVOD IFE system and the very nice service from the cabin members you can actually say that SN is offering one of the best products on the Atlantic routes. As a frequent United Airlines flyer myself occasionally travelling with British Airways I can say that SNs product in economy is the best around.
SNs offering from BRU to JFK was an African Coriander Chicken or a Fish Ragout after tasting the salad I was quite surprised about the quality offered. It was certainly up to standards I was quite surprised that there were qquite some pieces of chicken in the dish together with a good amount of rice… After taking a bite of the rice and the chicken (which was in a sort of curry sauce)
I was again surprised about the quality offered.
The chicken tasted delicious, it was soft, moist and had a good taste to it. The rice was still moist too and tasted also delicious..
Never thought I would say this but damn, this was a decent quality meal.
flight attendants came by frequently and were very attentive, they would offer drinks on regular times and with a small touch on the call button the were at your seat in less then a second.
I rarely saw such a service, this gets more then 2 thumbs up from me. This level of standard would remain constant throughout the whole flight.
..state of the art IFE system . a quite uniquue system since its the wireless system of RAVE with all the content installed on flash memory build into the system. It features hours of audio The system was loadeed with loads of recent movies and Hollywood hits, thanks to the system one could choose from a couple of languages to have it dubbed or with subtitles. A lot of useful information about Brussels Airlines, the airports, etc was loaded and loads of games were also available.
2. JFK to BRU June 1st
http://echosjourneys.blogspot.be/2012/06/making-history-with-brussels-airlines.html
We were so happy to discover that Brussels Airline was child friendly beyond belief and the plane was gorgeous
All the games and toys I prepared for them were unnecessary, Brussels Airlines was 2 steps ahead of me! And that ain't easy to do!
Zane insisted on the seafood meal that included a piece of fish, rice, veggies, and pasta salad. Alpha Poppa and I had chicken and rice with salad and a slice of cheesecake.
The back of each seat had a touch screen computers that offered movies, games, music, a real time global flight map, service call buttons, you name it… It was on that screen!

image01632.jpg

Uganda News
RHINO FUNDS SUCCESS PROMPTS MANAGEMENT CHANGES



The Rhino Fund Uganda and the Ziwa Rhino Sanctuary have announced some changes in the way the organization is operating. Angie Genade, long serving Executive Director of the Rhino Fund and the sanctuary at Ziwa, shared with this correspondent some insights of her success in past years, most notably being able to double Ugandas rhino population since her arrival from South Africa from the initial 6 adults to a further 6 offspring, making a round dozen which can now be seen when visiting Ugandas only place where the endangered animals can be seen in the wild.
In view of increased workloads with administration and conservation issues on the sanctuary, and substantially increased lobbying and interaction engagements, Angie has now passed on the hospitality side of things at Ziwa to Francis Ochan, who will oversee the bookings for the guest houses, the dorms and the camping spaces PLUS take care of lunch bookings at the restaurant, while Angies husband Johan will continue to deal with bookings for the upmarket Amuka Lodge, located at a prime location on the sanctuary. Both can be contacted via johan or franchandan, with immediate effect. Bookings for rhino tracking, shoebill canoe rides, bird watching or hiking on the sanctuary remain in the domain of Angie.
The Rhino Fund Uganda is a registered NGO which was formed with the aim to bring the species back to Uganda where it has been extinct since the early 80s and the fund is credited to have accomplished not only that 2 rhinos, Sherino and Kabira are resident at the Uganda Wildlife Education Centre in Entebbe and now 12 found on the Ziwa Sanctuary but is also credited with establishing the sanctuary. This was due to the generosity of Capt. Joe Roy and his family which cleared Ziwa of commercial cattle ranching and set aside nearly 17.000 acres of land for conservation, a move which paid off handsomely for Ugandas tourism industry which now makes regular itinerary stopovers at Ziwa to showcase this conservation accomplishment. Visit www.rhinofund.org for more details and to learn how to participate, support and fundraise for this worthwhile undertaking.

MV PEARL TAKES TO THE LAKE AT LAST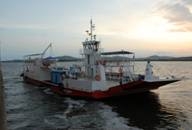 The MV Pearl, owned and operated by Kalangala Infrastructure Services, has now reportedly been granted a full license to operate between the mainland at Bukakata near Masaka and Luku on Bugala Island, the main island of the Ssese group in Lake Victoria and site of the Kalangala district administration.
The new ferry will be bringing relief to the islands who in the past had to rely on the often patchy and unreliable services of MV Bukakata. As was the case in the past, the services of the ferry are free of charge, subsidized by government as part of brining infrastructural development to the islands.
It is understood from the owners of the ferry, which can sit up to 160 passengers with a further 40 standing and as many as 20 cars, that a second ferry, the MV Ssese is under construction and due to be commissioned within 10 months, then providing both back up and boosting capacity on the route.
Allegations that an exclusive underhand deal was struck were dismissed by both government and the ferry owners and operators, as it was pointed out in a press release to this correspondent that the route was non-exclusive an open to additional operators, subject to meeting marine licensing requirements and on proof of relevant insurance covers.
The new ferry service will now commence a scheduled operation, ending the often long waits when in the past vehicles and passengers had to wait for long hours before the ferry would finally make an appearance.
KIS is reportedly also in the process of constructing a water distribution pipe network on Bugala as well as engaged in road upgrades but most important the setting up of a hybrid power station on the island, bringing relief from the notoriously unreliable powersupply from the mainland. These projects are understood to be undertaken in the format of a public private partnership between government and KIS.
Members of the tourism fraternity have welcomed the arrival of the new ferry but also expressed their desire that similar services from the Entebbe pier and the Port Bell harbour be increased too to facilitate the regular movement of tourists and locals to and from the islands under safe operating conditions. The Ssese island group on Lake Victoria is often seen as a yet to be tapped tourism resource and a number of smaller hotels have in recent years been opened where tourists, mainly backpackers, can stay and enjoy the forests and beaches of the main island Bugala and many others dotted around it in the lake. Happy sailings.

SHERATON KAMPALA SET TO HOST CLASSIC CARS SHOW



The Sheraton Kampala Hotels this coming weekend is the place to be for classic car enthusiasts, when the gardens of the hotel will showcase some 40 vintage and classic cars from collectors and motor buffs around the country.
The event has been widened into a society weekend with a jazz concert on Saturday night featuring local legend Isaiah Katumwa, prizes for the best dressed couple in attendance of the show and lots more fun for kids with their bouncing castles, ice cream and other goodies.
An impressive lineup has been confirmed for the show with a range of models dating back to the pre-independence 50s, the post-independence 60s and 70s giving todays Kampaleans, used to eternal traffic jams, a glimpse into past days, when the owners of those cars would majestically cruise through Ugandas capital city, while most others in those days would ride a bicycle to work. Sadly for this correspondent an event to be missed as other duties call in Ruhengeri / Rwanda where on the same day the Kwita Izina Festival comes to its conclusion. Watch this space.

MABIRA, THE ENDANGERED FOREST
Writing about forests for me is like writing about life rich, varied, exciting, full of challenges and promises but also fraught with dangers. In recent years I have written much about the forests in our wider region, many of these pieces published in The Eye in Uganda and Rwanda, and while I named Nyungwe as The Enchanted Forest that one truly has a special place in my heart I have to call our own Mabira The Endangered Forest. Embattled by those who want to turn a quarter of it into a sugar cane plantation in the name of progress and development, assaulted by illegal loggers seemingly enjoying some serious protection and eating ever deeper into the core of Mabira, as recent overflights amply revealed, the forest nevertheless still has much promise and holds the key for at least part of Ugandas future, as a green lung and water tower for the sprawling and polluting Kampala metropolitan area, spewing out carbon dioxidewhich the 28.000 hectares forest then helps to absorb.
Mabiras continued integrity is a way of life for those who through the ages combed through it in search of medicinal plants, edible berries, fruits and roots and even fire wood, which if sustainably harvested can provide a continuous livelihood for the communities living at the edges of it and it holds yet more promise as a resource for research, as many answers for questions raised by modern medicine for cures may be contained in it.
But over and above those issues, which could fill a book of course or make for some added dissertations or thesis on this topic, Mabira is, or at least should also be an important source for nature and wildlife based tourism, and that is the focus of this particular article, to show just what amazing biodiversity can be found 60 odd kilometres outside our capital city of Kampala and what attractions the forest holds for tourists and local visitors alike.
Surprisingly few people actually visit the forest, or stop at the Eco Tourism Centre established by the National Forest Authority (www.nfa.org.ug). The figures given by staff vary between 2.000 and 3.000 visitors per annum, many of them school groups for that matter, a commendable co-curricular activity to bring the need to preserve our forests closer to the next generation, but when talking of foreign visitors or residents, the number seems abysmally low. It is understood that NFA was and continues to be lacking in promotional and marketing efforts or capacity, unlike their wildlife counterpart UWA, where PR, marketing and in particular the use of social media has made strong waves, even getting one over the Uganda Tourist Board it seems. Several trained guides based at the Eco Tourism Centre are ready to take local and foreign visitors on to one of the four main hiking trails, or else on one of four cycling trails, the latter requiring some experience with mountain bikes of course.

As the maps, available in hard copy if not out of stock, at the Eco Tourism Centre show, the four trails for hiking are the Red-tailed Monkey Trail, which can be easily done between say 45 minutes and 1.5 hours, while the Buttress Tree Trail, about 5 km long, may take as much as 3 hours to complete, depending how fit the hikers are and how long they prefer to stop to see birds or plants. The Grey Cheeked Mangabey Trail is the longest of the four, 6 kilometres long and it can take as many as 4 hours to complete, at times longer as the guides try to track the famously elusive primates. Those are seen only in about one in three attempts according to Peter Nsubuga, one of the guides I found on site during my visit. The more recently discovered Black Mangabey is even rarer to find and it would indeed take several hikes, even off the regular trails, accompanied by one of the guides with knowledge where these rare primates are actually located on a given day.
A short Picnic Loop, almost not worthy to be called a hike, as it is rather a stroll, of less than a kilometre can be completed in 20 30 minutes and at least gives an insight, a peek really, of what to expect when venturing deeper into Mabira forest and experiencing to be inside a tropical rain forest with all the sights, sounds and scents it has in store for visitors.
The cycling trails, mountain bikers are welcome to bring their own bikes of course, though basic models are available for hire at the centre at a modest cost of 25.000 UShs or about 10 US Dollars for the day, are notably more demanding in terms of time and come from easy, The Blue Trail of 5 kilometres length taking about an hour or so even for novices, over the medium rated Yellow Trail of 12 kilometres, taking depending on skills and fitness between 2 3 hours to complete. The difficult and longer and much more demanding sections of the Red Trail are the most challenging for riders, and this trail has a shorter version of 22 km and a full version of 30 km it in average takes cyclists between 4 -5, and even more hours to complete.
The ultimate challenge is the ride to the Griffin Falls, of late in the news over alleged contamination and pollution from a nearby sugar factory, which is called the White Trail and takes up to 8 hours to and from the centre though can be shortened by driving to near the falls and setting out with the bikes from there, as long as a driver takes care of the vehicle and teams up with the riders at their end point.
Before I moved on to the RainForest Lodge for a bit of luxury and fine hospitality, I obtained a few of the impressive facts from the guides, including an eye-opener when I compared the mammal inventory by Nature Uganda with the official guide books.
312 shrubs and tree species, 287 types of butterflies, 316 species of birds, many of them endemic, 23 species of reptiles, 97 species of moths and according to a Nature Uganda inventory 51 mammal species, whereas the regular guide books only talk of 30. If truly so, this would be a marked improvement over the past and all the more a reason to actually visit Mabira forest and hike it or cycle it. The Eco Tourism Centre also has three bandas for hire, clean and functional, with bedsheets, blankets and towels, but not self contained and not connected to electricity. A kerosene lamp is available for each of them and a basin and scoop are provided for washing outside in an enclosed little shower place and a long drop is set back a few metres. The prices reflect the standards, 8.000 Uganda Shillings for Ugandans and 15.000 Uganda Shillings for foreigners but comparably affordable vis a vis similar locations in for instance the national parks. Meals can be obtained at a very reasonable cost, upon prior arrangements with the visitor centre and comprises local produce, filling, wholesome but hardly a gourmet meal of course.
And then it was a very careful crossing over the Kampala Jinja highway, and be careful as you do because the number of food vendors at this spot at times make it hard to spot the cars, trucks and busses, which zapped by at high speed. Parked cars make that task even harder so utmost caution is required on this accident black spot.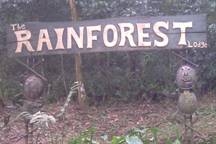 I moved for a few nights to the RainForest Lodge, to enjoy the forest, the hospitality and facilities this award winning lodge offers. Set just about 2.5 kilometres off the main highway, this lodge is the only one within the NFA framework of national forests, a further sign that the commercial side of the NFA has yet to realize that there is actually tourism happening in Uganda and NFA could make quite a bit of money from concession fees, royalties and entrance fees paid by visitors, if only theyd embrace tourism seriously and under a well thought out development plan. Access to the lodge from the main highway is via a good murram track, soon entering the forest proper after leaving the roadside shacks and shops behind and escaping from the vendors trying to proffer roast meats, roast corn cobs and cold drinks through a hardly open window. The mood immediately changes when inside the forest, from the feeling of escape into a sense of anticipation which develops as eyes scan the trees for monkeys, for bright flowers, orchids perhaps, the birds and butterflies, but best not to be taking the eyes off the road for too long as there are some steep hills and sharp blind corners ahead.
Bookings for the RainForest Lodge can be done with ease by email via GeoLodgesAfrica though payment still requires to be processed at the lodge office in Kampala to secure the confirmation and when done all meals are included in the price, which are breakfast, lunch, afternoon tea and dinner. Ugandans and expatriate residents get a special rate for a stay in any of the 12 wooden cabins.
All meals are taken in the main restaurant but above it, almost as perched between the trees, is a lounge and lookout from an elevated vantage point, which permits for bird watching or simply looking into the evergreen foliage while sipping ones favourite cocktail, wine or spirit.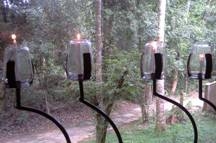 Depending on occupancies, the chef offers either a buffet with a variety of dishes to choose from, starting with a soup all the way to the desert or else meals are served by the waiters, with a choice of dishes also available from the daily tabled hote menu, with freshly baked buns and bread, served hot as it is supposed to be served.
Accommodation is well spread out, the 20 cottages set far apart one from the next, and that allows for total privacy and the quiet, if not silent enjoyment of the forest. This is through and through a silent lodge with no TV or music systems blaring away and guests are equally expected to keep their voices low and use earphones when listing to their iPod music. The walk ways to the cottages are often steep but well lit and to come for dinner and then return to the solitude of ones own cabin securely, staff are readily at hand to accompany guests after dark to and from their rooms to the dining room, if given a time by the visitors in advance.
The eerie calls of the forest hyrax often echo through the night from deep in the forest, surely causing goose pimples to those who hear these screams for the first time, when the guests at the Mabira RainForest Lodge retire to their rooms after their dinner. Whatever this is it makes a sound like in a haunted movie I remember an American visitor say to me during a previous visit before adding, if well remembered in a rather smaller voice there are no ghosts here, surely ?
The best magic in the forest is experienced at full moon of course, and admittedly best with someone very special to share such a unique experience with, sitting hand in hand on the private balcony each cottage has extending literally into the foliage. At new moon the darkness is almost overpowering before getting used to the shadows dancing under the starlight, hearing the various night sounds which emerge from the thickets, crickets, insects, moths flying circles around the balcony light unless it is switched off, or the whoosh of bat wings, the calls of the night owls or the rustling of leaves in the breeze, the hurrying feet of some small animal rushing through the leaves on the ground, to permit a close up experience of sounds and scents of the forest, engulfing those seeking this special solitude and an extraordinary experience.
A resident guide is available during the day to take guests for walks around the lodge and beyond, explaining about birds, the red tailed monkeys, the shrubs and trees and has answers for just about any questions the visitors may throw at him. And for those not wishing to hike, there is a swimming pool and a sauna available for resident guests to use, and many in fact do to take advantage of a visit to the steaming hot sauna, even as outside the evening chill creeps up on the swimmers at the nearby pool, the sun only having a warming effect when directly overhead. Massages too are offered and there are plans to establish a fully fledged Spa at the RainForest Lodge in Mabira to add further services for guests, tempted perhaps to come for a health week with special menus reflecting the use of organic ingredients, spending the a few days on a strict diet of health food accompanied by regular work outs and exercises, Yoga and meditation perhaps at the centre of it all.
The lodge is so near to Kampala and yet it feels so totally removed from the hustle and bustle of the city that it is always worth a visit, for a weekend or a mid week break which will be remembered for long, at the RainForest Lodge inside Mabira Forest or else, for those on a tight budget they can use the basic bandas at the Eco Tourism Centre., do a self catering trip or have some simple meals cooked for them, just as long as you come to Mabira and do visit. The road from Kampala is in reasonable shape, with a few potholes to watch out for of course, or it would not be Uganda, The Pearl of Africa.
In closing two more things are definitely worth mentioning. Last year the lodge staged a music weekend with Evon the Singer and others of Ugandas top performers and it is planned to have later in the year a Jazz in the Jungle weekend for aficionados of good music and good company. With only 20 cottages that will fill the lodge up fast of course, plus the three bandas and camping ground at the Eco Tourism Centre across the main highway, some 3 odd kilometres overall from the lodge, but that event is one to watch out for and not to miss it.
The other thing is one for star gazers. GeoLodgesAfricas Chief Executive and Managing Director Zahid Alam, when at the lodge, always brings his set of telescopes with him and shares his extraordinary knowledge of stars and star formations with guests, who are welcome to take a look into the skies above with stars often so near as to reach out for them. Unsullied from any light pollution which makes star gazing near cities much more difficult, here at the RainForest Lodge the lights are all dimmed at night to start with, or put out in fact when the guests gather around him and he begins to share his profound knowledge of the stars of the equatorial belt. That though is truly either a matter of luck to find him there or else, perhaps he could be persuaded to make it a regular event and not just provide his warm hospitality but also some lectures for new and advanced star gazers.
Enough reasons to visit Mabira Forest for sure now, from the solitude of a 28.000 hectares large tropical rain forest full of great biodiversity to the options for hiking and cycling to the chance opportunity to learn about the stars above, which sparkle down at those looking at them, with hope and aspirations and dreams in their hearts, ready to touch them, so near they often appear. Or else, simply for a romantic getaway, reason enough on its own that is.
Mabira is a star, or should be one and maybe, just maybe I can inspire a few of my readers to join hands in the Save Mabira movement which is dedicated to conserving this magnificent yet highly endangered forest for future generations.

Kenya News
KENYA WILDLIFE SERVICE RE-OPENS HELLS GATE GORGES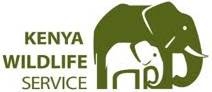 Following a thorough review of safety procedures and emergency response mechanisms has KWS over the weekend re-opened the gorges, where some 2 months ago disaster struck when a flash flood carried away seven Kenyan youths on a team building exercise. KWS CEO Dr. Julius Kipngetich made the announcement at the park while attending the annual wheel barrow race, which brings communities together to raise funds for the park and projects nearby. Dr. Julius was quoted by a source attending the event that the danger zones in the gorges were now clearly marked, urging utmost caution when traversing such stretches during periods of rain, even distant rain, so that escape routes can be identified to swiftly evacuate from the flood prone gorges should the need arise.
He also reportedly responded again to demands by local politicians making hay out of the tragedy, that the park name would not be changed as it was part of making it attractive to foreign and local visitors keen to find out what hidden secrets the park may hold.
This years event raised 18 million Kenya Shillings which will largely go towards the establishment of an education centre for young girls, to give them an equal chance to succeed in life. Dr. Julius added that KWS was working hand in hand with the Kenya Tourist Board and other partners to make the annual wheel barrow race at Hells Gate an international event and part of Kenyas calendar of festivals and happenings, so as to attract more international visitors to the park. Hells Gate National Park is also renowned as a venue for filming commercials or scenes then used in international movie releases, evidence that indeed it is a place to be and a place to visit. Watch this space and for more information visit www.kws.go.ke

KENYA AIRWAYS ANNOUNCES SCHEDULE CHANGES IN THE FACE OF PROFIT DROP


A statement received literally within hours of announcing full year financial results which showed a very significant increase in cost levels and a more than halved profit compared to the 2010/11 FY, the airline will with immediate effect suspend flights to Rome and Muscat. Both routes have reportedly underperformed, in the case of Rome at least in part attributed to the woes of the Euro Zone and the state of the Italian economy while demand to Muscat has clearly also not met expectations. However, flights to London will be upped to 10 a week, using the airlines largest aircraft a B777-300 with 322 seats while during the peak summer months Paris flights will be increased to 6 per week. The daily Amsterdam flight will also be switched to the larger B777-200, again adding capacity into a market place where demand remains strong and where in particular connecting traffic out of the United States is served.
The airline however has made also significant changes to some other destinations, adding three new evening departures to Dubai, which will now be served 10 times a week. The Lagos and Accra flights too are being combined now, giving Accra 12 frequencies per week with 9 flights to Lagos, increasing connectivity to KQs important West African market place. Flights to Nigerias capital Abuja will offer added options for Nigerians to connect to East Africa, the Gulf, India and China. Ndjamena flights have been upped to three times a week and flights to Dakar will now all route via Ouagadougou, giving the latter also 3 flights a week as a result of strong demand.
Easy and convenient connections out of Nairobi to Guangzhou, Hong Kong, Bangkok and in particular to India, where Mumbai now has 10 weekly flights and the 3 Dehli flights have taken a strong hold in the market already, make flying with The Pride of Africa for many West Africans now their number one choice.
Kenya Airways CEO and Group Managing Director Dr. Titus Naikuni was quoted as having said: Owing to the decreased passenger volumes on these routes [to Rome and Muscat], we have decided to re-align our capacity across the entire network to meet growing demand on other destinations including new ones when asked to shed some light on both destinations being dropped from the schedule.
Watch this space for breaking and regular news from the Eastern African aviation scene.

KENYA AIRWYAS FULL YEAR PROFIT DROPS AMID RISING OPERATING COSTS


Kenya Airway has now released the full financial year results for 2011/12 and while the upside is continued profitability, and a sharp rise in revenues and passengers carried, the downside is a sharply reduced profit compared with the 2010/11 financial year.
This trend translates to reduced earnings per share from 7.65 KShs the previous year to only 3.58 in the just concluded year, attributed to a rise in fuel cost and labour cost, the latter sustained after having to prevent a strike threat by cabin crew and other staff over terms and conditions, leaving the profit columns drained of substance..
Passengers carried rose to about 3.6 million compared to only 3.1 million a year earlier, which speaks for the impact of a sustained rollout of new routes and added frequencies in core markets and earnings catapulted by over 26 percent to 107.9 billion KShs. A higher cabin load-factor of 71.7 percent was the result of the added numbers up from last years 69.2. However profits reduced from about 3.5 billion KShs to only 1.66 billion KShs for the 2011/12 year, showing just how great an impact a softening European market and the rise in fuel cost it meant for the airlines profitability.
Also announced was the date of the Annual General Meeting of shareholders, due for the 27th September 2012 at a venue to be announced but likely once again at the Bomas of Kenya to cater for the presence of as many shareholders as possible. Full details of the financial statement and comments made by board and management are available via www.kenya-airways.com
MARASA AFRICA RE-OPEN ABERDARE COUNTRY CLUB AND THE ARK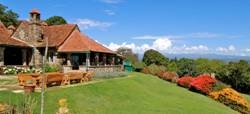 The Kenyan properties of Marasa Africa, the hospitality arm of the Madhvani Group in Uganda, have just been re-opened following months of intense refurbishments and attention to detail at the Aberdare Country Club, featured in the picture above, the Ark a treehotel now much more of a forest resort where game meanders by and tourists are stationary high above and the Mara Leisure Camp in the Masai Mara Game Reserve.
The Aberdare Country Club is set to become once again a crowd favourite in Kenya, not only because all the rooms and the main building have been fully refurbished and modernized but in part at last as the clubs 9 hole golf course too has seen some major improvements to it and more work has gone into the stables too where horses await to be taken out across the sprawling estate and beyond for some early morning or afternoon rides.
At the Ark too had extensive work taken place and the result is a sparkling fresh look at what will surely be an instant hit on the safari circuit again where a night at a tree hotels is almost a must. Here the long overdue drenching of the waterhole and the creation of a separate salt lick will undoubtedly bring ever more game to the front lawn of the Ark with visitor enjoying the spectacle either from the terrace, the lower deck lounge or the well hidden hide from where close up views of game are possible. Their third property, the Mara Leisure Camp, too has seen significant upgrading of the tents and cottages.
Marasa Africa now has 7 properties in its stable, 4 in Uganda and 3 in Kenya but has already indicated to this correspondent that they are seeking further acquisitions to expand their circuit deeper into Kenya, and other countries in the East African community too. Watch this space.
LEOPARD BEACH RESORT AND SPA SET PROVISIONAL RE-OPENING DATE

Following the fire incident, reported here on the day it happened, at the Leopard Beach Resort and Spa two weeks ago, the preliminary assessment of damages sustained in the fire, such as makuti roofs over parts of the restaurant, stores and offices, has been completed and the Directors have issued a statement, indicating they are looking at December 01st for the resort to receive guests again.
The full statement, in large portions actually using this correspondents own initial description of the incident reproduced with full consent of course is shown below.
The Chui was at the time closed for its annual maintenance and refurbishment cycle and no guests were therefore affected by the fire. Watch this space for announcements nearer to the re-opening time to confirm that business will be back to normal at this outstanding resort on the Diani beach south of Mombasa.
Leopard Beach Resort and Spa suffered fire damage while undergoing its annual maintenance and therefore will not re-open as planned after the scheduled renovation period [on 29th June]. Our planned re-opening date is 1 December 2012 which will be confirmed [at a later
stage]. We sincerely regret any inconvenience caused to our valued guests.
The Chui, as Leopard Beach Resort is fondly known among friends, has suffered fire damage to its makuti roofs near the main building. The resort is presently undergoing its annual spring-cleaning and modernisation – as has been done annually for the past 11 years – and therefore no guests were affected.
The fire was extinguished by the resorts in-house well-trained security team, supported by a state-of-the-art fire hydrant ring line, with the valuable assistance of the Ukunda airstrip fire truck and neighbouring resorts staff, who are also trained in fire response, thereby preventing greater damage to the structure. Loss adjusters from the insurance company have ruled out foul play as far as present investigations confirm.
The famous Marios and Marcos bars roofs were also affected but damage to both facilities was limited. The linen stores, laundry and some nearby offices suffered greater damage, though nothing which cannot be replaced. The planned re-opening on 29th June – an annual event when the Chui shows off its new and fresh look ready for another year of near full house occupancies – has to be pushed back and we will announce the anticipated dates soon.
On top of the 138 rooms and 20 suites, cottages and sea facing villas, the resort is presently adding 28 garden and forest villas of 2 to 3 bedrooms each with their own pools and is also adding an Asian Fusion restaurant. Leopard Beach Resort and Spa has been consistently voted Kenyas leading coastal resort having received both international and local awards and is a favourite to many who appreciate that the Chui never looks tired or worn.
Thankfully no one was injured in the fire and clearing up work has already commenced, again aided by the fact that the resort was closed at the time for its annual refurbishment. Please continue checking www.leopardbeachresort.com for more information and details, when available, on the projected re-opening. We take this opportunity to thank our valued guests and friends for their understanding and we look forward to welcoming you back to the new and improved Chui before long.

Tanzania News
PRECISION AIR ANNOUNCES LILONGWE / HARARE AND HINTS AT SIGNIFICANT PROFITS



Precision Air, Tanzanias leading airline, has just announced that they will launch flights to Lilongwe / Malawi and Harare / Zimbabwe from August this year onwards, when additional aircraft have joined their growing fleet. At the same time as making this announcement was it also mentioned that the airline is looking at significant profits this year, inspite of the challenges of record fuel prices and a less than satisfactory initial stock offering via the Dar es Salaam Stock Exchange.
The company according to information sourced from Dar es Salaam is looking at a profit in excess of 1 billion Tanzania Shillings, enough perhaps for renewed interest in their shares and likely to drive the stock value up before a formal announcement can be made later in regard to expected dividends.
Already operating a dozen aircraft of B737-300 make, as well as ATR turboprops the airline has more recently added a further order for 6 more ATR 72-600 and ATR 42-600 state of the art aircraft, which will start being delivered from late next year onwards.
The airline however lamented the fact that many of Tanzanias secondary and tertiary airports and aerodromes do not have equipment to permit for night operations and the source added: in aviation one wants to use the planes 24 / 7 really and when quite a bit of the fleet cannot fly at night because of lack of runway lighting or navigational equipment in place, that is not a good thing. The more the planes are in the air, the better it normally is for the airline in terms of returns on investment. The government is trying to play catch up with refurbishing runways and expanding terminal buildings and other facilities across the entire country but it is not as fast as we would like to see and there are components which need to be added, like runway lighting and approach lighting to permit for night operations. It will also make it better for Tanzanians wanting to fly because if you can use your aircraft for more hours the cost of tickets can be reduced in many cases. When asked what impact the recent changes in Air Tanzania would very likely have on Precision Air the source then said: Air Tanzania is just really starting again and they have one aircraft compared with 12 by Precision. The management changes last week you reported about have also posed some new challengers for the new team. They need a new board and only when that is in place, when they have say 3, 4 or 5 aircraft, a mix of jets and turboprop, than we can see how they re-enter the market. For now, aviators watch and see and wish them well of course like we do with everyone who takes to the skies, leaving the key question unanswered of exactly what Precision Air is expecting in terms of competitive challenges, now that they control over 60 percent of domestic traffic. Watch this space.
Rwanda News
THE CLOSURE OF THE GACACA COURTS ONE CHAPTER ENDS BUT WHAT NEXT
While still in country after a grand Kwita Izina week of conservation celebrations the opportunity arose to sit in on the International Conference on Gacaca Courts, the answer of the new Rwanda to the need to bring people to justice and justice to the people, following the gruesome 100 days genocide, during which according to the latest figures a million people were slaughtered by frenzied mobs, militias and the military.
Earlier during my visit I had already come close up and personal with the genocide and the surviving victims, but also some perpetrators now living side by side in a model village.
A visit to the Belgium memorial site, where a troop of their soldiers were killed and where tribute is also paid to others of their citizens, slaughtered alongside their families because they had married into a Tutsi family.
The countrys main national Genocide Memorial in Kigali was again on my visitng programme, as it is on every occasion I am in Rwandas capital, to remind myself that NEVER AGAIN has to mean just that NEVER AGAIN. The world stood by in 1994 and wrung its combined hands but did not come to the aid of those who faced mass murder, and similarities with what is going on in the border regions between Khartoum Sudan and South Sudan, including ICC wanted alleged war criminal Bashir calling the Southerners insects which must be extinguished reminds one only too much of 1994 when the masterminds of the genocide in Rwanda called their supports to finish off the cockroaches.
The conference held today in Rwandas parliament is discussing in details the achievements, and shortcomings, of the community based Gacaca Court system, which over the past 10 years, the mandate runs out tomorrow when President Paul Kagame will officially close the system down, has dealt with over 1.2 million cases.
Even the most ardent advocates of conventional court systems must admit that not one legal system in the world would be able to deal with that many cases in a conventional way and true enough, research now availed to this correspondent shows that it would have taken an already overloaded Rwandan legal system over 300 years to try all these cases. Under the Gacaca Court system some 120.000 judges were appointed and notably NO professional lawyers were involved in these cases, as perpetrator had to face their accusers and victims close up and personal, had to admit their guilt, confess their crimes, show where they dumped the bodies to give closure to the families and then ask for forgiveness. They were still jailed when found guilty, but often released back to their communities after serving some time and in lieu had to carry out community work in places where in 1994 they murdered, no slaughtered thousands.
The Rwandan leadership must have felt the age old saying Justice delayed is Justice denied as eventually over 400.000 detainees filled the prisons while on either remand or serving their sentences and it was clear, that no Phoenix would rise from the ashes unless a way would be found to deal swiftly and comprehensively with the extremely large number of genocide cases and seek to re-integrate many of the erstwhile killers into society again, if progress and economic development had to be achieved.
Speed was essential and while fairness was inscribed in the charter of the Gacaca Courts, much of the peacocky nature of normal courts was seen as a hindrance so wigs and robes and pretentious language was ditched in favour of having communities see and experience justice being administered in a way they could understand, and fast for that matter. And while from what I saw and was presented with today and over the past days, when inspite of celebrating conservation successes the past was ever present in my searching questions, the Gacaca Court system was not perfect, in fact at times flawed, it nevertheless served a purpose and achieved results, on which Rwandan society can now build and move forward from. Reconciliation and Forgiveness rank high in building the new nation and no conventional court system supporter could even distantly claim that the judiciary in Rwanda, in fact anywhere in the world, could have coped with the sheer numbers of cases.
There was no yes your honour no your honour three bags full but plain language the people in villages could understand, participate in proceedings and see justice delivered through guilty verdicts but also acquittals. Justice without lawyers, perhaps the world should try more of that at times and in any case, the judiciary in Rwanda is now dealing with the hard core of masterminds of the genocide, or at least those caught and extradited to Rwanda, often after a decade or more of legal struggles, yes, courtesy of lawyers no less.
Rwandas situation post 1994 was unique and nearly unprecedented and few examples existed of how the problem of criminal prosecution could be addressed, until this home grown solution was proposed, developed and then in 2002 implemented with the first trial then taking place in 2003.
But with Gacaca Courts coming to the end of their lifespan, the question is being asked what next? One chapter closes and one expects some follow on. Could the country sustain a dual judiciary system in the longer run, to have justice dispensed with at local level at a similar court system or will the substantially strengthened normal judiciary, now with much improved capacity since 10 or 15 years ago, have to take care of all criminal matters henceforth? A question worth asking and worth monitoring progress made in Rwanda to see if at all some level of follow on for keeps can be found in months to come.
For now though, Rwanda is at another cross road, moving through the intersection with a well mapped out strategy to rebuild the nation and turn it into an African showcase country where things work, where discipline manifests itself in particular in traffic and where tourists from around the world flock to, perhaps soon reaching the one million visitor mark per annum, showcasing the risen Phoenix and demonstrating to the world that the Rwandan way did work. Not perfectly but to a very high percentage degree which is good enough, considering the challenges the country faced in terms of prosecutions and jail capacity only 10 years ago.
The new Rwanda on the move last Saturday when conservation took the centre stage with Kwita Izina and the naming of another 19 babies and a semi adult see the respective articles filed earlier today and now with the formal conclusion of the Gacaca Courts. Perfect? For sure not, but as good as it gets here in Africa, and that is the truth. Watch this space.
KWITA IZINA 2012 A TALE OF NAMING AND FAMING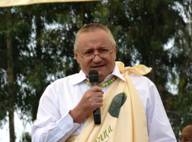 (The author, seen here naming Umutungo or Fortune at Kwita Izina in Kinigi / Musanze on June 16th. Picture courtesy of Telesphore Ngoga)
The eighth annual gorilla naming festival, now globally known as Kwita Izina has over the years named 141 young born baby gorillas, with each and every one of them given a name, all of them different and of a deeper meaning. The choices of names are proposed by the rangers on the ground who are with these endangered animals all the time and their selection reflects the circumstances of the birth or the location they were born at, but the namer makes the final decision, choosing from two or three selected for the particular new born.
Rwanda is the only country in the gorilla triangle of the Virunga mountains, which it shares with Uganda and Congo DR, to dedicate an entirel festival to the primates, and while gorillas in Uganda too are named by the wardens and the UWA staff, only in Rwanda has the naming been turned into an annual celebration of conservation. 141 births in 8 years sounds both much and little, the latter clearly an indicator that conservation is a hard, long term business and had it not been for Rwandas extraordinary efforts to protect the species, in conjunction with the communities living around the boundaries of the national park, a similar number could have been recorded as a loss to poaching or illegal trading. The centerpiece of Rwandas success is found in bringing the community on board, and Musanze has been recorded as the third most successful part of the country to combat and eradicate poverty, attributed to the inflow of tourist visitors, the jobs and investments they helped to create and the money they leave directly in the local economy, besides paying a tracking fee of now US Dollars 750 to the Rwanda Development Board. Local guest houses and hotels thrive and over the Kwita Izina week are fully booked as the regional and international conservation fraternity flocks to Musanze to pay tribute to Rwandas achievements.
From initially being a one day event, Kwita Izina has grown into a weeklong festival of activities, regularly featuring conservation focused conferences and workshops, exhibitions like this year when sustainable and green technologies were showcased at the Kigali Serena Conference Centre, a cycling race from Kigali to the gorilla mountains and notably, year after year, the handing over of additional community projects.. These are covering the provision of clean drinking as well as irrigation water, health centres, educational facilities and community centres where the locals can meet. 5 percent of the revenue of the permits are given back to the communities, besides a further 5 percent now being contributed to a compensation fund scheme from which anyone suffering proven wildlife damages can receive a payout.
The government of Rwanda has in recent years been regularly represented by the Prime Minister, paying tribute to the work done day by day in and around the park by wardens and park staff, the researchers, NGOs led by the Diane Fossey International Gorilla Fund and the International Gorilla Conservation Programme but also receiving the tribute of the international community for Rwandas ongoing commitment to protecting the species. This year it was the President of the International Council for Tourism Partners, Prof. Geoffrey Lipman, who stopped in Rwanda enroute from Beijing and Bangkok to Rio de Janeiro where he is attending the Rio20+ Summit, who applauded The Land of a Thousand Hills for their green vision of sustainable tourism developments. Rwanda is a founder member of the ICTP, which launched last year at the WTM in London and will hold its first annual meeting in the Seychelles in 3 weeks time. Prof. Lipman was one of the 20 namers, as was the Founder Chairman of the East African Tourism Platform, which was launched in Rwanda as part of the Kwita Izina week, Richard Rugimbana from the Tourism Confederation of Tanzania.
But this year was special in many ways. Normally reporting from the festival site in Kinigi this correspondent was chosen by RDB as a Namer in recognition of consistent positive reporting about Rwanda tourism and conservation and his contributions to promoting the country abroad through regular feature articles published by eTN and many other media organizations, in his capacity as the eTurboNews correspondent for Eastern African and Indian Ocean islands region. It was an honour for eTN to be such recognized as well as for yours truly and the occasions was made double special when the first ever opportunity arose to name a semi adult female. She some time ago migrated from the wild, seemingly un-habituated and not recognized by the unique facial features each gorilla has, as a member of any known group in the three countries and is now according to the rangers fully settled and integrated in the Sabinyo Group. It was instantly clear to this correspondent that this gorilla girl had enough sense to recognize, that by coming to Rwanda and becoming part of a habituated group, it sought out the protection of a strong and sustained conservation system where she can live out a full life. As many as 8 tourists a day, or up to 2.920 a year, come to see the gorillas of each of the 8 habituated groups and she too can now be seen on a daily basis, earning her keep by simply being there and letting curious humans see their close relatives in the wild with whom we share 98 percent of DNA.
(Dressed in full regalia of a Namer outside a traditional Rwandan homestead, where the men and women chosen to name are briefed and outfitted before making a grand entrance. Picture courtesy of Telesphore Ngoga)
The chosen name for her was Umutungo or in English Fortune because it was a good fortune which brought her into the safety net of RDBs Tourism and Conservation Department, from now on according her protection and care against permitting to be visited by tourists from around the world. And in the best African tradition, yours truly claimed Umutungo as his daughter and laid his claim to dowry, also expecting fully to name her first born, as and when that happy event will take place.
The 2012 event once again filled the showground to the brim and more than ever before where the words from the Prime Minister greeted with loud and enthusiastic applause, when he listed the achievements made in this part of the country, attributed to a large extend to tourism activities. It was evident that the local communities, which streamed in their many thousands to the festival ground, were fully behind the event, no wonder considering the benefits tourism has brought and continues to bring to the Musanze and its environs.
In closing I wish Umutungo and the other 19 newly named gorilla babies a long and happy life in the forests of the 5 towering volcanoes, where they can live and give in safe surroundings.
This trip was made possible by the generosity of RwandAir, the national airline of Rwanda, of Serena Hotels and the Rwanda Development Boards Tourism and Conservation Department.
EAST AFRICAN TOURISM PLATFORM LAUNCHES IN RWANDA


Following the launch at the EAC headquarters in Arusha last week the East African Tourism Platform has now also launched in Rwanda, coinciding with the annual Kwita Izina week, arguably the most important week on the calendar of event of the Rwanda Development Boards Tourism and Conservation Department.
Hence, the who is who not just from Rwanda but from the wider region were in Kigali ahead of the formal naming ceremony of the young born gorillas, and attended the EATP launch here.
Present from EATP was the platforms chairman Richard Rugimbana, Executive Secretary of the Tourism Confederation of Tanzania, Manzi Kayihura as vice chairman and representative of Rwandas private sector, besides Kenyas country representative Agatha Juma, Chief Executive of the Kenya Tourism Federation and the Burundian country representative of EATP Edouard Bagumako. Notably did from Uganda attend the chairman of the Association of Uganda Tour Operators as country representative, a sign that the embattled UTA president was clearly not seen as a true representative of Ugandas private sector see last weeks report on the broadside fired upon the UTA leadership by USAGA chair Herbert Byaruhanga who demanded immediate changes in the UTA set up to once again make it an inclusive and not selective industry apex body and indeed Boniface Byamukama did Uganda proud the way he represented the Pearl of Africa.
TradeMark East Africa was represented by Mark Priestley, Country Director for Rwanda, who explained the measures of support for EATP put into place to run a centrally based secretariat which can be used to both advance the regional integration and coming together of the national tourism sectors apex bodies, where functional, as well as immediately embarking on the key lobbying function with the East African Community and member government to advance the agenda of the tourism private sector. The main functions of EATP were described as:
– Reduce obstacles to intra and inter regional tourism
– Promote a regional tourism marketing approach
– Encourage continued human resource development and skills transfer
– Promote harmonized standards and codes of conduct for tourism facilities and services
– Facilitate access to affordable finance and risk management services
– Provide a platform for the exchange of data, information and networking opportunities
Rwanda has thrown her full support behind the EATP in order to promote increased dialogue between public and private sectors to take joint responsibility to develop the tourism industry regionwide and Ms. Rica Rwigamba, Head of Tourism and Conservation at the Rwanda Development Board, said: we are convinced here in Rwanda that the East African Tourism Platform is a good thing, is very much needed to promote dialogue and we fully support it from our side here in Rwanda before the Minister for the East African Community in the Rwanda government then declared EATP formally launched. Mr. EdwinSabuhoro, Chairman of Rwandas Tourism Chamber, part of the countrys Private Sector Federation, also expressed his optimism that a wider private sector cooperation in the tourism industry across the region would benefit the overall visibility and effectiveness of the national apex bodies when dealing with their respective governments.
Present from the secretariat was the programme coordinator Ms. Waturi Matu, who reiterated that present and future developments of EATP can be accessed and followed via Twitter on @TourismEA on Facebook via www.facebook.com/EastAfricaTourismPlatform or via their website www.ea-tourism-platform.org
MARRIOTT KIGALI ON COURSE FOR OPENING IN MID 2013



The Marriott Kigali Hotel, now under construction in the heart of Rwandas capital city with an adjoining conference centre, is reportedly on course for an opening in 12 months time, as ascertained from a team of the hotel group who are in Kigali at the moment. It is understood that a first batch of recruits has been identified and is being deployed soon in the Marriott properties in the Gulf region for training and that additional recruitment will progress as the opening comes nearer. This is aimed towards having a backbone of fully trained staff, conversant with hotel groups hospitality philosophy and service delivery and to provide quality services from day one of operations.
Marriott will be the first big league managed luxury hotel in Kigali when it opens its doors and comes hot on the heels of the market entry in East Africa by Hyatt, which took over a hotel last year in Dar es Salaam under a management contract, while Kempinski earlier this week made their formal announcement of the opening of their Kenyan properties, the Kempinski Villa Rosa in Nairobi and a luxury tented safari camp on a conservancy adjoining the world famous Masai Mara.
The arrival of global big league hotel operators like Kempinski, Marriott and Hyatt is expected to inject a new round of competition into the top level market in Eastern Africas main cities and will probably spur further investments by existing hotels rather than an outright price war, from which no one, not newcomers nor existing hotels would benefit in the least. In fact, one of Nairobis market leaders, the Nairobi Serena Hotel, is due to commence construction of a new wing with larger and more luxuriously appointed rooms before embarking on a complete rebuilding of the existing hotel, in order to maintain their position as market leaders and compete more effectively with the likes of Kempinski on both product and service delivery.
In Kampala in the meantime is construction ongoing of what is set to become the Kampala InterContinental Hotel while a group of senior Hilton executives was in Kampala three weeks ago to assess what progress has been made on the so called Hilton Kampala. This hotel has been under construction, on and off, for the past 5 years, to the embarrassment of the proposed management company which upon realizing just how bad a PR this was generating had taken the project off their website and which has been turning the owners into a national laughing stock over their full mouthed statements in the past, none of which had ever come into reality.
Be that as it may, Eastern Africa, more so since the discovery of substantial oil and gas deposits, seems to have come back into focus of the global big league hospitality businesses, which are now queuing up to join their existing colleagues from Hilton and InterContinental which are present in Kenya and Starwoods Sheraton, present in Uganda and Ethiopia already for many years. Exciting times ahead for sure, so watch this space for regular updates from the hospitality industry in Eastern Africa.

NEW DAWN OPENS NEW HORIZONS

When I return to familiar stomping grounds there are normally few things which I can say are truly new to me as it is after all my business to know what is happening across my areas of reporting. So when I came back to Kigali yesterday to commence the countdown for Kwita Izina 2012 with visits, interviews and interaction, and found an invitation by New Dawn Associates to sample one of their 6 exclusive excursion products they have developed, I thought first that the days programme, revealed to me on arrival with RwandAir from Entebbe, by my host minders from RDB, was a hard thing to ditch in favour of what on the face of it just looked like another run of the mill tour to a village or two.
I could not have been more mistaken though had I turned down my invitation, and missing the setting up and opening of the Kwita Izina Exhibition on a Green Economy was worth it as today it will still be there, whereas the invitation to Bugesera was limited for just that one day.
New Dawn Associates have 6 exclusive projects they take visitors to, starting from the Millennium Village Tour, the one I took, over This is Africa A charming introduction to multicultural Nyamirambo, The Dancing Pots An introduction to Batwa life and culture, the Humure Community Visit, where refugees thrown out of Tanzania one fine morning with little if any notice were resettled in an area South of the Akagera National Park, the Crop to Cup Kivu Coffee Experience where the processing of coffee from the tree to the washed bean is demonstrated to Imigongo A traditional cow dung painting workshop.
All of these trips can be included in a safari itinerary of regular shape and size, which ordinarily includes a visit to the highland gorillas, the savannah national park of Akagera, the Enchanted Forest, aka Nyungwe Forest National Park or the scenic sights of the Lake Kivu shores but ends up greatly enhanced by including the cultural and community aspects Rwanda has to showcase but few visitors even know they exist.
I, as mentioned before, took the day tour to Bugesera, where incidentally the new airport is going to be built, and 7 different activities and visits were on the programme.
First came the almost mandatory visit to a Genocide Memorial Site, many of which are located across the country and a standing reminder of NEVER AGAIN for real this time. The Nyamata Memorial Site was our destination, some 45 minutes outside Kigali, where about 100.000 people were slaughtered in a church, where they had sought refuge from the frenzied killers. Initially securely locked inside, the mob could not gain access and regular army units were brought in using grenades and heavy weapons to blow open the steel doors, before every single man, woman, child and baby was brutally murdered.
This happened in 1994 while attempts to murder thousands in 1992 in a similar way were thwarted by an Italian lady who lived much of her life opposite the church and raised the international alarm with calls and was in revenge killed in cold blood, though those in the church at the time were spared as a result of the global focus on what was about to happen. Two years later though, a brutal genocide was on the cards and swept the country, before the RPF led by current President Paul Kagame then drove the killers out of the country and laid the foundations for Phoenix to rise from the ashes and become the New Rwanda, a country of, for and by Rwandans without tribe.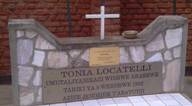 (Tonia Locatellis grave next to the genocide church in Nyamata)
The tour then went on to visit a farm where the impact of the Millennium Development Village was very apparent, as the monocultures of old were replaced with mixed farming, where matooke and cassava is now supplemented by beans, groundnuts, cabbage, yams, avocado trees, chili plants, but also a cow, a piggery, chicken and goats. The efforts of agricultural extension officers and the UNDPs support for the Millennium Development Village concept here has resulted in a healthier life with cash crops for sale, helping subsistence farmers out of poverty.
The tour then went on to the Mayange Health Centre, now staffed with 17 nurses, a free family planning clinic including HIV testing and counseling and testimony that the post genocide Rwanda is now providing services to all people in all places. A mandatory 3.000 Rwandan Franc payment by each citizen per annum contributes towards a health insurance, which as a result has someone seeking treatment only pay 10 percent of the medical bills and prescriptions, while the public insurance pays the remainder of 90 percent, AND, those still living below the poverty line, once so ascertained by their cell leaders, are free of even that payment.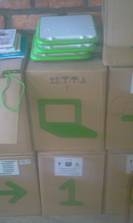 Modern schools have been built, offering three times a week a free lunch to children, with food grown within the school compound, and the One Laptop Per Child policy here paid dividends, as personally seen, with even primary school kids already being introduced to computing. Rwandas next generation will be well equipped for the challenges of the 21st century, computer literate and ready to propel the country truly into the new millennium.
A basket weaving cooperative too is on the visiting schedule, where women always the women it seems have closed ranks and are producing baskets for sale on the local and export market.

But most impressive was the final chapter in the days programme, a visit to a Reconciliation Village where victims, perpetrators and returnees live side by side, as neighbours and as seen with great surprise, as friends. It is here, in this policy of admitting guilt in public and then being forgiven, that the roots of the New Rwanda can be found. Just hearing about it of course raises huge questions, but being able to see those people living together makes a new understanding dawn. The Gacaca Court system across the country has since its inception 10 years ago dealt with over 2 million cases, something the conventional judiciary with its limitations of due process could well have taken 200 or more years quoting here a senior source from within the legal fraternity in Kigali to resolve, but here too Rwandas own way of dealing with the past succeeded. Over 1.6 million convictions were achieved, as were over 270.000 acquittals by the way, and those who confessed and asked for forgiveness were regularly made to serve a significant part of their sentence outside, doing community work before being re-integrated into society.
That left the main judiciary to pursue the masterminds, those still in hiding and those now extradited to stand trial in Rwanda, besides the ICTR in Arusha also having dealt with a number of cases referred there.
The testimony seen and heard, with those testifying showing their deep emotions and even tears, was both harrowing as well as relieving, the latter when it became evident that perpetrators and victims could after all achieve some normalcy in their lives, putting a very dark 100 days in human history behind them and now working hand in hand to build a New Rwanda together.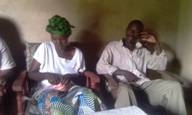 (Victim and perpetrator side by side, testifying about their past)
The Gacaca Court system will formally be closed down next week, after serving its purpose for the past 10 years, but the reconciliation villages will of course remain in place for as long as those involved on both sides of the genocide will live, giving ample time for visitors to Rwanda to not only come and see the gorillas, the forests, the big game and the scenic landscapes but also what the Phoenix truly looks like on the ground.
NDAs project visits are revealing, showcasing and yet prompt hard questions which in my case were answered. The victims and perpetrators do suffer from nightmares, just like all others so traumatized by what they experienced and did, only too well understood by this correspondent who in mid 94 was part of a relief mission to Rwanda and also cannot get these images and impressions out of his mind. For the people who live here, reconciliation and forgiveness seems the key to move on and for those unfortunate enough, or perhaps fortunate enough to have seen the circumstances close up and personal, they too can be a living testament that it did indeed happen and be fierce advocates of NEVER AGAIN and friends of the NEW Rwanda, where a dream appears on the way to reality.
NDAs founders, amongst them Rica Rwigamba who is now head of RDBs Tourism and Conservation Department, and in particular Anny Batamuriza Munyaneza, had a vision to showcase the beyond wildlife and landscapes experience, pass on the lessons Rwanda has to teach the world to visitors coming to The Land of a Thousand Hills, to enrich them and make them understand what the New Rwanda is based on, before going back as roving ambassadors who have seen, experienced and witnessed. Visit www.newdawnassociates.com for more information on available add ons to the conventional safaris and tours across the country covering one or more of their 6 exceptional projects while traversing the country.
RWANDA TAKES KWITA IZINA INTERNATIONAL CYCLING TOUR EVENT FOR THE FIRST TIME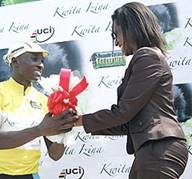 (Picture courtesy of RDB media release)
The Festival of the Gorillas also known as Kwita Izina, commenced its countdown towards the actual naming ceremony this Saturday, 16th of June outside the national park head quarters in Ruhengeri / Musanze with the annual cycling tour, which was held over the weekend.
Notably did a Rwandan for the first time ever beat other international riders to the finishing line and took the yellow jersey when Ruhumuriza Abraham took the honours to the tumultuous applaus of his Rwandan country men and women lining the final kilometres of the race.
Abraham, a repeat winner of the Tour de Rwanda in the past, had on a previous occasion won the same race but in the absence then of the more fancied Eritrean or Ethiopian riders, giving him a sweet victory as he saw off Algerias Azzedine in a sprint finish by a mere 3 seconds. Another 5 Rwandans also classified amongst the top ten riders in the field, evidence how the sport is catching on in the Land of a Thousand Hills and how it is befitting to be the opener for the Kwita Izina week. The Algerian though won the honours for best climber in the various stages while Ethiopias Gebrehans claimed the honours for best young rider in the competition.
The Karisimbi national cycling team, named after one of the early habituated gorilla groups in the Virunga range, has this year already participated in several international competitions and gained strength and tactical experience, which now paid off handsomely.
The tour was organized by the Rwanda Development Board Tourism and Conservation, which sponsored the event to the tune of over 70 million Rwanda Francs and the head of department, Miss Rica Rwigamba, was at hand to hand over the trophies and price money to the winners.
Kwita Izina is formally going underway tomorrow with a range of events, including an exhibition on sustainable energy uses, thought crucial to reduce green house gases in the future, and will culminate on Saturday with the formal naming of the new born gorilla babies, with live reporting by this correspondent from on site. Watch this space.
Mauritius News
AIR MAURITIUS LOSS DESCRIBED AS SHOCKING



News just received confirm that the annual results of the 2011/12 Financial Year for Air Mauritius are worse than excepted and a new round of cost cutting and route reduction, over and above the 8 destinations already axed earlier this year, is on the cards now. The loss of about 29.2 million Euros or about 37 million US Dollars has analysts now concerned how much time is left for the airline to turn its fortunes around before facing the stark choices of either being turned into a purely regional airline or else sold for scrap.
Information at hand indicates that from August this year onwards only London and Paris will be served in Europe with Frankfurt and Geneva falling to the wayside, as will Durban in South Africa too.
Word from the grapevine also has it that the planned once a week nonstop flight to Shanghai will not commence in view of the difficult operating conditions the airline has found itself in.
Board and management tried to put a brave face to the dismal figures, perhaps to pave the way to go to government for another bailout at taxpayers expense but opposition appears to be forming from sections of the private sector which with increasing frequency now demand decisive action to either find a financial partner to bail the airline out or else let go of it and have foreign carriers, mainly from the Gulf region, fill the gap with one stop flights to a much larger list of destinations than Air Mauritius could ever hope for in flying to.
The statement of the airline was made available and is being reproduced here:
Joint Statement from the Chairman of the Board and the Ag CEO
The results announced today are a reflection of the daunting challenges faced by the airline industry over the past year – European debt crisis and its impact worldwide, the high price of fuel, volatility of exchange rates Euro/Dollar and increased competition among destinations worldwide. All airlines have been affected and Air Mauritius is no exception.
Against this backdrop, it is gratifying to note that our company carried a record number of 1,324,613 passengers and generated a record operating revenue of Euros 450,9 million.
The company anticipated the challenges posed by the toxic combination of the above factors and took the initiative to review its business model at the start of the financial year while the Board and Management teamed up to address the short term performance. The business model review has yielded a seven-step plan which we have started to implement since mid February 2012. The implementation of the plan is our focus moving forward and all team members are standing together to ensure that we start seeing the results of the initiatives from the second half of the financial year.
Subject to no deterioration in external factors (European debt crisis, fuel prices and exchange rate Euro/Dollar), the companys transformation plan is expected to considerably reduce our losses this year. It is important that we remain vigilant especially after IATA, at its AGM this week in Beijing, raised the alert on the downside risks of the European Debt crisis and its potential dramatic consequences on the world economic growth hence on the airline industrys performance this year.
Kamal Taposeea Chairman
Andre Viljoen Ag CEO
12 June 2012


Seychelles News
PRESIDENT MICHEL LAUNCHES ARBORETUM
A vision dating back some 14 years, before James Alix Michel even became President of the Seychelles, came to a conclusion yesterday when he opened the archipelagos first arboretum. Located at Barbarons / Grand Anse on a 17 hectares plot, the new arboretum is as much planned for posterity and for Seychellois to come and see their extensive biodiversity in plants and trees but also for tourists to come and visit as part of their regular tours and excursions across the island.
Seychelles for long has had a botanical garden, equally a tourist hotspot but the more extensive and comprehensive arboretum will go a long way to facilitate research and keeping endangered flora alive and well while also serving as a seed centre to restock other parts of the archipelago with seedlings in the future.
President Michel planted the first official tree, none less than the famous Coco de Mer palm and it is understood that from here on, state visitors and VIP visitors may be asked to plant a tree of their own during their visit to appreciate the efforts of the Seychelles to stay green in all aspects of day to day life.
A regular source from Mahe had this to add: The National Botanical Garden Foundation is now tasked to look after the arboretum and it is foreseen that the private sector from the tourism industry and other businesses will come on board as sponsors of sections of the new park. They can adopt a tree, plant a tree or adopt a certain area and help with the cost to maintain and expand the plant and tree variety. The fact that this is a project initiated by President Michel way before he became President is also significant because it shows that our governments commitment towards keeping our environment clean and pristine is not just a sudden idea but has deep roots. You should come and see yourself when next back in Seychelles and who knows, perhaps even plant a tree.
How intriguing a thought that will be, but if asked will certainly oblige, at the arboretum or anywhere else for that matter. Seychelles, truly Another World.
AND in closing today, the usual dose of from further down south courtesy of Gill Stadens The Livingstone Weekly
ZAMBIA
No more dollars?

This week the emails have been flying around as we all discussed the implications of a new Statutory Instrument which states:
3. The currency issued by the Bank shall be the sole legal tender in the Republic for all public and private transactions
(a) In the case of notes, for the payment of any amount; and
(b) In the case of coins, for the payment of an amount not exceeding ten thousand kwacha.
4. A person shall not quote, pay or demand to be paid or receive foreign currency as legal tender for goods, services or any other domestic transaction.
(2) Any contract, agreement, sale, payment, bill, note, instrument or security for money and any transaction, dealing for money or the payment of, or the liability to pay, any money, existing on the date of the commencement of these Regulations, and which is to be executed or discharged in the Republic, shall be deemed to be a reference to the corresponding amount of money expressed in terms of the kwacha and calculated at the commercial bank prevailing spot selling rate.
5. (1) The kwacha may be exchanged with any other currency.
(2) Any sale or purchase of foreign currency shall be transacted through an authorised foreign exchange dealer.
6. (1) A person who contravenes these Regulations commits an offence and is liable, upon conviction, to a fine not exceeding one hundred thousand penalty units or to imprisonment for a period not exceeding ten years, or to both.
(2) If a body corporate or an unincorporated body is convicted of an offence under these Regulations, every person who –
(a) is a director of, or is otherwise concerned with the management of, the body corporate or unincorporated body; or
(b) knowingly authorised or permitted the act or omission constituting the offence;
Shall be deemed to have committed the same offence unless the director or like officer of the body corporate or unincorporated body proves to the satisfaction of the court that the act constituting the offence was done without the knowledge, consent or connivance of that director or like officer.

Zambia has enjoyed an open economy for many years. It has meant that anyone can trade in foreign currency and have bank accounts in foreign currency. This has lead to an increase in development and investor trust. There was just a bit of a hiccup a few years ago when government stated that if a company invoiced in foreign currency, the invoice must show the rate of exchange to the kwacha and that kwacha had to be accepted as payment if the payer wanted to do so. This has proved workable and not caused any decrease in business.
However, now, this Stat Instrument is stating that businesses can no longer price in foreign currency. This, of course, is disastrous to any company which exports, and I include tourism in this, because no-one outside of Zambia understands the value of the kwacha. Even on the British news values are stated in US dollars in order that people understand the value.
For us in Zambia we love our currency and we know its worth. But all our potential overseas clients and customers dont know and we have to persuade them to buy our products.
The Stat Instrument also seems to be stating that no business can accept foreign currency for any transaction; that only authorised dealers can deal in foreign exchange. This will mean that a tourist who visits Zambia will have to change their money at a bank or bureau for any purchase. This is going to be a very messy business.
And what of credit cards? An overseas credit card company is not going to accept any voucher payment in kwacha. Does this mean that we cannot accept credit cards anymore? And, what about Immigration who charges visa fees in dollars? What about ZAWA who charges Park Entrance fees for foreigners in dollars?
I am sure there are lots more arguments against this new law. It seems to me that this is not a very good idea and that we have been working happily for many years with freedom in the economy. Why change something which works? To me, a currency is just to make business easier. When we start introducing laws which make business more difficult the countrys economy suffers.
Latest News is that the law only applies to domestic transactions. That is not what the law states, so maybe we have better have a clarification. And I still maintain that the present system has worked well for many years so why do we have to change it?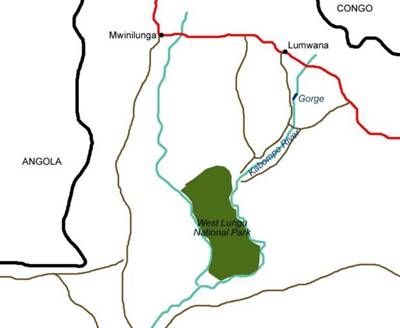 Kabompo Gorge

The Copperbelt Energy Corporation (CEC) is to go ahead with a hydroelectric scheme in Kabompo Gorge on the Kambompo River. The scheme will require a dam wall of 47.5m in height which will hold back a dam 123m long, according to the reports.
The turbines at the dam wall will produce 40MW of electricity which will be transmitted onto the National Grid at Lumwana. (For comparison, Victoria Falls power station generates just over 100MW of power).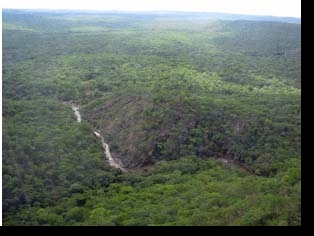 The chiefs in the area have been consulted and villagers have been relocated to make way for the development which will require a small town to be constructed near the site of the dam. During the construction period there will be hundreds of jobs, but finally the plant will require 40 permanent staff.
As I do not know this area at all I had to do a bit of research. In fact it took me hours just to locate it on Google Earth and draw the map.
I can see from Google Earth that Kabompo Gorge is in quite a remote area and it looks beautiful. Here is a quote from F H Melland in 1919:
Few places in Northern Rhodesia are more worth visiting; everything is on a grand scale, whereas this country with all its attractions has mostly scenery of a monotonous mediocrity Grandeur is the exception, and for the most part pretty describes Northern Rhodesia scenery better than grand. This gorge is undoubtedly one of the exceptions, and it is also quite unexpected. The neighbourhood gives no hint of its existence; it does not advertise itself, and so it h as remained unknown and unnoticed The hills, cliffs and rocks are all on a big scale; the timber is good; the candelabra euphorbia large and prominent.

Zambia needs power to keep the mines going but that we have to lose such an amazing piece of Zambias environment is very sad indeed.
I also am concerned about the effects on West Lunga National Park downstream of the Kabompo Gorge. The water in the river will now be controlled and not flood according to the seasons. We have seen the effect on Lochinvar National Park with Itezhi-Tezhi Dam on the Kafue River. Has any research been done? Probably not. Do we care? Probably not


The proposed Kangaluwi Mine is situated in the Lower Zambezi National Park. Lower Zambezi is one of Zambias premier parks and is opposite Mana Pools National Park in Zimbabwe, a World Heritage Site.
The proposed mine will be for copper and be open pit. The company that wishes to exploit the mine is Mwembeshi Resources/Zambezi Resources. It has some Australian connections.
The project will include the construction of a copper sulphide concentrator, tailings storage facility, waste rock dump, maintenance workshops and other associated facilities.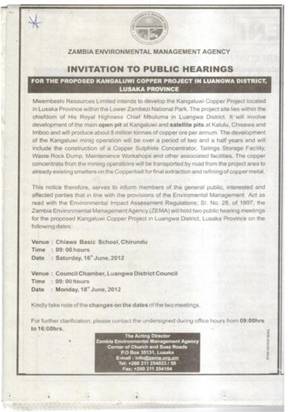 From Zambezi Resources
Project Background
The Kangaluwi, Chisawa and Kalulu prospects are three high quality prospects within the 100% owned Kangaluwi Copper Project. The Project is covered by a 245 km² Mining Licence
An EIA has been conducted and there will be public meetings on
Saturday 16 June, Chiawa Basic School
Monday 18 June, Council Chamber, Luangwa District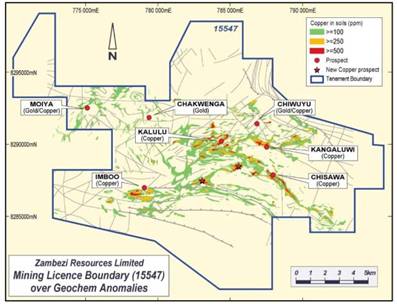 Some of the articles I have read about the mine state that it is a greenfield site. This merely means that it is going ahead in an area which is pristine and not previously touched by humans. It is nothing to do with the development being green.
It also appears that there is more than one area which has prospects for mining. According to their report there are several sites nearby which have potential for copper and gold.
Here is a photograph of open pit mining. Pretty horrid stuff in the middle of a National Park.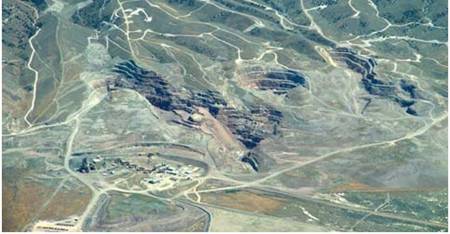 There is a lot of interest from the public in this development. There is also one petition started against the development. Why?
What are the impacts of such a development?
Pollution what chemicals will end up draining into the Zambezi River and the environment?
Noise think of the noise of the explosions as the hills are blasted to reach the minerals. The Zambezi River runs through the Escarpment. Undoubtedly the noise will echo around the valley.
People and Poaching. The mining company will have to open up roads into the park to bring in the trucks for transporting the ore to the Copperbelt for refining. These roads will give ease of access to the park by would-be poachers.
World Heritage Site. Lower Zambezi had hopes of joining Mana Pools in their World Heritage Site status. Can this happen when it is home to an open pit mine? And what does Zimbabwe think about it? Will Zimbabwe lose its status because of our activities?
In the end: In 25 years time the mine will be abandoned as all the minerals will be exhausted. We know that mining companies are not the best at repairing the environment when they have finished. The mess for our children to look at will not be nice. Is this the legacy we want to leave our children?
The basic issue is that mining is a dirty, messy business. It is totally incompatible with our National Parks; National Parks which, if looked after, will provide jobs and income for generations to come.
I did try to get a copy of the EIA through Zambia Environmental Agency but the email they gave on the website bounced. I will go and see the local office and see if I can get a better address. In the meantime if you are against the development, go to:
https://www.change.org/petitions/zambia-environmental-management-agency-prohibit-mining-in-the-lower-zambezi-national-park