RAJOELINA WINS RUN OFF BUT RIVAL RAVALOMANANA LIKELY TO GO TO COURT

(Posted 28th December 2018)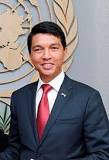 Madagascar's Electoral Commission late yesterday published the results of the runoff election for the office of President of the world's largest island.
They declared former President Andry Rajoelina as the winner with more than a 10 percent margin of 55.66 percent compared to his perennial rival, also a former President, Marc Ravalomanana, who got 44.34 percent of the votes cast.
Both sides, during the counting process, claimed irregularities and it is anticipated that the losing camp will take their grievances to court, potentially halting a swearing in ceremony for some time.
Rajoelina notably caused the fall of Ravalomanana who was forced to step down on 16th March in the face of not only massive street protests but also the country's armed forces withdrawing their support and the following day was Rajoelina installed as President, an office he held until 25th of January 2014.
His return to office was thwarted at the time as he was not allowed to contest the next Presidential Election following intervention and a compromise forced by the African Union which barred Rajoelina, Ravalomanana and another former President Ratsiraka from standing. Rajoelina subsequently endorsed another candidate, Hery Rajaonarimampianina who then won the subsequent election. In the 2018 Presidential election did the sitting President only came third behind the other two candidates, eliminating him from the runoff contest.
It remains to be seen if political calm can be fully restored in Madagascar, an island state often troubled in the past which then often triggered sanctions in one form or another to encourage political reforms, transparency and democratic values.
Madagscar, a member of the Indian Ocean tourism alliance Vanilla Islands, has significant tourism potential which however remains to be fully exploited as a result of not just – in the past – regular anti travel advisories but also as a result of the plague outbreak last year which kept tourists away from the island's national parks and beaches.