MASSAWA AIRWAYS GETS FIRST MA60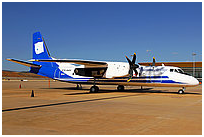 (Picture taken from Airliners.Net courtesy of Lihutao)
A brand new XIAN MA60 was delivered a few days ago to Eritrean start up airline Massawa Airways, which will now commence flights from the Red Sea port city of Massawa to Asmara and other destinations, according to information received from a source in Djibouti. Registered as E3-AAV the brand new aircraft offers 60 seats in a single class economy cabin and will primarily serve domestic and near regional destinations.
It could not be established if Massawa Airways has additional such aircraft on order or has ordered any aircraft from other manufacturers to extend operations in the future.
Others in the wider Eastern African region flying this aircraft type is Air Burundi, which had their first of two ordered planes delivered a few months ago.