AVIATION, TOURISM AND CONSERVATION NEWS from Eastern Africa and the Indian Ocean islands.
A weekly roundup of breaking news, reports, travel stories and opinions by Prof. Dr. Wolfgang H. Thome
You can get your daily breaking news updates instantly via Twitter by following @whthome, join me on www.facebook.com/WolfgangHThome where the articles also 'cross load' or read the daily postings on my blog via www.wolfganghthome.wordpress.com which you can also 'follow' to get immediate notification when a new article is posted.
Second edition December 2012
East Africa News
DOHA'S FAILURE SPELLS DOOM FOR AFRICA

Kyoto extended till 2020, resolution package forced through by conference chair, new draft treaty to be ready by 2015 but no funds yet for Africa and small island states to mitigate the sins of the polluters – that could be said in summary about the just ended Doha 2012 Climate Change Conference, aka COP18.
Attempts to label Doha a success, after the summit ended a day late due to the stubborn intransigence and opposition of a number of delegations, including the Russians, Ukrainians, Belarusians, Americans and a few others had to be reduced to labeling the conference not an outright failure as only the bare minimum of agreements could be accomplished.
Inspite of the writing now being clearly on the wall, and climate change projections suggesting an average rise of temperatures by 2 degrees C in 40 years from now, and up to 5+ degrees C by the end of the century, have the main polluters once again succeeded to push tough decision into the future. This caused dismay among the African delegations as well as among the block of small island nations, which was led by Seychelles' Ronny Jumeau in recognition of the archipelago's long standing efforts to highlight the consequences of rising sea levels for their very survival.
In particular here in East Africa have rising temperatures already shown a significant impact, starting from the melting ice caps of Mt. Kilimanjaro, Mt. Kenya and the Rwenzori Mountains, aka Mountains of the Moon over an accelerated cycle of droughts and floods to the spread of malaria into the previously immune highlands, spurred by warmer climate which allows the anopheles mosquitoes to now flourish at higher altitudes too.
The glaciers on Mt. Kenya have shrunk by more than half over the past 30 years, the famous Kilimanjaro ice cap, immortalized by Ernest Hemingway's book 'Snows of Kilimanjaro' now is a mere shadow of those olden days and the glacier caps of the Rwenzoris have receded by several kilometers since the mountains were first conquered over 100 years ago. This evidence belies the assertion peddled in some of the developed nations, thought responsible for the rise in green house gasses in the first place, that climate change is a mere fiction. Here it is reality already and threatening food production and water sources for tens of millions of people, condemning them to gloom and doom if no major changes take place in the way how the world is dealing with climate change right now.
Elsewhere in Africa are the Seychelles for instance faced with gradually rising sea levels, a threat to the very core of their survival of course which explains why President Michel has made it a centre piece in his foreign policy to form a coalition of equally threatened small island nations to promote more significant measures to combat climate change. Hence has the coalition of those most affected demanded that the developed world, seen as the primary polluter and cause of climate change, but also the newly emerging mega polluters like China, India and Russia should make financial contributions to Africa and small island nations, a notion still rejected by the 'have's'but eventually inevitable, now that the principle of compensation appears enshrined in the Doha Resolutions.
The US delegation in particular had appeared vehemently opposed to this principle even though the Federal Government has just requested Congress to authorize over 60 billion US Dollars in aid for the states devastated by Hurricane Sandy a few weeks ago. There has a single storm caused unprecedented havoc and destruction which in Africa has been a process steadily gaining momentum. The global pollution fallout hit a continent short of resources already for health care and education, with no funding available at all to combat climate change inflicted on them by the countries responsible and which are now putting up walls to further defend increasingly unsustainable consumptive life styles. Natural disasters like extended draughts, causing millions to starve, have caught the eye of the global media and led to those shocking pictures of dying skeleton babies on to the TV screens overseas, but by and large has the process of accelerated advance of climate change fallout been ignored by the world, perhaps, in part at least, for the deeply rooted anti-sentiments about Africa and the people of Africa.
Could this be racism after all, manifested by non action and 'letting nature take its course' similar to the long resistance to provide free ARV's to Africa's HIV infected? Could there be a motive beyond just defending their own lifestyles and accumulated riches? A question bound to raise controversy but one which needs to be asked after living in Africa for over 3 ½ decades and having come face to face with all facets of racist attitudes and thoughts. Watch this space.
AIRLINE ALLIANCES FOCUS ON AFRICA WHILE AFRICA FOCUSES ON ITSELF, AT LAST
While Asia seems to be the present focus of airline alliances, and for good reasons considering the huge growth markets of China and India – the latter rapidly liberalizing now and offering new investment opportunities – Africa remains on the map of all three major global networks, Star, SkyTeam and OneWorld.
Aviation on the continent remains fragmented, often caused by national egos, prepared to give foreign airlines greater access to their skies than airlines from neighbouring countries or from across the continent. This has led to a sharply increased market share by the Gulf giants like Emirates, Qatar Airways and increasingly Etihad too, with Turkish Airlines playing successful catch up, eyeing 40 African destinations by the end of 2013.
European legacy carriers like Lufthansa – combined with Brussels Airlines and Swiss, Air France and British Airways have also cemented their positions of routing traffic into and out of Africa.
But while intercontinental connectivity from and to Africa can only be described as between good and excellent, the bulk of the travelers use foreign airlines, leaving the main African airlines to struggle for market share.
In addition to this battle for the skies between airlines unfolds the battle between the global alliances.
Star Alliance has three key African airlines in their stable, Egypt Air, Ethiopian and South African, effectively covering the continent directly and indirectly, as Ethiopian, through their stake in ASKY, also offers a foothold in West Africa. Ethiopian remains the biggest asset for Star in Africa, presently being the largest airline on the continent, the first to fly the B787 Dreamliner and the one with the largest network from their Addis Ababa hub. In contrast South African Airways appears in crisis after most of the board and key management figures resigned in recent months and no clear strategy is evident about such crucial issues as destination roll out on the continent or the overdue fleet renewal. Star Alliance is reportedly seeking ways and means to assist government owned South African to resolve their challenges and continue to play a key role to serve Africa from the southern end of the continent. Egypt Air, after a turbulent 2011 when the fallout of the country's political crisis took its toll, has left the worst behind them but worries remain over the latest political unrest, which could bring back crisis mode to North Africa's largest airline.
SkyTeam's African member Kenya Airways offers their alliance partners' access across the continent and plans are afoot to connect every African political and commercial capital with flights to Nairobi by the end of next year. KLM's shareholding in KQ and two seats on the board, are considered immensely valuable to shape the future strategy for Kenya Airways and align it with AF / KLM's own objectives how to remain a major player on the continent. At least one source close to SkyTeam has indicated that the world's second largest alliance is looking for another foothold in Africa, with carriers in North and West Africa being courted, but nothing concrete has emerged as yet and as long as Kenya Airways continues to increase its own footprint on the continent, SkyTeam's interests remain looked after, for now.
This leaves OneWorld, already in the unenviable third spot of the global alliances, completely unrepresented in Africa by any partner from among the leading African airlines, an omission which might prove costly in the longer term as the continent increasingly stands taller with a rising economic clout after the discovery of more and more gas and oil deposits in particular along the Eastern African coastline. African connectivity for OneWorld will greatly improve when Qatar Airways will formally join next year but still leave the alliance trailing in terms of flights, destinations and passengers.
But while the alliances are vying for superiority in Africa, Kenya Airways' CEO Dr. Titus Naikuni has at the recently concluded AFRAA General Assembly done the unthinkable, or hitherto unthinkable, when he urged fellow aviation leaders Ethiopian and South African to consider an African airline partnership, if not outright merger between the three. While still small in global terms, the three would nevertheless be able to spur an airline renaissance for Africa and build critical mass, urgently needed to stand any chance over the coming decade to survive the onslaught of the likes of Emirates, Turkish and others spreading their wings into Africa.
Time to think big, time to bring NEPAD's vision for the continent into African aviation?
A source close to AFRAA in Nairobi let it on that such an African alliance would get their fullest support, and inspite of a different alliance parentage, ET and SAA being in the Star camp and KQ being in the SkyTeam camp, perhaps for once Africa's strategic interest could supersede foreign interests and in the process create a continental aviation force able to hold its own and become a pioneer for Africa's march towards becoming this century's global economic powerhouse. Watch this space.
GOOGLE COMES TO THE AID OF WILDLIFE CONSERVATION

Google's Global Impact Award Programme has given the World Wide Fund for Nature, in short WWF, a grant of 5 million US Dollars, assisting in the tracking and protection of endangered species via remote operated drones. The UAV's could soon be deployed over poaching hotspots, linked to radio collared animals, able to have eyes in the skies above them and spotting poachers on foot or by vehicle approach.
UAV technology today is able to secure facial recognition as well as identify vehicle registration numbers and vehicle markings, evidence which can later be used in court to convict the criminals involved in the unprecedented slaughter of wildlife across much of sub Saharan Africa.
Current estimates speak of nearly 600 rhinos killed in South Africa alone this year as well as in excess of 20.000 elephant killed for their tusks and wildlife conservation NGO's have been at the forefront lobbying global business leaders to come out in support, morally and materially, to stem the slaughter and preserve Africa's and Asia's dwindling wildlife resources for future generations. Google's donation to WWF is seen as a gift to wildlife conservation at large and it is hoped that other global corporate giants will follow suit and also help in funding hugely expensive solutions to monitor endangered wildlife and finance 24/7 surveillance, something 'drones' are now able to offer, but at a cost.
East African wildlife NGO's have yet to catch on to this technology and find ways and means to substitute aerial daytime surveillance by fixed wing aircraft with UAV technology, to cover a wider radius of operations and by using infra red cameras at night to continue watching from the sky, something light aircraft operations is unable to assure. Watch this space for announcements and future developments.
COMESA BUSINESS COUNCIL RELEASES 'MUNYONYO DECLARATION'


Following the conclusion of the COMESA Business Forum, held alongside the 16th COMESA Summit at the end of last month in Kampala, has the secretariat now released the 'Munyonyo Declaration' in which key elements discussed by hundreds of delegates, and the respective conclusions and recommendations are now available on the COMESA Business Council website www.comesabusinessforum.org
The 12 key points contained in the document deal with such wide topics as the green economy, micro small and medium enterprises, agriculture and food security, the all important infrastructure development, boosting intra COMESA trade, gender and business, youth and enterprise development and for the first time tourism.
The latter was reflected as follows:
Recognizing that tourism is the second largest contributor to Africa's economy, after agriculture, member states are urged to improve on various innovative mechanisms of upscaling the sector.
To this effect, member states are requested to work closely with the private sector in order to promote and market tourism at national, regional and international level.
The private sector further requests the COMESA Secretariat to table an agenda item on the marketing and promotion of tourism in the COMESA Region, during the upcoming UN – World Tourism Organization Annual General Meeting in 2013, jointly hosted by Zambia and Zimbabwe.
Further issues raised at the forum included the need to streamline a common Visa regime, ultimately permitting foreign tourists to travel within the COMESA region on a single Visa, as well as raising the importance of tourism on national levels as a top priority economic sector.
Notably has IGAD also included tourism in its various activities and programmes, presently developing a foundation of a common regional tourism masterplan, as has the East African Community, underscoring the growing recognition the sector now receives within regional trade and political frameworks and by national governments.
The next, 17th COMESA Summit will be held in November 2013 in Kinshasa.
EMIRATES COUNTERS WITH ADDED A380 DESTINATIONS

Emirates sales teams have swiftly reacted across East Africa to the news that arch rival Qatar Airways will launch their new B787 on the route to London from mid December, when the airline announced additional A380 destinations. 'The Airbus A380 provides the greatest comfort available in the sky today. Emirates' has invested a lot in developing this product and in particular business and first class passengers cannot find a better inflight environment than on this type of aircraft. All else pales against that experience' said a regular source close to the Emirates' office in Kampala as the news on the new A380 destinations was revealed.
Moscow and Singapore both will see the giant aircraft making daily appearances from now on, as Emirates' A380 fleet now stands at 27, with a further four due for delivery until the end of the year.
'When the additional A380's are available, there will be a lot of changes. From next week all five daily London Heathrow flights will be operated with this aircraft. New York and Paris from January will get a second daily A380 connection. And when more of these aircraft come on line, Emirates will fly to more places with this aircraft, offering the best comfort. And not forget, all our East Africa destinations like Entebbe, Nairobi and Dar es Salaam are served by wide body aircraft which is also more comfortable and more spacious than a smaller single aisle plane' added the same source in obviously clear reference to an earlier report filed here that Qatar Airways was the Middle East's launch customer for the B787 Dreamliner, prompting a swift and sharp reaction in the market to the benefit of travelers who got wider choices where to fly to and whom with than ever before. Watch this space for regular aviation updates from Eastern Africa.
Uganda News
NATIONAL GEOGRAPHIC NAMES UGANDA IN THEIR GLOBAL TOP 20 DESTINATIONS

As 2012 is waning now, and with it Uganda's accolade as the Lonely Planet Guide Books Number ONE Destination for the year, and the hype fades of reaching the half century mark of Independence from Britain, the country is getting an unexpected but well deserved boost from none other than National Geographic.
The Washington based magazine and scientific research society has put Uganda in their top 20 global destinations, while lamenting that The Pearl of Africa is often bypassed when visitors make decisions for their safari destination, with some neighbouring countries favoured over Uganda.
Only last week was Uganda named as THE birding destination, with over 1.000 species found in the country, and the National Geographic mention will undoubtedly boost interest in the country for 2013 and beyond.
'Like many times before Uganda gets praise for nature, parks, wildlife and birds. But has this ever translated in government making us a priority sector? NOT ONCE!' said a regular source yesterday afternoon as the news began to emerge before continuing 'When we compare marketing budgets in Kenya, in Tanzania or in Rwanda with our budget in Uganda it is a shame. I am not even talking of Egypt or South Africa or Morocco. I am just comparing to our direct neighbours who are also our closest competitors. I know they have issues there too but their marketing budget is making things happen there. Their tourism boards can afford to be omnipresent in all key trade fairs and tourism shows. We as Uganda should be attending those but UTB has only got money for ITB and WTM and maybe one or two others. I heard that one of our companies was for the first time flying Uganda's flag at a show in Singapore last month. Those are growth markets. We have daily flights from that part of the world directly to Entebbe with Emirates and Qatar. I think if we had the funding for stands from government we could attend those Adventure Travel shows in the US because that really is our market. Uganda is a top adventure destination with so many things to do. From primate tracking to rafting, from mountain climbing to big game safaris and now we have acrobatic flying and parachuting too. We spend as much money as we can afford but besides our tickets and hotels and all, if at least UTB could absorb the cost of the stand at such events. We are pushing finance to include a greater budget for tourism next financial year and give UTB at least a million US Dollars. Our sector can repay that with more arrivals and a lot more inflow of forex. We are also banking on EAC, COMESA and IGAD initiatives to push tourism to the top of the economic agenda. But we could do so much better if we just had better facilitation'.
But it is not just nature, wildlife, birds and adventure which brings growing numbers of visitors to Uganda. Vastly improved meeting and conference facilities, created for the Commonwealth Summit in November 2007, have boosted Uganda's ability to host major global and continental events and here in particular it is almost entirely the private sector carrying the burden of promoting their facilities abroad, while government however is putting up the relevant bids to be considered host nation as many global meetings are awarded on a rotating basis. The main city hotels in Kampala, like the Kampala Serena Hotel with their adjoining Serena Conference Centre, the Kampala Sheraton Hotel with significant meeting capacity and the now under construction Kampala InterContinental Hotel all eye the meeting market but it is undoubtedly the lakeside resort and conference complex of Munyonyo which is offering the widest range of meeting facilities available today in Uganda.
The 450+ rooms and 2 main conference centres will soon in fact see a major expansion drive. The present horse riding centre, created as one of the first facilities when the complex was still emerging from a lake side wilderness, is due to be shifted to the periphery, making space for another conference facility which will drive overall capacity to host parallel meetings to the 10.000 mark. A new accommodation block is due to be added with another 200 rooms but word from the grapevine has it that the owners are eventually eyeing 1.000 rooms, which would make it the largest such facility in the entire Eastern African region, ideally located outside the city centre by some 15 kilometres on the scenic shores of Lake Victoria. And if that is not enough, the new Entebbe highway, for which ground was broken two weeks ago, will see a major branch from the Lweza / Kajjansi area towards Munyonyo, avoiding all the traffic jams as vehicles reach the closer suburbs. Once complete in a few years, Uganda will have top rated facilities in the city, near the city and across the country with safari lodges and safari camp inside and outside the national parks and game reserves, or along the upper Nile valley, able to meet the expectations of visitors from around the world, both seeking luxury as well as those travelling on a budget.
Added the same source in closing: 'You are right of course, we also have a growing number of conference visitors coming here and if the Munyonyo facilities are expanding the way you say, we will have to send the UTB people also to MICE trade fairs to tell the world what great places we have here. That is a big market and we cannot leave it to our neighbours who have big conference centres in their cities and like in Kenya want to build another one in Mombasa. We must be more active but again, this takes money. I hope our new minister will be more successful to make her cabinet colleagues listen to what she, and the private sector, have to say when the resources are distributed for next year's budget'.
A bright future for Uganda's tourism industry? Time will tell so watch this space.
Kenya News
TURKISH MAKES MAIDEN FLIGHT TO MOMBASA

Turkish Airlines has yesterday commenced scheduled flights into Mombasa, serving Kenya's coastal city now 5 times a week. Passengers connecting from Turkish's global network via Istanbul will now have the option to fly to THY's second Kenyan destination, after Nairobi, every Monday, Tuesday, Thursday, Saturday and Sunday, leaving IST at 18.10 hrs before reaching MBA, via JRO, at 03.55 hrs the next morning.
The coast tourism fraternity enthusiastically welcomed the new flight, which was the first bit of aviation good news since both Qatar and Brussels Airlines had announced they would after all not start their planned flights to Mombasa while other charter airlines withdrew from the route due to insufficient demand.
Tour operators from across Europe offering safaris to Tanzania and beach holidays to Kenya have equally expressed their support for the new flight, one of the few international scheduled services connecting major airlines to Mombasa, Star Alliance partners Ethiopian being the other one. Local tourism representatives were united in endorsing the sentiments of a regular contributor who said: 'This is very good news ahead of the festive season. Turkish now connects Mombasa 5 times a week with all their destinations. I read you wrote they now have the largest global reach which means they can bring tourists from North America and Europe but also from Asia. Our emerging markets in Asia and Eastern Europe are doing well and it is now up to us here in Kenya to promote ourselves. Turkish has offered concessionary travel so we can work with them to put missions together to market Kenya. We are happy that such a big airline shares our own confidence in Kenya to start up with 5 flights a week'.
Across the border in Tanzania safari operators too were enthusiastic when the inaugural flight touched down at Kilimanjaro International Airport outside Arusha. The efforts by Turkish to promote the destination has according to information received from Arusha already resulted in new business for the Northern safari circuit, which includes such global brand names like the Serengeti, Ngorongoro, Lake Manyara and Tarangire national parks.
Happy landings to Turkish Airlines, their crews and passengers.
KWS RAISES ALARM ON ELEPHANT NUMBERS

The recently concluded aerial game survey in Northern Kenya has reportedly come up with some stark declines, in particular for elephant and the Gravy Zebra species.
KWS Chief Executive William Kiprono, unlike his predecessor Dr. Julius Kipng'etich who had the EcoTourism Kenya CEO arrested for publicly disagreeing with the then published and admitted poaching figures, did not mince words when he announced the survey results at the Sarova Shaba Safari Lodge yesterday.
'I will not accept to supervise as director where animals were killed in masses. I would rather resign and watch from outside' was Kiprono quoted in saying when he had to concede that the number of elephants had reduced from 7,415 since the 2008 census to 6,361 in the 2012 census while that of Grevy's zebra had gone down from 2,400 since the 2008 census to 1,870 in 2012 aerial count. For elephant this is a loss of almost 15 percent in numbers and similar scenarios are now suspected to be taking place in other parts of Kenya too where new surveys have been requested by the conservation fraternity to bring clarity in numbers over mere allegations and suspicions.
This marked departure from past concealments and massaged statistics was broadly welcomed by the conservation fraternity, who while lamenting the loss in numbers appreciated the candor and openness with which Kiprono put the census results into the public domain.
A regular source from Kenya's conservation fraternity, known in the past for some explicit broadsides against the Kenyan wildlife management body under Dr. Julius' leadership, sounded surprisingly conciliatory when saying in a mail: 'That took us by surprise. We are used to get white washed stats from them and here is the new guy putting out what we suspected. And he says if he cannot turn the tide with poaching he rather quits? Julius did a number of good things to reorganize KWS but this sort of engagement was not his style. If Kiprono can keep this up and deliver on anti poaching operations, he will be a miracle man for the job. I agree with you, we all had some few reservations here and there when he was appointed by the president. But if this is something to go by, I am sure he means business and we can work with the man'.
The news come hot on the heels of reports emerging yesterday that as many as three rhinos have been killed over the weekend including a prized animal with a 3 foot long horn, shot 5 times near the reserve perimeter fence at the Oserian sanctuary near Naivasha.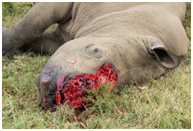 (Picture courtesy of Dr. Paula Kahumbu's Facebook page)
5 arrests were made by security organs, who were immediately alerted after the social media community raised the alarm following an SOS by Dr. Paula Kahumbu, all 5 reportedly being Kenya army personnel.
Poaching, not just in Kenya but also Tanzania and in particular Southern Africa, where the number of rhino killed for their horns now approaches 600 for the year, has been termed economic sabotage as the crucial wildlife resources needed to drive tourism numbers up, are progressively being decimated on behalf of buyers in such countries as China and Vietnam. It is expected that the new KWS Chief Executive will in coming weeks seek intense dialogue with conservation groups, NGO's and individuals to then map out a new cooperative strategy of how best poaching can be reduced and the growing human / wildlife conflict better managed. Early bouquets for William Kiprono and mega barbs for the criminal gangs engaged in poaching our wildlife. Watch this space.
LACK OF BOARD APPOINTMENTS FOR TOURISM PARASTATALS CAUSE OF MORE DISSENT

The absence of substantive boards of directors at the newly created tourism parastatals is said to be a further cause of growing dissent within the tourism industry and between senior stakeholders, the associations under which the industry comes together and the tourism minister.
The devolved approach itself, which has seen several new bodies brought to life under the new tourism act, is coming under criticism too as a number of individuals in leading positions seem to think that a central tourism authority could be more efficient and certainly cheaper to run.
'All these new parastatals need offices, equipment and most important staffing. We are watching Mwazo if he is trying to pack these bodies with his party supporters and will at the slightest suspicion take this to court. It is the same with board positions. In August the High Court halted some of his attempts to unilaterally act on appointments when a number of people serving on existing boards sued him after he unceremoniously sacked them. Substantive cases still have to be concluded and it is because of the minister's unilateral action that the entire process has now stalled. There is some backroom thinking going on about the possibility of having the tourism act amended to suit the industry better and make better use of resources. Right now there is fear that the all important marketing function has lost funding which has shifted to create and pay for these new parastatals. We are looking at available options. In Tanzania they are considering to form a tourism authority. In Rwanda all these functions we have what 8 or more parastatals for now, are combined under their RDB structure. Administering tourism should be cost effective and serve the industry, not become an election platform from which to hand out jobs for votes. Now we are going into the final countdown to elections, so everything Mwazo now does will be scrutinized if he dishes out party favours. It may be left to a new minister in a new government next year to sit with us and try sort out this mess' said a regular contributor on condition of anonymity.
In the absence of boards have several of the new parastatal bodies failed to substantially take off, as regulations require a number of approvals for instance for budgets to be given by a properly constituted boards. While in some instances the Permanent Secretary in the tourism minister can assist to get things moving, the saga of former tourism PS Rebecca Nabutola, found guilty to have participated in a fraudulent scheme together with a former KTB CEO and a former KTB board member, will however serve as a warning for the current Permanent Secretary to exercise utmost caution when dealing with parastatals in the absence of a board, to avoid a similar fate.
For now though, following hot on the heels of Mwazo's ultimately futile attempt to sack Muriithi Ndegwa, the CEO of the Kenya Tourism Board, another controversy is brewing between the industry and an increasingly isolated and ineffective minister who is now perceived by many as a burner and not a builder of bridges.
Tanzania News
MV LIEMBA'S FATE IN BALANCE AS TANZANIA FAILS TO RESPOND TO RESCUE OFFER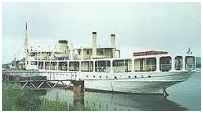 (Picture courtesy of Wikipedia)
Tourism stakeholders, keen to promote Lake Tanganyika as an additional natural resource area beyond the traditional national parks and coastal beaches, have expressed dismay over reports that the Tanzanian government has failed to respond to an offer from Germany to refurbish and modernize MV Liemba.
The lake steamer has a history of nearly 100 years, when it was brought by the German colonial administration to Lake Tanganyika as part of a fleet, meant to defend the lake from incursions launched via the Belgian Congo. Mentioned here in previous feature articles, alongside the Imperial German Navy's Indian Ocean exploits vis a vis the Koenigsberg and her support vessels, MV Liemba back in those days was known as the Graf von Goetzen. Scuttled in 1916, her engineers took great care prior to the sinking to grease and cover essential engine and other installations and when the ship was salvaged in 1924 it was relatively easy to restore functionality and she resumed service in 1927 as MV Liemba, operating to this day along the Tanzanian shoreline of Lake Tanganyika.
Last year proposals were floated to turn the ship into a maritime museum but later on an offer was received from the German government to fully refurbish and modernize the ship, some say with the 100th anniversary of World War 1 now less than two years away as part of a wider initiative to commemorate this event.
With the cost fully underwritten by Germany, tourism sources question the wisdom of the Tanzanian government's failure to respond and take up the offer, although it is known that Germany's offer to assist in financing the Southern bypass of a planned trans-Serengeti highway has also been snubbed by the powers that be in Dar es Salaam.
'Lake Tanganyika is literally unexplored by mainstream tourists up to now. When TTB talks about diversifying our products, this is the way to go. There are national parks also not too far from the lake, there are now scheduled flights to Kigoma and Sumbawanga, so this opportunity must not be missed. If this boat is modernized we can get tourists to take trips on the lake, explore the nearby parks and open a completely new circuit. There is opportunity for investments in tourist class lodges or camps, job opportunities for locals. Can we know why this offer is still pending after many months since we read about it in the papers and your article? I think Kagesheki [Amb. Khamis Kagesheki,
Minister of Natural Resources and Tourism] should get involved here because if anyone can it is him to make the government act' ranted a regular source from Arusha when asked to comment.
Eastern Africa is thought to be featuring prominently with history and WW1 buffs come August 1914, as Tanzania, back then known as Tanganyika while under German colonial rule and Kenya were on opposing sides when the war broke out. The war lead to a series of naval battles in the Indian Ocean and naval engagements on Lake Tanganyika involving the Koenigsberg and the Graf von Goetzen and their supply ships. The land war, briefly described here in an article 'Battlefield East Africa' (https://atcnews.org/2012/06/24/battlefield-east-africa) too will be remembered come the 100th anniversary of the outbreak of World War 1, along the border in the Taita Taveta area but also as far as the Kenyan's Kisii region, where German forces fought skirmishes before being repelled. A number of fortifications and sites have been found and identified by one James Willson and are well described in his book 'Guerillas of Tsavo' which was only recently published and details of which can be found via these links .
There is hopeful speculation within tourism circles that the German government may avail some funding to have key sites in Kenya preserved and readied to become tourism sites, similar to the memorial sites now maintained in the greater Taita Taveta area by the Commonwealth War Graves Commission.
Meanwhile though will Tanzania's tourism fraternity hope that their government in Dar es Salaam will step up and make sure that the pending offer to refurbish and modernize the MV Liemba is taken up so that the lake steamer can one day soon be at the centre of a new tourism circuit in Western Tanzania. Watch this space.
EACJ WILL HEAR SERENGETI HIGHWAY CASE FROM 23 JAN 2013

The East African Court of Justice in Arusha has last Friday announced the trial date for the case environmental groups have brought against the Tanzanian government over the controversial routing of a planned highway across the Serengeti.
The case will commence on January 23rd but the Arusha based source was unable to fill in any further details as to the expected timeframe the hearing might take.
The Africa Network for Animal Welfare is acting as main plaintiff on behalf of a number of other organizations and individuals vehemently opposed to the highway plans, and the lukewarm attitude of the Tanzanian government and often misleading statements have done little to dispel rumours of imminent attempts to create facts on the ground. The alternative Southern route has been dismissed by top politicians as unsuitable, even though it would reach as many as four times more people and provide a road link to the rest of the country and inspite the fact that the World Bank and the German government, among other development partners have promised to fund the feasibility studies and assist in construction cost. More alarming have been added reports over a planned new railway link between Tanga, where a new harbour is due to be constructed right inside the Coelacanth marine national park, and the town of Musoma on Lake Victoria, where a new railhead and lake port are due to be established to create an alternative link to the Indian Ocean for Uganda.
The Tanzanian government had fought tooth and nail to keep the case out of the EACJ, which in the region is largely considered as incorruptible – unlike some national jurisdictions – making a range of arguments which were all dismissed by an appellate review, which reiterated that the EACJ is exactly the place where conservationists and environmentalists should take their cases to if they do not get a fair hearing in national courts.
A regular source in Dar es Salaam has already indicated that the setting of the dates has rang alarm bells within the political establishment in Tanzania where vested mining interests have largely influenced policy and infrastructure development decisions in recent years. While the Attorney General of Tanzania is the respondent in the case, on behalf of government, word from Dar has it that private counsel may be engaged to assist the AG's office in defending their viewpoint. It is understood that there are growing concerns that a loss in the case may open the flood gates for more legal action vis a vis the planned port in Tanga, the planned extraction of 200 square miles of protected land in the Selous for Uranium mining, the location of a proposed power plant at Stiegler's Gorge, also in the Selous and a number of other equally controversial projects the Tanzanian government seems hell bent to pursue at the expense of the environment. What is certain right now, is that this case and a potential appeal' process against the ruling, may delay the project for years to come, and in the process see potential investors in mining loose interest as was the case with TATA, which has withdrawn from a project to mine soda ash at Lake Natron, right in the midst of the flamingo breeding grounds.
Said a regular conservation source over the weekend: 'Now we know when our case will start. We will be ready to defend our action in court and I think government is right to be worried. I do not presume to know what the outcome might be but we are confident, after seeing the ruling when the government objections were thrown out by the appellate division of the EACJ, that our case is very strong. We are the voice of nature because the government has silenced all other voices speaking for conservation. And we have confidence in the independence of the court'.
Whichever way this case will go, be sure to get regular updates from Arusha when the hearings start on 23rd January next year.
Rwanda News
CONGO'S ANTI RWANDA MILITIAS SUSPECTED IN RAID ON GORILLA MONITORING CAMP

The attack yesterday morning on the Kazi Camp, operated by the Diane Fossey Gorilla Fund International, which killed one staff and saw others injured, was swiftly denounced by several sources close to the powers that be in Rwanda. Fingers were also immediately pointed to perpetrators suspected to have come across the open wilderness border from Congo Dr as the most likely scenario, as the attackers mainly concentrated to loot communications equipment which with the set frequencies will let them listen into Rwandan park personnel talking among themselves and to security units deployed along the porous border. The camp itself, after being looted of everything mobile, was then destroyed, which included expensive solar panels and other equipment on the ground, leaving only a shell of what used to be one of two key camps for monitoring and research in the Volcanoes National Park.
All activities were suspended by the fund following the attack while security arrangements and cordons are being reviewed. Said a regular source from Kigali yesterday evening: 'We all know what has been happening in Congo. Our territory was repeatedly shelled and attacked by Congo forces and their allied militias. Rwanda has not retaliated but opted for diplomatic channels to resolve this issue. It goes to show however that much of the reporting is biased against us. We are the victims here of constant aggression and threats against our people and our territory by militias the UN and the Kinshasa regime have been tolerating and at times working with hand in hand. This attack against the gorilla research camp is an attack against our vital tourism industry. I have no doubt our security forces will strengthen surveillance of the border to prevent any further incursion into this area from across the border. These criminals should not think we will not do what it takes to defend vital interests and protect ourselves and our visitors. Our tourist visitors are safe visiting Rwanda, let there be no doubt about it'.
Other sources echoed these sentiments and expressed hope that when the new African led intervention and peacekeeping force would be deployed in Eastern Congo, the days of the militias would also be numbered. Condolences are expressed to the family and friends of the late Nsengiyumva Edras, who lost his life in the attack.
Seychelles News
SEYCHELLES TOURISM ACADEMY CONSTRUCTION ADVANCES ON SCHEDULE
The ongoing construction of state of the art facilities at the La Misere based Seychelles Tourism Academy is reportedly well on schedule, with nearly a third of the present phase 1 construction already completed. Due for completion in March next year, the remodeling and expansion of STA is set to catapult the academy into the top ranks of Africa's tourism and hospitality institutions, more so as the successful linkage with Ireland's Shannon College, where selected graduates from STA's various courses can pursue their degree programme, which this year alone saw 30 Seychellois transfer to Shannon.
'STA is a very important component in expanding our tourism industry. In the past there were always issues with resort operators about the skills levels of our people and therefore they brought in expatriates. Now we are progressively training young Seychellois, but also have retrained civil servant personnel who took early retirement, to fit into the job openings new resorts create. Expanding STA is a top priority for as high as our president. The hospitality industry has a big say in how our courses are structured and what our students learn before they deploy for industrial attachment and training. Our colleagues in Africa have also recognized the strides we have made and many now quote us as an example how to promote vocational and other tertiary training for the tourism industry. The expansion at the La Misere campus is ongoing and not disrupting classes and programmes too much. In the final phase we will have a new application hotel of at least 30 rooms, at least two villas to train butlers and valets what is required of the. Because they have to meet the very high expectations of clients spending a fortune a day to stay in a five or four star private villa. There will be a Spa to train our young people in the latest trends of well being techniques and treatments. We will have a new kitchen facility to train cooks and young chefs, a restaurant where our students can practice under the supervision of their teachers and a new separate complex for graduate students to attain their bachelor degree. When phase one and two are complete, the STA will be the finest hotel and tourism academy in Africa and with a panoramic view across some of our beaches which reminds students why they study tourism' said a regular source, asking for anonymity over not being an official spokesperson of her institution.
Tourism Minister Alain St. Ange earlier in the week also visited the academy to be briefed on progress of construction but also to keep in touch with the institution and on completion of his tour said: 'We are proud to be working on a purpose built Hospitality and Tourism Centre for excellence for the region. Here we will train more Seychellois to eventually take up high level positions in the tourism industry of our country'.
When next visiting the Seychelles a tour of the academy will as usual be part of this correspondent's programme too to ascertain progress in person and once again interact with students, teachers and staff to get a close up feel of the enthusiasm witnessed in the past. Seychelles, Another World.
AND in closing some interesting reads from 'Further Down South', taken from The Livingstone Weekly produced by Gill Staden:
Economic Development for Livingstone
During the week, Ruth Henson gave a presentation for the Livingstone Chamber of Commerce to a meeting which included the Minister of Tourism. This is the text of the speech:
Livingstone's Position for Strategic Alliance.
By Ruth Henson (BSc Agric) A Livingstone Farmer
For Livingstone Chamber of Commerce.
Livingstone used to be primarily a manufacturing town. It had 32 clothing factories, textile factories, two blanket factories, a saw mill, timber processing, ITT (radio's and TV's) and a motor assembly plant. All of these closed except one blanket factory (which struggles to survive) due to the introduction of free trade in 1991 and especially due to the coming of second hand clothes. Since then Tourism is Livingstone's main industry but it does not reach its potential and cannot employ as many. Other industries remain small.
Advantages Livingstone Has:
1. Victoria Falls and the Zambezi River and Gorges
2. Location for transport- close to Zimbabwe, Botswana, Namibia.
1. Victoria Falls and the Zambezi River and Gorges and Game parks
This provides opportunity for tourism in many areas such as:
• Viewing the falls,
• Boat cruises on the river,
• Helicopter and Microlight flights,
• Game viewing,
• Elephant rides,
• Walking with Lions,
• Bungi jumping and gorge swings,
• Village tours,
• Tours of the town and markets
• Package tours including other Zambian products such as Kafue and Luangwa game parks.
All of these tourism products provide opportunity for strategic alliances with similar or complementary products elsewhere.
However companies will only enter into alliances if they see a potential benefit to themselves. Currently, Government Policy is blocking the full realisation of Livingstone's Tourism potential.
Policy blockages to the development of Livingstone's full potential:
• Lack of consistent policy on Tourism
What government says is often conflicting with reality at the borders or elsewhere. Changes (such as new visa fees, new wages and SI33) are often made with no warning and little or no consultation.
• Very poor marketing
Government and ZTB have very little idea about how to market tourism effectively. What it needs is lots of human interest stories about Zambia in the international media and reasonably priced products. Self drive tourism needs to be encouraged as such visitors are often return visitors if the experience was good and they tell all their friends.
• High costs at the border and too much hassle.
Many Tourists turn back at Zambia's border and many more say it was great but they will never come again. Some of the borders are a tourist nightmare with information hard to find, leading to tourists being exploited. The procedures are too cumbersome with sometimes 5 unlabelled offices to visit and fees to pay. In Zimbabwe, Botswana and Namibia all payments are done at one cash office. This speeds up the process and keeps the tourists happy and not frustrated. Our borders are like villages with all sorts of touts and marketeers loitering around. Borders should be orderly and strictly-run. At none of the borders of Zimbabwe, Botswana or Namibia is any non-official or non-traveler allowed on the premises.
• Requirement for yellow fever vaccination for South Africa
This discourages many visitors as most of our flights go through Jo'burg.
• Excessive taxation fees, licenses, constraints.
High Visa fees discourage many tourists. If some of the fees paid directly to government like visas and tolls were reduced, more would be collected from VAT and income tax. If some of the fees paid by tourism providers were reduced we could better compete with cheaper destinations. I do not know the current figures but at one time Sun International had 143 licenses.
Park fees and fees at the falls are often for ridiculous unpayable amounts such as K18,240 leading to the tourist having trouble getting change and leaving feeling cheated.
• Poor infrastructure
Better roads, bridges, railways and airports would make it easier for tourists to reach Zambia and travel within Zambia.
• No plan or no implementation of plans.
Plans for Livingstone, for the Game park, for Roads and for tourism development are often not made or made and ignored or overlooked for political or financial gain as we saw with the Legacy Saga. The planned intercity bus station is going to destroy Livingstone's only remaining public space. The planned sports stadium will be far from town. The bypass is not anywhere near even thinking about, the Kazungula bridge has been talked about but delayed the last ten years or more, and so on.
The 2013 budget did attempt to tackle some of the issues affecting tourism. Duty was removed on boats, tour vehicles, tyres and drinks. Zero rating for VAT of guiding and adventure tourism will help. However the most serious issues – the yellow fever requirement and the visa fees are not yet dealt with.
2. Location for transport- close to Zimbabwe, Botswana, Namibia.
This provides opportunity for businesses involving trade
-Clearing and forwarding agents
-Accommodation
-Import and export companies
-Truck parking and repairs.
The funds allocated from the Eurobond for transport will hopefully help with this. More serious plans need to be made (and implemented!) for the increased volume of traffic and a bypass will become essential. A better location for the port office (out of town near the bypass) would also help to reduce congestion and traffic jams in town.
Livingstone has potential but it can only be fully realised with the correct policies in place.
Gill Comment: All that Ruth has stated is in line with what most business people in Livingstone feel. Even though sometimes the truth hurts we should applaud government for listening. Our government has inherited an over-sized bureaucracy, a bureaucracy which has over the years introduced new fees, levies, rules, etc, to justify their existence. Individually each fee, levy, rule is not bad, but put the whole package together from all the government ministries and it is a huge burden for businesses to cope with – not only in costs but in time needed to fill in forms .
I just really hope that Government takes more time listening to the private sector – it is only through such dialogue that Zambia can develop.
From the Zambezi Society
Mining in Mana – UNESCO's response
The Zambezi Society is delighted to report that the Zimbabwe National Commission of UNESCO, which is responsible for overseeing matters of relevance to the country's World Heritage properties, has taken seriously the concerns about mining exploration within the Mana Pools/Sapi/Chewore World Heritage Site brought to its attention by the Zambezi Society. Earlier this year, UNESCO and a group of government stakeholders undertook a site visit to Mana Pools. This was followed by high level detailed consultations with technical and legal advisors in the public and private sectors. As a result of its findings, UNESCO Zimbabwe has advised the World Heritage Centre in Paris that it strongly "discourages mining or mineral exploration in the World Heritage property and its immediate environs" and that the mining project on the Ruckomechi and Chewore rivers will not be allowed. It states that such a project "negatively impacts on the Outstanding Universal Values of the World Heritage Site" and that mining activities would "jeopardise all conservation initiatives within the Park".
If the project proponents ignore the recommendations of UNESCO, Zimbabwe will be faced with a situation where UNESCO may withdraw World Heritage Site status for the Mana Pools-Sapi-Chewore area and place the property on the "Sites in Danger" list. …
VINE CAMP TOURISM DEVELOPMENT – EIA UNDER REVISION
As a result of formal objections from the Zambezi Society and other stakeholders, and following a site visit and consultations by UNESCO's Zimbabwe National Commission, the EIA for Mana Pools Safari Camp (the 24-bed tourism lodge under construction at the Vine Camp site in Mana Pools) has been recognised as being "flawed" and is currently being revised.
UNESCO Zimbabwe has requested the project proponent (ECIS Investments) and the consultant (Vibes Consultancy Services) to address the following in the revised document:-
i) Carry out a comprehensive public consultation
ii) Revise the baseline information on the EIA document
iii) Revise the legal framework to incorporate bi-lateral and multi-lateral conventions
iv) Provide an Environmental Management Plan for waste generated on site, control of human and vehicular traffic and energy use.
Meanwhile, The Zambezi Society has been asked to comment on some proposed revisions to the EIA. These involved changes to the design of the camp's staff building in line with recommendations made by the Zambezi Society in its objection to the development's original EIA, as well as proposed changes to the original septic tank/soakaway system. …
ZAMBEZI VALLEY CHOSEN FOR RAMSAR WETLAND LISTING
Zimbabwe is signatory to a number of international environmental agreements, (e.g. CITES), but it is only in the last two years that it has undergone the formal process of becoming a fully-fledged member of RAMSAR – the International Convention on Wetlands. This it should achieve by March 2013, if certain criteria are met.
In late October this year, two international representatives from RAMSAR visited Zimbabwe to meet with government and non-government organisations working for wetland conservation. They toured various Zimbabwean wetland areas which have been proposed for inclusion on the RAMSAR list of Wetland Sites. The Middle Zambezi River (from Kariba Dam downstream to Chewore – including Mana Pools) is one of the proposed sites, and The Zambezi Society's Education Officer, Leslee Maasdorp, who is a member of the Zimbabwe National Wetlands Committee, went with them.
At the end of their tour, it was declared that the following were to be listed as the first Zimbabwean RAMSAR sites:-
Monavale Vlei (Harare)
Lake Chivero/Manyame complex (just outside Harare)
Middle Zambezi Valley/Mana Pools National Park
Chinhoyi Caves
BATOKA DAM HYDRO-ELECTRIC SCHEME : ZAMSOC WOULD LIKE TO HEAR FROM STAKEHOLDERS
There have been recent reports in the local press to the effect that the Batoka Gorge Hydro Power Station, a joint project between Zimbabwe and Zambia will take off in November 2012, with the World Bank as a partner.
A spokesperson for the Zambezi River Authority which owns the project, Elizabeth Karonga, said the World Bank has already come on board, adding that another environmental impact assessment programme will be done before the project takes off. Karonga announced that progress is already underway for the building of an access road on the Zambian side of the Zambezi River.
As a major stakeholder, The Zambezi Society intends to play a role in the EIA for this project.
We would like to hear from other interested and affected parties in order to discuss a co-ordinated approach.