The latest edition of Gill Staden's 'The Livingstone bi-Weekly' with news from Zambia, Zimbabwe and beyond …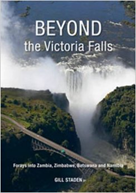 https://thelivingstoneweekly.files.wordpress.com/2016/06/tlbw23jun16-compressed-1.pdf
Gill this week also presents some videos from Zambia to watch:
Livingstone Art Gallery
Violin Performance at the EMIZ music camp recital on 10.06.16
https://www.facebook.com/elijahmissioninternational/videos/521318721410292/
Invictus K9 at Lower Zambezi
We've undertaken a new project and selected a dog from the local village to train.
Meet 'Fury'.
It's still very early days but the goal is to see where we get with her. Thanks to the folks @CLZ for their support in this. Hopefully they will end up with a decent anti-poaching dog for them to operate with. This video shows where we are getting with her after about 2 weeks of training… Watch this space!!!
https://www.facebook.com/invictusk9/videos/1000589410060544/
Mana Pools
Nyamepi Customs Officials
https://www.facebook.com/crazimals/videos/1165578523487298/
There's car trouble, and then there's this.
A family in Zimbabwe got a huge (and scary) surprise when they looked under their hood to see what was wrong with their engine
https://www.facebook.com/cnninternational/videos/10153925115354641/
Inside this latest newsletter:
A Shrew Trap
Kariba Textiles downsizes
Truck offloading on Mosi-oa-Tunya Road to be dealt with
Hippo Cull Suspended
RTSA has Whatsapp line
Tourist Structures to be demolished by ZamParks
Solar companies identified
Pangolin poachers arrested
New Vundu record at Chiawa Camp
Zambia Carnivore Programme wild dogs in Kafue and Luangwa
New cheetah cubs in Liuwa
Rubatano in Lower Zambezi
Weighing the baby elephants
KCM restocks Kafue River with fingerlings
Coronation in Western Province
Bumi Hills report on Ben
Kariba Lake Levels
Elephant shot in Mana Pools Treated
Cecil's offspring
Counting Vultures in Botswana
Water flow into the Thamalakane through Maun
Moremi Game Reserve Ownership Questioned
Holistic Rangeland Management in Caprivi
Desert Lion killed in Namibia
Zebras in the Snow
Technical Advisers wanted in Angola for KAZA
500 kg of Pangolin Scales found by Working Dogs in Kenya
No Mo Ibrahim Prize again this year
Population Matters
To Hunt or Not to Hunt