RIFT VALLEY RAILWAYS GETS PUNISHED FOR SLOW DEVELOPMENT PACE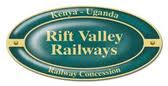 News are emerging from Nairobi that the Kenyan government, after reaching a principal agreement with neighbours Uganda on the format of a new railway line from Mombasa via Nairobi and Malaba to Kampala, has signed a major deal with China to construct a parallel railway line to the existing narrow gauge line presently operated by concessionaire Rift Valley Railways. The new line will be a standard gauge line, allowing for greater loads and faster speeds, with freight trains able to cruise at 80 km/hr while passenger trains will be even faster with speeds up to 120 km/hr. With current average speeds hardly greater than 25 km/hr this will cut journey times considerably and allow for greater volumes of cargo to be transported at substantially lower cost, compared to the present snail pace trains operated by RVR.
Rift Valley Railways won the dual concession to run Kenyas and Ugandas dilapidated railway system in 2005, but has been struggling to meet performance targets and is thought to be way behind with plans to upgrade the present line to international standards. Locomotives and rolling stock too are said to be ageing and prone to breakdowns and periodic derailments, due to poor line maintenance, often bring the flow of trains to a halt.
Shareholder wrangles and board fights at RVR too antagonized both Kenya and Uganda, both of which were at the brink of cancelling the concession following due notices for non performance being filed with Rift Valley Railways at the time, but political influence peddling gave Rift Valley Railways another lifeline.
With ownership disputes eventually resolved, Egyptian investors came on board and acquired 51 percent of RVR amidst promises to recapitalize and fund the necessary work scope, but inspite of major loans subsequently sourced via the African Development Bank, the IFC the World Banks private sector lending arm and such financial giants as Germanys development bank KfW, work progress remained slow and is, going by public opinion at least, literally absent. Tanzanias push to establish a new railway line between Tanga and Musoma on Lake Victoria, aimed to link Uganda via rail ferries to a new lake port, rang the alarm bells in Nairobi and the reaction was swift and decisive with the new plans being raced through the stages to complete the signing of a contract a short while ago between the governments of Kenya and China and between Kenya Railways and China Roads and Bridges.
News coming in from Nairobi speak of a 2.6 billion US Dollars deal between Kenya and the China Roads and Bridges Company, to be financed by Chinese banks under Chinese government export guarantees, to build the new line between Mombasa and Malaba in the space of 5 years, once ground has been broken. The new line will very likely bring down the roof on RVR, as they will not be able to compete with a more efficient competitor and almost inevitably result in a court case, since Rift Valley Railways holds a 25 year concession on the old Kenya Railways and Uganda Railways system, of which only 6 years have since lapsed. However, one source in Nairobi expressed confidence that the lack of meeting performance targets set for RVR by the two governments may well lead to a fresh attempt to serve notice to them, to either shape up or else ship out, in order to pre-empt court action; the original concession does contain clauses to the effect that neither government would be permitted to act in a manner which would impact on RVRs operation and viability which a tacit approval for a new line could constitute.
Said the source on condition of anonymity: RVR had several years to show what they were supposed to do. I think the two governments are getting tired of getting excuses and be told of mitigating factors. RVR was once very close to get the concession cancelled and if they are below performance targets, they will get their required warnings and final notices when the time is right. I think this is a final window of opportunity for them to turn things around and carry more freight, carry it faster and show some seriousness in rehabilitating the line. If not, time will tell if they go into the history books, with or without a fight in court. But progress, like with the new planned lines from Mombasa to Nairobi and beyond, or the new line from Lamu to Juba and Addis, progress cannot be stopped.
Exciting times in Eastern Africa with a range of major infrastructure projects like roads, ports, railways and pipelines being planned, tapping into the newly found oil and gas reserves and linking landlocked hinterland countries to the Indian Ocean harbours with greater speed and efficiency. Will the days of the famous Lunatic Express finally be numbered? Watch this space for regular updates.