MULTILATERAL TALKS ON NILE WATERS UNDERWAY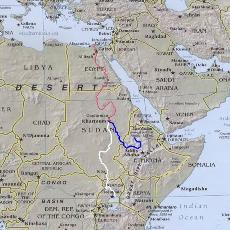 (Map source by WikiMedia)
Egypt and the Sudan (Khartoum) have reportedly started talks with the government in Addis Ababa over a planned major dam and power station on the Blue Nile near the border between Ethiopia and Sudan.
The project, fiercely opposed by the former Mubarak regime, had raised tensions and clouded diplomatic relations at the time, and while Khartoum and Cairo often did not see eye to eye on a range of issues, whenever it came and comes to the Nile waters, the two are joined at the hip and present an almost unbreakable alliance..
News received therefore during the week, that the three countries were about to hold formal talks on the dam project, were welcomed as was the announcement that a tripartite commission was to be set up, comprising two experts from each country plus an additional four international experts, tasked to study the impact of the proposed dam on the flow of the Nile waters, more than 70 percent are contributed by the Blue Nile from Ethiopia.
The Blue and White Nile, the latter originating in Uganda, meet at Khartoum and both downstream consumer countries depend on the waters of the river for irrigation, industrial and domestic use almost entirely.
The new military led government in Egypt has, at least for now, shown greater readiness to talk to the water producers upstream, although there is suspicion that the principle policy of Egypt, to treat the Nile waters as a matter of national survival and therefore national security, has not changed and that only the present political transition in Egypt prevents a more hardline stand, perhaps however returning sooner rather than later.
In the meantime has Egypt also commenced talks with Tanzania over the use of water from contributory rivers to Lake Victoria and the lake waters for a range of irrigation projects and related uses, following a visit by Egypts foreign minister to Dar es Salaam. Tanzania in fact has called for a meeting of the Nile Basin Initiative countries, which include Kenya, Uganda, Rwanda, Burundi, Congo, Southern Sudan and Ethiopia, besides Khartoum Sudan and Egypt. The two downstream countries last year failed to sign on to the new Nile treaty, which nevertheless is now binding following the required majority signatures from the other countries, and the next round of talks will undoubtedly show if the previous cast in concrete position by Egypt and Khartoum has changed in any way. Watch this space to get future updates of how this long running saga continues to play out.