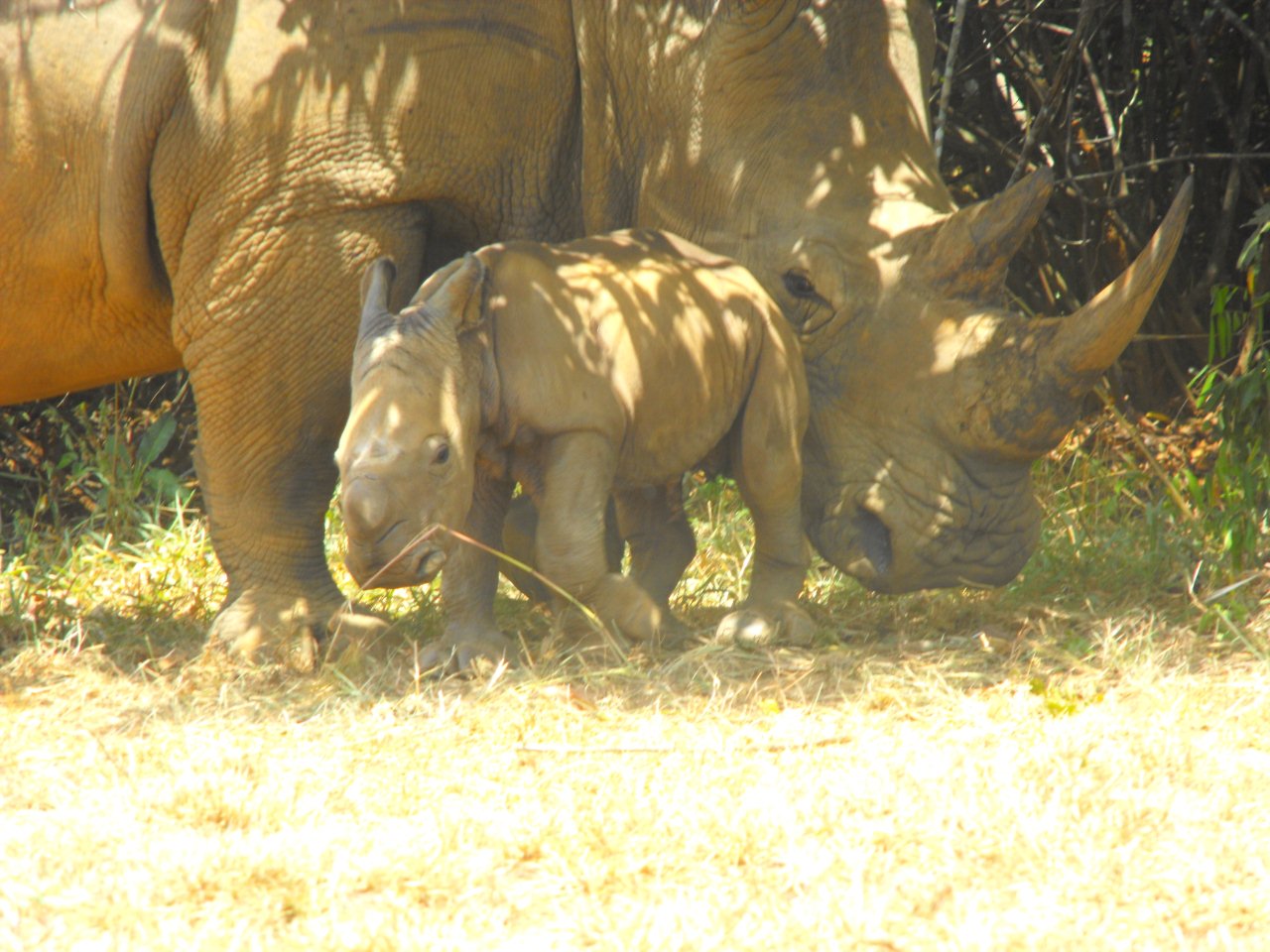 UPDATE – NEW RHINO BABY CONFIRMED TO BE ANOTHER GIRL!
MOTHER IS KORI, ORIGINALLY FROM THE SOLIO GAME RESERVE IN KENYA AND FATHER IS TALEO, ALSO ORIGINALLY FROM SOLIO. 
IT IS A RHINO FEST AT ZIWA

Within a week after reporting that Bella had a baby girl on the Ziwa Rhino Sanctuary, did news just break that Kori, the third adult female, has also given birth last night in a surprise development not expected so soon.
Angie Genade, Executive Director of the Rhino Fund Uganda and of the Ziwa Rhino Sanctuary, broke the news just minutes ago when she herself had received confirmation from her ranger team assigned to look after Kori, that she had given birth during the night.
Ziwa came into being through the generous donation of land use rights by Capt. Joe Roy and was put together by the Rhino Fund Uganda, which then raised nearly a million US Dollars in funding to put up a secure electric fence and rehabilitate the former ranch head quarters, after Capt. Roy had moved over 2.000 cattle to his neighbouring second ranch.
Ziwa now has 12 rhinos to show for visitors, 3 adult males, 3 adult females, 3 adolescent males, 2 baby girls and the latest arrival with the sex not yet confirmed until later, when a closer inspection with binoculars will be possible.
The double birth within the first half of January is a resounding endorsement of what once was described as a mad unattainable dream, turned into reality by YvonneVerkaik, Ugandas erstwhile Rhino Lady, before Angie Genade then took over from her to see the second phase of Ziwa go underway, the breeding.
The four purchased, from Solio in Kenya and two donated rhinos, from Disneys Animal Kingdom in Florida, now have produced 6 offspring and is more than enough evidence that the RFUs breeding programme is working and producing superb results with the initial population now already doubled.
Again, congratulations to Angie and her dedicated staff at the Ziwa Rhino Sanctuary, and watch this space to learn if we have another girl or boy rhino. Visit www.rhinofund.org for more details on the Ugandan rhino re-introduction and breeding programme.