POLANA SERENA HOSTS AFRICAN TANGO EXTRAVAGANZA

(Posted 28th March 2018)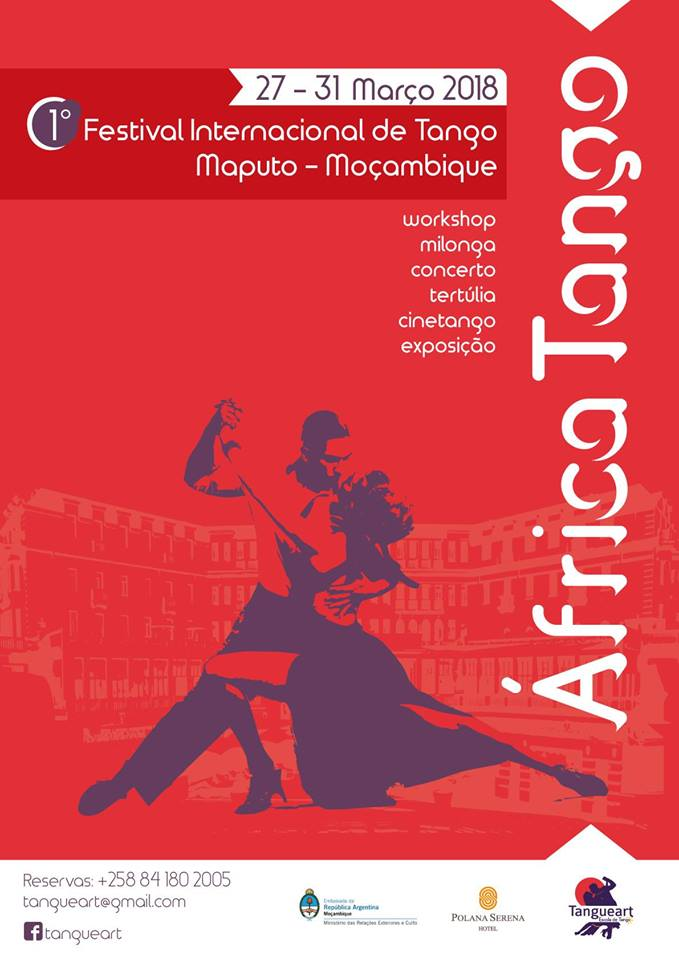 Africa Tango International Maputo-Mozambique Festival

Now underway is a unique Tango Festival at the Polana Serena Hotel in Maputo, the capital of Mozambique. It is the first of its kind and it is anticipated that it will become a fixed feature on the African calendar, celebrating dance and music.
The full programme is shown below:
Concert, tango show, cinetango, tertulia, exhibition, tango workshops and musicality not to be missed in this unique initiative in Mozambique.
Teachers and Artists
– Maximiliano Chollet and Cinthya Tomino (Buenos Aires)
– Emiliano Fernandez and Lilyana Kamenova (Argentina and Bulgaria)
– Fulgêncio Samo and Liana Marisa (Mozambique)
– Frias Fumo (Mozambique)
– MozTango Orchestra (Mozambique)
– Students Tangueart Tango School
Program March 27-31
Tuesday 27th at Polana Serena Hotel
19h00 Official opening and Africa Tango Welcome drink – 500 MZN
– Choreographic exhibition Tangueart Tango School
– Welcome Show Fulgencio Samo & Liana Mariza | Frias Fumo & Carla Faria | Sheiss Nabi AND Ana Cristina Antunes
– Tango Milonga & Exhibition
Wednesday 28th at Fundação Fernando Leite Couto
17h00-18h00 Tango Workshop by Lilyana Kamenova & Emiliano Fernández – 350 MZN
18h00-19h00 Tango Workshop by Cinthya Tomino & Maximiliano Chollet – 350 MZN
19h30-20h30 Tango Tertúlia – Free entry
Thursday 29th at 16Neto
17h00 Cinetango – Screening of the movie "Tango Negro" & Apero Tango – Free entry
19h00-20h00 Tango Workshop by Cinthya Tomino & Maximiliano Chollet – 350 MZN
20h00-21h00 Tango Workshop by Lilyana Kamenova & Emiliano Fernández – 350 MZN
21h00-23h00 – Milonga – 300 MZN
Friday 30th at Escola Portuguesa de Moçambique
17h00-18h00 Workshop of musicality in tango by Lilyana Kamenova & Emiliano Fernández – 500 MZN
19h00-20h00 Workshop of musicality in tango by Cinthya Tomino & Maximiliano Chollet – 500 MZN
19h00-23h00 – Milonga – 300 MZN
– Demonstração Tangolinos (children of the Portuguese School of Mozambique)
Saturday 31st
09h20 – 11h00 at Escola Portuguesa de Moçambique
Tango Masterclass with all masters – 500 MZN
20h00 at Polana Serena Hotel
Milonga Closing Gala with concert and tango show of teachers- 2500 MZN
– Welcome drink and ticket raffles
– Milonga and Concert with Moz Tango Orchestra
– Tango show Lilyana Kamenova & Emiliano Fernández
– Tango show Cinthya Tomino & Maximiliano Chollet
– Tango Show All Masters
Additional information can also be found via https://web.facebook.com/events/185918078663330/
Watch the promotional video by clicking on the link below or else paste it into your browser window:
https://web.facebook.com/tangueart/videos/620112554986570/