QATAR AIRWAYS TO SHOWCASE THEIR FIRST B787 DREAMLINER AT FARNBOROUGH



When the Farnborough Air Show, the worlds most important air show for that matter, goes underway in a weeks time, the Qatar Airways first B787 Dreamliner will arguably take centre stage as visitors can see for themselves what extraordinary cabin comfort levels this new bird will bring to the skies.
The layout of the cabin, offering a two class configuration of the aviation worlds most luxurious business class only beaten by private jet interiors will bring a new dimension of air travel for passengers. Qatar Airways first presented their cabin design at the ITB in Berlin in March before then again showcasing it at the Arabian Travel Market in Dubai, drawing in the crowds at both events. Configured with a 1 x 2 x 1 seat layout in the front cabin, all needless to say the latest flat bed design, is arguably the best ever in the market and even in economy class has the airline once again decided to provide space rather than maximize capacity, offering a 3 x 3 x 3 layout similar already seen on their B777 aircraft. Combined with award winning inflight catering, a thrilling inflight entertainment programme and a cabin crew at service with a smile, it is clear that QR has created a winning combination to take the market by storm wherever these new aircraft are being deployed.
QR is the Middle Easts launch customer for the B787 Dreamliner and has 60 such birds on order, 5 of which will be delivered to the worlds 5 star airline between July and December.
Qatar Airways CEO Akbar Al Baker commented on the upcoming showcasing of the aircraft in the UK as follows: For Qatar Airways, the Farnborough International Air Show provides the perfect opportunity and global platform to proudly reveal our new 787 to the aviation industry and the wider public for the first time. As the Middle East launch customer, were very excited that a new era of air travel with an unrivalled passenger experience is imminent, further proving Qatar Airways commitment to expand with one of the youngest and technically advanced fleets in the industry.
East African passengers flying with Qatar Airways from their present 4 destinations Entebbe, Kigali, Nairobi and Dar es Salaam, soon to be joined by Kilimanjaro (25th July) and Mombasa (15th August) before later in the year Zanzibar will come on line too, will be able to connect in Doha on select routes with the new aircraft (picture shown below) details of which will be available from the respective airline offices in due course.
Watch this space for more information on the launch of flights to Kilimanjaro and Mombasa.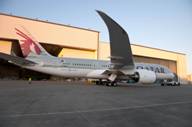 (B787 Dreamliner, picture courtesy of Qatar Airways Corporate Communications Department)