THE SAGA DU RHUM MUSEUM WELCOMES PEOPLE WITH DISABILITIES
(Posted 14th March 2015)


France, on the weekend of 28th and 29th of March, will across the mainland and the regions, including Reunion, showcase and highlight how people with disabilities can travel, stay and explore.
Reunion's Saga du Rhum Museum in fact last year won national recognition for making their premises and the tour more userfriendly for people living with disabilities and this year will again be at the forefront. The museum will be organizing tours over that weekend and has in fact partnered with the nearby Hotel Dimitile **** to allow for visitors to stay over at reduced rates.

It is estimated that 10 percent of France's population is living with disabilities of various natures, some of course very severe which over the past decades prompted a rethink in hospitality, tourism and aviation businesses to allow them to travel with dignity and find suitable arrangements in their rooms and elsewhere.
Reunion Tourism has just released the programme for the weekend which reads as follows:
Saturday, March 28, 2015
Visit to French Sign Language (LSF) at 10.00h and 14.00h with the assistance of Sourds.re association. A prior booking / reservation is required by calling: 0262 35 81 90
Saturday 28th and Sunday, March 29, 2015
Free access to the museum to persons with a disability – Reduced entrance fee for accompanying adults;
Multi-sensory tours to suit all;
Free provision of audio-guides and induction loops for the hearing impaired.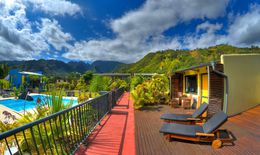 This year, the museum has partnered with Dimitile Hotel **** which holds a Tourism & Handicap label. Located in the Entre-Deux, visitors to the Saga du Rhum will have the opportunity to extend their stay in the south of the island, through special deals put in place by the hotel for the weekend:
· If booking a room from Friday 27th to Sunday morning March 29th, i.e. for two nights, the hotel restaurant invites guests, including a carer, for dinner, excluding drinks
· When booking two consecutive nights on a half board meal plan will a reduction ofnearly 30%be applied to the total amount due, food included.
Anyone wishing to take advantage of these offers needs to use the following password when booking: ISAUTIER. For added information about Reunion Tourism click on www.reunion.fr